In Loving Memory of
K9 FORREST
June 20, 2008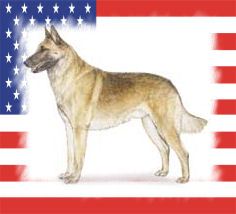 Handler: Officer Paul Hubka
San Diego Police Department
1401 Broadway
San Diego, CA 92101
Officer charged in dog's death
A San Diego police officer whose canine partner died after being left in the officer's patrol car on a hot day was charged today in connection with the dog's death, according to the District Attorney's Office. Officer Paul Hubka faces one misdemeanor count of leaving a dog in a closed car in a high temperature causing death. If convicted, he could face up to six months in jail, a fine and be ordered to pay restitution, a district attorney spokesman said. A necropsy performed on Forrest, a 5 year-old Belgian Malinois, found the animal died of heatstroke on June 20 at the officer's home in Alpine. Hubka is accused of leaving the dog in the police cruiser with the windows rolled up on a day when temperatures in the East County reached over 100 degrees, according to the District Attorney's Office. He is scheduled to be arraigned August 28.
In 2006, a state law was enacted making it a misdemeanor for a person to leave a dog unattended in a vehicle causing great bodily injury or death. Only intentional animal cruelty is a felony.
MORE:
K-9 found dead in hot car - Alpine, CA (US)
Incident Date: Friday, Jun 20, 2008
County: San Diego
Charges: Misdemeanor
Disposition: Convicted
Defendant/Suspect: Paul Hubka
Case Updates: 4 update(s) available
City and county authorities are investigating the death of a San Diego police dog whose body was found in the back seat of a patrol car at his handler's home. The grim discovery was made Friday in Alpine, where temperatures had topped 100 degrees. According to the San Diego Police Department, the dog was a 5-year-old Belgian Malinois named Forrest. Forrest stayed with his handler at this house in Alpine, about 20 miles east of downtown San Diego. Sources familiar with the investigation identified the dog's handler as Paul Hubka, a 22-year veteran who's a director of the San Diego Police Officers Association. Sources told NBC 7/39 Hubka returned from an overnight shift, went into his house, and came out a few hours later to discover Forrest's body in the back seat of his patrol car. Police, sheriff's deputies and animal control officers converged on the neighborhood and began an investigation that's still awaiting necropsy results. Officials said Malinois are a deep-chested breed, susceptible to an often-fatal ailment known as gastric tortion. The San Diego Police Department said they have lost two Malinois to gastric tortion in the past couple of years. But the stifling weather and circumstances leading to Forrest's death have suggested the possibility of heat exposure. Hubka's next-door neighbor, Bill Mariotti, said Hubka moonlights extensively while off-duty. Mariotti thinks the officer may have been exhausted, and might have fallen asleep without letting Forrest out of the car. Mariotti said Hubka was nothing but diligent in handling Forrest. "Taking care of the animal, feeding the animal, watering the animal. Every time he came in off shift, same thing -- let the dog run around, exercise a little bit -- let the dog spool down." For now, investigators and POA officials are withholding comment on the case.

Last summer, two police dogs -- one in suburban Phoenix, the other in suburban Atlanta -- died of heat exposure after being left for hours in their handlers' patrol cars. The police sergeant involved in the Arizona case goes to trial Friday on misdemeanor charges of animal neglect. The San Diego city attorney Tuesday dropped his civil lawsuit seeking damages from a San Diego police officer for the heatstroke death of his police dog. City Atty. Michael Aguirre also indicated he is no longer seeking to block the officer from receiving his $50,000 share of a settlement of a lawsuit by three canine officers against the city. The lawsuit alleged the three deserved higher pay. Officer Paul Hubka pleaded no contest last week to misdemeanor animal neglect in the death of Forrest, a 5-year-old Belgian Malinois. Hubka was fined $411 and agreed to pay half the cost of replacing Forrest. Aguirre said he expects Hubka to use some of the settlement to help the Police Department buy a system that automatically rolls down windows on squad cars on hot days.A veteran San Diego police officer pleaded no contest today to a misdemeanor charge of animal neglect. Officer Paul Hubka, a 22-year veteran of the department, was ordered to pay a $411 fine and $4,941 in restitution for the death of his police dog. The dog, a 5-year-old Belgian Malinois, died of heat stroke after being left in the back of Hubka's police car on a day when temperatures exceeded 100 degrees. Hubka was also ordered to perform 100 hours of community service and will serve three years' probation. After the death of the dog, named Forrest, Hubka was transferred out of the canine patrol, where he had served most of his career. He said that leaving the dog in the back of his car was a mistake. He had returned home after an overnight shift and had left the dog in the car. With 45 dogs for patrol and weapons and drug duties, the San Diego Police Department boasts the largest K-9 unit of any department in the country. submitted by Jim Cortina, Dir. CPWDA
---
In Loving Memory of
MWD K9 FLUFFY
17 October 2008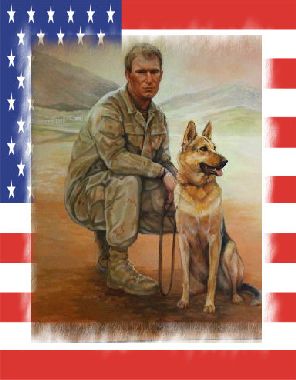 "A Fallen Comrade"
I have just been informed that K9 Fluffy has died.

He was an inspiration to all of us Vietnam era Dog Handlers. I for one will always remember Fluffy. He was the living Memorial to all of our War Dogs who did not return from Vietnam. I am one of the lucky one. I will have his bite mark on my left arm forever.

May "Fluffy" Rest in Peace. Ron Aiello, President, USWDA

Please read Russell Joyce's email informing me of Fluffy's death.

Hello to All,
On 16 Oct. 2008 K920Fluffy (Iraq War vet) died. He served his country and my family and will be missed dearly! His BIO was best written by Lisa Hoffman and is attached at the end of this letter.
Fluffy was my Comrade in arms first, then he walked into my heart as my friend and became my buddy then he became part of my family. He was loving to every member of my family. I felt a sense of comfort being thousand of miles away knowing he was there at my house protecting and loving my family when I was not able to due to that job. He comforted my kids when they where hurt or sad, he warmed there hearts and took fear away just by his presence. He comforted my wife, laying in the bed with her when I was20far away from home with no way to contact her. He was a brother to my kids a son to my wife and my best friend. When I call home from over seas I talk to my wife then my girls and then my comrade, my friend my boy, Fluffy.
I have had animals through out my life and I have never had one get so close to my heart! He was here for a purpose! And I will never forget him! He was not a pet! He was a soldier first. During our time in Iraq he checked on me and I checked on him. He was one of the team, he was my battle buddy! If I sat down he would sit no farther than five feet away. If I got up and moved ten feet he would get up and move ten feet. He was my shadow in war and at home. When I was not there he was serving my family! He will always be my shadow. I may not be able to touch his head or scratch his ear but I do feel him in my heart! I only pray that he felt the same amount of love in return. I am half way around the world once again and was not able to comfort him in his time of need. This is my only regret. I pray that he knew in his heart how much he was loved and respected. I feel he knew how important it was for him to come to America and how important that was for all the Vietnam K9 Handlers. He was a living me morial to so many. He was truly a Hero to many and for many different reasons. I thank Fluffy for introducing me to all you wonderful people. With out him we may never have met. So I am thankful for your friendship and support to myself, my comrade and my family. Thank you. If anyone would like to do anything for my family or Fluffy please just keep them in your prayers. Do not send anything! Read about what made Fluffy's mission in life so important! Read about the K9's used during the Vietnam War and what the Handlers did to make sure that never happens again and what they are doing today! Tell Ron we said hello at
www.uswardogs.org
and read these other sites:
If you are ever at Fort Benning GA "Home of the Infantry" stop by the Museum when it reopens in March 2009 and you will see both on fluffy aswell as other K9's stories from other Wars and conflict areas. Donate to the building of the K9 Memorials going on there. For more info you can contact Jessie through the Museum. Stop by your local police station and see if your K9's who protect you daily need anything! They are generally poorly funded!
Your friends
Russell & Fluffy
And the entire Fluffy family.
Fluffy,s Bio by Lisa Hoffman
Fluffy the war hero loving life in the U.S.
In war, there are few winners whose lives are changed wholly for the good. Fluffy the "commando dog" is one of them.
Malnourished, abused and missing teeth, Fluffy was rescued from his miserable existence in Iraq by a U.S. Army Special Forces A-team early in the war. Serving as a makeshift sentry and guard in the northern reaches of the country, the raggedy German shepherd saved the soldiers' lives more than once. When it came time to come home, Sgt. 1st Class Russell Joyce -- who gave the dog his irreverent name, dosed him with TLC and molded him into a first-rate protector -- couldn't bear to leave Fluffy behind.
After a full-bore effort to bend bureaucratic rules by Vietnam War veterans, a handful of U.S. lawmakers, and countless animal lovers nationwide, Fluffy made it to America and a new life with Joyce's family in North Carolina in June 2003. In the three years since, Fluffy -- via his adoptive humans -- has himself become a force for good. He's helped raise money for the U.S. War Dog Association, a nonprofit outfit of former Vietnam War dog handlers and others who are establishing a memorial to the thousands of canines who have served -- and died -- alongside GIs in more than 80 years of U.S. wars, Joyce said.
www.uswardogs.org
"Russell and Fluffy have been a real boost to our organization," said Ron Aiello, president of the group and a Vietnam vet.
---
In Loving Memory of
K9 FLINT
December 19, 2008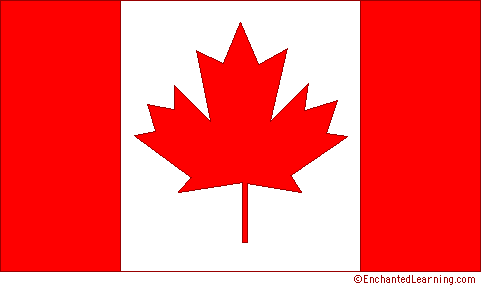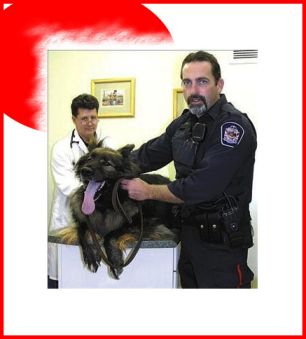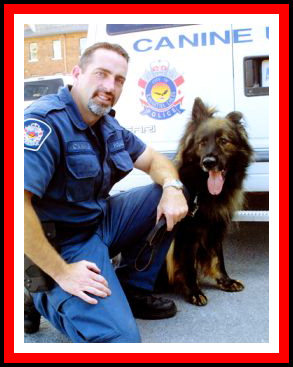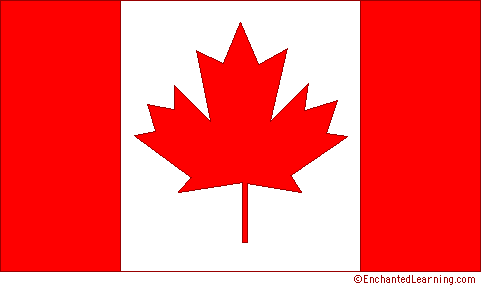 Handler: Const. Jeff Wentworth
City of Kawartha Lakes Police Service
K9 Unit: 705 687.0451
705-324.5252
Ontario CANADA
www.kawarthalakespolice.com Ontario Provincial Police,
Kawartha Lakes Detachment (705) 324-6741
Former police dog passes away
Fint, the former City of Kawartha Lakes Police Service dog who passed away Friday, is seen with partner Const. Jeff Wentworth during a checkup. Flint, the former police dog for City of Kawartha Lakes Police Service, has died, the force announced Monday. The 12-year-old long-haired sable shepherd, who retired in 2004 from active service and continued to live with his handler, Const. Jeff Wentworth, was suffering from deteriorating health, police said. The difficult decision was made to have him put down Friday. In 1997, the then-named Lindsay Police Service introduced the force's first-ever canine unit, which served Lindsay and the now former Ops Township for seven years. Flint was responsible for many drug seizures and arrests. In 2000, he was key in the arrest of two men who had stolen some $8,000 in merchandise from Lindsay Square Mall. The dog was also intervened when an emotionally disturbed man armed with a knife who planned to have police take his life. No one was hurt. In 1998, the pair received national recognition after winning three medals at the Canadian Law Enforcement Games in Waterloo. Flint and Wentworth were even called on for a joint anti-terrorism effort with 50 agencies led by the FBI in 2002. The police service thanked Kawartha Animal Hospital for donating veterinary care for Flint in his career and four-year retirement. The Lindsay vet clinic continues to support the current canine team of Const. Mike Stratford and Strike.
MORE
The original K-9 Team of our Police Service was Constable Jeff Wentworth, and his partner, Flint. This was the first full time police canine was employed at the Lindsay Police Service (now known as the Kawartha Lakes Police Service) in September 1997. The police service had at that time existed for a period of 141 years. The introduction of a Canine Unit was a direct reflection of the ever changing demands of a modern police service. After the development of training standards and operational policy, Jeff Wentworth a Constable with the Police Service was selected to be the first canine handler. A search was then directed to the selection of a suitable dog.After consultation with other police services and a look into the European market the Victoria County Kennel Club directed the police service to the Carmspak Kennels of Brooklyn Ontario. A young dog was selected then subjected to an examination by a veterinarian that included blood tests and x-rays. This dog was then evaluated by a number of experienced canine handlers from another police service. A decision was made to purchase "Flint" a long haired Sable Shepard.
Over a three month period Cst Wentworth and "Flint" trained continuously at the facilities provided by the Niagara Regional Police in the Golden Horseshoe area. Flint was the youngest dog in the program but held his own. After training in obedience and control, confined and open spaces tracking, article and weapons searches, drug detection, suspect apprehension and handler protection the pair from Lindsay graduated with extremely marks and expectations. The program was only possible thru the assistance of Lindsay based community partners. The Victoria County Kennel Club provide the funds to purchase the dog, Farmers Mutual Insurance assisted with the vehicle purchase, food was supplied by the Horse and Hound and veterinary care donated by the Kawartha Animal Hospital. For the past six years Cst Wentworth has been committed to the program and "Flint", 24 hours a day seven days a week. They worked together and they lived together. Flint accompanied the officer on regular patrol and they trained together both on and off duty. Training was continuous, including two, week long re-certification sessions each year in Niagara Falls. Public relations is also a huge part of the Canine Program. The Kawartha Lakes Police Service offers many community based programs and presentations none more popular than the canine. Some of the highlight of "Flint's " career include the apprehension of an emotionally disturbed man who was armed with a knife and later admitted that he planned on making the police take his life. It was Cst Wentworth and Flint who intervened, the man was taken into custody without injury to himself or the police. The K-9 Unit was responsible for the arrest of two subjects at a break and enter at the Lindsay Square Mall in June of 2000. Two men from the Ottawa area were arrested and $8000 in merchandise recovered. Throughout his career Flint was responsible for many drug seizures and subsequent arrests. The Unit was very active in local high schools and their fight against illicit drugs. Flint was a triple medal winner at the Canadian Law Enforcement Games held in Waterloo in 1998. The excellent reputation of the Canine Unit was recognized within many police circles and was called upon to assist other services on many occasions. One particular incident happened in October 2003 when the team were called upon to join the F.B.I. and some 300 federal agents and officers from 50 police agencies in a joint forces operation in Lackawanna, New York. In simultaneous raids 20 people were arrested, nine were Arab-Americans. Flint was responsible in locating a quantity of cocaine during one of the searches. Flint was retired from active service in November 2004 after 7 1/2 years of service. Cst Wentworth will now assume ownership and responsibility for his long term partner. Our Sponsors 6 Victoria Avenue N. Lindsay, Ontario, K9V 4E5WebSite created by: gRIZaRT - photograph courtesy of Jason Bain – Lindsay Daily Postphotograph courtesy of Jason Bain
– Lindsay Daily Post
submitted by Jim Cortina, Dir. CPWDA
---
In Loving Memory of
K9 FELONY
December 1, 2008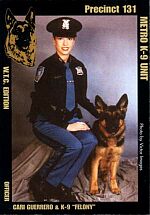 Handler: Officer Cari Guerrero
4930 Shattuck Road
Saginaw, MI 48603
Tel: 989-793-2310
Police dog Felony dies at 12
Saginaw Township Police Officer Cari Guerrero mourned privately for a week after the death of her canine partner, Felony. "I didn't want to say anything until I received her remains," said Guerrero, who trained and cared for the 12-year-old German shepherd whose heroic work included finding the remains of victims of the Sept. 11, 2001, attacks on the World Trade Center. Felony died Dec. 1 of old age, Guerrero said. "Her hips were starting to fail her, so it was time," Guerrero said. "She definitely still had the drive in her, though. A couple months ago, I took her to a park and she started tracking something into the woods. She still had that motivation, even when her body was failing her." Guerrero retired Felony two years ago when she noticed the hip deterioration. "She loved retirement," Guerrero said. "She loved hanging out at home, sleeping and eating. She was such a fighter and so strong. She didn't want to give up, but I knew it was time because she was getting very weak and had lost quite a bit of weight." Former Saginaw Township Police Chief Stephen C. Renico named Felony an honorary member of the Saginaw Township Police Department for her work at Ground Zero. She was not an official police dog, and the township did not have a K-9 unit. "She was a search-and-rescue K-9, but we did that as volunteers," Guerrero said. "We had such a love and passion for it that we did it on our own." Felony and Guerrero also did public relations work at schools and nursing homes. Guerrero said she plans to get another dog in time. Felony "was a very loving girl," Guerrero said. "She was definitely in charge."
submitted by Jim Cortina, Dir. CPWDA
---
In Loving Memory of
K9 FIDEL
October 18, 2008


Sydney, Australia
Impaled police dog dies in surgery - Fidel died during emergency surgery yesterday. A police dog has died after falling on a metal pole while helping police investigate a break-and-enter at a Sydney school on the weekend.The dog, named Fidel, jumped over a wall and fell five metres, landing on a pole, while officers were looking for intruders at North Ryde Animal Hospitalon Saturday about 10:30pm (AEDT). The dog's stomach was punctured. A policeman broke his wrist when he went to help the dog. Fidel was taken to North Ryde Animal Hospital but died during emergency surgery yesterday. Four teenage boys were arrested at the school and charged with break and enter. They have been granted bail to appear at Bidura Children's Court on November 11.
submitted by Jim Cortina, Dir. CPWDA
---
In Loving Memory of
K9 FORREST
June 20, 2008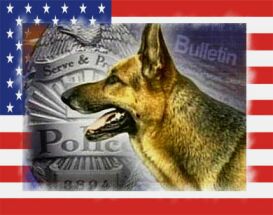 Handler: Officer Paul Hubka
San Diego Police Department
1401 Broadway
San Diego, CA 92101
Ph:(619) 531-2000
San Diego police Officer Paul Hubka will forever remember June 20, 2008, as one of the worst days of his life. That is when Hubka made the fatal mistake of forgetting his canine partner, Forrest, in the back seat of his patrol car on what turned out to be one of the hottest days of the year. The 5-year-old Belgian Malinois ended up dying of heatstroke. "It was entirely my responsibility to look out for my canine partner. Obviously, in this instance, I failed to do so," Hubka said Friday in his first public statement about Forrest's death. "I will regrettably have to live with that fact." The veteran officer struggled to maintain composure, occasionally dabbing at his eyes with a tissue, as he recalled the dog's death and the painful weeks that followed. The public statement came one day after Hubka pleaded no contest to misdemeanor animal endangerment in the incident. A judge sentenced him to three years' probation and 100 hours of community service. He also must pay the Police Department nearly $5,000 for the dog. San Diego police Chief William Lansdowne said Hubka, who'd served in the K9 unit for 17 years, will no longer work with dogs, but the officer will continue to serve in the department. Hubka said Friday that he felt "morally compelled" to explain to the community what happened on June 20. He had returned to his home in Alpine about 7:30 a.m. after working a graveyard shift. He had worked the past 21 days, with only one day off. "Although I didn't realize it at the time, I was both physically and mentally exhausted from work," he said. He said he followed his normal routine of leaving Forrest in the car while he put the family dog inside the house so Forrest could be put in the kennel. But on this day, Hubka saw that the family dog, Sammy, had chewed up a newspaper and then hid. Hubka cleaned up the newspaper mess and, not seeing Sammy in the yard, forgot to put him inside the house and take Forrest out of the car. He then went to bed. "Shortly after I awoke, I realized what had happened," Hubka recalled. "I had made a terrible mistake – one that I will live with for the rest of my life." To prevent future tragedies, San Diego police have purchased heat-alarm systems for the K9 unit's 53 patrol cars. The system will automatically lower the car's windows, switch on the air-conditioning and sound an alarm if the car temperature gets too hot. The technology will cost the department about $36,000 total, but Hubka hopes to raise enough money through a new foundation to pay back the cost, as well as raise money for other K9 units. Other private donations have also come to the San Diego Police Officers Association to help Hubka with legal costs and to pay back the department. "I sincerely hope my law enforcement family, and you, the community of San Diego, will accept my most sincere apology," Hubka said.
"I humbly ask you to give me an opportunity to prove myself once again worthy of your trust."
submitted by Jim Cortina, Dir. CPWDA
---
In Loving Memory of
K9 FELON
August 12, 2008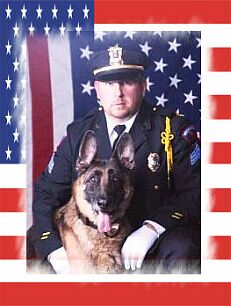 Handler: Lt. Brian Landers
Wisconsin Dells Police Department
712 Oak St
Wisconsin Dells, WI 53965
(608) 253-1611
WEBSITE- http://www.wdpd.com/
K-9 was partner-friend to Landers
Lt. Brian Landers patrolled with K-9 Officer Felon for about eight years. Felon had to retire in 2003 after an injury he sustained during a police chase. Retired K-9 Officer Felon was all of the above to Lt. Brian Landers, a former K-9 officer for the Wisconsin Dells Police Department. But this weekend arthritis, old age and work-related injuries took their toll, preventing Felon from being able to walk any longer, and Landers knew it was time to put him down. Felon would have been 14-years-old in December. Among his many distinctions, Felon was the offspring of award-winning German shepherd parents from Germany. But because of a birth defect, he was available to become the first K-9 officer at the Dells Police Department. Landers took it upon himself to raise money from the community to buy the department's first dog. He said being a K-9 officer was something he always wanted to do, and he thought a K-9 was something the Dells community could really use. Then Assistant Chief Bret Anderson, now chief, said actively curtailing drug use in the Dells was a big reason he supported the department buying a dog. "I thought it was important that we be proactive when dealing with drugs in our community," Anderson said. "Felon was an excellent opportunity to purchase a dog through fundraising efforts, which Landers did, and provide that service to the community."
So, in July 1995, Landers went through training with Felon, and by May 1996 he and Felon were on the streets patrolling. Felon was a dual-purpose dog, trained in drug detection and criminal apprehension. While at work and while off duty, Landers and Felon were together. But being the only dog the department had, it also meant they were on-call 24 hours a day. Anderson said Felon served well and with distinction during his career. In 1996, Felon was honored by the Wisconsin Law Enforcement Canine Handlers Association as the Apprehension of the Year winner for a drug find and apprehension he had completed. He also had one of the best records of any drug dog in Wisconsin, Anderson said, both in terms of number of finds and money and property seized during busts. Landers said, "When he was working he was all business, always on alert." But Landers knew he could trust Felon when he wasn't working, when he was walking down a crowded street or when his ears and tail were being pulled on by grade school students during a presentation. Felon was deployed about 100 times per year when he was working and had more than 30 criminal apprehensions to his name. One apprehension that Landers said was particularly memorable came during a physical disturbance between a suspect and another officer. When additional officers arrived on scene, the suspect fled. The officers couldn't find him, so Felon was called in to track him down. Felon found him in a hotel basement and trapped him under an old box spring. When officers arrived and arrested him, the suspect admitted that Felon had made him defecate in his pants. During another altercation a suspect in a domestic disturbance was threatening to flee police. But when it was pointed out to him that Felon was behind him, he immediately threw his hands up in surrender. However, Felon's desire to catch the bad guy ultimately contributed to his demise. During a pursuit in 2003, a suspect jumped out of a car, and Felon jumped down an embankment to chase him. He fell and tore two ACLs and was forced to retire. The department bought a new K-9, a Dutch shepherd named Gevaar, now 7, with Felon's insurance money. Landers began his training, but ultimately handed him off to Officer Jesse Weaver because he had additional responsibilities as Sergeant and because Felon and Gevaar didn't get along well at home. Landers wife, Karen Robinson Landers, said they didn't get along because they were such different dogs. Felon was "work all the time," and Gevaar always wanted to have fun. The Landers had three other dogs in the house during Felon's lifetime, but no children. He tolerated a pit bull they owned, but kept his distance. He got along well with the two basset hounds they had. "We joked that they (Felon and a basset Wrigley) were twins," Robinson Landers said. "He thought Felon was his big brother. He was more protective of Wrigley than of me." Landers said Felon was protective of both him and his wife, but Robinson Landers saw things a little differently. "It was always a standing joke, at least for me, that he would push me in front of a car if he could get my side of the bed," she said. "He loved me, but he only had eyes for Brian." Even after he retired, Felon still felt the need to protect Landers, Robinson Landers said. His protective instincts got to the point that he would sleep better when Landers wasn't home because he could relax. Despite his injuries, Felon still wanted to go to work with Landers every day, and was visibly saddened when he was told he had to stay home while Landers went to work. Felon was a physically intimidating dog, but occasionally Landers was busy and asked other officers if they could go to his house and let him out. They knew Felon was protective of the house, so Landers came up with a way that they could draw him out. "They were afraid of him," Landers said, "But he liked marshmallows. So we left them outside the door." Robinson Landers said Felon's sweet tooth extended to other treats like ice cream, but didn't stop there. "We never ran across a sweet he didn't like," she said. She also discovered that he loved to eat frozen hot dogs. Felon's sweet tooth and intimidating presence will be missed, but he won't likely be forgotten anytime soon, because he wasn't only a pet and a protector. He was a friend and a family member.
submitted by Jim Cortina, Dir. CPWDA
---
In Loving Memory of
PSD K9 FRED
April 16, 2008



Handler: RCMP (Royal Canadian Mounted Police) Sgt. Marcel Guilbault
the Chester Detachment
PO Box 2380
Springhill, NS B0M 1X0
Ph: (902)597-3779 - Fax(902) 597-3119
Canada Police dog killed in search for missing man PSD Fred struck by vehicle minutes after arriving on Springfield scene
NovaNewsNow.com
The accidental death of an RCMP dog near Springfield Wednesday has saddened police officers in South Western Nova Scotia and has devastated the dog's partner Sgt. Marcel Guilbault of the Chester Detachment, said RCMP spokesman Sgt. Mark Gallagher. The three-year-old, 80-pound German shepherd named Fred, was apparently struck by a vehicle shortly after 10:30 a.m., minutes after arriving at a search scene about three kilometers from Springfield. Police were searching for 77-year-old William Lewis, a man described as a recluse who had not been seen for some time. Gallagher said that nobody saw the dog being hit, but did hear a noise that might have been the impact of the vehicle hitting Fred. Then yelping noises were heard. Gallagher said a grayish vehicle, that looked similar to a Toyota SUV was seen but the vehicle didn't stop. Gallagher said Guilbault was devastated. "It's having your partner killed," he said. "For the dog master it's the buddy you spend night and day with. You have a very close bond. For some it's like losing a child." Annapolis RCMP Sgt. Gordon Hay, who arrived at the scene after the accident, said PSD Fred was a purebred German shepherd described by Guilbault as remarkably bright, having finished training in half the time other Police Services Dogs require. He said Fred only had to be shown something once and he remembered it. "He (Guilbault) has lost a partner and a friend," said Hay. "He was very sad. There's a bond there that goes beyond being a pet owner." Hay said with Fred's death, the RCMP have lost a valuable member and specialized resource. Galleghar said that under the Motor Vehicle Act, there is nothing that requires a driver to stop when they hit an animal, but added that most people stop and check. He said that the RCMP would like to know exactly what happened. "There would be no charges, obviously," he said "We just want to get the information." He said the police, and especially Guilbault would like some closure. "It's hard for everybody, especially the dog handler," he said. "He was part of the family and part of work." Galleghar said a memorial service will be held for Fred, but said it was too early to say when or where. He said it could be in Chester or even at RCMP headquarters in Halifax. The search for William Lewis started Tuesday afternoon after Department of Natural Resources patrols came upon circumstances that seemed out of the ordinary to them, said Hay. RCMP were contacted and then police contacted the man's family. For the first two days of the search, the Department of Natural Resources supplied a helicopter to help search. On Thursday an RCMP helicopter took over. Also involved were members of Annapolis Ground Search and Rescue. As of mid-afternoon Thursday, Lewis had not been located.
submitted by Jim Cortina, Dir. CPWDA
---
In Loving Memory of
K9 FLICKA
January 30, 2008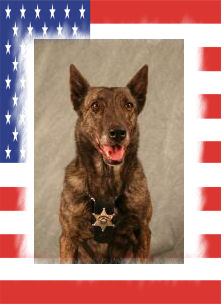 Handler: Allen Kinsley
Linn County Sheriff's Office
Sheriff Marvin Stites
107 South 4th Street
(913) 795-2666 or (913) 795-2665
Mound City, Kansas 66056
"Flicak" passed away on Wednesday, January, 30, 2008. "Flicka" spent the last five months with handler Allen Kinsley, of the Linn County Sheriff's Office. "Flicka" served with the Linn County Sheriff's Office since 2004. "Flicka" apparenty succombed to complications from emergency surgery which she had on January 4th. ""The greater love is a mother's; then comes a dog's; then a sweetheart's." - Polish Proverb
submitted by Jim Cortina