In Loving Memory of
In Loving Memory of
K9 RENO


December 21, 2006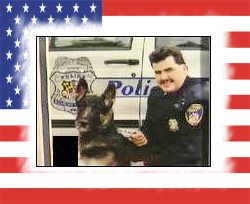 Handler: Officer Jerry Turpin
Baltimore Police Department
601 E. Fayette St.
Baltimore, MD 21202
410 396.2525

Baltimore, MD There is sad news from the Baltimore Police Department, as the oldest veteran of its renowned k-9 unit has died. "Reno" was 14, and served 11 years as officer Jerry Turpin's partner, before failing hips, caused him to be put down. With tears in his eyes, Turpin, a 26-year veteran of the force, says "I've lost my best friend. Nobody will ever know what goes on between an officer and his dog." Reno and Jerry hit the streets in 1996 and were inseparable until Reno was injured in the line of duty. In 2005 Reno fell through a window while in pursuit of a suspect which lead to his retirement as a result of the injuries. Reno's
sister "Imka" has become Jerry's new partner.
There are 28 canines on the city police force which, celebrated its 50th anniversary
March2006http://wjz.com/video/?id=23839@wjz.dayport.com
---
In Loving Memory of
K9 REXX
September 7, 2006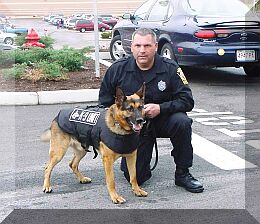 Handler: Stephen J. Correia
City of Taunton Police Department
23 Summer St. 23 Summer St
Taunton, MA 02780 - (508) 824-7522

On September 7th, 2006 K-9 Rexx was put to sleep after a courageous battle with cancer, he was 7 years old and
was an active, working member of the Taunton Police Department. Rexx and I had been partners since April of 2001.
Rexx will be greatly missed not only by me, but by the entire Correia family Mom: Beth and sisters: Ashley, Heather and Sophia.
submitted by Handler, S.J. Correia
---
In Loving Memory of
K9 ROSE
2006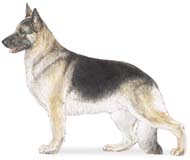 Police dog dies; Cancer (no further information)
submitted by Jim Cortina, Dir. CPWDA
---
In Loving Memory of
K9 RENO
November 16, 2006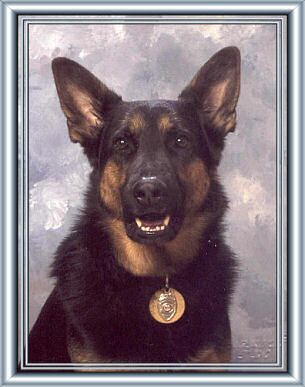 Handler: Sgt. Dave DeGonia
Kirkwood Police Department
131 West Madison,
Kirkwood MO 63122 - 314-822-5858

Reno, the beloved and hard-working Kirkwood Police Department canine officer, died on Thursday, Nov. 16. He was nine years old and worked with his handler/partner Sgt. Dave DeGonia for seven-and-a-half years. Reno was taken to Clark Animal Hospital on Nov. 16 after he didn't want to get up for breakfast, according to DeGonia. Numerous cancerous tumors were found throughout his abdomen and he was euthanized. "Reno was far and above the average K-9 dog," Kirkwood Police Chief Jack Plummer, noting much of the credit goes to DeGonia. Not only was Reno a good search and tracking dog, but he was also wonderful with the public, Plummer said. As recently as two weeks ago, Reno helped to locate a suspect in a Ladue robbery case, the chief added. Reno was a German Shepherd born
in the Netherlands. The Kirkwood Police Department acquired Reno in May of 1999. He attended the St. Louis
Metropolitan Police Department's canine school with DeGonia. DeGonia joined the Kirkwood Police Department in
August 1987 and was promoted to sergeant in August 2005. During their first regional patrol certification through the
United States Police Canine Association (U.S.P.C.A.) the canine team finished fifth out of approximately 40 canine teams. This was exceptional for a first time canine team. Dave and Reno consistently placed in the top ten and one year they finished as high as second. Reno had many accomplishments not only in Kirkwood, but also throughout the St. Louis area. Assisting the Maryland Heights Police Department, Reno helped track down a suspect who had fled into Creve Coeur. When officers from several different departments were unable to locate the suspect, Reno began his search. Reno located the suspect in a high grassy and wooded area. DeGonia knew Reno had located the suspect when he heard the suspect yell, "I give up." Officers and citizens alike will also remember the way Reno could open the car door with his nose and close it by pulling a handle inside of the door. Reno was not only DeGonia's partner, he was also a part of his family. He lived with the DeGonia family which includes Dave's wife Kathy and their two young daughters, plus Jack, a nine-year-old yellow lab and Greta, an 18-month old German shepherd. Every dog training exercise ends with the dog coming to a heel position and staying until he is given his release command when he is rewarded and praised, DeGonia said. Reno's release command was "free" and his reward was his favorite "Kong" ball. DeGonia said he always praised Reno by telling him he was a clever dog — "Reno, you are clever dog and now you are free." "Reno made people smile and made criminals nervous," DeGonia said. "Being able to watch both sides of his personality made me feel so proud to be his handler. " He taught me many things and gave me many memories," he added. "I will cherish those memories and use them to help other canine teams as well as my future dogs." Chief Plummer said the department has been getting calls — both in sympathy and to volunteer financial help to replace Reno. "It's an expensive endeavor and very worthwhile," Plummer said concerning b-training and training a K-9 dog. He noted the department will look into the situation after the first of the year. "I'd hate to be the dog following Reno," Plummer said. A public ceremony to honor Reno will be held
on Thursday, Nov. 30, at 10 a.m. at the Kirkwood Police Department, 131 W. Madison Ave.
Plans are to plant a dogwood tree in Reno's honor. Some of Reno's "running buddies" will likely be in attendance, Plummer said.
submitted by J. Cortina
---
In Loving Memory of
K9 RENO
November 28 2006


Handler: Officer Chris Gawlas
Jefferson Hills Police Department
925 Old Clairton Rd.
Jefferson Hills, PA 15025
PH: 412 655.735 - 412 655.2222
Officers Mourn K-9 Companions Death
The Jefferson Hills Police Department mourned the loss of a K-9 unit that was put to sleep earlier in the week.
The highly-trained dog was acting as a PR pooch since being shot with a pellet gun while playing in the backyard with his partner, officer Chris Gawlas. Gawlas, of the Jefferson Hills Police Department, said the shooting would make sense "if he was engaging a subject, or if he was in a building and something happened. I could understand that," he said. "But he was in my backyard. There's no words for that, that is cowardice." The dog, Reno, was put to sleep after the lingering effects of the shooting became too painful. Reno was trained as a utility K-9, which meant that he could track lost people or search buildings for narcotics or injured people. The training cost more than $10,000. Donations and seized cash from drug dealers will help pay for Reno's replacement. Those who worked along side the dog said it would take a long time to get over Reno's death. It is with the deepest sympathy that Jefferson Hills Police officer John "Chris" Gawlas and his family announces the passing of K9 Reno. Chris was forced to retire Reno last year after Reno was shot several times with a high-powered pellet gun in his own back yard. One of the pellets was lodged next to Renos spine, which caused him great discomfort. The injury got worse over the last year and over the last couple of days Reno quickly lost his ability to walk or even stand. Early Friday morning, Chris was forced to put Reno down to put him at ease. If it were not for this injury, Reno probably would still be serving the residents of Jefferson Hills today. Reno proudly served his community and partner with honor everyday of his career. He will be greatly missed by all. A memorial service is being planned to honor our fallen brother. I will post all further information. Please pass this on to get the word out. If you would like to send condolences, please email them to me and I will forward them to Chris and his family or you can mail them to the following address.
Jefferson Hills Police Department C/O Officer Chris Gawlas
925 Old Clairton Rd. Jefferson Hills, Pa. 15025
Supporters ensure new K-9 for Jefferson Hills
Thursday, December 08, 2005 ~By Margaret Smykla, Tri-State Sports and News Service
As retirement drew near for Reno, 9, Jefferson Hills' police dog, his handler, Officer Chris Gawlas, sought grants for a new dog. With public funding sources slim, Officer Gawlas also approached area business leaders in September about donating. As word spread, contributions poured in, hitting the goal of $10,000 for a new dog and police training. "You can back a program verbally, but when you actually back it financially, I think that's a sincere interest," Officer Gawlas said. On Nov. 8, he brought home 1-year-old Fritz, who, like Reno, is a purebred male German shepherd born in the Czech Republic. Fritz and Officer Gawlas are students in a strategic law enforcement canine class in North Huntingdon. Fritz is expected to be ready for full duty in the spring. That means sniffing for drugs, apprehension, tracking people and searching buildings. In the meantime, Reno, who lives with the Gawlas family in Jefferson Hills, is still on duty. On Saturday afternoon, the pair visited the Pleasant Hills Middle School for the Pleasant Hills police department's community Christmas party. In his retirement, Reno will remain in the spotlight, making appearances for the DARE program and other departmental public relations events. Officer Gawlas said
his new partner, Fritz, like Reno, is extremely intelligent and a quick learner, though the animals' maturity levels differ, and Fritz will be bigger. But as Fritz is still a puppy, even at 62 pounds, a chew bone is always on the family grocery list, said Kim Gawlas, Officer Gawlas' wife.
---
In Loving Memory of
K9 "R J"
(Rusty Junior)
2006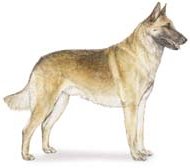 Handler: Office Bryan Hanania
Ahwatukee Foothills Police Department
Phoenix, AZ

Possible honor for fallen K-9 Pecos dog park could be renamed for R.J.
Ty Young The Arizona Republic Feb. 28, 2006
When police officers put on their badges and uniforms, they know there is a chance they may not live to take them off. But when another officer makes the ultimate sacrifice to protect another, it reverberates throughout more than just the police department. In August, Officer Bryan Hanania of Ahwatukee Foothills found himself in that scenario in an incident in central Phoenix. His partner of 16 months, a Belgian Malinois police dog named Rusty Junior, stopped a suspected car thief by lying between Hanania and the car. Rusty Junior, known as R.J. around the station, was run over by the suspected thief and dragged for 30 feet and his eventual death. Officers chased down the driver and arrested him. Hanania had spent 1,600 hours training with R.J. Despite catching the suspect, Hanania said it was tough saying good-bye to his canine partner. "It was very hard for my wife and me to handle," he said. "You want to put everything behind you but it sn't very easy." Since R.J.'s death, Hanania has started training another police dog named Cyrus. Like R.J., his new partner lives with him in his Ahwatukee Foothills home and often runs around the 66-acre Pecos Park dog park with Hanania's two greyhounds. The public, city officials and the Police Department have been supportive of him since R.J.'s death, Hanania said. Still, it was a surprise when he learned the Parks and Recreation Department may rename the Pecos Park dog park to honor R.J. "I think it's very appropriate, especially because we use that park very often," he said. "It wouldn't be the same it were a building or a tree." The Parks and Recreation Board may hear the proposal during its March meeting. Recreation supervisor Inger Erickson has worked with Councilman Greg Stanton, the Police Department and PetSmart to make the change. PetSmart provided much of the funding for the park. If it all comes together, Hanania said he will be honored to share a park with his old partner. "I know when I go there and see that plaque, it'll bring a smile to my face," he said. The park is at 17010 S. 48th St., and includes two fenced off-leash areas totaling 2 1/2 acres. It is on the eastern side of the park closest to the Pecos Road bend in Interstate 10. The park has a sidewalk entryway, water, lights,double-entry gate system, mutt mitt bags, dispensers and trash receptacles.
---
In Loving Memory of
K9 ROLF
October 30, 2006
.

Handler - Deputy Don Zickmund
Benton County Sheriff's Department
105 S Lincoln Avenue
Fowler, Indiana 47944 (765)884-0080

A police dog that served with the Benton County Sheriff's Department died.
Rolf, an eight-year-old German Shepherd from the Netherlands, was diagnosed with bone cancer and suffered a stroke. Deputy Don Zickmund was Rolf's handler for six years. Rolf worked with the Rensselaer Police Department for
four years before serving with the Benton County Sheriff's Department. Rolf was the only canine serving with the department, but the department does plan to continue to pursue a canine program. A memorial service is scheduled for Monday at 2 p.m. for Rolf at the town park of Fowler. The public is welcome to attend.
submitted by Jim Cortina
---
In Loving Memory of
K9 REGGIE
July 16, 2006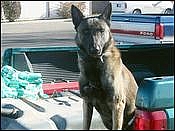 Utah Highway Patrol
The Utah Highway Patrol reports that a K-9 dog has died after being left inside a vehicle by its handler. The dog, named "Reggie", died of apparent heat exhaustion on Sunday after his handler says he left the animal inside his vehicle with the engine running and the air conditioning on. In a statement released Monday, the UHP said leaving a K-9 police dog inside a vehicle with the air conditioning on is "standard procedure". The handler was staying with other troopers at a hotel in Green River. According to the statement, UHP K-9 trooper Brad Zeeman arrived at the hotel Sunday afternoon and left Reggie in the vehicle. A concerned citizen advised hotel management who then advised Trooper Zeeman that his dog was struggling inside the UHP cruiser. The trooper rushed outside and found Reggie unconscious inside the vehicle. The troopers immediately took Reggie and put him into an ice bath to try and lower his core temperature, and then took the dog to a veterinarian in Price, where he later died. The Utah Highway Patrol is conducting an internal investigation into the incident.
===========
(KUTV) SALT LAKE CITY A police dog inside a Utah Highway Patrol car for six hours collapsed and later died when the air conditioner failed in extreme heat. Reggie, a 9-year-old Belgian Malinois with a nose for finding drugs, was put in an ice bath and rushed to a veterinarian Sunday night but didn't survive. "As you can imagine, there are a couple of people who are broken up," Trooper Jeff Nigbur said Tuesday. "He was a hard worker and had some good dope finds. "Reggie and his handler were on weekend patrol near Interstate 70. The dog was given food and water and placed in the patrol car outside a motel with a window open 4 inches and the air conditioner on, Lt. Chris Simmons told the Desert Morning News. At some point, the air conditioner failed and instead blasted warm air. "There was antifreeze all over the parking lot. Something happened to the car, and we lost the coolant," Capt. Jeff Graviet said. Trooper Brad Zeeman, who was asleep at the motel, was awakened when someone reported Reggie struggling in the car around 4 p.m. The Utah Highway Patrol typically keeps dogs inside climate-controlled vehicles rather than ask if an animal can stay in a room, Graviet said. "In years past, we've had issues with motels," he said. "We came up with a program to have the kennel in the car.It's worked for several years. We've never had a problem." The temperature in the area was 100 degrees or higher, Graviet said. Zeeman had not activated a system that opens all windows and sounds the horn when the inside temperature exceeds 80 degrees, Graviet said. Reggie had hundreds of drug finds, including 100 pounds of marijuana in the gas tank of a truck in 2002. He once tracked down a man who had assaulted a police officer and fled into the hills of Tooele.
---
In Loving Memory of
K9 ROOKIE
November 22, 1994 - May 9, 2006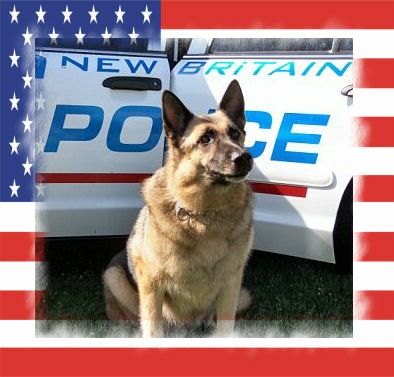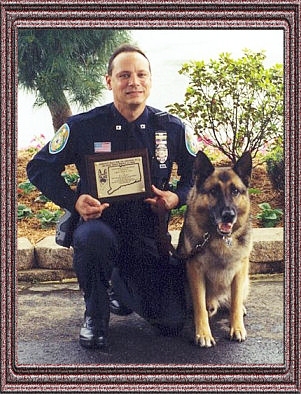 Handler: Joseph Petro
New Britain Police Department
125 Columbus Blvd.
New Britain, CT 06051
860-826.3000

It saddens me to inform you that Rookie passed away today after a sudden illness. He spent his last days in an emergency hospital in Norwalk and died while being prepped for an exploratory surgery. My dedicated partner and friend worked the streets of New Britain for 9 years and made quite a name for himself during his tour of duty. I miss him greatly. I work as a School Resource Officer in the local high school now, so I don't have a K9 partner. I do have a beautiful two year old German Shepherd named Odin. He was fully trained in obedience since five months old. Everything was done off leash with him and I did the majority of police training with him after that. My wife won't let him work for me though. It's her "baby". Rookie, my partner of almost ten years, passed a few years ago. It gets a little easier with time, but it sure doesn't go away. He worked as a PSD from February 1996 and retired from service in November 2005. He worked Patrol & Narcotics.
submitted by J. Petro
---
In Loving Memory of
K9 RAIN
2006/7/23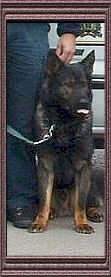 Cpl. Pierre Gardner
Moncton New Brunswick - Canada
RCMP Headquarters - 1200 Vanier Parkway
Ottawa, ON K1A 0R2

Police dog found strangled in woods
RCMP police dog killed in the line of duty , Baltimore, N.B. On July 22, 2006, Caledonia District 11 RCMP responded to a call of an armed man in Baltimore, N.B. The J Division Emergency Response Team and Police Service Dog "Rain" were also called to the scene. At the scene, "Rain" got away from his handler and pursued a suspect into a wooded area. The suspect was bitten by the dog, but the man managed to escape back to his home where he was later arrested. "Rain" did not return. At 2pm on the following day, July 23, "Rain" was discovered dead in the woods. "Rain" was later flown to the University of PEI Veterinary College for an autopsy. At this time, no charges have been laid. The matter is still under investigation.
Sgt. Maurice Comeau 506-387-2222
-----------
MONCTON (CP) — A preliminary autopsy has revealed that a New Brunswick police dog died from strangulation over the weekend while out hunting for a man. The German shepherd, Rain, accompanied his handler to a call Saturday afternoon in Baltimore N.B. Police were told a man was threatening to kill himself with a rifle somewhere on his large, wooded property. Sgt. Maurice Comeau said K9 Rain was on the hunt for the man, trying to sniff him out of the woods but then he got loose. It was while on the prowl without his handler, leash trailing behind him, that Rain ran into trouble. "The dog got away," Comeau said. "The dog found this guy in the woods and there was a skirmish between him and the dog. The dog did bite him, and the guy managed to escape." Police say the suspect was found later Saturday afternoon in one of the several buildings on the property with a dog bite. He told police he didn't harm the dog, and no gunshots were heard.
submitted by Jim Cortina & Paul Green
---
In Loving Memory of
K9 RECON
February 25, 2006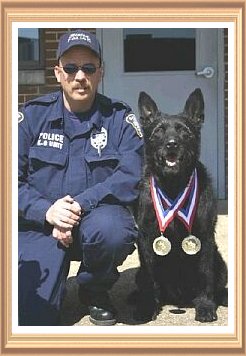 Handler: Officer Bob Suarez
Clinton Police Department
125 W. Broad St.
Clinton, TN 37716
(865) 457-3112 email

It is with a very heavy heart that I just learned of the passing of K-9 Recon at 09:00 hrs this morning. Recon was handled by officer Bob Suarez of the Clinton Tn. P.D.,in Region 8. For those of you that may have met Bob & Recon, they were one team that you would never forget. Recon was a black, curly haired, Belgium Lackenois, who most of us referred to as - jokingly - the "goat dog". Bob and Recon were one of most consistently solid narcotic
detection teams I have had the privilege of scoring. Recon was also dual purpose trained in Cadaver work,
another area in which they both excelled in year after year. Recon had excellent results on the streets as well.
If you were lucky enough to have spent some time with Bob and Recon, then you saw just an amazing bond between
handler and dog. Recon will be remembered for many, many, years. He touched the liver's of so many people.
" Recon, rest in peace my friend."
submitted by Dusty Simon & Jim Cortina, Dir. CPWDA
website - http://www.clintontn.net/Police/index.htm

Clinton Police Department cadaver dog, Recon, who with his handler came to the Department three years ago, has died. Recon, an 11-year-old Belgian Lakinois, died Feb. 25, after battling a debilitating illness. Detective Bob Suarez
brought Recon with him when he joined the Clinton Police Department in March 2003. In 2004, Recon became the first dog nationally certified through U.S. Police Canine Association as a cadaver dog. He also received first place in 2004 in the cadaver category during USPCA national competition in Bay St. Louis, MS. In 2005, Recon was the first dog to certify as a cadaver dog through the International Forensic Research Institute. Being a cadaver dog means he's trained to search for bodies. "Recon was a tremendous asset to our department," said Police Chief Rick Scarbrough. "He was known throughout the area as a great public relations dog, but he was also respected in the law enforcement community. The 'old man,' as Suarez referred to him, always came through." I sure you hear all the time about how special each and every one of our K9 partners are. Of course Recon was no exception. He was big, fuzzy, no tail, strange haired dog, that no would believed to be a police service dog. I've trained more than a hundred police dogs and taught in dozens of seminars. Attended several national police dog trials I've not seen nor heard of a dog like mine. It may sound like bragging but it is not. I would like you to know just some of his deeds.

The public is invited to attend a memorial service for Recon
Monday at 1 p.m. at the Clinton Community Center. Leean Tupper/Staff
Recon, Clinton Police Department canine officer, takes a break after searching for a murder suspect in Clinton in 2005. "Members of our community have come forward wanting to donate funds to replace Recon," Scarbrough said.
"We appreciate their response and support." Anyone wishing to donate funds should contact Scarbrough at 457-3112 or at the memorial service.

1st police service dog in Tennessee to hold 4 different certifications
[ patrol, drug detection, cadavers detection, and tracking ]
1st police service dog in the US to nationally certify in both drug and cadaver detection
[ USPCA RULES ]
1st police service dog to certify under the International Forensic Research Institute in both Drug and Cadaver detection . Needless to say Recon has several deployments in drugs, cadaver, and patrol in his 7 years of his career.
---
In Loving Memory of
K9 REEKY
November 6, 2006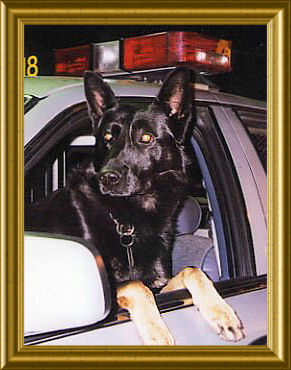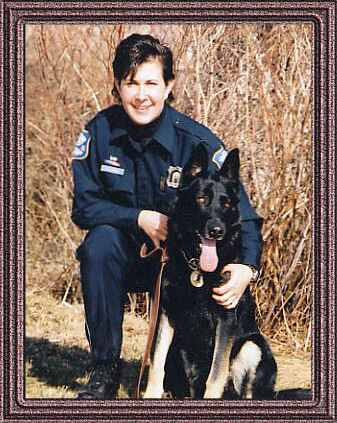 Handler: Officer Karen Kurkie
Waterbury Police Department
255 East Main Street
Waterbury, CT 06702
(203) 574-6911 email

I regretfully inform you that on Monday November 6th, 2006 I had to put to sleep my partner, K9 Reeky. Reeky and I worked for the Waterbury Police Department (CT). Reeky was a dual purpose K9 that worked the streets for 5 years with me. He was retired in December 2004. In his retirement he enjoyed swimming and lots
of walks with me. I will miss him tremendously. Thank you Karen Kurkie
---
In Loving Memory of
K9 RACCO
September 12, 2006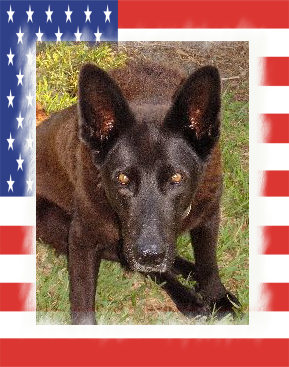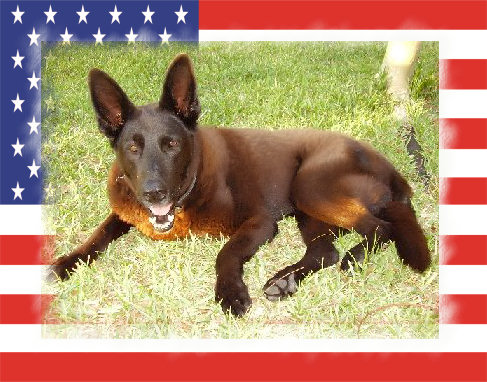 Handler: Sgt. Anthony Sirianni
North Port Police Department
Traffic / Neighborhood Stabilization Unit
North Port Police Department
4980 City Hall Blvd.
North Port, Florida 34286
941-429-7378 office 941-429-7300 dispatch 941-628-1206 cell 941-429-7495 fax

Decorated K-9 Racco dies 9/27/06 Florida
North Port Police Department to hold memorial service Friday
Synopsis: Memorial service planned for Friday to honor Racco,
a North Port Police K-9 who passed away on Sept. 12.
NORTH PORT -- He was more than a dog to North Port Police Sgt. Tony Sirianni. He was his partner and a fellow
police officer to whom Sirianni said he owes his life.
North Port Police K-9 Racco passed away on Sept. 12. Sirianni said he fed Racco lunch at 11 a.m. At 3 p.m.,
Racco fell asleep and never woke up. Racco was 14 years old. A memorial service will be held for Racco in
front of the North Port Police Department at 9 a.m. Friday. Sirianni said that, in the beginning of his K-9
career in February, 1997, he and Racco, a Dutch Shepherd, responded to a call about a man with a weapon
who broke into a home. Sirianni said Racco started a track. However, the armed man circled and was behind Sirianni,
ready to attack him. "Racco jumped back and to the right," Sirianni said. "Trying to control Racco, I ordered the
person to come out." The man gave himself up. "He (Racco) hadmy back on that day," Sirianni said, after
learning of the man's intentions. Sirianni said if it were not for Racco, he would not be here today. Racco
would go on to save the lives of many people during his four and a half years on the job. Sirianni said Racco
helped find an autistic 4-year-old child after he was discovered missing for two hours in a cold rain.
"He (the child) was minutes from death," Sirianni said. Racco also saved two suicidal people, who tried
to overdose on drugs. What Sirianni remembers the most about Racco is he never left his side. "Most dogs like
to run around and check things out," Sirianni said. As he said this, his other K-9 dog, Ares, halted the interview
as Sirianni had to chase him. Ares was running along Sirianni's fence.
"Racco never left my side. He was a true partner," he said. Racco completed almost 600 calls during his career,
including apprehending 59 people, biting only eight. Sirianni recalled some of Racco's most notable collars. "About
halfway through his career, Racco and I responded to a call where a woman said her ex-husband was at her house,
trying to break in, threatening to kill her," Sirianni said. "The woman had a restraining order against him. We arrived
and the man ran around the back of the house. Racco raced to the back of the house. He found the man hiding in
thick palmetto, and dragged him out of it by his leg." Sirianni also recalled Racco's last apprehension. Racco
caught three burglars as they were coming out of the back windows of the Moose Lodge. Racco retired from the
job in December, 2001. "I can only hope to be the 'man' that Racco was," Sirianni said. When asked what he meant
by this, Sirianni's voice started to break, saying it was hard to explain. "I don't consider him a dog. He is a
police officer, working side-by-side with me," he said. "No matter what I asked of him, he was happy to do it.
He would have died for me," Sirianni said. "How many men do you know that have that kind of fortitude?"
Finding it harder to speak, Sirianni said that he can only hope that he could measure up to Racco.
update:
2009-Sgt. Sirianni is presently head of the K9 Unit. submitted by Jim Cortina & Sgt. Anthony Sirianni
---
In Loving Memory of
K9 ROCKY
1999 - 2006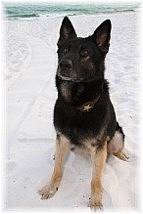 Sgt. Bob Dudley
Okaloosa County Sheriff's Office
1250 North Eglin Parkway
Shalimar, FL 32579
(850) 651-7410

submitted by Dusty Simon
---
In Loving Memory of
K9 ROSIE
June 1, 2006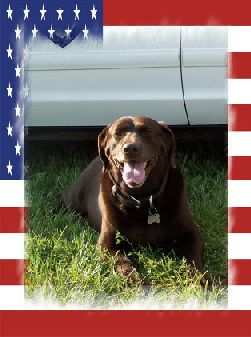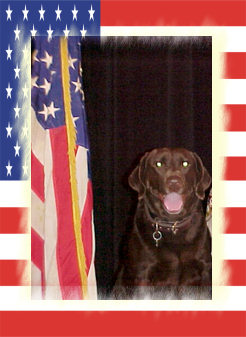 Handler: Sgt. Chad McClusky
Augustus Kansas Department of Safety
2100 N. Ohio
Augusta, Kansas 67010
Phone: (316) 775-4500 Fax: (316) 775-4565

In 1998, a second police service canine, "Rosie," was placed in service. "Rosie," a Chocolate Labrador Retriever, was trained in Narcotics detection and tracking/trailing. "Rosie" was obtained by funds from the Butler County Drug Task Force and purchased from T.A.S.K. in Texas. Sgt. Brit Robertson initially was selected as the handler for "Rosie." Sgt. Robertson left the Department in 2000 and Sgt. Chad McCluskey was teamed with "Rosie." "Rosie" was in service for 5 years before being retired in 2003. "Rosie" passed away on June 1, 2006 from cancer. Once the decision was made that "Rosie" was close to retirement, we began a drive to collect donations to pay for her replacement. Several individuals and businesses donated monies to the fund and within two short months we had raised enough to purchase a replacement canine. "Rosie" passed away on Thursday, June 1, 2006 at the age of 10. "Rosie" spent 6 years on the street with Sgt. Chad McCluskey of the Augusta Kansas Department of Safety. "Rosie" developed cancer of the liver that was not treatable." The one absolutely unselfish friend that man can have in this selfish world, the one that never deserts him, the one that never proves ungrateful or treacherous, is his dog." --George Graham Vest
---
In Loving Memory of
K9 ROCKY
May 29, 2006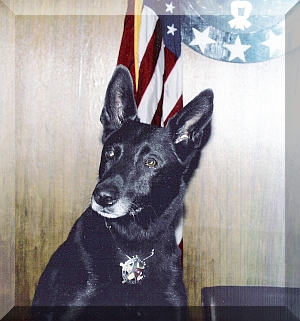 Deputy Mark Greenhaw
Andrews County Sheriff Department
201 N. Main, Rm 113
Andrews, TX 79714
432-523-5545 sjones@co.andrews.tx.us

Andrews County Sheriff's Deputy Mark Greenhaw lost more than a pet when his dog Rocky died on Memorial Day.
To Greenhaw, Rocky was a fantastic police partner and a part of the family. Although he'd been retired from the county's K-9 unit for several years, Rocky became Greenhaw's personal pet. But in the recent past, the almost 14-year-old Belgian malinois became arthritic and unhealthy. Even so, the ever loyal and faithful dog possessed enough drive and gusto to chase a favorite tennis ball. In his younger years, Rocky was responsible for sniffing out numerous drug hideaways and even once protected his police partner from a potentially harmful situation. That's why Greenhaw
misses the dog so much: Rocky was great on the police beat and he possessed smarts and a playful personality. "I was devastated when he died Memorial Day," Greenhaw said. "He was partner and he took care of me several years. I lost a good friend. Once you become a K-9 partner, the dog will do anything for you to protect you. And he never griped at how fast I drove or what radio station I listened to." The only downfall of a K-9 partner is that your car smells like a dog." In his prime, Rocky, categorized as a smaller dog, weighed about 50 pounds. The canine was born in Holland and later trained in Kentucky. His first K-9 partner was Andrews County Sheriff's Deputy Billy Duesler.
---
In Loving Memory of
K9 RINGO
June 10, 2006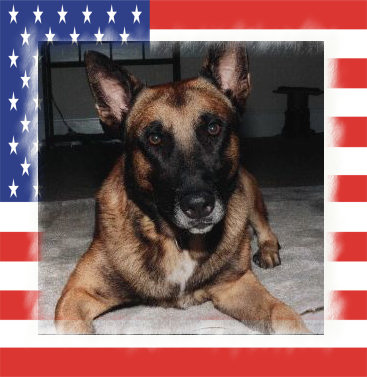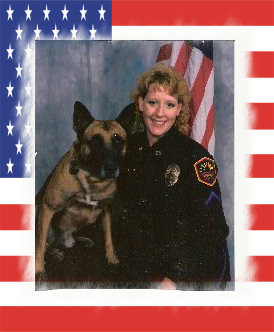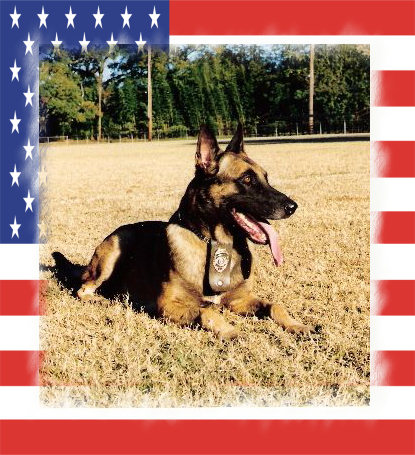 Handler: Cpl. Derek Loftis
Anderson Police Department
401 S Main St
Anderson, South Carolina 29624
(864)231-2272
A former member of the Anderson Police Department died Saturday.
Ringo, an 11-year-old Belgium Malinois, began his career as a K9 officer with the Police Department in 1997. He died Saturday from heat and heart problems because of his age, according to Linda Dudley, spokeswoman for the Police Department. Ringo was one of the first police dogs put into service at the Anderson Police Department. He was the last one still alive of the first group of dogs, said Cpl. Derek Loftis, Anderson Police Department. Ringo had lived and worked with Cpl. Loftis for several years. "He was at home when I was at home and at work when I was at work," Cpl. Loftis said. Ringo was trained in drug detection, tracking, article searches, area searches and criminal apprehension, as well as handler protection. He was responsible for making hundreds of cases related to drug and firearm arrests, money seizures, locating criminals and finding missing persons. "Just his presence ... discouraged people from doing stuff," Cpl. Loftis said. Ringo retired in 2004 due to his age and health problems. In 2004, the department purchased Nemo, a Dutch Shepherd. He also lives with Cpl. Loftis.Ringo continued to do drug detection during his retirement, just not on an everyday basis, Ms. Dudley said. He was put into the field if Nemo wasn't available. The department also has a bomb detection dog. Cpl. Loftis said Ringo had a love for police work. "He was very loyal, very hardworking," he said. "He loved to go to work. When I did have to retire him ... you could tell he was upset because he was not going to work, and he had to stay home." Ringo will be remembered as a tough, hard-working dog who loved to go to work and protect the citizens of Anderson, Ms. Dudley said. Cpl. Loftis said it has been tough the past couple of days without Ringo by his side. "He's not just a dog," Cpl. Loftis said. "I probably spend more time with my dog than with my family because he's always with me."

You have the correct Ringo. I worked him for almost 5 yrs and had to give him up in 2002 when I was reassigned
to vice narcotics. He then went to a handler that quit the dept about a year after and then Cpl Loftis picked up Ringo, and worked him until his retirement. It broke my heart to give him up. I picked up the bomb dog in 2003 when I got out of the narcotics ( I missed being a dog handler). I had to retire him in Apr 07, but he's still hanging on, being fat and lazy. Thank You for what you do, I think it is great!
SGT Holly Hamilton Delta Shift Anderson City Police Dept 401 S. Main St
---
In Loving Memory of
K9 REX
January 13, 2006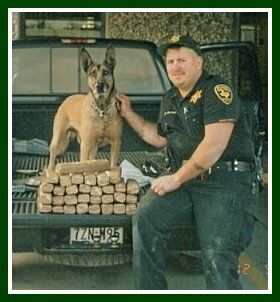 Handler: Sgt. Narcotics Investigator Danny Dawson
81st Judicial District Attorney's Narcotics Div.
1327 3rd. Street
Floresville, Texas 78114
(830) 393-2200

Rex, a Belgian Malinois, past away of natural causes on Friday, January 13, 2006. Born in February 1993, Rex died at the age of 13 years. Rex began working in late 1994 an approximate 12 years of service in narcotics. Narcotics Investigator, Danny Dawson was partnered with Rex for over 6 years. Rex and Danny began their work together with Tri-County Narcotics in South Texas. The pair transferred to the San Antonio area in April 2004. At the time of his death, Rex was an employee of the 81st. Judicial District Attorney's Narcotics Division and amazingly was willing and ready to go to work up until the day before his passing. Rex had his nose in close to $10,000,000.0 0 in Currency Seizures, over 15,000 Lbs. of Marijuana Seizures, and over 3,000 Lbs. of Cocaine, Methamphetamine, and Heroin in his 12-year career. Rex was not just a working dog, but also a best friend and cherished member of the family. Rex went on family vacations, hunting trips with fellow Officers and participated in almost all family activities. Thank you for helping give Rex the honor he deserves. Rex is a true Hero, an extraordinary contributor to the war on drugs. Now, he will continue to work the HIGHWAY TO HEAVEN!!
submitted by D. Dawson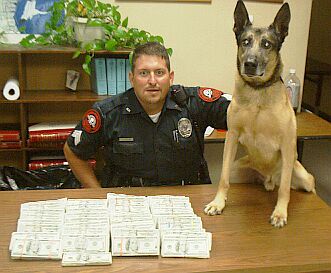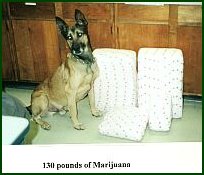 130 lbs. Marijuana (above)
Meet new partner, K9 Joycee below (2007)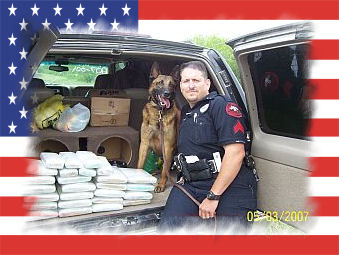 My dog is more than my partner you see
Because he is a very good friend to me
He's the nose I don't have
The eyes I have not
He's one of the best partners
most cops ain't got.
Day by day we do what we do best
His four paws never seem to rest
He always does whatever I ask
Seeming to enjoy every task
I know one day his work will be done
But for now we can only have fun
For my dog is more than a partner to me
My dog is my best friend
and he always will be.
er Brett Cyr - T Written By: K-9 Officer Brett Cyr
- Texas City Police Dept.e DepartmentDepartment
---
In Loving Memory of
MWD ROKKA, Iraq
MWD MASTO, Camp Pendleton
MWD ROBBY, Iraq
2006


Rokka,

who was awarded a Navy and Marine Corps Achievement Medal, is remembered in a picture. The portrait photograph is small box containing his ashes and his medal. "He was a nasty little bastard," Massey said, reflecting on the surprise felt by the unit when the tough dog got sick in Iraq and wasted away from 78 pounds to 38 pounds before being euthanized last June.

Masto

died during a flight back to Pendleton after a medical evaluation at Lackland.

The third dog,

Robby,

also was in Iraq when he became ill and passed away.
**************
More information on the military working dog K-9 adoption program is available by contacting Lackland Air Force Base.

Role of Marine K-9s play increasing role in Iraq


By: MARK WALKER - Staff Writer

Role of Marine K-9s play increasing role in Iraq

Marine Pfc. Brandon Sergeant, left, holds back a dog named Tino as a suspect exits a vehicle during training for car-bomb detection on Camp Pendleton last week. Bruno plays with a ball in the K-9 training area on Camp Pendleton on Tuesday.Bruno's handler, Sgt. Adam Cann, was killed last month in Ramadi. Bruno took some shrapnel in the explosion that killed his handler, and the area around his wound was shaved.


***********

JAMIE SCOTT LYTLE Staff Photographer Order a copy of this photo Visit our Photo Galler

y CAMP PENDLETON ---- Cpl. Francisco Luyando and his dog Ffax arrived in Iraq last year with orders to seek out and
stop suicide and vehicle bombers from entering Camp Blue Diamond in the city of Ramadi. During one search at the
U.S. complex formerly owned by Saddam Hussein's half brother, the pair detected a truck packed with death.
"Five vehicles pulled into the search lane," Luyando recalled last week at the Camp Pendleton K-9 Kennel. "They were supposed to be delivering Thanksgiving dinner to the base." The dog, a Belgian Malinois, signaled to Luyando that it had detected explosives, and a search uncovered 40 pounds of powerful C-4 explosive and several smaller bombs packed throughout the rig. "We were just doing our job," Luyando said about what happened that day in November when Ffax, whose name pronounced as Fax is derived from his breeding and a tattoo on his ear,discovered the bombs. Doing their job and then some, according to Staff Sgt. Greg Massey, the man who has overseen the Camp Pendleton K-9 corps as kennel master for the last three years. "They saved a lot of lives that day," said Massey, who in April will deploy to Fallujah as part of the contingent of 25,000 Camp Pendleton and Miramar Air Station Marines and sailors now assuming lead combat responsibility throughout western Iraq. Since the March 2003 U.S. invasion, the role dogs play has increased dramatically, with dozens of teams from Pendleton assigned to detect explosives worn by suicide bombers, to find roadside bombs and sniff out explosives hidden in houses and buildings.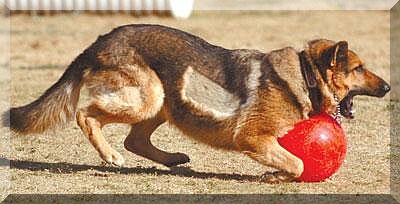 Numbers up!
Pendleton has sent more than three dozen dog teams to Iraq, with more slated to go. Two teams from Miramar
are at work in Afghanistan, and more are in line for Middle East deployment. "We're due to get 10 more dogs in here in the next few months," Massey said of the animals who begin their service careers through a breeding and induction program at Lackland Air Force Base in San Antonio. "We'll get them trained as soon as we can and get them where they can do the most good." A blunt-talking animal lover, Massey, who keeps a cat named Thor at home and is razzed by his K-9 handlers accordingly, said the job is about prevention. "I have a great group of Marines who are dedicated to going over there and saving people's lives," he said. "We've had teams find roadside bombs in cars and discover explosives in house searches."At Lackland, the number of dogs trained in explosives detection has almost doubled since 9/11 to about 300 a year. The animals complete initial training in basic obedience before being shipped to Marine, Air Force, Army and Navy bases for more specialized training. From their initial training to their upkeep throughout their service life, the investment in each dog ranges from $50,000 to $100,000 for an animal that will have a typical service life of six to 10 years. It's a cost well-worth the dollars spent, Massey said. "If a dog finds a bomb, he's priceless," he said.
At the kennel

The three rows of kennels at Camp Pendleton can house up to 48 dogs. Most used by the Security Battalion Military Police, Military Working Dog Section are German shepherds. A handful of Belgian Malinois ---- a European breed similar to German shepherds ---- complete the unit's makeup. One recent morning, Massey walked from cage to cage greeting those dogs who hadn't already left with their handlers for the day's training regimen. First to get a visit was Star, an aging dog set for adoption. Dogs who make it through their service years and can no longer work often wind up in the homes of their handlers or in those of former handlers after being certified as safe to keep. Next to be greeted was Bruno, a 5-year-old German shepherd back on Pendleton after his handler, Sgt. Adam Cann, died in a suicide bombing attack while guarding an Iraqi police recruitment center in Ramadi on Jan. 5. Cann's death was the first among dog handlers in Iraq, and the first recorded in those ranks since the Vietnam War, according to Massey. "Adam was a go-getter," Massey said. "He always wanted to be in the hot spot." Bruno suffered shrapnel wounds in the attack, as did two other handlers and their dogs. It was Cann and Bruno's second deployment to Iraq, and the loss of the sergeant resonates throughout the ranks of the dog handlers. Massey and nine Pendleton K-9 handlers were among dozens who attended Cann's burial at Arlington National Cemetery on Jan. 18. At Pendleton, a large picture of the pair with Bruno raised on his hind legs in attack mode is the only portrait in the building. After Massey greeted Bruno, who is now working with a new handler and will likely return to Iraq in a few months, next up was Orlando. He's the unit's newest canine and will spend the next four to six months becoming fully trained. And then came Kevin, a Belgian Malinois who also suffered wounds in the attack that killed Cann. Kevin is special. He likes to bite. He liked to bite his handlers long before he was wounded. He has unnecessarily bitten five people in his career, all while wagging his tail. "Kevin is mental," Massey said, then ominously added that even though everyone likes Kevin and wants him to succeed, if he continues to bite he may be euthanized by injection. "Our biggest concern is that if Kevin bites again, Kevin will get the 'pink needle.' "

'Making a better product'

Working alongside Massey is Sgt. Vincent Amato, the unit's chief trainer.Like all the handlers, Amato first went through military police training and then joined the K-9 corps either by application or recommendation. A serious-minded Marine who has plans to become a private contractor in Iraq when he leaves the service later this year, Amato is dedicated to one thing: "We're trying to make a better product," he said. "Our job is all about training the Marines and the dogs for the situations they are likely to encounter in Iraq." Lackland is where the dogs did their boot camp, Amato said. Pendleton is where they learn their real job, he said. During one training exercise, Tino and a rookie handler, Pfc. Brandon Sergeant, were responsible for detecting explosives in a car. The dog didn't react immediately to Sergeant's commands to sniff the car, but eventually completed the mission when he sat next to the spot where the explosives were placed. Sitting is the signal Tino is trained to give when he has found something suspicious. Amato wasn't entirely pleased, nor entirely dissatisfied with the exercise. "The hardest job is making the handler and dog act as a single unit," Amato said. "They might now show the handler exactly what we want each time, but every dog can have his day and that can be the difference in whether someone lives or dies."

The Handlers
The K-9 corps is not an exclusive boys club when it comes to the dogs or their handlers. Lance Cpl. Megan Leavey
and her 4-year-old German shepherd Rex will return to Iraq in April along with Massey in what will be the team's
second deployment. She is one of five female Marines from Pendleton working as K-9 handlers, some of whom work with female dogs. Leavey and Rex worked roadside control points in Al Asad and Fallujah and performed sweeps of buildings suspected of containing explosives. "We are the first line of defense because of the dog's sense of smell," said Leavey, adding her only frustration is not being able to participate in patrols because of the military's ban on placing women in direct combat. "It's really cool what they can do." When she and Rex first met, their initial days together were all about Leavey entering his cage each day and taking him outside to play. Rex was not allowed to interact with anyone else. After Rex learned that Leavey was his handler, the pair moved on to more complex training to sniff out explosives and other armament. Once in Iraq, Rex did uncover a couple of bullet magazines and residual odor from explosives. While in Iraq, dogs such as Rex don't go unprotected. Each is assigned a bulletproof vest, booties for walking on glass and cold packs to beat the Iraqi heat. Because of the heat, all-black dogs are assigned night patrol only. Other dogs are shaven to reduce their susceptibility to heat exhaustion.

Memorial
While the dogs are trained to find the weapons that can kill human beings, the military maintains a cadre of
veterinarians trained to save the lives of injured dogs. Last fall, the first-ever veterinary surgeon was assigned to Baghdad to treat the most severely injured. Before his arrival, dogs were shipped to Germany or the U.S. for critical care with the animals second in line for transport after wounded troops. When Cann was killed, Bruno and the two other injured dogs, Kevin and Flapeur, were flown to Baghdad for initial treatment, eventually making their way back to Camp Pendleton. Of the two injured handlers, one remains in Iraq and the other is on light duty at Pendleton. Not all the dogs make it back, and some don't ever make it to the Middle East. Inside the kennel office complex is a memorial to three of its dogs lost since the start of Operation Iraqi Freedom.


submitted by Jim Cortina, Dir. CPWDA