WAR MEMORIAL TRIBUTE
by the F.A.S.T. Co.



The HARTSDALE PET CEMETERY & CREMATORY
75 North Central Park Avenue - Hartsdale, NY 10503
Ph: 800-375-5234, 914-949-2583, Fax: 914-949-2872


June 23, 2002 and June 24, 2001
War Dog Memorial Monument
June 23, 2002

In memory of the hero canine SIRIUS and all those who lost their lives as a result of the terrorist attack on the World Trade Center September 11, 2001
Newly created memorial monument to SIRIUS
adjacent to ROBBY's

American Legion Post No. 8
New Rochelle firing detail

Part of the overflow crowd at
War Dog Memorial Celebration


June 24, 2001 - In memory of K-9 ROBBY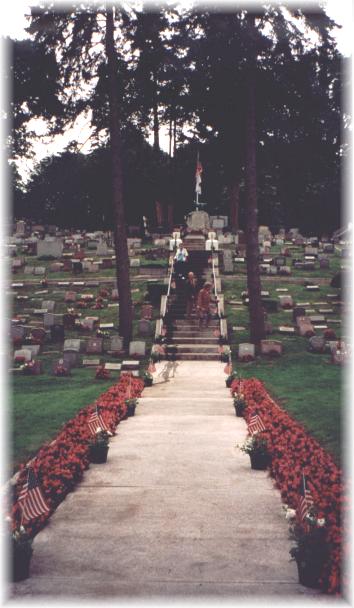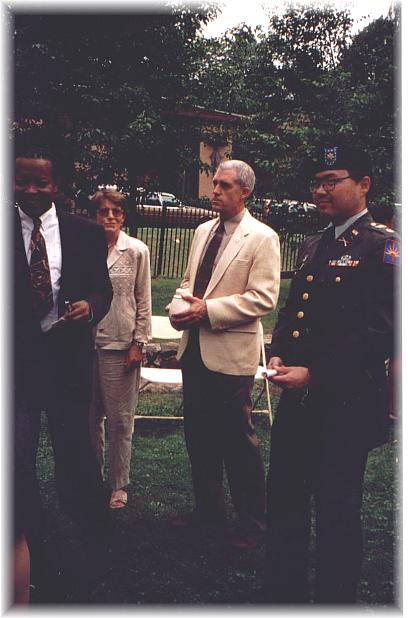 Entrance to Hartsdale, War Dog memorial in center - Major Probst taking cremains to burial site.
From left to right: Beverly Gainer, Keynote Speaker, Veteran Service Officer for Travis County, TX - Paul Votano, MC, (Marketing Director, HCC) @ microphone - Trevor Gill, Cemetery Foreman (Invocation) - Robin Amyx (Representing Congressman Ben Gilman), Staff Asst. - Major Simon Hu (Representing Gov. Pataki) Asst. Chief of Staff, 53rd Troop Command, US Army - Major John Probst, Commander, 341st Training Squadron, Lackland Air Force Base, San Antonio, TX - (Not seen in this photo, but were seated to the right) Ed Martin & Tom Pollina, Directors, HCC - Debora Green & daughter, Amber sang the" National Anthem" & "God Bless America"


*Others who worked so hard *Mary Thurston-TX, Janis Dilbert-VA, Linda Edwards (Web-mistress), - Tom Johnston-KY, Nicole Miller, William Putney, DVM, Ivan Helfand,Travis County, TX - & Louise & Robert Krause-NJ, Beverly Gainer-TX, plus many others who passed the information on to net-friends. Robby's Memorial cards were donated by Mary Thurston & Louise Krause. They were handed out to all who attended, plus mailed to many, including the military in Bosnia.
*___underlined names were unable to attend due to personal reasons, but were with us in spirit.
x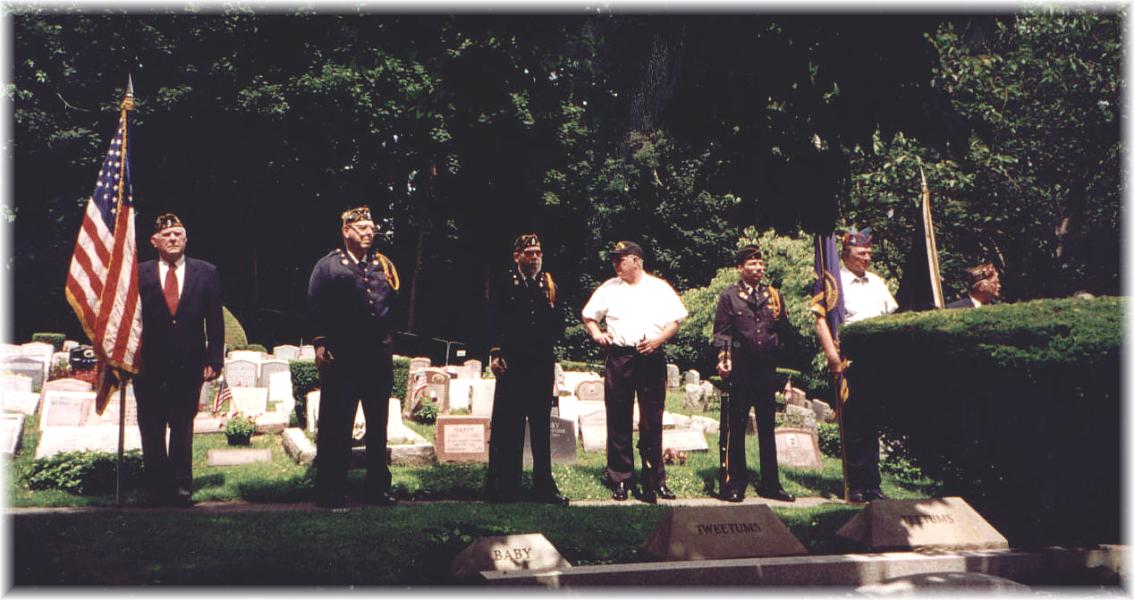 Honor Guard salute to Robby and all the other K-9 military war heroes.
Chairs were set up for all, plus approximate 250 people were scattered under trees
to view ceremony in the beautiful cemetery, on a very HOT sunny day.x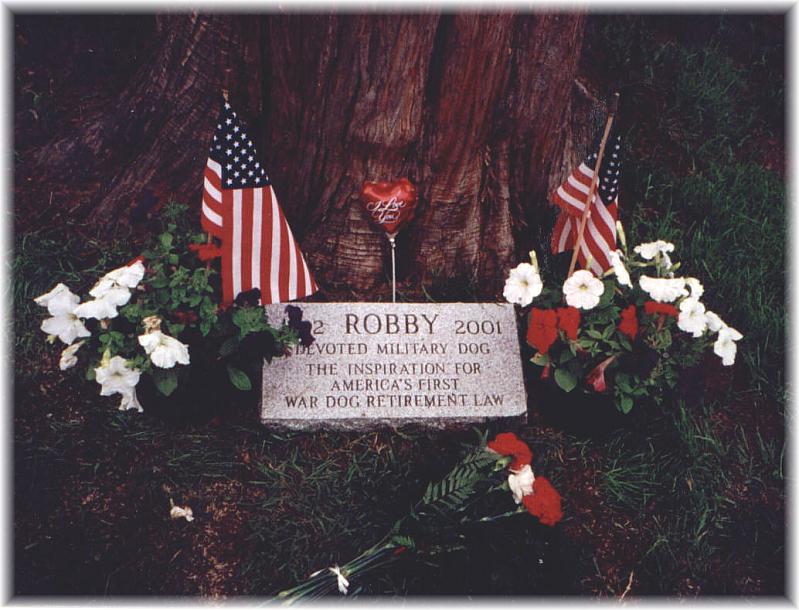 The burial site of Robby's cremains
x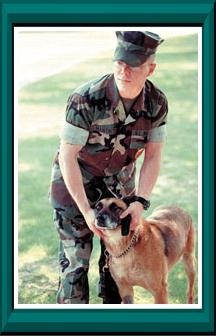 K-9 "Robby" & last Partner/Handler, LCPL Shawnn Manthey
Robby, First American War Dog Retirement Law & for all of the military K-9s
x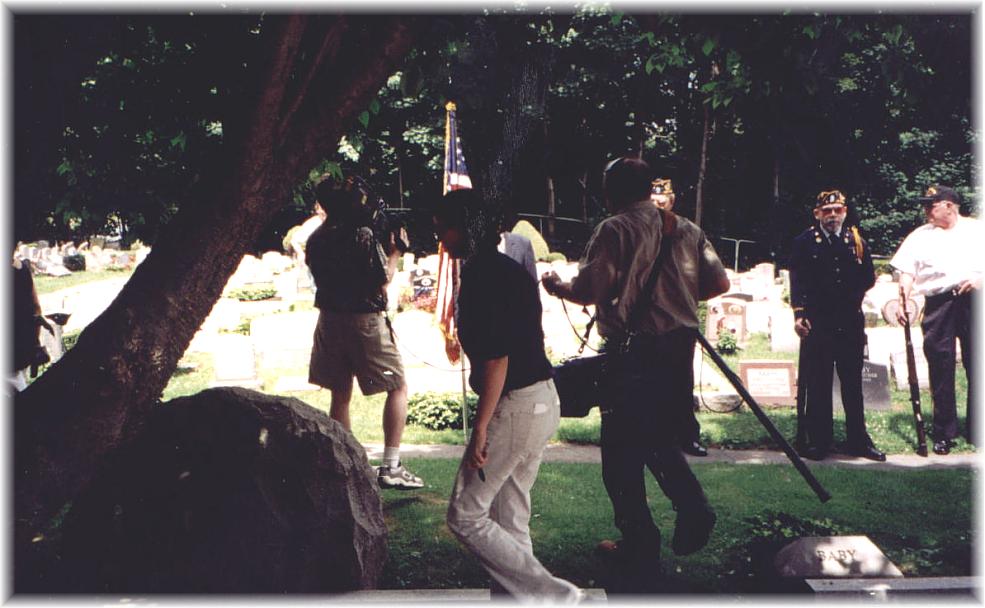 The History Channel taping entire ceremony to be added to documentary & aired in 2002x
NEW LAW
Robby was the "Poster Boy" who changed the laws regarding K-9s in wars since WW I.
President W. Clinton signed this new law ...
on November 6, 2000, H.R.5314 became Public Law No: 106-446 amending Title 10, United States Code,
to facilitate the adoption of retired military working dogs by law enforcement agencies,
former handlers of these dogs, and other persons capable of caring for these dogs.
The the full text of this law can be found on the Library of Congress website:
http://thomas.loc.gov/cgi-bin/bdquery/z?d106:h.r.05314:
More about Robby
Return to K-9 Data
Return to F.A.S.T. Co. K-9 Page
Return to F.A.S.T. Co. Pet Page