Pet Owners & Working Dogs Take Heed
IMPORTANT WARNINGS & INFORMATION FOR ANIMAL OWNERS


NOTICE-IMPORTANT



NEW POISON CONTROL HOTLINE FOR ANIMALS
This phone number will connect you with an ASPCA veterinarian specially trained to assist pet owners or other vets.This is the only dedicated animal poison control hotline in the world manned by veterinarians, not telephone operators, STAFFED 24 Hours a day, 7 days a week!


FIREWORKS & PETS
PETS & EPILEPSY
Heat - animals & K-9 left in cars

NJ new animal Cruelty Law 8/27/01POISON -
Cocoa MulchPOISON-common household hemicals, plants, etc.
Animal Poison Control Center raisins & grapes.
Every 4th of JULY!!
POISON Anti-Freeze
Solution to help de-skunkpetPet First Aid, choking, CPR, etc.
POISON Mushroom please page down
Police & K-9 partners attend regional workshop- Delaware City, DE
Maine signs K-9 Vestadog bill

POISON Anti-Freeze
Solution to help de-skunkpetPet First Aid, choking, CPR, etc.
POISON Mushroom please page down
Police & K-9 partners attend regional workshop- Delaware City, DE
Maine signs K-9 Vestadog bill
K-9 Cars "cooler"
DE. more bomb K-9s
Fireworks and dogs....
Separation Anxiety
People foods for dogs....good and bad

THUNDER STORM FEARS IN DOGS

Raise YOUR Bowls ...prevent bloat

Safe For You, Poison For Your Pet
ProHeart 6 - WARNING

1-04-05
9/3/04

Fort Dodge to Comply with FDA's Request to Recall ProHeart 6 Injectable Heartworm Product from the Market Due to Serious Health Concerns
Fort Dodge Animal Health, of Overland Park, Kansas, at FDA's request, has agreed to immediately cease production and recall its heartworm medication ProHeart®6 from the market until the FDA's concerns about adverse reaction reports associated with the product can be resolved. FDA is requesting that the firm continue to conduct research to determine the cause of related adverse reactions and develop a strategy to help prevent such problems in the future before the product is marketed again. The FDA will convene an independent scientific advisory committee to thoroughly evaluate all available data.
ProHeart®6 is an approved injectable sustained-release heartworm prevention product for dogs. Heartworm disease is a serious and potentially fatal condition of dogs, cats, and other species of mammals. The parasite that causes heartworm disease is transmitted through the bite of a mosquito.
FDA is also advising veterinarians to avoid administering this product to dogs until further notice. Pet owners should consult their veterinarians regarding their pet's health care needs.
Since the product was approved in June 2001, Fort Dodge Animal Health has cooperated with FDA to investigate numerous adverse event reports. As a result, Fort Dodge has voluntarily changed the label to include post approval safety information including rare reports of death and a caution to practitioners that dogs should have a negative test for heartworm before administration.
Despite these label changes, FDA is still receiving unexplained adverse event reports, some of them severe. FDA's concern is based on voluntary self-reporting to FDA by veterinarians and owners whose dogs have suffered adverse drug experiences (ADEs) to ProHeart®6 (which contains the drug moxidectin) as well as the mandatory reporting of adverse events by Fort Dodge Animal Health.
Fort Dodge Animal Health has agreed to recall any product that has already been distributed to veterinarians.
As of August 4, 2004, FDA's Center for Veterinary Medicine (CVM) had received 5,552 adverse event reports for ProHeart®6. The actual number of adverse events is likely even higher because studies show that only a fraction of actual ADEs are reported.
The Agency has observed an increase in the number of cases associated with liver and bleeding abnormalities followed in some cases by death.
November 8, 2004


Safe For You, Poison For Your Pet


DE-ICING SALTS:




De-icing salts are potentially hazardous to any pet, but particularly dangerous to dogs because they are frequently outdoors. It contains an ingredient called calcium carbonate and it acts as in irritant to the skin on a dog's paw pads. If the dog licks its pads and ingests the salt, one of the side effects is gastrointestinal irritation. Symptoms of this include vomiting, diarrhea and drooling. More serious side effects, depending on the level of ingestion, include excessive thirst, depression, weakness in blood pressure and disorientation. The most intense symptoms after a high level of ingestion are a decrease in muscle function, seizures, comas and even death. If you suspect exposure to de-icing salts, call your veterinarian or contact the ASPCA Animal Poison Control Center.





NONSTICK COOKING SPRAY:




Depending on the formulation, these aerosol sprays contain hydrocarbons, which are volatile substances. Some of the early signs of ingestion in your pet include an upset stomach. A high amount can lead to respiratory tract problems and a condition known as aspiration pneumonia (an inflammation of the lungs and bronchial tubes caused by inhaling foreign material).

One thing

you don't want to do is induce vomiting

if your pet has ingested cooking spray or fumes from a nonstick cooking surface, because you could double the risk by forcing your pet to bring these substances back up again.

Birds are very sensitive to cooking sprays because they have a unique respiratory tract that makes them very susceptible to irritation, so be really careful not only with cooking sprays but anything coming from an aerosol container when around birds.





YEAST DOUGH:




If yeast dough is ingested it can expand, rise in the stomach, and can present a dangerous risk to your pet's intestinal system, such as an intestinal rupture. Also, alcohol fermentation may take place in your pet's stomach and if there's enough ingested it can lead to alcohol poisoning. Any pet is at risk. Keep an eye out for signs of gastrointestinal irritation - vomiting, diarrhea and drooling.





COFFEE GROUNDS:




The harmful substances like theobromine and the caffeine found in coffee grounds are very similar to those in chocolate and often produce the same side effects. Look out for vomiting and diarrhea. In addition your pet may experience hyperactivity, increased heart rate, seizures, tremors and possibly even death, depending on the amount ingested.





MACADAMIA NUTS:




We've only seen a negative reaction from these nuts in dogs and we don't know all that much about why they are dangerous, but we would recommend keeping them away from all pets. It's an interesting phenomenon - if enough are ingested (and as little as a handful can be seen as dangerous), we see weakness in hind legs and can see the gastrointestinal effects - vomiting, diarrhea and drooling. These nuts can also affect the central nervous system and cause depression and muscle tremors. Generally signs resolve in 48 hours with proper care and treatme

nt.



TOMATO AND POTATO:




The red, ripe fruit of the tomato is edible and may cause nothing more than stomach irritation to pets with sensitive stomachs. It's the green part of the tomato or a green unripe tomato and the plant part - the stem, the leaves, etc., that is hazardous. Tomatoes and potatoes are in the same family of plants, so both have similar side effects if the green part of the plant is ingested. Again, depending on the amount ingested you will see the common gastrointestinal effects - vomiting, diarrhea and drooling. In addition to these signs, look for decreased heart rate and drooling.





AVOCADOS:




The most common species of avocados is the species that is particularly hazardous for birds, rabbits and mice particularly, but also dangerous to other pets like dogs and cats. Ingestion usually leads to cardiovascular problems and can cause fluid accumulation around the heart and severe respiratory distress. Avocados contain a toxin known as persin and should be kept away from all pets.





RAHWIDE DOGGIE CHEWS:




The level of danger of these chews can depend on individual animal eating and chewing habits. Some dogs can handle these chews well, others can't. If your dog tends to eat in large chunks, then you should keep these chews away from them because they're liable to ingest a large chunk and it can get caught in your pet's digestive tract.




Also, a wet, gooey rawhide laying around can grow bacteria and that will cause GI effects. Whether or not you should keep rawhide doggie chews away from depends on each individual dog. Also, its probably smart to check on where the chew was manufactured - we don't know all that much about the ingredients contained in chews manufactured in foreign countries, but are pretty familiar with the ingredients in American-made chews.





DENTAL FLOSS:




Dental floss is particularly hazardous to cats and kittens because they love to play with stringy things. Be careful with this if your pet tends to get into the trash. Obviously, a foreign substance like floss can cause an obstruction of the digestive system.





APPLE SEEDS:




Apple seeds are in the same category as other fruits like apples, cherries, peaches and apricots. The stems, leaves and seeds contain cyanogenic glycosides, and depending on the dose, you will see not only the common gastrointestinal effects but weakness in coordination and difficulty breathing. In some extreme cases, animals can go into shock or coma and can even result in death. The toxic ingredients are contained in the center of the seeds, so be sure keep your pet from chewing or crushing the seeds with their teeth. Another interesting thing to point out is that the level of toxicity can depend on growing conditions. If it's a stressful growing environment for an apple tree, the level of toxicity may be less than if the tree was growing in a healthy environment. This makes it difficult to gauge how much is a dangerous level.





ONIONS AND ONION POWDER:




Onions, garlic and chives are all part of the allium species. Any of plants can produce similar effects. Look for the common gastrointestinal effects and trouble breathing. In addition, these substances can see significant damage to a pet's red blood cells. Cats can be particularly sensitive but it is dangerous to cats, dogs and birds.





RAISINS:




Although we don't know much about why grapes and raisins are dangerous, we do know ingestion can harm the kidney. We don't know much about the dangers with regards to ingestion levels either, so its best to keep grapes and raisins away from your pets, period.





WHAT TO DO IF YOUR PET INGESTS ANY HAZARDOUS ITEMS:




First thing to do would be to call your veterinarian and let him or her know the situation. They can offer up some direction. Also, the ASPCA has an Animal Poison Control Center, which operates a hotline open 24 hours a day, seven days a week at 888-426-4435 for a fee of $45 per case. If you call, you should be prepared with the following information: the name of the poison your animal was exposed to, the amount and how long ago, the species, breed, age, sex, and weight of your pet, and the symptoms the animal is displaying.



November 4, 2004
Raise Your Bowls
Elevating your pet's food bowl can help prevent bloat, a serious digestive condition that causes the stomach to expand.
Bloat is often caused when dogs gulp too much air while they eat. Placing your dog's food and water bowls on a chair or stool at about neck level can help minimize the amount of air he or she may swallow at mealtime.
Does your dog shake during thunder storms? Is he/she so terrified... you feel so sorry for them? TRY THIS.
Take a look at this photo of a friend's dog. Put a TEE SHIRT and tie it tightly in the back. It makes the dog feel safe.
IT WORKS! Thanks Beth Szillagyi for sharing.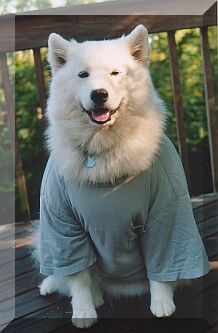 IF YOU DO FIND THAT YOUR
DOG GETS ANTIFREEZE OR SIMILAR TYPE POISON GIVE THEM ALCOHOL IMMEDIATELY AND
THEN TAKE THEM TO YOUR VET...IT KEEPS THE ANTIFREEZE FROM CRYSTALLIZING THE
BLOOD IN THE LIVER
Separation Anxiety:
Presenter: Briony Petch from Australia
Thursday, 15 April 2004
Dear owner, I miss you. Love, dog.
Many dogs experience separation anxiety when left alone. This can present as mild upsets such as whining, crying, barking, reverting to puppy behaviours (including soiling in the house) or severe and destructive behaviours like chewing, digging, scratching at doors, yowling and destruction of property. This is usual incompatible with happy domestic life.

New owners may unwittingly create this scenario by long drawn-out farewells that excite and stimulate the dog's mind just prior to their departure for the day. This leaves him or her confused and may lead to the venting of frustrations on your lovely new lounge, garden bed or door. Or he or she may bark or yowl in a vain attempt to get you to just as miraculously reappear.

Not all destructive and barking behaviours are separation anxiety. In young dogs it can simply be play behaviour, experimentation or him or her having a fun time without you to set ground rules. Separation anxiety is characterised by obvious stress. The animal is in no way happy, well adjusted or content at that time. He or she is not having fun.

How to recognise separation anxiety in your dog

1. Behaviour issues occur primarily when he or she is left alone.

2. He/She is your shadow, following you everywhere when you are at home.

3. Effusive, frantic, crazed greetings when you get home, especially in older dogs (over 2 years old).

4. Pooch shows evidence of depression, anxiety or excitement when you are preparing to leave the house.

5. He/she appears to be uncomfortable outdoors or dislikes spending any time by himself/herself.

Steps to reduce chances of creating separation anxiety in a new pet

1. Get a breed that is appropriate to your lifestyle and environment. For example no Border Collie pups in small inner city apartment, no Saint Bernards owned by busy DINK (Double Income No Kids) families.

2. Make your hellos and goodbyes simple and concise. No mad effusive play behaviour or pats prior to departure. When you have returned ignore pooch for five minutes and then make the hello a no-fuss affair. Play is for when you have a long period of contact with him or her afterwards, for you both to settle down and relax.

3. Ensure that as a new puppy your dog is socialised as much as possible with other dogs and people. This leads to a better adjusted adult and these problems are much less likely to ever occur.

4. Leave toys such as kongs (plastic toy), rope chews, rawhides and even bones for dog to play with and use up time while alone. Leaving an article of clothing with your scent on it also works well, especially for puppies.

5. TV or radio can be left on to provide human voices and mental stimulation throughout the period that you are away from the property.

The above techniques can also be used to treat mild separation anxiety. More severe problems will need the following adjunctive steps.

1. Desensitisation training. This is a technique used to teach your dog to be calm and content in your absence.

2. Change your leaving routine ie don't leave by same door, don't make it a long process. Also do things that routinely indicate leaving (getting keys, closing windows, shut curtains) without actually leaving. This will eventually avoid the stress and anxiety that builds when these things are done in preparation for leaving for the day.

3. When you leave, do so promptly. Say a phrase like 'Catch ya later' or 'Back soon' that lets him or her know you will be back. Leave and the return after 30 seconds for a simple calm pat and final goodbye. Being calm will teach your dog to be calm.

4. First day of desensitisation will entail a lot of work. Leave and return multiple times after 1 min, 2 min, 3 min, 5 min, 7 mins, 10 mins, 20 mins, 30 mins, 45 mins etc... If you return to an anxious patient then cut time away in half next exit. This may take all day.

5. Repeat the above procedure until you can leave for a significant period without anxiety.

6. Very rarely the problem is so ingrained that the patient will need professional help. Behaviouralist counselling or anti-anxiety medications from your local vet may be need to help combat the problem.

In closing, remember dogs are social or pack animals and need quality time with you or another dog to ward off boredom and anxiety. Spend time with your pooch and keep your entries and exits nice and simple. This will avoid lots of grief for both you and your furry mate in the years to come.
Last Updated: 14/04/2004 11:00:00 PM AEST
Dog Food and Nutrition – People Foods: Are They Safe? There is much controversy over what dogs should eat for canine health, proper nutrition and wellness. Some groups believe that feeding dogs

raw red meat and bones is the best; some groups believe natural homemade dog food is best; others will claim any dog food will do. DogAge recommends sticking to mostly a dog food diet to ensure proper nutrition for all stages of your dog's life. Dogs are omnivorous--they enjoy meat and vegetables. To ensure that your dog receives the proper nutrients, choose a dog food that states it provides a 100% complete and balanced diet. DogAge advises against feeding your dog raw meat, due to the risk of bacteria and cysts that might be present in uncooked meat. Dogs who eat mostly table scraps or homemade dog foods tend to consume too much fat and not enough nutrition, and therefore have older DogAges. Some people foods, however, are OK for dogs in moderation (no more than 10% of the total diet) such as: Vegetables. Most veggies are OK for dogs, either raw or cooked. Stay away from onions and garlic because they can cause anemia in dogs. Rice and pasta. Low in fat and calories, these foods make great treats. Use these to add some bulk for weight control diets. Cooked meats without bones. Small amounts of cooked red meat may be OK when fed occasionally and in moderation. Remember that cooked meats can be high in fat and do not contain the proper balance of nutrients your dog requires. Dairy products. Dairy products, such as cottage cheese, low-fat yogurt, and hard-boiled eggs are OK when fed in moderation. Fruits. Dogs will eat both fresh and dried fruits. Stick with apples, berries, bananas, and seedless watermelon. Don't let your dog eat too much! Too much fruit may upset your dog's digestive system. Foods to keep away from your dog are: Sweets. Under any circumstances, DO NOT let your dog eat chocolate. The chemical theobromine contained in chocolate is toxic to canines and even in small amounts can prove to be fatal. Uncooked red meat and bones. Uncooked meats may contain harmful bacteria, parasites, and cysts, which may make your dog sick. Bones may be dangerous because they can splinter and puncture your dog's gastrointestinal tract. Chicken and turkey bones are a potential hazard for your pooch. These small bones can splinter and puncture the stomach or intestines, or cause choking. Grapes and raisins can be toxic to canines if eaten in large amounts. Onions and garlic can cause anemia in dogs. http://www.dogage.com/care/facts.aspx/FF/40
Plug-in cure for dogs' firework fear
Fireworks can be an annual misery for dogs
Dogs terrified by the sound of fireworks are being offered help by a university research team.
The University of Lincoln says it has developed a chemical which will reduce the stress experienced by dogs when they hear fireworks explode. With bonfire night approaching, many dogs "find this a miserable time of year, petrified by the unpredictable bangs," says Daniel Mills, principal lecturer in Behavioural Studies and Animal Welfare. The treatment is delivered by a plug-in device, similar to air fresheners, which will send a soothing pheromone into the air. "Many owners resort to seeking drugs for their pets in order to help them cope, but this is a simpler solution," said Mr Mills. 'Chemical barrier' This "dog appeasing pheromone" is a synthetic version of naturally-occurring chemicals which help to reassure newborn pups. Researchers believe that anxiety can be triggered in animals by exposure to sudden and unfamiliar experiences. And this pheromone can dampen these sensations by giving animals an artificial sensation of familiarity, which acts against the tensions caused by the sudden loud noises of fireworks. "Unlike drugs, the diffuser does not sedate the animal and make it sleepy," says Mr. Mills. The research, to be published in The Veterinary Record, was based on a study of 30 dogs who had shown signs of fear when fireworks were being set off. And it is claimed that exposure to the pheromone reduced the levels of fear. But the effectiveness depended on the dogs receiving an early exposure to the pheromone, which created a "chemical barrier" to the onset of stress.