In Loving Memory of
K9 WILFREED
May 11, 2015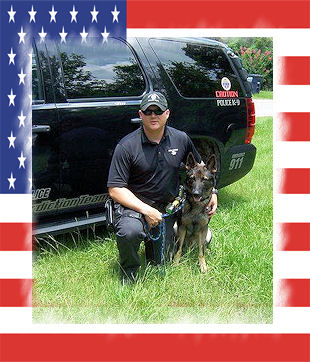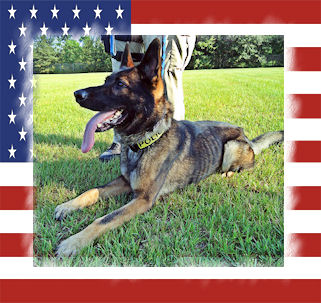 Handler: Officer Chris Strong
Ocean Springs Police Department
3810 Bienville Blvd
Ocean Springs, MS 39564
Ocean Springs police mourning loss of K9 officer `Wilfreed'
Ocean Springs K9 officer Chris Strong and "Wilfreed." Wilfreed had to be put down earlier this week due to a chronic
medical illness. While law enforcement officers across the nation are remembering those lost in the line of duty this week during National Police Week, the Ocean Springs Police Department is mourning the loss of one of its own. The department's beloved K9
Officer, "Wilfreed," had to be put to sleep Monday afternoon after he finally succumbed to a lifelong battle
with chronic irritable bowel disease.
Wilfreed was six years old. "It was a decision I hoped to never have to make," said K9 officer Chris Strong,
Wilfreed's handler and companion. "But he had this problem his whole life and he was beginning to suffer because
of it. At least he's not suffering anymore."
Wilfreed, a German Shepherd, was born and spent his early life in Holland. He was purchased by the U.S. K9 company
in Louisiana, where he was trained as a police dog, before the OSPD purchased him in February 2011. OSPD Officer
Patrick Brandle was Wilfreed original handler before Strong took over in June 2013. Wilfreed and Strong were assigned
to the High Intensity Drug Trafficking Area Task Force and worked the Interstate 10 corridor in Jackson County.
The two were responsible for several drug and criminal apprehensions, according to OSPD Capt. Chuck Jackson.
Wilfreed was also trained in tracking fleeing criminals and assisted in the capture of several suspects who were on the run
from numerous law enforcement agencies along the coast. "He was smart, very lovable and loved people," Strong said,
"but when it was time to work, he knew. He was just a great dog." It is common for K9 officers to form a strong bond
with their dogs. Strong and Wilfreed were no exception. "There's no real way to describe it," Strong said. "It's like
having your own child. You train together, you work together and then at night you go home together. He's like family.
"Losing him is like losing your shadow."
The OSPD recorded Wilfreed's "end of watch" at 13:30 hours (1:30 p.m.) on May 11, 2015.
submitted by Jim Cortina, Dir. CPWDA
---
In Loving Memory of
K9 WILLY
April 22, 2015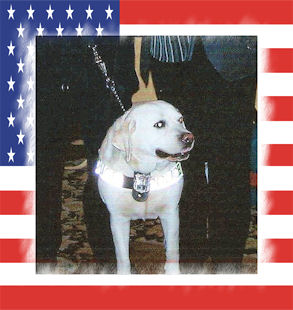 Handler: Officer Gene Urbanowicz
Bayonne Police Department
630 Avenue C #2
Bayonne, NJ 07002
http://www.bayonnepd.com/

Hound Heaven for this cop
Bayonne Police Officer Gene Urbanowicz, Willy, and Maureen Gallagher of the Hudson County Animal League,
which honored Willy at a dinner. Willy, Bayonne's first police dog, died on April 22.

He was a universally beloved member of the Bayonne Police Department; hardworking, fun loving, and always willing to serve.
He was Bayonne Police Officer Gene Urbanowicz's only partner for eight years, and one that Urbanowicz entrusted his life
to each time they worked together. He was Willy, 11, Bayonne's first police dog, and he died without much fanfare on
April 22. But those who knew of him understand just how much he meant to the department, the citizens of Bayonne,
and beyond. Sworn in on Feb. 1, 2005, Willy had an illustrious career with the Bayonne Police Department,
retiring July 31, 2013 with many accolades.

The brainchild of then Police Chief Robert Kubert, now public safety director, the city's canine program was in its
infancy when Urbanowicz was charged with traveling to a Florida kennel and picking a Labrador retriever to train with in
bomb-detection efforts. During their two-week indoctrination period, Urbanowicz and Willy forged a bond, taking
to each other immediately. Then it was back north for three and a half months of explosion- detection training
together through the Port Authority of New York & New Jersey.

Their training served the partners well, because in an age of terrorism they were called in to check for explosives dozens
of times, both in Bayonne and throughout the New York metropolitan area. They assisted the FBI, the Bureau
of Alcohol, Tobacco, Firearms and Explosives, the U.S. Marshals Service, U.S. Park Police, U.S. Coast Guard,
Hudson County Sheriff's Office, and Jersey City Police Department. There were many scary times together,
but thankfully the duo never found a bomb. "One of the mantras of canine work is the slogan 'trust your dog,'"
Urbanowicz said. "That's all you really have to go on.
You're counting on him recognizing something wrong and you noticing if he's not acting right." When the Barclays golf
tournament was held at the Liberty National course in Jersey City in 2009, Urbanowicz and Willy were on duty. When
the Bayonne Golf Club opened and President Bill Clinton visited, the cop and his pooch were once again called into service.
"We had to check on all the equipment that the media was using," Urbanowicz said. "That was our job there. Checking
all the cameras, camera cases, bags. That was all our responsibility." In 2011, the pair was called out to an
emergency situation in Hoboken.
An arsonist was on the loose, having set fire to an electrical panel and rooms on the Stevens Tech campus. "They just
didn't know if there were any secondary devices or booby traps he might have planted, so they called us in," Urbanowicz
said. "We had to search all the dorms. We had to search the whole campus." In 2006, when Bayonne's "Teardrop"
monument against terrorism was dedicated at the Peninsula at Bayonne Harbor, the city's canine team was, of course,
working the event. But possibly the highlight of Willy's career in law enforcement came in July 2010, when the
short-handed park police at Ellis Island called in Bayonne's team when they received a bomb threat at the Statue of Liberty.
Urbanowicz and Willy were picked up by boat and brought to the island to check for explosive devices. For that
assignment, Bayonne's canine unit received a written thank you from the U.S. Department of the Interior. Willy received
many other accolades, including a citation from the New Jersey General Assembly in 2010, and many local ones. Willy's
legacy will not only include his many assignments but also his work ethic, demeanor, and the joy he brought to the lives
of many. "He was a great dog; no problems, he got along with kids, and he was always eager to go to work,"
Urbanowicz said. "I can't count all the times in schools the kids would go nuts for him."

Urbanowicz, 41, a 13-year veteran of the department, has since paired with another dog, Rocco, a drug-patrol partner,
but will never forget Willy. Whether it was sniffing for explosives, making children laugh, or chasing empty water
bottles thrown for fun by other police officers, Bayonne's first police dog will always be remembered. "He was
just an asset to the department; everyone looked forward to seeing him," Urbanowicz said. "He put a smile on the
officers' faces. He just had an impact on the department. Every day we miss him."
submitted by Jim Cortina, Dir. CPWDA
---
In Loving Memory of
K9 WARNER
2015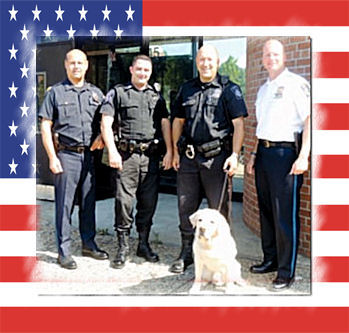 Handler: Patrolman Eric Rizza
Everett Police Department
Everett Police Announce Passing of K-9 Warner
Everett Chief of Police Steven A. Mazzie announced the passing of K-9 Warner, an explosive ordinance detection dog who served the City of Everett, the police department and many other surrounding communities for 9 years. K-9 Warner had retired from service in 2014 and spent his retirement at the home of his handler, Patrolman Eric Rizza and his family. Chief Steven Mazzie said, "Warner and Officer Rizza had been a great team and source of pride for our department. We are saddened that Warner had passed and didn't get to enjoy more time in retirement.
From the day he joined our department, he was fun to watch at work and made significant contributions to many cases and protective sweeps." K-9 Warner was born in New York and bred for the Guiding Eyes for the Blind to serve as a seeing eye dog for the visually impaired. At 18 months old, K-9 Warner was selected by the Bureau of Alcohol, Tobacco and Firearms to become an explosive ordinance detection dog. In the summer of 2006, Patrolman Rizza and Warner attended extensive training courses at the A.T.F. Academy. In addition to training from the A.T.F.
Warner received certificates from the Connecticut State Police K-9 Unit, Boston Police Department K-9 Unit, and the International Police Work Dog Association. Warner was the first Explosive Ordinance Detection canine to be deployed on protective searches at the Distrigas facility in Everett. Patrolman Rizza and Warner also participated in protective sweeps for the annual Boston Fourth of July celebration on the Esplanade, the 2007 and 2013 World Series at Fenway Park and the 2008 Belle Island Grand Prix in Detroit, Michigan.
Warner and his handler also participated in protective sweeps for visiting dignitaries in Boston including Prime Minister of England Tony Blair, the 14'th Dalai Lama and the First Lady of the United States Michelle Obama. K-9 Warner not only served the citizens of Everett but was also served surrounding communities to assist on mutual aid calls. Patrolman Rizza and Warner responded to calls from other police agencies for bomb threat calls and numerous calls for searches for firearms and ammunition, many of which involved homicides in Eastern Massachusetts. Patrolman Eric Rizza and K-9 Warner also responded to the aftermath of the Boston Marathon Bombing on Boylston Street on April 15, 2013. Warner conducted numerous protective sweeps that eventful day as well as the days that followed. Warner also participated in the security sweep of the 2014 Boston Marathon before retiring in August.
submitted by Jim Cortina, Dir. CPWDA
---
In Loving Memory of
K9 WILBUR
1st Handler: Detective-Corporal W.K. Wills
2nd Handler: Sergeant J.R. McMullen
Fayette County Sheriff's Office
100 North Court St

.


Fayetteville, West Virginia
Fayette County Sheriff's office mourns loss of K-9
Fayette County Sheriff's Office K-9 "Wilbur" died unexpectedly on Monday
A K-9 with the Fayette County Sheriff's Office has died unexpectedly. According to Sheriff Steve Kessler, "Wilbur,"
a seven-year-old Bloodhound, developed a stomach disorder and was rushed to a veterinarian late Monday evening.
"Wilbur" survived emergency surgery but died shortly afterwards. "Wilbur" became a member of the Sheriff's Department
when he was eight-weeks-old. His first handler was Detective-Corporal W.K. Wills. "Wilbur's" tracking skills were
used multiple homicide investigations. "When he was only six months old he was called to assist the
Nicholas County Sheriff's Office with a track in connection with a homicide investigation.
Wilbur would go on to be instrumental in the investigation of two other homicides. In one homicide investigation in
the Scarbro area in 2012, Wilbur tracked the suspect from the crime scene directly to the location of the suspect's
residence. The lead provided by Wilbur in this investigation led to this crime being solved and the suspect being arrested
within twenty-four hours of this vicious crime," says Sheriff Kessler. His sensitive nose helped police find a missing
two-year-old child who had wandered from home in March 2013.
"Although friends, neighbors and family members had frantically searched for this young child for several hours without
success, once Wilbur started on the child's track the child was located safely within an hour. The child was located
nearly a mile away from his residence, concealed in a Laurel thicket, and would most likely have died had it not been
for Wilbur's keen nose," says Sheriff Kessler." Wilbur" was named the "West Virginia K-9 of the Year" by the
West Virginia Police K-9 Association in 2012. He was also featured on the Animal Planet show "Appalachian K-9"
and W.VA.'s "Canine Cops." submitted by Jim Cortina, Dir. CPWDA

2nd write up on K9 Wilbur
While most of the department's K-9s are multi-purpose dogs, trained in narcotics detection, tracking and suspect apprehension, Wilbur was trained only in tracking, as bloodhounds are bred for that use. "Wilbur was the first Bloodhound that the Fayette County Sheriff's Office ever acquired," said Sheriff Steve Kessler. "The success that we had with Wilbur inspired and motivated us to obtain a second Bloodhound. Kessler said the tracking ability of bloodhounds cannot be equaled. "If I were forced to cut back on our K-9 Unit, I would give up our cross-trained dogs well before I would give up our bloodhounds," he said.
Wilbur was a member of the Fayette County Sheriff's Office K-9 Unit since he was eight weeks old. He was purchased and donated to the Fayette County Sheriff's Office by his first handler, Detective Cpl. W.K. Willis. Wilbur first assisted with a homicide investigation at the age of six months. In the Scarbro area in 2012, he tracked a homicide suspect directly to the suspect's residence. He was also called upon to track missing people. In March of 2013, a two year-old child wandered off from his residence in the Stringtown Road area.
Although friends, neighbors and family members had frantically searched for this young child for several hours, once Wilbur started on the child's track the child was found safe within an hour. The child was found nearly a mile away from his home, concealed in a Laurel thicket, and would most likely have died had it not been for Wilbur's keen nose, according to the release. "Wilbur was also a great Public Relations Officer for the Sheriff's Office," the release says. "With his big nose, huge floppy ears, drooping jowls and sad eyes, all typical Bloodhound characteristics, and his gentle and friendly disposition, Wilbur was an instant hit any time that the Sheriff's Office K-9 Unit performed a demonstration."
In 2012 Wilbur was named the West Virginia K-9 of the Year by the West Virginia Police K-9 Association. He was also featured in the Animal Planet show, "Appalachian K-9," in their segment about the Fayette County Sheriff's Office K-9 Unit. "Wilbur was like part of my family," McMullen said. "... We were buddies. When we worked out of the Danese detachment together, it was nice to have someone to talk to. He never talked back of course, but I swear he understood everything I said to him." submitted by Jim Cortina, Dir. CPWDA