In Loving Memory of
K9 TTROY (MWD)
June 10, 2015

Handler: U.S. Marine Cpl. Derrick Magee
2nd Battalion
Vineland, New Jersey
K9 partner of Vineland Marine dies at age 11
Cpl. Derrick Magee, 21, dog handler with 2nd Battalion, 4th Marines, from Vineland, and his dog,
TTroy, rest during a patrol break in Afghanistan.
K9 TTroy, who served side-by-side with U.S. Marine Cpl. Derrick Magee on the Afghanistan front line, has died. He was 11.
After his body was found unresponsive on Wednesday, TTroy was wrapped in an American flag. His body was given a police
escort by Derrick Magee's brother, Vineland K9 Officer Robert Magee, to the Cumberland County Society for the Prevention
of Cruelty to Animals, which arranged a cremation for TTroy that took place on Monday. TTroy was bred at Lackland Air
Force Base, located in San Antonio, Texas. The double consonant first name signifies that both TTroy's parents were
working military dogs.
TTroy, an explosion detection dog, served with Magee for a nine-month deployment. When Magee separated from the
Marines in the September 2012, TTroy remained in service until his retirement in April 2014. With TTroy's future
uncertain, Magee flew out to California to bring his partner home to Vineland to enjoy some much earned R and R — rest
and rawhide. It didn't take the russet-colored Belgian Malinois long to adjust to his new civilian role as a family pet.
When Magee, now a Vineland Police officer, moved out, TTroy remained with his "grandfather," retired Vineland
K9 Officer John Magee, who admittedly spoiled the canine veteran.
On Wednesday, John Magee, now a Vineland High School security guard, came home from work, and TTroy, was
in the living room. Magee recalled hearing the screen door open and close but thought that was his daughter, Courtney
Magee. About 20 minutes later, his daughter came downstairs and asked where TTroy was and that's when Magee
realized the dog was missing. TTroy never left the house on his own. "No, never," Magee said. A search ensued. Magee
rode around the neighborhood in his car. Courtney Magee found TTroy lying under a bush across the street from his home.
The cause of death remains of mystery. "He wasn't hit by a car," Magee said.
"There was no blood, no broken bones." TTroy must have known his time had come and opted to face it on his own terms.
"He did it like a Marine, in the dirt and shade," Magee said. "He was perfectly fine," Derrick Magee told The Daily
Journal on Monday, noting TTroy didn't have any health issues, other than being a bit overweight. "They say they
don't like to die at home — he didn't want to do that to the family." Magee was pleased he was able let his partner
enjoy some of life's pleasures, even if for a short time, with a family that truly loved him. "He had it all," Derrick Magee said.
submitted by Jim Cortina, Dir. CPWDA
---
In Loving Memory of
K9 TICO
June 4, 2015

Handler: ?
Edinburg Police Department
1702 S. Closner Blvd.
Edinburg, TX Ph: 956 383.7411
78541

Edinburg K-9 Officer Dies
He served almost 10 years with Edinburg PD
Edinburg Canine Officer Tico died on June 4. Police officers will gather June 10 to say goodbye to their fellow officer.
He joined the Edinburg Police Department when he was 3 years old.
Tico was trained in narcotics and patrol. He specialized in detaining, tracking and building search. Tico retired
in Nov. 2012 after almost 10 years of service, due to increasing hip problems, which affected his spine.
He was euthanized after he was unable to walk. Memorial services will take place at 9 a.m. at the
Memorial Funeral Home in Edinburg. Tico would have turned 15 years old next month.
submitted by: Jim Cortina, Dir. CPWDA
---
In Loving Memory of
K9 TRUCK
June 7, 2015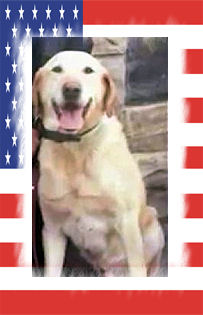 Handler: Officer Joshua Rhodes
Rexburg Police Department
25 E Main St.
Rexburg, ID 83440
Rexburg Police mourn loss of K9 dog
A veteran K9 dog serving in the Rexburg Police Department for eight years died Sunday night. Truck, a yellow lab, was trained
in drug detection and helped solve numerous crimes over the years. The dog began working with Sgt. Gary Hagen as a young
pup and in 2012 he was reassigned to serve with Officer Joshua Rhodes. "Truck was an awesome dog," Rhodes said.
"He would have made a great house pet. He was very nice, but did his job well." Truck had been suffering with
arthritis and had recently contracted heart worm. Veterinarians decided it was time to put Truck to sleep and
this week all RPD officers are mourning their loss. "It's a really tough thing," Rhodes said. "They become part of the
family and he will be missed." submitted by Jim Cortina, Dir. CPWDA
---
In Loving Memory of
K9 TAJA
2015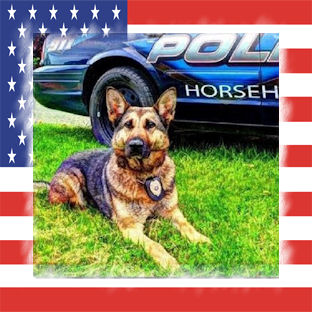 Handler: Officer Jamie Burgess
Horsehead Police Department
202 S Main St
Horseheads, NY 14845

Horseheads Police Mourn Loss of K-9 Dog
The Horseheads Police Department has lost a beloved member of its team, its K-9 dog Taja. Taja was a six-year-old
German Shepherd with the department's K-9 unit since June of 2011. Taja's partner, officer Jamie Burgess, says she was a very community oriented dog and loved to see people and children at village events.
In September of 2014, Taja and officer Burgess stopped a burglary in progress at a gun store. Taja spent her last day at work interacting with cheerleaders that came to visit the police department. Officer Burgess and K-9 Aron were certified by New York State Department of Criminal Justice Services as a duel purpose K-9 team. K-9 Aron is certified as a Patrol/tracking K-9 and an advanced Narcotics K-9. Officer Burgess and Aron trained with the Yates County K-9 training group twice a month to keep all certifications current. They have been successful in the apprehension of numerous suspects, the seizure of drugs, vehicles, and cash. Officer Burgess and Aron have also assisted surrounding agencies when needed. They have been an important part of our "Community Policing" philosophy by conducting several presentations throughout the year to numerous community groups, elementary and pre-schools to name a few. submitted by Jim Cortina, Dir. CPWDA
---
In Loving Memory of
MWD K9 TESS
April 4, 2015

Handler: Al Dodds
Canine and Military Working Dog World
USA

Lost Amazing K9
The K-9 and MWD world lost an amazing GSHEP soul Saturday – K-9 and MWD Tess – a Human remains Detection (HRD) dog.
Her work took her into 8 countries including Iraq where she brought back the bodies of American soldiers so they could
be buried with Honor on USA soil. She brought closure to many families in pain. Small in Body, but big in heart
and performance; she did her job so well in Iraq that an Iraqie 'general' offered a bounty on her - 170K USA dollars
in cash to anyone that brought him her ears. He failed in his offer as no one took him up on it.
Her handler, Al Dodds, a Vietnam veteran and (Sentry) dog handler. Both he and Tess brought stories and play time to
the soldiers in Iraq in between her work. The soldiers said Tess reminded them of 'home' when they got to play with
her as they don't often interact with the EDD's assigned to one handler. Al's wife, Sandie, presents programs in local
schools for children on the work of these hero dogs. Thank you, Tess, for your service and to the Dodd's family
and for giving me the privilege of knowing her. Her 12 years of life was dedicated to this important work and her life
truly mattered. Tess will be forever missed, always loved, and never forgotten. What a good girl you were and are.
May you now rest and play in peace. A true American hero. End of Duty 4.4.15.
submitted by Jim Cortina, Dir. CPWDA
---
In Loving Memory of
K9 TITUS
January 22, 2015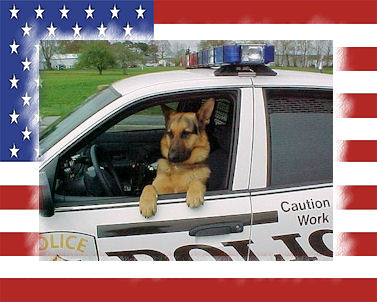 Handler: Officer Chris Bireley
Berlin Police Department
10 Williams Street
Berlin, MD 21811
Berlin police mourn death of retired K-9
Titus, a retired member of the Berlin Police Department, died Thursday.
The Berlin Police Department is mourning the loss of Titus, a veteran K-9, who died Thursday, Jan. 22. Titus, who retired from the department in June 2012, came to the Berlin Police Department from Austria. He was the dedicated partner to Senior Police Officer Chris Bireley. The K-9 joined the Berlin department in 2003, and spent hundreds of hours training in patrol, narcotics, and search and rescue. He was certified by the North American Police Working Dog Association. During his time on patrol, Titus assisted in the seizure of illegal narcotics and apprehension of several suspects. He had nearly 350 deployments during his career.
Titus had lived with Bireley and his family since his retirement. Arnold R. Downing, chief of the Berlin Police Department, said Titus' friendly disposition made him a frequent and popular fixture in the community, visiting with small children in the Berlin Head Start program, in after-school and various summer programs, and at community events. Downing said the dog's love of his job was evident, whether he was assisting in the seizure of drugs at the side of the road or visiting with small children. Officers in the Berlin department will wear black mourning shrouds over their badges for the remainder of the month, in honor of Titus, Downing said. The department has received calls expressing sympathy from other K-9 agencies and handlers. "They are a close-knit group," Downing said. Following Titus' retirement, Bireley was assigned another K-9, Luke. submitted by Jim Cortina, Dir. CPWDA
---
In Loving Memory of
K9 TITAN
January 9, 2015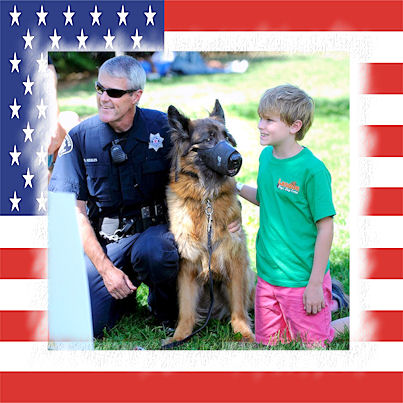 Handler: Deputy Richard Peebles
Boulder County Sheriff's Office
5600 Flatiron Pkwy.
Boulder, CO
Boulder County Sheriff's Office mourns passing of K9 Titan
Simon Shockey gets his picture with Titan and his handler Boulder County Sheriff's Deputy Richard Peebles
at the Dog Daze of Summer Event at the Boulder History Museum in 2011. Titan passed away last week.
The Boulder County Sheriff's Office is mourning the passing last week of K9 Titan, who served for seven years with law enforcement. Titan died on Jan. 9 from a brain tumor. Titan was donated to the Boulder County Sheriff's Office in March 2007 and started active duty in May of that year. Along with his partner, Deputy Richard Peebles, Titan was deployed 631 times in his seven years of service. During that time, Titan was credited with the seizure of more than $30,000 in cash and several successful tracks, including a stabbing suspect, an attempted murder suspect and a person who assaulted a patrol deputy. Titan also located the human remains of a person who had been missing for nearly three years. Titan also made numerous visits to schools and retirement homes.
Titan was forced to retire in August due to a brain tumor. submitted by Jim Cortina, Dir. CPWDA