In Loving Memory of
K9 SMOKE
May 28, 2015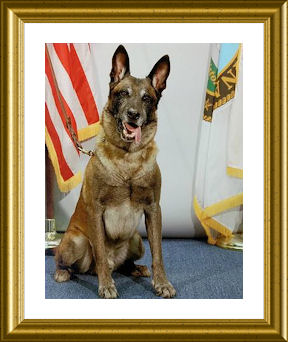 Handler: Officer Bryat Arrington
Manassas Police Department
329 Manassas Dr.
Manassas Park, VA
Retired Manassas K9 Smoke dies at 14
Retired Manassas city police Officer Bryant Arrington said his K9 partner Smoke was the kind of dog that only comes along once.
"He was an absolute gift," Bryant said. "He made me look good. I just had to drive the car." Smoke, who retired with
Arrington from the department in 2010, died Thursday at home with his human partner. He was 14.
"He was an amazing animal," Bryant said. "Known all over the K9 community." Smoke and Arrington worked in Manassas
for five years, on patrol and in narcotics detection. After retirement, Arrington kept his former partner busy working
with his law enforcement canine training business in Culpeper. Arrington is also a part-time county sheriff's deputy,
and heads up that agency's canine unit. "He was a little slower, but didn't miss a beat," Arrington said. Arrington
said there's an unbreakable bond between police officers and their K9s, who spend 24 hours a day together and rely on
each other as true partners. "It's a big void not having him," Arrington said. "It's tough right now, but I'll look back
on all the good times and the fact that he was in my life as long as he was."
submitted by Jim Cortina, Dir. CPWDA
---
In Loving Memory of
MWD SAMU
2015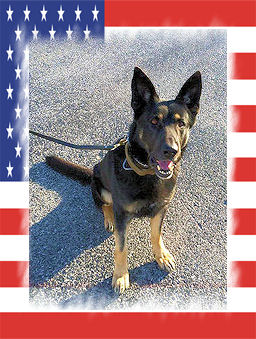 Handler: Spc. Melaney Brown
Previous Handler: Sgt. Joseph Rivera
MWD Samu dies from cancer after 2 weeks of being diagnosed
In the second week of March, Spc. Melaney Brown, a military working dog handler, and Samu, her assigned military working dog,
were driving from Fort Stewart, GA., back to Fort Campbell. After approximately seven months of training, Brown and the
German Shepherd had just completed the validation process. This meant they could finally go on missions and do more than
just train together. Brown, one of the dog handlers of the 510th Military Police Detachment, 716th Military Police Battalion,
supported by the 101st Sustainment Brigade, 101st Airborne Division, had been at Fort Campbell for two years and Samu
was her third assigned dog.
Samu was a combat veteran and had deployed three times, including twice in support of Special Operations Command.
During validation, military working dog teams have to demonstrate proficiency at all of the basic tasks, which included obedience,
explosive detection and suspect apprehension. Samu accomplished all of these tasks with his new handler, Brown. Samu
confirmed once again that military working dogs are Soldiers eager to serve and fulfill their duties on the battlefield.
Working together with their handlers they help save lives and defeat the enemy. "We had no issues, we passed with flying
colors," said Brown. "I was very excited. I couldn't wait to get back on patrol."
To celebrate, Brown bought Samu a bratwurst for dinner. "I was really happy with him," said Brown. "I gave him the love he
deserved after that hard week of intensive training." However, about a week after that triumph, something was
wrong with Samu. Veterinarians diagnosed him with cancer. "He was absolutely fine," said Brown. "The vets thought he had
just strained a muscle, and then they realized his muscles were kind of deteriorating. He had no symptoms or
anything like that. Two weeks later he was gone. That's how fast it progressed." Brown had spent nearly every day for
eight months with Samu.
They formed a solid bond, and just after they successfully validated, he was gone. All of those months training with him
were gone. "The whole eight months – that's what we trained for because we couldn't go out and work the road
or get slotted for deployment or anything like that," said Brown. "So that's what we did everyday was work on these tasks
for the test and make sure everything was perfect." Brown said being a dog handler is like a marriage to the dog due to
the amount of time they spend together. Even the regulations governing MWDs contribute to this relationship.
"Say Friday comes along, and we haven't met our hour criteria set forth in the regulations and we work on Saturday and
Sunday to make those up ... or if there is an issue we can't work out in training then we're working on Saturday and
Sunday as well." It wasn't just Brown who had lost a loyal partner, the whole unit had lost a valuable member of their team.
So, to honor one of their finest, the 510th MP Det. held a memorial ceremony April 22. The occasion was just as
somber as any other memorial service. Like most other memorials, a photo of the fallen, looking healthy and strong,
stood facing the crowd.
Juxtaposed beside the photo was military equipment that Samu would never use again. Brown spoke at the ceremony and
described Samu as rambunctious, friendly and loyal. "In his final days, when he was barely able to walk, the vets that
were responsible for his medical care used the term stoic," Brown said at the ceremony, praising his bravery. "He will
always have a special place in all of our hearts, and I will truly, truly miss him." Standing in formation across from
Brown with other members of the 510th MP Det. was Staff Sgt. Joseph Rivera, Samu's previous dog handler.
Rivera had spent 18 months with Samu including a 12-month deployment to Afghanistan in support of Special Operation
Command. "It was probably some of the worst news I ever heard," said Rivera. "He was one of the best dogs I ever had."
The military working dog team provides an unmatched capability to detect explosives and help save lives on the
battlefield. Samu was a hard working Soldier and force multiplier in Afghanistan, making the Soldiers around him more
effective. "One of the most memorable days was while we were downrange during a firefight he never stopped
searching," said Rivera.
"He was a great dog. Explosions going off, rounds coming down at us ... and he never stopped searching. He just did
his job the whole time. He never showed any fear." For those 12 months, they were together every day and were
never apart for more than 20 minutes, said Rivera. Besides his combat role, Samu also served in another invaluable role.
He was a friend and companion. "A lot of Soldiers, as a way to kind of decompress after missions, especially when
we lost battle buddies ... [Samu] would come out and play with them," said Rivera. "He had this ball that he
always carried around. He loved it."
Rivera laughed as he shared the memory of his friend. Samu, like other military working dogs, trained constantly.
As part of the Army, he worked hard and always did his duty. He showed courage under fire and brought a set
of skills to the fight, which helped protect his battle buddies and win on the battlefield. "He's probably one of the
most loyal dogs you'll ever find," said Rivera. "He's really loyal to his handler, and he's a big morale booster –
especially for the guys downrange who don't have their Families or friends out there." Brown agreed with Rivera.
"He was great," she said. "He did his duty when we told him to do it, and he did it eagerly, and he did it exceptionally."
submitted by Jim Cortina, Dir. CPWDA
---
In Loving Memory of
K9 SAXON
Aprl 8, 2015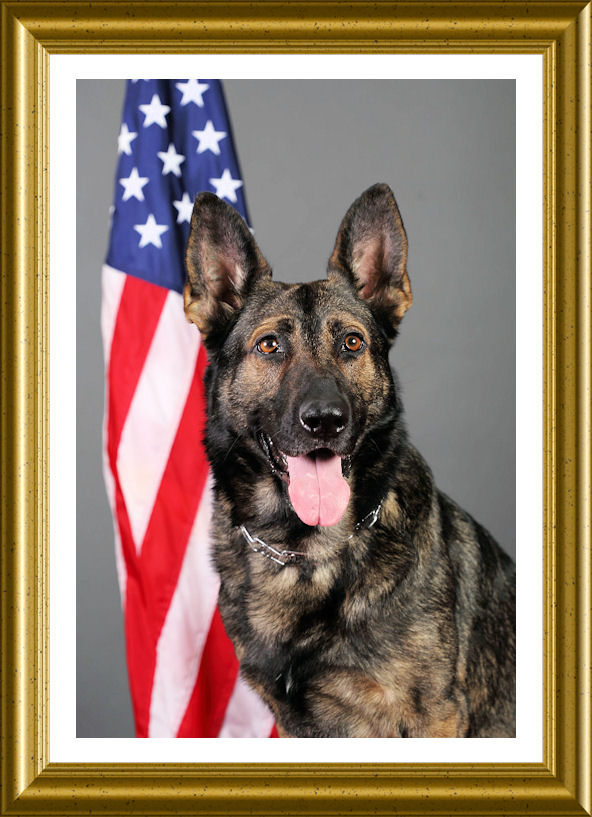 Handler: Officer Danielle Baron
Buffalo Grove Police Dept.
46 Raupp Blvd
Buffalo Grove, IL 60089

Recently retired Buffalo Grove police canine dies from cancer
A northwest suburban police dog who retired from service less than two weeks ago after cancer surgery has died,
the police department announced Wednesday. Saxon, who was five years old, had recently retired from the
Buffalo Grove Police Dept. as the result of a cancer diagnosis and surgery to remove a tumor from his spleen, according to
a statement from police. He had served on the force from June 2011 until the diagnosis, and his retirement had been
announced March 30. A memorial service will be held at 10 a.m. Friday at the Northern IL Police K-9 Memorial—on
the grounds of Highland Memorial Park in Libertyville—and will be open to the public. During four years of service,
Saxon and his handler, Officer Danielle Baron, found more than 460 kilograms of cannabis and $250,000 during
narcotics searches as part of about 500 investigations, police said. Officer Baron was recently named the
Buffalo Grove Rotary Club's Police Officer of the Year, "in part for her work with Saxon," the statement said. Saxon was
not just a drug-sniffing dog, however, and was often called in to help other communities in locating guns, missing people
and cadavers, the chief said. submitted by Jim Cortina, Dir. CPWDA
MORE:
Funeral for a friend: Buffalo Grove police remember their fallen canine Richard Valkanet, the Grayslake Police Department Chaplin, begins the memorial service for Buffalo Grove police dog Saxon, held April 10 at the Northern Illinois Police K-9 Memorial in Libertyville.
+++++++++
Buffalo Grove police officer Danielle Baron gave a tearful goodbye to her canine partner, Saxon the German shepherd, during a memorial ervice April 10. Held at the Northern Illinois Police K-9 Memorial, part of Highland Memorial Park in Libertyville, the service brought together more than a dozen canine officers from police departments around the region. Saxon served Buffalo Grove for almost four years before being diagnosed with cancer in March. He died in the early hours of April 6. In a eulogy that spanned from the moment she first met her future partner — he tried to bite her — to the moment she lost him, Baron told the story of a "goofy" dog who she feared
was not cut out for police work.
But Saxon proved that he was, which made the morning when she called his veterinarian, at police-canine specialist Partners and
Paws, especially fearful. "He dropped everything for me when I called and said 'My boy is sick,'" Baron recalled. The service
included an honor guard and bagpipe players. Richard Valkanet, chaplain of the Grayslake Police Department and pastor of
Living Waters Church, gave a preamble the included quotes from the books of Proverbs and Hebrews, and the words of Mark Twain.
Buffalo Grove Chief Steve Casstevens spoke about police dogs' singular focus, caring nothing about what shift they work or they fact
that they will spend their careers in a specialty position. Baron told her audience that she and Saxon got off to a rocky start.
At first, she thought he was "ugly, but cute" — both qualities unbecoming of a role that is supposed to project strength.
At training, Saxon had not bonded with any handlers, and seemed stubborn. In their first encounter, Baron ordered him to sit;
he growled, then tried to nip her. "My heart just sank," said the officer who had worked her entire career to become a
canine handler.
But the training leaders gave Baron hope: they told her they had never seen Saxon respond better to anyone. All told, the pair
ended up working and living together for four years. "He deserved a chance to be amazing and successful," she said.
"I can walk away knowing he gave his all, to his last breath." Baron urged her fellow canine officers to hug their dogs a
little tighter that night. Then she said farewell to her partner. "Go, run and play now. Your watch is over."

submitted by Jim Cortina, Dir. CPWDA
---
In Loving Memory of
K9 SLIDER
February 19, 2015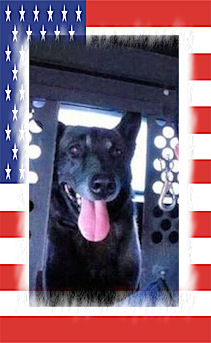 Handler: Sgt. Chris Bourg
Thibodaux Police Department
1309 Canal Boulevard
Thibodaux, LA 70301

Police K9 Slider leaves legacy of drug busts, honors
Thibodaux Police Sgt. Chris Bourg said he's lost not only a great working dog but a family member in the death of his K9, Slider.
The 11-year-old Belgian Malinois was euthanized Feb. 19 after battling kidney and bladder infections. He served five years
in the Thibodaux Police Department before retiring in October 2012 after he suffered a seizure. Slider was previously a
personal dog for a K9 handler for the North Little Rock Police Department in Arkansas. Bourg, who had only worked
with German Shepherds, said he was reluctant to get a Malinois because of the breed's reputation for being high-strung.
"The whole night I was like, 'I don't want this dog.' The next morning, I got him out of his crate, and we stopped at
McDonald's. I got two breakfast burritos and ate in the car," Bourg said. "He sat right behind me with his head on my
shoulder and watched me eat. I took a bite, he took a bite. By the time I got back to Thibodaux, I was OK with the dog
I got." During his time with Thibodaux Police, Slider was deployed 289 times — 200 for narcotics and 89
involving tracking and apprehensions, Bourg said. His work led to 145 narcotics arrests and $133,880 worth of seizures.
In February 2008, Slider found black cocaine, which is the drug mixed with substances to keep it from being detected.
Bourg said it was the first black cocaine case in the state involving a K9. "When we got him, he had never smelled dope
before in his life," Bourg said. "We actually trained him when we got him to identify all the major narcotics. Narcotics wise,
this dog was on time since day one." About five weeks after Slider was certified, he and Bourg placed seventh out of
326 teams in a national competition in Mississippi. They placed first in a 2011 regional competition in Texas. Bourg said,
"Slider was the best overall K9 he ever had."

"We got to the point where if we sat on a house, I could put him in a down-stay, go 150 feet, watch the other side
of the house and glance over to him," he said. "He would watch the house and glance over to me and move if I gave him
the command. We had sign language down and everything." Bourg said Slider even seemed to take on aspects of his
handler's personality. "Both of us were loud and obnoxious and never shut up," he said with a laugh. Slider once jumped
in a bayou and tried to pull a suspect out by his shoulder, Bourg said. Despite the dog's intensity on the job, Bourg trusted
him to play at home with his daughter.
He said she could get Slider from the patrol car, put a leash on him and start working with him. Bourg would refer to the
dog as his son, and his daughter would call him her brother, he added. Lt. Eddie Rodrigue, head of the Thibodaux Police
K9 division, said Slider wouldn't have lasted so long in the department if he weren't an exceptional dog. He said he still
thinks about the K9s he's lost. "I took the same walk Chris did," he said. "It always seems like they were a part of you."
submitted by Jim Cortina, Dir. CPWDA
---
In Loving Memory of
K9 SULTAN
February 13, 2015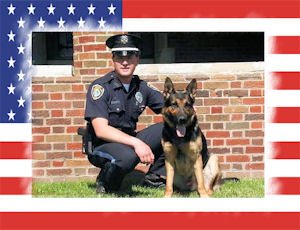 Handlers:

Officer Shane Stephenson
& Officer Mike Vogel

Yarmouth Police Department
200 Main Street
Yarmouth, ME 04096

Maine officers salute police dog in emotional farewell
Officer Shane Stephenson of the South Portland Police Department spends a moment with Sultan, a retired Yarmouth police
dog who had become his pet, before Sultan was euthanized Friday.
Sgt. Robert Burke of the Maine State Police salutes along with other officers as South Portland Police Officer
Shane Stephenson carries Sultan, a retired Yarmouth police dog, into the Yarmouth Veterinary Center,
where he was euthanized Friday.
Dozens of officers gather to pay respects to Sultan, a retired K-9 with the Yarmouth Police Department who was taking
his last trip. First it was one seizure, then a second and a third. For two weeks Shane Stephenson watched as the
decline took its toll. Sultan, a 13-year-old German shepherd with dewy eyes, brown and black fur, and a muzzle
peppered with gray, was ready for his final trip home. As Yarmouth's first police dog, Sultan chased suspects and
sniffed out drugs across southern Maine, working with any department that needed him.

On Friday, dozens of police officers from around the state gathered, solemn-faced, to return the favor, say thanks,
and bid their loyal colleague one last goodbye. "It's been a struggle just to get him up on his feet," said Stephenson, 29, a South Portland K-9 officer who took in Sultan as a pet. "There are some days when we've had to hold his head up so he can eat and drink. Among the crowd were several other K-9 handlers, who came to support Stephenson and Sultan, who was retired from the Yarmouth department three years ago at the age of 10.

Justin Cooley, a K-9 handler with the Maine State Police, said he was reminded of both the indescribable bond between handlers and their partners, and the need for officers to support each other at times of loss. "It goes much deeper than just working with them," Cooley said. "These are dogs that we take home with us, they get to know our family. They're with us 24 hours a day, seven days a week. You go through a lot of things with them, and you just dread this day." So, in the back of a snowy parking lot off of Interstate 295, Cooley and about two dozen police officers and firefighters gathered around the open hatch of Stephenson's SUV, where Sultan, too weak to walk, lay outstretched.

Officers approached quietly, exchanging nods, and gave Sultan one last pet, one last scratch on his muzzle, one last rub behind the ears. The loyal police dog, too weak to stand, instead raised his black nose to their hands, mustering for each of them a friendly sniff. "He's such a proud dog, always watching," said officer Mike Vogel, who was Sultan's only handler. Yarmouth did not have a K-9 unit until Vogel proposed one in 2003. K-9 units are costly to train, but Vogel found donors to defray some of the cost. With the blessing of Yarmouth's chief, Vogel took ownership of a 1-year-old pup delivered from France.

At the time, Vogel's new four-legged partner only understood French, but with some training, he soon became an exemplary partner. Sultan and Vogel answered more than 1,000 calls together, capturing dozens of suspects, untold amounts of cash and more than 100 pounds of narcotics. Their run together ended in 2012, when Vogel took a job offer in Florida. He did not know if his new department would be able to take Sultan, so Vogel retired him. Stephenson, who was at that time a young officer in South Portland with aspirations of becoming a handler himself, was a natural caretaker, Vogel said. Although Sultan was technically a pet, the police training never goes away.

Stephenson said the veteran dog helped teach him about handling a working canine. Stephenson said for two and a half years after retiring from police work, Sultan was healthy and happy. Although he looked intimidating, Sultan quickly became a gentle, loving family member. About six months ago, the stress of long career and life started to catch up with Sultan. He showed signs of arthritis, and two weeks ago he suffered the first of three seizures, from which he would never fully recover. Sultan stopped eating, and was too weak to stand. Stephenson knew it was time. After their final farewells, the column of officers, with lights flashing, escorted Sultan the final mile to the Yarmouth Veterinary Center. At the clinic, two rows of officers stood shoulder to shoulder, holding a prolonged salute. Stephenson bent down, wrapped Sultan in his arms, and carried his friend into exam room three, his tour of duty over.
submitted by Jim Cortina, Dir. CPWDA
---
In Loving Memory of
K9 SINTA
February 5, 2015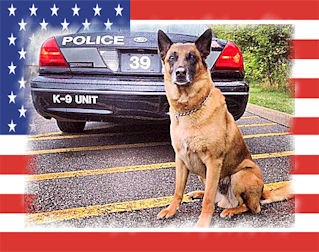 Handler: ?
North Ridgeville Police Department
7307 Avon Belden Road

North Ridgeville, OH 44039
North Ridgeville police dog put down due to cancer
North Ridgeville police dog Sinta had to be put down Thursday after a cancerous mass was found on his neck.
Patrolman Jim Larkin discovered the mass Tuesday after Sinta had "been on a steady decline over the past two weeks,"
according to the department. The mass was confirmed to be malignant on Wednesday, and a vet found the cancer
had ravaged him internally, according to the department. The vet felt that if he wasn't put to sleep he could be
wasting away in pain within a week. Sinta suffered a major spinal injury two years ago, from which he recovered.
He has been treated by Animal Clinic Northview in North Ridgeview. Sinta had served the city of
North Ridgeville since 2007. submitted by Jim Cortina, Dir. CPWDA
---
In Loving Memory of
K9 SOLO
February 2, 2015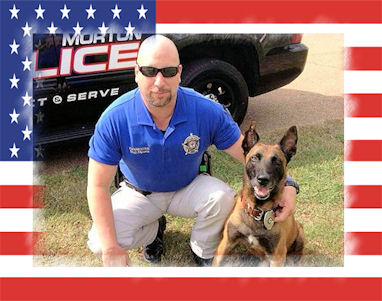 Handler: Staff Sgt. Carlos Dipuma
Morton Police Department
141 West 1st Avenue
Morton, MS 39117
Morton K-9 takes last ride
K-9 Solo diagnosed with terminal cancer
K-9 Solo was recently diagnosed with terminal cancer, and was put down, Chief Nicky R. Crapps said. Officers and deputies
lined up for the procession and the K-9 Solo's last ride. A memorial service was held Monday morning. Residents said the
dog and handler Staff Sgt. Carlos Dipuma were more than partners, they were also best friends. "K-9 Solo isn't just an
ordinary dog. He's Our Police Dog, and he means the world to all of us in this town," Haden Hughes said in a message
to 16 WAPT News. "He means the world to all of us in this town. He's done his job and we are very proud of him."
submitted by Jim Cortina, Dir. CPWDA
---
In Loving Memory of
K9 SULTAN
January 21, 2015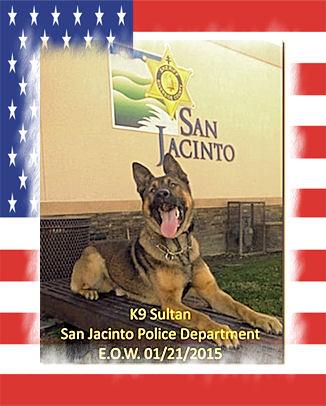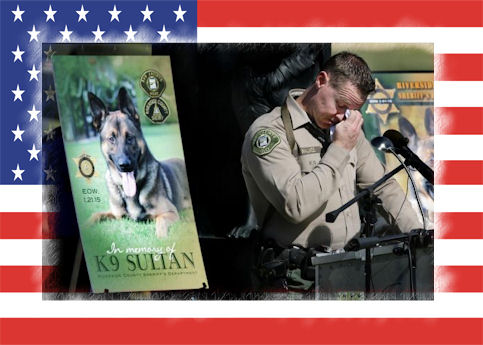 Police K-9 Killed in Line of Duty
San Jacinto Police K-9 Sultan was shot and killed on Wednesday, Jan. 21, 2015.
An armed man accused of killing a police dog was fatally shot by deputies, officials said Thursday. The suspect, only identified as a wanted felon, was killed after a 9-hour standoff with Riverside County deputies. The suspect had barricaded himself around 2:30 p.m. Wednesday underneath a home in the 40200 block of Clark Drive on the border of Hemet and San Jacinto. Authorities called in a San Jacinto Police K-9 handler and his partner, Sultan, to assist in the standoff. During the situation the Shepherd mix altered deputies to a crawl space underneath the residence.
"Due to the confined space K9 Sultan was sent in to determine if the suspect was hiding," Dep. Albert Martinez said in a statement. "Moments later an indistinguishable noise was heard and K9 Sultan returned from the crawl space with an injury to his neck." The dog was immediately taken to local veterinarian hospital where he died. The suspect refused to come out of the crawl space and SWAT was called in. "In an attempt to have the suspect surrender peacefully, SWAT personnel deployed tear gas. Shortly thereafter, the suspect emerged from underneath the residence armed with a handgun and a deputy involved shooting occurred," Dep. Martinez said.
The man died at the scene around midnight. No deputies were injured in the standoff. Sultan's death was the first time a K-9 officer had been killed in the line of duty in Riverside County. He began his service with the San Jacinto Police Department in 2013 and was regarded as the force's top K-9. "What an amazing, amazing dog," Mayor Crystal Ruis said. "He's made several arrests for us. He was the pride and joy of our station. It's awful, that's one of our officers that's been killed, so it's not good." "It's a big loss," San Jacinto Chief of Police and Riverside County Sheriff's Lt. Stephen Mike said. "We're a family in the valley and the officers are very upset right now."
"We've lost a family member, we've lost one of our own," San Jacinto Mayor Crystal Ruiz said. "It's heartbreaking and it's scary to think people would do something like this. It's terrible." Ruiz described Sultan as a dog who has caught criminals, protected citizens and officers, and caught "people that were going to get away." "He was an amazing, amazing officer," Ruiz said. "He's going to be honored as one of San Jacinto's finest, because that's what he was." All deputies and officers involved in the man's shooting will be on paid administrative leave pending an investigation. submitted by Jim Cortina, Dir. CPWDA & Frank Brunetti-website provider.
More on K9 SULTAN
In a ceremony punctuated by the solemn trappings normally reserved for a two-legged lawman's funeral, Riverside County sheriff's deputies bade farewell Wednesday to a four-legged hero. Sultan, the first patrol dog killed in the line of duty in the 32 years of the sheriff's K9 program, was honored during an hour-long service at the War Dog Memorial on the grounds of the March Field Air Museum in Riverside. A crowd estimated by the department at 1,200 people was swelled by the presence of more than 100 police dogs from as far away as San Luis Obispo. Uniformed officers in the crowd snapped to attention and saluted smartly as a color guard marched by and, later, as a bugler blew taps.
With police dogs lined on both sides of a path leading from the parking lot to a courtyard where the ceremony took place, a deputy carried an urn holding Sultan's remains. He was followed by 22 of the Sheriff's Department's canine officers and their handlers. In an especially poignant moment, dogs barked seemingly in unison with applause from the human mourners when Sultan's handler, Deputy Mark Wallace, finished an emotional tribute to his partner. "I know without a doubt that Sultan saved my life and several other officers' lives that day," Wallace said, brushing back tears with a tissue and his voice at times choking. "He died a hero."
Sultan died of gunshot wounds apparently inflicted when he went into a crawl space under a Hemet area home Jan. 21 to root out a suspect. "Jan. 21 was one of the worst days of my life," Wallace said. "It started out great," he said. "Sultan and I did a demonstration at an elementary school for second graders. During the demonstration ... I told them that dogs save human lives." After the demonstration in San Jacinto, where Wallace and Sultan were assigned, they were called to the Hemet area home. During a search of the yard, Wallace said, Sultan assumed an alert position indicating he had detected something in a crawl space under the house.
"He went under the house without me telling him to," Wallace said. "He was following his nose and doing what he was trained to do. When Sultan came out from under the house, he was bleeding profusely from his neck." Stopping his talk frequently to compose himself, Wallace recounted arriving at a veterinary hospital. "I pulled Sultan's limp body from the back seat of my patrol car," he said as the audience sat stone silent and not even the dogs made noise. "He was gone. I later learned that Sultan had been shot." In the hours and days immediately following Sultan's death, Wallace said, he kept asking, "Why did this happen to Sultan? Why me?" "I thought of all the time and effort I put into getting him and all the effort it required after I got him – just to lose him that quick," he said. "After much thought and much prayer, I have come to realize how selfish I was because I know if it wasn't for Sultan it would have been another dog on our team. Submitted by Jim Cortina, Dir. CPWDA