---
In Loving Memory of
K9 ROY
March 19, 2015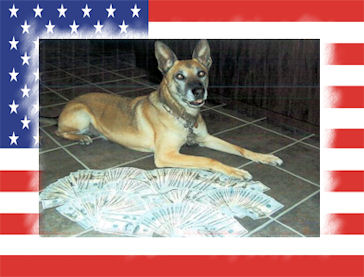 ---
In Loving Memory of
K9 RYDER
April 9, 2015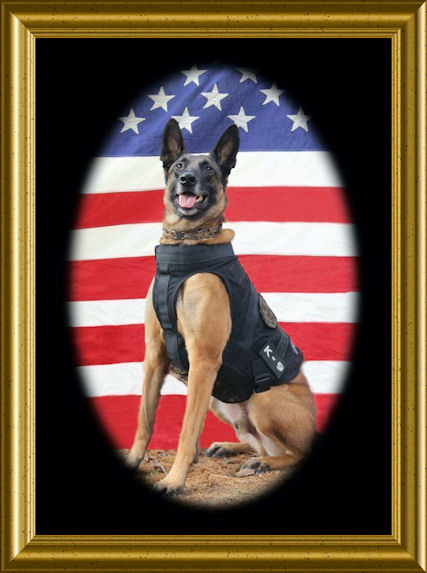 ---
In Loving Memory of
K9 RECON
2015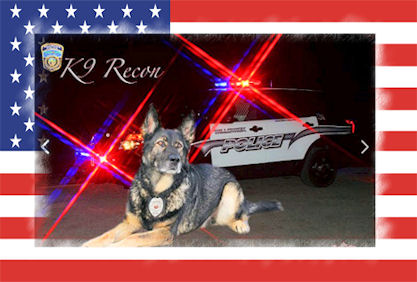 In Loving Memory of
K9 REMCO
September 28, 2003- March 13, 2015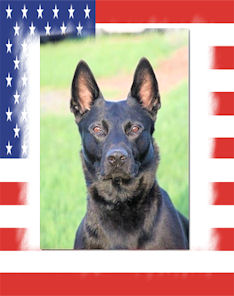 Handler: Officer Lori Noltze
Sioux City Police Department
Iowa
Handler, Officer Lori Noltze, by his side. Remco faithfully served the Sioux City Police Department alongside Officer Noltze for over 10 years. He had many successful tracks, apprehensions, drug arrests, and was involved with several demonstrations throughout the community. Remco won several awards over the years both regionally and nationally for his patrol and drug seeking abilities. He was a beloved member of Officer Noltze's family. Please join us in offering Officer Noltze words of comfort and prayers during this difficult time. RIP 9-28-03 to 3-13-15.s handler, Officer Lori Noltze, by his side. Remco faithfully served the Sioux City Police Department alongside Officer Noltze for over 10 years. He had many successful tracks, apprehensions, drug arrests, and was involved with several demonstrations throughout the community. Remco won several awards over the years both regionally and nationally for his patrol and drug seeking abilities. He was a beloved member of Officer Noltze's family. Please join us in offering Officer Noltze words of comfort and prayers during this difficult time. RIP 9-28-03 to 3-13-15.
submitted by Jim Cortina, Dir. CPWDA
---
In Loving Memory of
K9 RUDY
January 27, 2015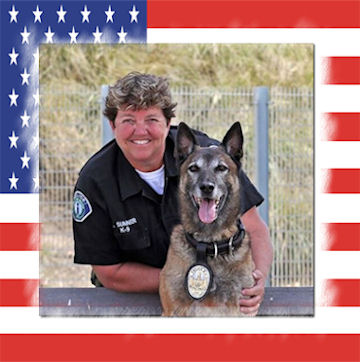 Handler: Officer Shirley Sumner
Irvine Police Department
1 Civic Center Plaza
Irvine, CA 92606
We are sad to share that our beloved retired K-9, Rudy, passed away after a battle with cancer. Rudy was a 12-year-old
Malinois who spent 8 ½ years as... a K-9 Officer with the Irvine Police Department. Rudy retired in 2014, and spent his
final months in the loving home of his handler and partner, Officer Shirley Sumner. In his years as a K-9 Officer,
Rudy had over 400 drug finds and 30 evidence finds, including five guns in separate cases. He participated in
numerous SWAT deployments and was responsible for the arrest of over 35 dangerous suspects. Rudy performed
over 100 public demonstrations and assisted agencies all over Los Angeles, Riverside, and Orange County. Rudy is much-loved
and will be missed. submitted by Jim Cortina, Dir. CPWDA
---
In Loving Memory of
K9 RODI
February 24, 2015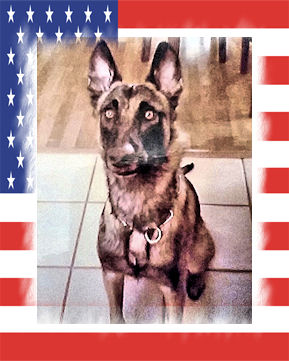 Handler:
New Mexico State Police
New Mexico State Police dog passes away
Rodi, a police K-9 who worked with the New Mexico State Police and Department of Public Safety, passed away Tuesday.
He was 12 years old. He served the department for eight years before he retired in 2014. During his career,
Rodi help authorities seize 1,500 pounds of marijuana, 6.6 pounds of crack cocaine, 991 pounds of cocaine,
82 pounds of meth, 16 pounds of heroin, 6 pounds of ecstasy and $581,000. Rodi passed away due to
complications from an illness. submitted by Jim Cortina, Dir. CPWDA
---
In Loving Memory of
K9 ROBBY
February 13, 2015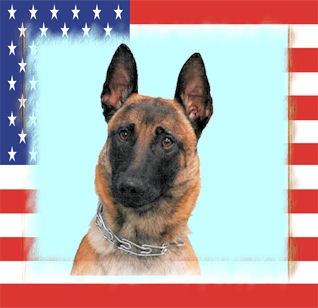 Handler: Officer Pat Mullen
Lakewood Police Department
12650 Detroit Avenue
Cleveland, OH 44107
Lakewood police K-9 officer Robby passes away
For the second time in two years, Lakewood police are mourning the passing of a police dog Robby, the six-year veteran of the department's K-9 unit, died Friday afternoon following a battle with a blood disease. His handler, Pat Mullen, and his handler's
family were with him when he passed. Robby joined the department in May 2009 as one of two multi-purpose police dogs that
helped with everything from searching for drugs to chasing down suspects. The department's dogs live with their handlers'
families, said Sgt. Tim Schad, the head of the Lakewood Police Department's K-9 Unit. "It's a tight bond," Schad said.
Mullen is taking several days off in the wake of his dog's death and wasn't available for comment. Lakewood police use their
dogs almost daily, Schad said. "If someone flees from us, he can help us find them," he said. "And he can do smaller scale
stuff. If we think the suspect dropped a gun (as he was being chased), he can help us find the gun." K-9 dogs also help
look for drugs and other contraband when officers execute search warrants. Robby recently tracked a manslaughter suspect
and held him until he was arrested, a press release on Lakewood's website said. Lakewood Police Chief Tim Malley will
decide if and when Robby will be replaced, Schad said. This marks the second time the department has lost a dog in
as many years. Police dog Shep passed away in January 2013 after almost 10 years with the department.
submitted by Jim Cortina, Dir. CPWDA
---
In Loving Memory of
K9 RUDY
February 7, 2015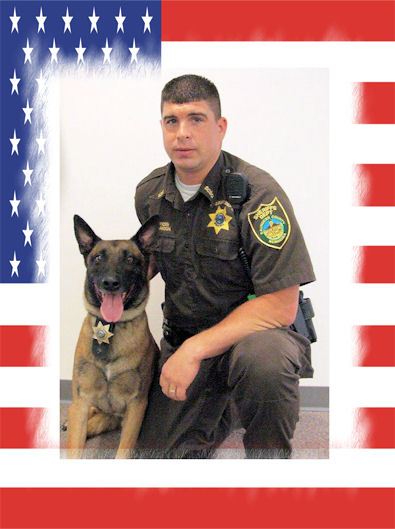 Handler: Deputy Jeff Hermanson
Saunders County Sheriff's Department
387 North Chestnut Street
Wahoo, NE
Rudy, a K-9 who served the Saunders County Sheriff's Department for years,
is shown with his handler, Deputy Jeff Hermanson.
The 12-year-old dog, who was ready to retire, died recently.
Deputy Jeff Hermanson has lost his partner. Rudy, the police dog, died Saturday in Hermanson's home at Cedar Bluffs. The 12-year-old Belgium Malinois was part of the Saunders County Sheriff's Department for years. During his time on the force, the K-9 was involved in various drug cases. He sniffed out 120 pounds of marijuana in one case and a kilo of cocaine (about 2.2 pounds) in another. Rudy helped in the apprehension of suspects, some of whom might not otherwise have surrendered, and provided protection for Hermanson, who was his handler.
The Cedar Bluffs Volunteer Fire Department, which Hermanson also serves, paid the cremation fee and a service in honor of the K-9 is tentatively set for later this month. Originally, Rudy was part of the Ashland Police Department and his handler then was Cody Mason. After Mason was hired by the Saunders County Sheriff's Department, Ashland agreed to have Rudy transition to that office in 2006. After Mason went to Greeley, Colo., Hermanson became Rudy's handler in 2007. "They were a great team," said Saunders County Sheriff Kevin Stukenholtz. Rudy was classified as a dual purpose K-9, certified for drug and patrol work and tracking.
"In occasions where there's a suspect that flees in a car and then they take the car until they can't go any further, and then they flee on foot — after that then he's been real helpful in those cases," Stukenholtz said, adding that the dog would track down and locate the suspect. Stukenholtz cited a case where a burglary suspect fled into a cornfield. The dog's barking was enough to cause the suspect to surrender right away. "That really helped," Stukenholtz said. "We probably wouldn't have gotten him without a dog," Hermanson added. Several times, Hermanson's called for suspects to come out — from wherever they were — and they simply gave up.
"Whether that was because of the dog or not, I don't know, but I would like to think so," he said. Hermanson noted instances when suspects didn't want the dog tearing through their car, so they just told him where the drugs were. Rudy proved valuable in various situations. "He was a big deterrent if people thought they could engage in a fight with me or flee from the scene of a traffic stop, whether it be drunk drivers or whatever," he said. Rudy proved formidable and steadfast. "He was very vocal and very intimidating," Hermanson said.
"I didn't have to worry about him if I would be in trouble – him coming out an engaging the bad guy … pretty much every traffic stop, he would be sitting there, watching me and making sure everything was going good." The dog's disposition changed when Hermanson brought the K-9 home from work. "I don't know how he did it, but it would be like a light switch when he would get out of the cruiser and we'd go home and he just wouldn't bark at anybody. You could walk into our house and he'd come up and lick you," Hermanson said. "… He was a completely different dog. He'd be your normal lap dog." Rudy was good with Hermanson's children.
"He was as good of a family dog as he was a patrol dog," Hermanson said. When working, Rudy wasn't social around other dogs, but he did play with a Labrador retriever that became part of the Hermanson family. "The two dogs would wrestle just like they were pups and had grown up their whole lives together," he said. Rudy got sick around Christmas and was out of service. "We were looking to retire him full time," Stukenholtz said, adding that the county board planned to take action, officially making Hermanson Rudy's owner. Hermanson said his wife, Cindi, was with Rudy and that the dog died peacefully. What was the best part of having Rudy?
"Security out on the road," Hermanson said. Hermanson said a new K-9 will cost about $9,500 and he will begin training with the new dog in March. A $5,000 donation already has been made. Stukenholtz said the department will miss Rudy's high level of energy. "He was a real, hard-driving dog," Stukenholtz said. "He was a good teammate for Jeff Hermanson."
submitted by Jim Cortina, Dir. CPWDA
---
In Loving Memory of
K9 REX
February 6, 2015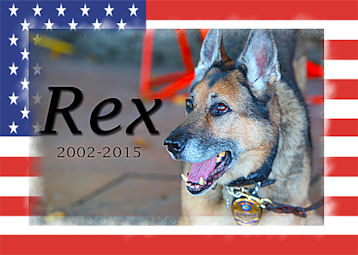 Handler: Det. Shane Driscoll
University of Wisconsin Police Department
1429 Monroe Street
Madison, WI 53711
WEBSITE - http://uwpd.wisc.edu/
Retired UW Police K9 officer dies
The UW Police Department's oldest K9 officer has died after battling health complications. Rex died in Madison on Friday,
he was 12 years old. Rex and his handler, Det. Shane Driscoll, retired from the UW-Madison Police Department in
March 2014, but remained active with the UWPD and the university. The pair worked at several UW football games last fall.
Rex came to the UWPD in 2003, and specialized in explosive detection and human tracking. He was called upon to
protect countless national and international dignitaries including former presidents and vice presidents. Driscoll said their
protection of the Dalai Lama was the highlight of his duties with Rex. The two remain the longest serving K9 team in
UWPD history. Rex will be cremated and buried with full honor at a later date. submitted by Jim Cortina, Dir. CPWDA