---
Half Appaloosa half quarter horse , for 31 years we loved him and he loved us.
He foundered this morning was frightened, tried to get up.
Rick calmed him down. We called the equine vet; she came and said.
These old guys we can't help. His backside was numb and he would never get up again.
Everything Rick knows about horses, PT taught him. Have his blanket on him and a tarp now.
My turn now to stand watch till the back hoe comes .
We will bury him on the hill near the spot he is at now where he ran and walked.
He is at now where he ran and walked .
We're taking turns to keep any animals away so they aren't harmed or die from the sodium pent drug
that the vet used and to reflect on his life with us as a Snow.
I'm alone with him now as Natalie is on her way and Rick needed to eat and Sheila needed to shower.
There will be tears in the shower when she is alone.
Natalie graduates UF tomorrow and you were with her almost to the day.
I will never look at an apple or carrot again and not think of you.
That was my job. To bring you treats.
Rick and Sheila took care of the rest of your needs.
Anyone who thinks animals don 't have emotions or grieve should have been here when
Sunny Boy passed.
They were never apart one night or day for 19 1/2 years. Rick slept in the barn while
you howled moaned and kicked the barn for three days.
Rick couldn't take it by the second day and he called the vet and asked for a tranquilizer.
vet said no give it one more day... after that you will take the place of sunny boy.
He was right. Rest and run in peace.
big guy. run fast in Heavens Field of dreams united with Sunny boy again.
You made your human family happy so happy.
Children gave you fruit and laughed when your tongue tickled them.
I remember one little boy tried to count your spots.
As you got older your solid brown so shiny disappeared and the spots came.
I thought the little boy would grow up in the numbers business
, as a financial wizard and you listened to all our secrets.
The branches on the trees you ran by seem sad as I am noticing them hanging.
You walked by them the past weeks not able to run any more .
Maybe you did when we weren't looking.
GOD GAVE you to us 31years ago and we thank Him for letting
us keep you a long time, but now he wants you back.
It is His turn to ride.
PASS THE TURN 1982 - 2015
Much loved - Never to be forgotten always our PT.
NOW THE ANGELS BRING YOU CARROTS AND APPLES.

Barbara Snow
Why God Gives Us Horses - and Takes Them Away Again
(Excerpts: Horsetopia internet forum) - Author Unknown
God gives us horses and compels some of us to love them. Yet why does the horse, an animal with such a big heart, live such a short life? Perhaps it's because if our horses lived any longer, we wouldn't be able to bear losing them. Perhaps God looks down on the fine horses we raise and decides when it's His turn to ride. He gives us a few good years to care for and learn from them, but when the time is right; it's up to us to see them off gracefully. OK, perhaps not gracefully. Blowing into a Kleenex is rarely graceful. But we can be grateful.
To have a horse in your life is a gift. In the matter of a few short years, a horse can teach a girl courage, if she chooses to grab mane and hang on for dear life. Even the smallest of ponies is mightier than the tallest of girls. To conquer the fear of falling off, having one's toes crushed, or being publicly humiliated by a horse is an admirable feat for any child. For that, we can be grateful. Horses teach us responsibility. Unlike a bicycle - or a computer - a horse needs regular care and most of it requires that we get dirty and smelly and up off the couch. Choosing to leave a cozy kitchen to break the crust of ice off the water buckets is to choose responsibility. When our horses dip their noses and drink heartily, we know we've made the right choice. Learning to care for a horse is both an art and a science. Some are easy keepers, requiring little more than regular turn-out, a flake of hay, and a trough of clean water. – Others, will test you.
If you weren't raised with horses, you can't know that they have unique personalities. You'd expect this from dogs, but horses? Indeed, there are clever horses, grumpy horses, and even horses with a sense of humor. Those prone to humor will test you by finding new ways to escape from the barn when you least expect it. Horses can be timid or brave, lazy or athletic, obstinate or willing. You will hit it off with some horses and others will elude you altogether. There are as many "types" of horses as there are people - which make the whole partnership thing all the more interesting. There are the days when you know with absolute certainty that your horse is enjoying his life. If we make it to adulthood with horses still in our lives, it is in our blood to love horses. We share our life with them. Our horses know our secrets; we braid our tears into their manes and whisper our hopes into their ears. A barn is a sanctuary in an unsettled world, a sheltered place where life's true priorities are clear: a warm place to sleep and spend time with someone who loves us .Some of us need these reminders.
When we step back, it's not just about horses - it's about love, life, and learning. On any given day, a friend is celebrating the birth of a foal, a blue ribbon, or recovery from an illness. That same day, there is also loss: a broken limb, case of colic, or a decision to sustain a life or end it gently. As horse people, we share the accelerated life cycle of horses: the hurried rush of life, love, loss, and death that caring for these animals brings us. When our partners pass, it is more than a moment of sorrow. We mark our loss with words of gratitude for the ways our lives have been blessed. Our memories are of joy, awe, and wonder. We honor our horses for their brave hearts, courage, and willingness to give. To those outside our circle, it must seem strange. To see us in our muddy boots, who would guess such poetry lives in our hearts? We celebrate our companions with praise worthy of heroes. Indeed, horses have the hearts of warriors and often carry us into and out of fields of battle.
Listen to stories of that once-in-a-lifetime horse; of journeys made and challenges met. The best of horses rise to the
challenges we set before them, asking little in return. Those who know them understand how fully a horse can hold
a human heart. Together, we share the pain of sudden loss and the lingering taste of long-term illness.
We shoulder the burden of deciding when or whether to end the life of a true companion.
In the end, we're not certain if God entrusts us to our horses or our horses to us. Does it matter?
We're grateful God loaned us the horse in the first place.
www.uswardogs.org
Southern Chapter
PO Box 10
Bronson, FL
32621
k9mwds@gmail.com
---
In Loving Memory of
K9 PETE
March 24, 2015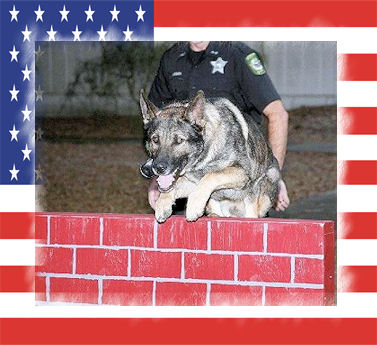 Handler: Deputy Adam Tellier
Pasco County Sheriff's Office
8700 Citizen Drive
New Port Richey, FL 34654
Retired Pasco K-9 Pete has died
Pete took part in more than 250 cases during his career. The Pasco County Sheriff's Office is mourning the loss of a
former K-9. Pete, 12, was put down Tuesday due to health complications. Pete and his human partner,
former Deputy Adam Tellier, took part in more than 250 cases before the dog retired in 2011,
the office said. Pete was purchased in November 2004 by donations from Sam's Club in New Port Richey.
He was dual certified in patrol and narcotics. Tellier and Pete competed in the U.S. Police Canine Association
competition several times at the state and national level. submitted by Jim Cortina, Dir. CPWDA
---
In Loving Memory of
K9 PATRIOT
March 10, 2015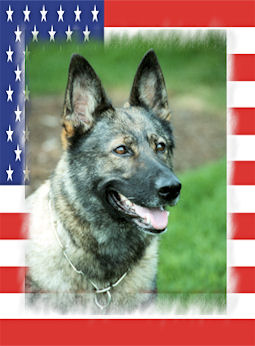 Handler: Officer Mark Mauro
Colonie Police Department
312 Wolf Rd.
Latham, NY 12110

website -
http://www.colonie.org/police/
Colonie's first female police K9 dies
According to Colonie Police, Patriot, who was 12, served the department with distinction for seven years until her retirement in 2011.
She was enjoying retirement with Patrol Officer Mark Mauro, her handler, and his family when she passed away from on-going health issues. Patriot,born in the Czech Republic. She was also involved in the detection of numerous amounts of illegal narcotics and
marijuana, as well as the recovery of evidence. She assisted the department with the successful tracking of criminals and
locating missing civilians. Additionally she assisted several state, federal and local agencies. During her service,
Patriot spent countless hours meeting children where she displayed her skills during demonstrations at
the local elementary schools and parks.
submitted by Jim Cortina, Dir. CPWDA
In Loving Memory of
K9 PEPPER
January 28, 2015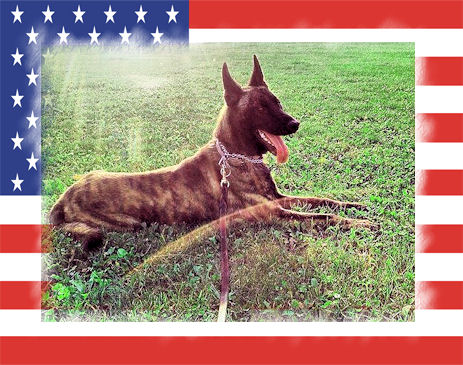 Handler:
Sergeant J.T. Manoushagian

Wise County Sheriff's Office
Paradise, Texas

Suspect and a police dog killed
Sources say a suspect was shot during a law enforcement operation along the border of Montague and Wise counties on Wednesday
afternoon just after 2:00 p.m. Officers were involved in a foot chase after a vehicle pursuit near the county border.
A police dog, K9 Pepper, was killed in the gunfire. Authorities said deputies were attempting to arrest the unnamed suspect
when he shot and killed the Wise County K9 named Pepper. A deputy then opened fire and killed the suspect.
Units from the Wise County Sheriff's Office and the Department of Public Safety were investigating.
There was no immediate word as to what led up to the confrontation.

submitted by Jim Cortina, Dir. CPWDA
MORE
Hundreds Remember Texas K-9 Officer Killed In The Line Of Duty

2/4/15 - Texas

It was not your usual funeral procession in Paradise, Texas. Dogs panted as they trotted into the church at the sides of their handlers.
And the memorial service was often interrupted by a bark or growl. More than 200 people showed up for the service. They came
from all over North Texas. Many were law enforcement officers, many had their K-9 partners with them. It was an unusual sight,
but, Wise County, K-9 Officer Pepper, was not your usual dog. On January 28 Pepper, his handler and four other law enforcement
officers were approaching an armed suspect hiding in the woods.

"When released and given the command to engage, Pepper did exactly what he was trained to do," recalled Wise County Deputy
Sergeant, J.T. Manoushagian, Pepper's partner and handler. "He ran in front of us as we held our positions and looked danger
and ultimately death directly in the eyes. Just as he was engaging he shielded each of us with his body making it impossible
for the suspect's rounds to reach any of us."K-9's are officers… and this officer died saving the lives of five others.
"Pepper's sacrifice insured that there is not a newly wed widow sitting in the front row this church,"
Sgt. J.T. Manoushagian, said during the service, as he fought back tears.

"His sacrifice insure that none of these officers children were left without fathers, mothers without sons,
and no colleagues left without a brother." The service was dedicated in part to celebrating the lives of the people saved by Pepper.
Wednesday, those people gave Pepper his final call. "Wise County to all units," the dispatcher who was on duty the day
that Pepper died, said over the police radio. "Canine Pepper has answered his final call. End of watch January 28, 2015.
You have done well Pepper. We'll take it from here." submitted by Jim Cortina, Dir. CPWDA
---