In Loving Memory of
K9 OBY
April 16, 2015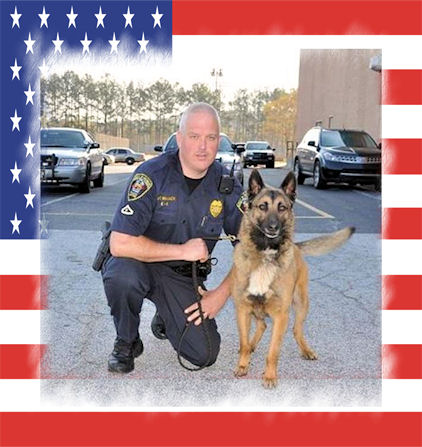 Handler: Officer Pat Womack
Covington Police Department
1143 Oak St. SE
Covington, GA 30014
---
In Loving Memory of
K9 ONXY
March 15, 2015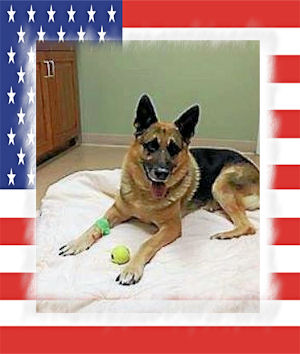 Handler: Officer Scott Bloom
West Haven Police Department
200 Saw Mill Rd
West Haven, CT 06516
WEBSITE -
http://www.whpd.com/
West Haven police mourn loss of police dog 'Onyx'
Police officers and others are mourning the passing of Onyx, the West Haven Police Department's longtime police dog, who was a
member of the department paired with Officer Scott Bloom for 10 years. "With sorrow and sadness, West Haven Police announce
the passing of K-9 Onyx," the department said in a post on its Facebook page. "Onyx, under the direction of handler,
Officer Scott Bloom, served our community and surrounding communities as a dual purpose police K-9 for ten years until
the post said. Deputy Chief of Police Joseph Perno said that Onyx, like all police dogs, was "a valuable tool that an officer
brings to the department. "But they're more than a tool," Perno said.
"They're a member of department." Police spokesman Sgt. David Tammaro could not be reached for comment. Since Onyx's
retirement, Bloom has had another dog that he has worked with, named Ike, said Perno. Police dogs live and ride along
with their handlers, and generally remain with them as personal pets after retirement from their official duties. "Onyx
and Officer Bloom shared accomplishments that included the tracking and arrests of felons, finding missing persons, evidence
recovery and our favorite countless school visits showing what this gentle giant excelled at making children smile with his
obedience and police K-9 skills," said the Facebook post. "Our PD family expresses its sincere condolences to Officer Bloom
and his family," it said. "Onyx, we'll throw that ball down the hall again my friend. "Ya did good pup."
submitted by Jim Cortina, Dir. CPWDA
---
In Loving Memory of
K9 OZZY
January 20, 2015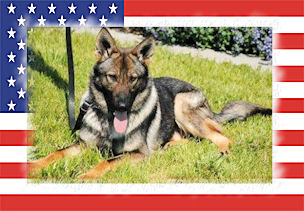 Handler: Officer Andrew Kalet
Auburn Police Department
46 North Street
Auburn, NY 13021
WEBSITE - http://www.auburnny.gov/Public_Documents/AuburnNY_Police/index
Auburn police mourn K9 Ozzy
The Auburn Police Department have been hanging their heads low over the loss of one of their own. K9 Officer Ozzy worked with Officer Andrew Kalet. Kalet and Ozzy first began working together in February 2013 to sniff out drugs. Ozzy was given credit for finding a murder suspect in September 2013. Just shy of 3 years old, Ozzy had quite the career with the Auburn Police Department. He was a German shepherd with the department's K-9 Unit who tackled tasks that some crime dogs are never given the chance to execute, let alone at such a young age, according to his handler.
Most notably, Ozzy is credited with the successful tracking and apprehension of Kevin Ritchie, an Auburn man convicted in the 2013 murder of Skaneateles man Matthew Prego. As a result, Ritchie will serve 32 years to life in prison. Ozzy's full potential will never be realized. The K-9 officer died on Jan. 20 from an unknown health complication that mirrored his own police career – brief, but potent. He was two months shy of his third birthday. A memorial for Ozzy was held just more than a week later at Hoopes Park in Auburn, which was attended to by law enforcement officials from across upstate New York.
Then on Feb. 5, Mayor Michael Quill and the other members of the city council proclaimed that Thursday "K-9 Officer Ozzy Day" in the city of Auburn. Officer Andrew Kalet, Ozzy's partner and handler, accepted the honor at Auburn City Hall. He took a brief moment to describe Ozzy's accomplished career, not touching on the implications the dog's death could have on the police department's K-9 unit. Instead, Kalet revisited Ozzy's career highlights – while lamenting on what could have been. Loyal. Extraordinary. Happy. All three descriptors – especially happy – were suitable character traits of Ozzy's, Kalet said in an interview last week.
The German shepherd, born in March 2012, was Kalet's third canine companion in the officer's roughly 11-year career as a handler. The two became partners before Ozzy's first birthday in February 2013. Kalet said he and his partner took training courses for much of the year at K-9 patrol tracking school and narcotics detection school, while furthering their skills with the Onondaga County Sheriff's Office. As a K-9 unit, Ozzy was qualified in building and area searches, drug and suspect tracking, protection and apprehension. Kalet said all dogs respond differently to such tasks, though the officer realized Ozzy's aptitude for learning would make him exceptional amongst his peers.
"He had an extreme amount of natural drive to do the work that we gave him," Kalet said. Ritchie's apprehension exemplified Ozzy's exemplary etiquette. The K-9 officer, just about half over a year old, was dispatched to the Case Avenue area in the early hours of Sept. 28. Ozzy was charged with tracking down the suspect through wooded areas and backyards for almost an hour – a tall task, his partner would say, especially given the canine's young age. Beyond the difficult terrain Kalet described, Ozzy's focus would be further be tested by the number of officers included on the manhunt along with a search helicopter probing from the sky. The police dog, however, was unperturbed.
Ozzy and Kalet were among those who stalked through the area on a hunt for Ritchie's whereabouts, which led them to a number of indicators – with blood evidence accounted as a key clue. The path eventually led the tracking team to Perrine Street and a collection of trees and brush. Ozzy then seemed to point his body toward a particular patch of bushes, Kalet said. When the officer shined a flashlight toward that direction, the search proved true. Kalet said the officers found Ritchie standing "like a statue" behind the foliage. He was taken into custody without further incident.
"To come up with that much success on a track like that was really good work," Kalet said of the 2013 incident. "To work through that at that young of an age was pretty impressive." Ozzy's exploits also include the location and apprehension of several felony offenders, though tracking Ritchie was his greatest achievement, Kalet said. Given Ozzy's young age, the officer said it would have been interesting to see just what else the canine could have accomplished. "He was just kind of at the stage of taking it to another level at only 2 and a half years old," Kalet said. Ozzy started having seizures more than a day before eventually died.
Kalet said the K-9 officer had worked the Saturday night before the seizures started the following Sunday, but there was no indication that anything had caused the sudden and troubling onset. For much of the day, Ozzy was treated by a veterinarian for his condition, which eventually led to surgery in hopes of uprooting the complications. Indeed, the canine seemed fine after the operation was complete, Kalet said, though it was brief. The police dog suffered from another seizure, and Ozzy eventually died at around 6 a.m. on Tuesday, Jan. 20. The cause of Ozzy's death was unknown, Kalet said.
The officer does not believe that anything happened the night before to have caused such a reaction. "We did everything we possibly could," he said. His death was memorialized in Hoopes Park by numerous law enforcement officials. Kalet said agencies and K-9 units from Auburn, Syracuse, Jamestown, Wayne County and Niagara County, among others, were represented at the funeral. One of the speakers was Deputy Craig Belcher, K-9 trainer with the Onondaga County Sheriff's Office. Belcher worked with both Kalet and Ozzy for around a year and a half following the team's time at patrol school, according to the deputy.
Citing the 15 years he's worked as a K-9 trainer and handler, Belcher said he saw Ozzy operate at a level some dogs do not even reach in their careers. He echoed Kalet's sentiments, saying the apprehension of a homicide suspect not even a year after training was very special. There are two halves to a whole, however, and Belcher was quick to credit Kalet's ability to handle Ozzy, calling the officer "a natural" as a dog handler. "That kind of embodies the quality of the dog and the quality of a handler that Ozzy and Ofc. Kalet were as a team," he said of the homicide arrest. Kalet will remember his partner as a great dog and a better companion.
Ozzy was said to have a playful, affable disposition outside of work, though he was always able to focus up when duty called. The K-9 officer was especially exceptional for his intelligence. Kalet said he would try to mix up their obedience routines because his partner, who picked up on skills quickly, would always seem to predict what he would do next. "No matter what he was doing, the tail was always wagging," Kalet said. "That's just the type of dog he was. He always wanted attention." Ozzy's death puts the city's police department at a quandary. The K-9 officer was one of two staffed by the department, and finding a suitable replacement may not be a walk in the park.
A new companion could cost as much as $7,000 before training and certification, Kalet said. While police officials deliberate just how to afford that, the remaining K-9 officer is also approaching the tail end of a law enforcement career. Kalet said most police dogs are typically retired when they are around 8 to 9 years of age, sometimes 10. The APD's sole K-9 unit – Rayn, also a German Shepherd – is approaching 10 years of age. "We're hoping we can try to figure out a way to purchase one to attend the school in the very near future," Kalet said of the vacancy. At the heart of the police department's dilemma is timing.
Kalet said the department would like to fill the spot as soon as possible, which would mean purchasing and enrolling a new dog into training courses in the upcoming spring. Howsoever the APD addresses the situation, one thing is clear: Ozzy left the police department with a big collar to fill. "When he was working, the sky was the limit, really," he said. "We were still building on it, and I guess we'll never know how good he could've been. But the sky was the limit for him."
submitted by Jim Cortina, Dir. CPWDA