In Loving Memory of
K9 NEECKO
April 13, 2015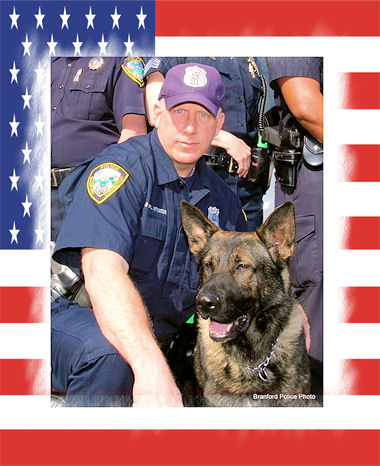 Handler: Officer David Atkinson
Branford Police Department
33 Laurel St.
Branford, CT 06405
website -
http://www.branfordpolice.com/
Neecko, Branford Police Dog, Passes
Neecko, Branford's police dog, passed away last week after suffering serious stomach complications, according to Police Chief Kevin Halloran, who notified the police commission Monday night.
Commissioner Jill Marcus stated the commission will look into an award
for the police dog for its service. Chief Halloran had high praise for Neecko and his handler, Officer David Atkinson. Neecko
had become a staple in the Branford community and the news. Seen at many events and loved especially by children, Neecko was
at his best when working. In a one week span in 2011, for example, Neecko was involved in solving 2 crimes. First, Neecko
chased a fleeing suspect of domestic violence in Guilford over ½ mile into the woods to apprehend him, a few days later,
Neecko was able to find crucial evidence in an East Haven case buried under leaves in the woods. We will have more as
the Commission decides how to honor Neecko.
submitted by Jim Cortina, Dir. CPWDA
---
In Loving Memory of
K9 NEMO
April 8, 2015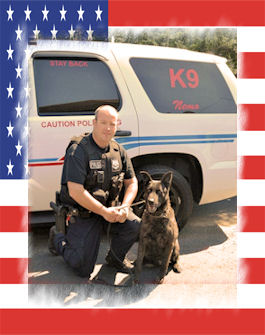 Handler – Officer Derek Loftis
Greenville Police Department
4 McGee St
Greenville, SC
Greenville K9 Nemo to say final goodbye
Greenville K9 Nemo and his handler, Officer Derek Loftis.
In his 13 human years, Nemo has been credited with hundreds of arrests as a Greenville police K9. The Dutch Shepherd
joined the department in 2008 and was assigned to a young officer named Derek Loftis, said police spokesman Jonathan Bragg.
Bragg said the two were a team for five years before Nemo was diagnosed with cancer in early 2013. While the dog received
successful medical treatment, he was retired from police work on Sept. 24, 2013 and went to live with Loftis as a family pet.
For a while, Nemo enjoyed the easy life. "Sadly, over the past several weeks, Nemo's health has gone downhill," Bragg said.
"It appears that the cancer has not only returned but is also far more aggressive."
At 9 AM, Wednesday, Nemo will be euthanized. His family put it off for as long as possible, Bragg said, but came to
the difficult decision this week so Nemo won't suffer anymore. In honor of Nemo's service to the police department
and the Greenville community, the K9 Division will escort Nemo and his old handler to a local clinic Wednesday in
a show of support. "Nemo will then have his last walk past all of the current K9 handlers and dogs," Bragg said.
At 13, Nemo has lived a long life and will be greatly missed by Officer Loftis and the entire
Greenville Police Department family." Submitted by Jim Cortina, Dir. CPWDA
---
In Loving Memory of
K9 NIKKI
March 20, 2015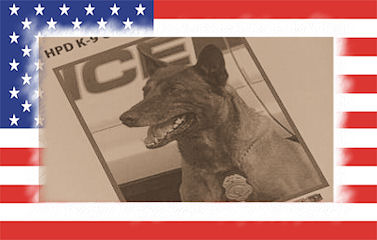 Handler: Officer Shawn Morris
Harrisonburg Police Department
101 N Main St
Harrisonburg, VA 22802
Retired Harrisonburg Police K-9 'Nikki' Dies at Age 14 from cancer
A family is remembering an officer who helped seize more than $300,000 worth of drugs during his career. The Morris family
is saying goodbye to a family pet, "He just became a member of our family," said Karen Morris. Nikki was more than just a dog;
he was a hard working K-9 for the Harrisonburg Police Department. He worked side by side with Shawn Morris, who is now
with the Rockingham County Sheriff's Office. At first, Shawn's wife, Karen, was nervous about having a K-9 in her home,
but Nikki soon warmed up to her in an unexpected way. "As ferocious as you would think he would be, look how good he
was with her," continued Morris. Shawn and Nikki constantly put themselves in harms way. "So there were times that I knew
that things were dangerous and cases that Shawn was handling I knew were dangerous, but I never worried because I knew
that Nikki was always with him," recalled Karen.
In 2008, Shawn and Nikki won Patrol Case of the Year as part of a statewide competition given to exceptional officers and
K-9s from the Virginia Police Canine Association. "My husband was able to apprehend the man right away because he had
Nikki with him," said Morris. In 2011, Nikki retired after seven years of service and spent his days at home with the
Morris family. Emma, the youngest member of the Morris family, now holds on to his badge, which is worn down from
many years of service. "He was really special to us because he meant so much to us," said Emma. "I'm going to miss him a lot."
Nikki was 14 years old and diagnosed earlier this month with cancer.
submitted by Jim Cortina, Dir. CPWDA
---
In Loving Memory of
K9 NERO
March 20, 2015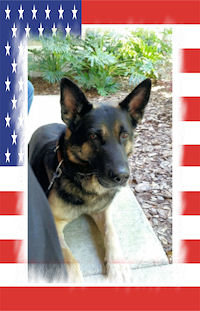 Handler: Officer David Capetillo
Oviedo Police Department
400 Alexandria Blvd
Oviedo, FL 32765
Oviedo Police Department K-9 dies from cancer
Nero, a 6 year-old German Shepherd, will be laid to rest with full honors
The Oviedo Police Department will lay K-9 Nero to rest at 3 p.m. Friday. Nero, a 6-year-old German Shepherd, has served
with the Oviedo Police Department for four years. Nero and his handler Officer David Capetillo are credited with
numerous drug detections as well as tracking criminal suspects, lost children and missing adults. The two also performed
demonstrations at several events throughout the year, including DARE graduations at all four elementary schools in the
city. Nero was diagnosed with terminal cancer and was put down for humane reasons. He will be laid to rest will
full honors at a ceremony beginning at 3 p.m. at the local animal hospital. Submitted by Jim Cortina, Dir. CPWDA
---
In Loving Memory of
K9 NIKO
February 24, 2015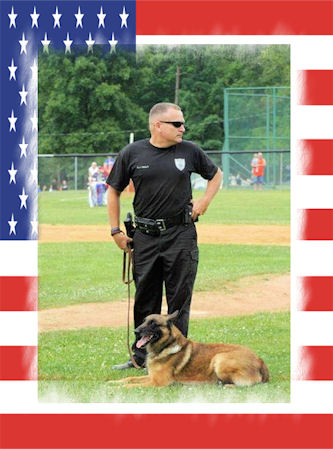 Handler: Chief Deputy Mike Fridley
Fayette County Sheriff's Office
100 North Court Street
Fayetteville, WV 25840

Fayette County Sheriff's Office Mourns Death of K9 Officer
Niko, a Belgian Maliois, joined the Fayette County sheriff's office in 2001. According to a press release, Niko was a multi-purpose K9. He was certified through the West Virginia Police K9 Association and the National Association of Police Working Dogs in narcotics detection, tracking and suspect apprehension. Niko actively served the Fayette County Sheriff's Office until his retirement in 2012. Since his retirement, Niko has lived a comfortable life at the home of his handler, Chief Deputy Mike Fridley. Due to his advanced age and painfully debilitating physical condition, Chief Deputy Fridley made the heart-wrenching decision to have Niko humanely euthanized today.

During his career as a member of the Fayette County Sheriff's Office, Niko was actively involved in the seizure of large
quantities of illegal drugs during the search of both vehicles and residences. His largest single drug find was probably
the seizure of nearly a half-kilo of cocaine, with an estimated street value of approximately $50,000.00, but he was also
involved in the seizure of thousands of prescription pills, several pounds of marijuana and countless seizures of small
quantities of illegal drugs. Niko was regularly called upon to conduct drug searches at local schools.

Niko was also instrumental in the capture of several fugitives. Affectionately known by his fellow Deputies as the
"Attack Fox," due to his small stature, Niko was fast, agile and incredibly effective when tasked with the apprehension
of fugitives. He was often called upon by other agencies throughout Southern West Virginia to assist in the tracking
and apprehension of fugitives. In one incident he was called to an apartment complex in Oak Hill to assist with the
arrest of a fugitive from New Jersey. When the suspect fled out the rear door of the apartment he proved no
match for Niko's speed and was quickly apprehended.
During the investigation of an armed robbery at a local convenience store in Oak Hill, Niko was instrumental in locating
the pistol used during this robbery. The pistol was hidden in a hollow tree stump and covered with leaves, so it is
quite likely that officers would have failed to locate this important evidence if not for Niko's keen nose. When he
wasn't busy catching bad guys and taking illegal drugs off of the streets, Niko enjoy traveling to local schools, fairs,
festivals, summer camps and other public venues to put on demonstrations of his skills.
During his career Niko made hundreds of public appearances and was regularly featured in newspaper articles and
on local television. He even made a cameo appearance in the Animal Planet television show, "Country Justice," featuring
several members of the Sheriff's Office K9 Unit. Thousands of children and adults delighted in watching Niko
find drugs and demonstrate his suspect apprehension ability. Niko was a great ambassador for the Fayette County
Sheriff's Office. "Niko was my 'partner in crime' throughout most of my career with the Sheriff's Office,"
said Chief Deputy Mike Fridley. "We had a lot of good times together, and it breaks my heart to lose Niko.
It's like losing a member of your family." submitted by James Cortina, Dir. CPWDA
---
In Loving Memory of
K9 NARKO
Feb. 14, 2007 - Jan. 14, 2015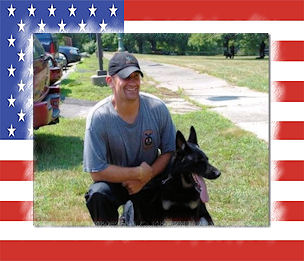 Handler: Officer Christopher Hunt
Vernon Police Department
725 Hartford Turnpike
Vernon, CT 06066
K9 Narko had tracked down numerous criminal suspects, been responsible for the arrest of hundreds of drug dealers
and users, seized hundreds of pounds of narcotics, and has found several missing children and adults.
A distinguished career that any officer would love to have. Officer Christopher Hunt and K9 Narko were
members of the Connecticut Police Work Dog Association.
submitted by Jim Cortina, Dir. CPWDA
---