In Loving Memory of
K9 MOKEY
June 4, 2015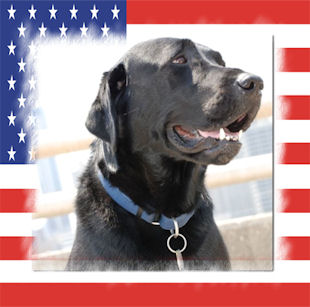 Handler: Sgt. Kirk Markham
Fulton County Sheriff
185 Central Ave S.W., 9th Floor


Atlanta

,

GA

30303
Farewell to Fulton County Sheriff's first bomb-sniffing K-9
Fulton County Sheriff's say farewell to K-9 Mokey. "He was more than my partner," says Sgt. Markham. "He was my best friend."
"Mokey rewrote the script on his own without even typing or knowing how to spell with his paws," says Markham. "It's just the way that he worked, and so many shell casings and other things that were related to homicides that he found that just blew the homicide commanders and the deputy chiefs and even the chiefs away." Markham says he didn't believe it himself when K-9 school instructors told him that his bomb-sniffing Lab would also be able to sniff out ballistics. Then, he saw it for himself. When he told an Atlanta homicide detective and friend about Mokey's talents during a casual conversation, the detective said he would call them out to his next shooting scene to see what the young dog could do.
When an Atlanta Red Dog officer, Mark Cross, was shot to death, that was the call. Mokey went over the crime scene and confirmed to detectives that they had processed all the physical evidence there, spurring confidence in his ballistics-locating ability. Mokey was later called out to investigate other similar crime scenes. Markham recalls that after the 2010 killings of State Trooper Cpl. Chadwick LeCroy and Chattahoochee Hills Police Lt. Michael Vogt, K-9 Officer Mokey sprung into action. "Mokey found evidence on both of those scenes in a matter of seconds," says Markham.
"This gave the D. A.'s office a chance to have all the evidence, and both of the suspects that shot the two law enforcement officers pled guilty. This kept the families from going through a long, drawn-out, emotional trial." Ultimately, says Markham, Atlanta Police got K-9 officers of their own after seeing the expertise Mokey provided. Mokey's loving temperament made him a popular creature inside the Fulton County courthouse, on the street, and in schools and libraries where children got to pet him. He rode in an SUV which had his name emblazoned on the side.
Judges even told Markham that when the two of them were in the building, they expected to see K-9 Mokey drop into their chambers for a quick visit. Originally raised to be a seeing-eye dog, Mokey proved too rambunctious for that job, so a career change was in order. "I think he just said, 'This is no fun. I'm a guy of action. I need to get into law enforcement work,' and it suited him," says Markham. "Bomb-detection work was the job for Mokey." The two retired from the Fulton County Sheriff's Office in 2011.
"They teach you in K-9 school to always trust your dog, and I did," says Markham. "Mokey is the superstar.
I feel that I was just his assistant, I was his chauffeur, I was the dummy with the leash. Because he did all the work." Since making the decision on Monday to euthanize Mokey, Markham has been receiving condolences from as far away as the United Kingdom. He says several K-9s and their handlers will be on hand Thursday morning to salute Mokey and his many years of service, lining the way for his final trip into the veterinarian's clinic. He anticipates "a lot of wet eyes" Thursday morning. His voice becomes thick with tears when thinking of losing Mokey, who has been with him since he was just a year old. "He was more than my partner," says Sgt. Markham. "He was my best friend." submitted by Jim Cortina, Dir. CPWDA
---
In Loving Memory of
K9 MONCEY
May 3, 2015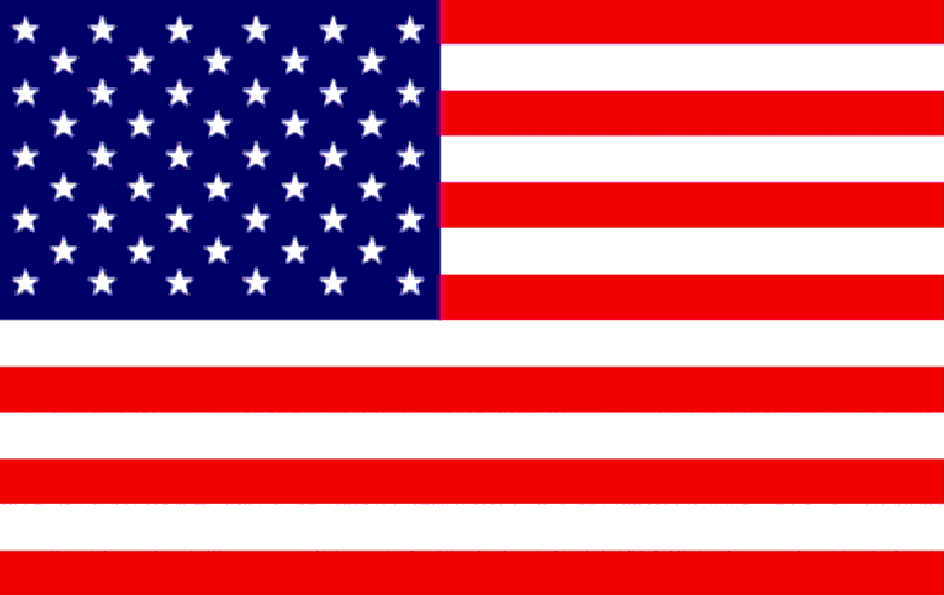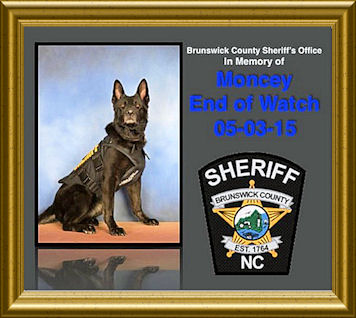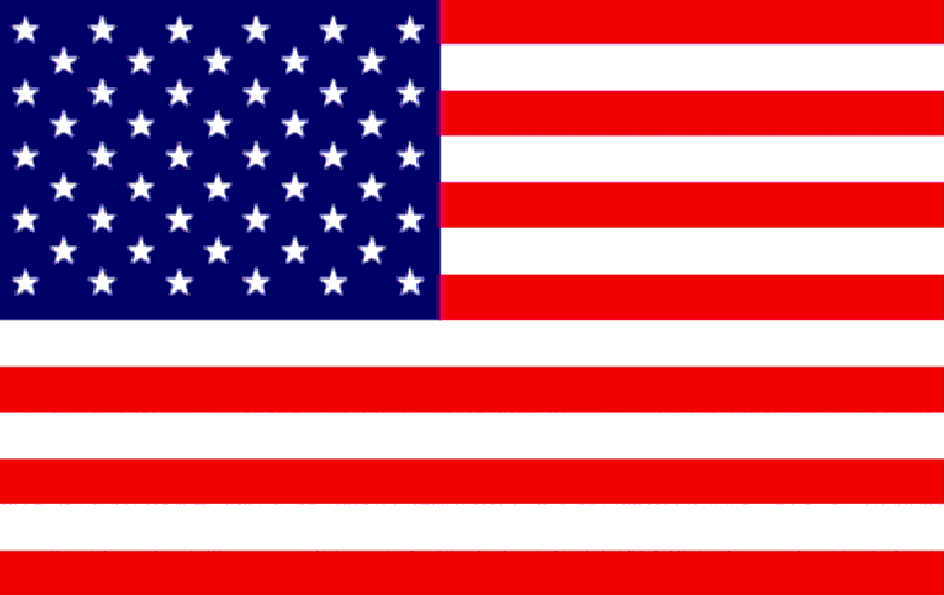 Handler: Deputy Damien Gunnell
Brunswick County Sheriff's Office
North Carolina
Brunswick sheriff's office dog dies unexpectedly
Brunswick County Sheriff's Office K-9 Officer Moncey walks with her handler and trainer, Deputy Damien Gunnell.
A Brunswick County Sheriff's Office K9 that specialized in detecting explosives died unexpectedly Sunday, officials said
Wednesday. Police dog Moncey, a German shepherd, was 5 years old and had an undetected tumor on her spleen that
ruptured, said Emily Flax, sheriff's office spokeswoman. "There were no symptoms at all. She was active and energetic,
" Flax said. "She was our girl." Flax said Moncey was with the sheriff's office for about three years.
Moncey's handler and trainer was Deputy Damien Gunnell. Submitted by Jim Cortina, Dir. CPWDA
---
In Loving Memory of
K9 MATRIX
April 30, 2015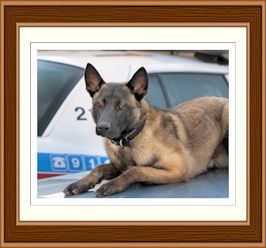 Handler:
Saskatoon Police Service
76 25th Street East
Saskatoon, SK S7K 3P9, Canada
Saskatoon police mourned the sudden death of canine unit member Matrix, a two-year-old who was killed
after being hit by a vehicle while preparing for a training exercise on April 30, 2015
The Saskatoon Police Service is mourning the loss of a member of its Canine Unit. PSD Matrix was killed in a tragic
accident while preparing for a training exercise last night. On Thursday, Matricand his handler were readying themselves
for training at a field on the west side of Warman Road behind Woodlawn Cemetary when Matrix was struck by a
vehicle traveling on Warman Road. He passed away shortly afterward. PSD Matrix was two years old and was in
specialized bomb detection training, as well as responding to general police calls. He had been in active duty since
August of 2014. submitted by Jim Cortina, Dir. CPWDA
---
In Loving Memory of
K9 MONDO
April 4, 2015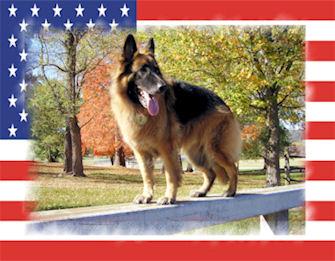 Handler: Matt Smelser
Fayette County Sheriff's Search & Rescue Team
Rosfraver/West Newton Emergency Services, Inc.
100 Pleasant Valley Blvd. PO Box 609
Belle Vernon, PA 15012

It truly saddens me to let everyone know that after several months of hip troubles the family of K9 Mondo had to make the
most difficult decision over the Holiday to end Mondo's suffering. K9 Mondo was set free and laid to rest on 04-04-2015.
Mondo worked hard for 8 years of his life doing search and rescue with the Fayette County Sheriff's Search & Rescue Team,
and the Tri County K-9 Search team.K9 Mondo was duel trained in trailing and cadaver work. K9 Mondo held
certifications as a K9 Good Citizen and Therapy K9 which he spent countless hours attending functions and helping the public.
K9 Mondo was credited with locating a 12 year old girl lost for several hours and assisted with many others throughout his
years of service. He was awarded the AKC 2006 K9 of the year for all his hard work and dedication. Mondo spent
numerous hours at the station hanging with the crews, attending meetings and trainings as he devoted his life doing what
he loved to do.

During his years of retirement he became the guarding of the hill at our neighborhood and gained the name
"MUSTAFA" the great King. He was respected by all and feared by many as he was the "guardian of the hill".
With the recent additions to our family he became the big brother to our two children as he love them like one of
his own. The hair pulling, ear tugging and bouncy house time never stopped his love and devotion to our children.
He will never be forgotten and always remembered; he touched so many lives during his time here on earth and
now will continue to protect us from above.
submitted by: Matt Smelser & Jim Cortina, Dir. CPWDA
---
In Loving Memory of
K9 MASO
February 21, 2015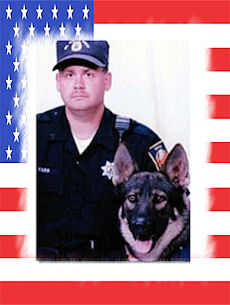 Handler: Officer Allen Carr
Mt. Vernon police
211 N 10th St
Mt Vernon, IL 62864
Police Mourn Passing of Former K9 Officer
Mt. Vernon police are mourning the loss of a former K9 officer. Maso worked for the department between 2003 and 2010.
Since he retired, he's been living with his handler, officer Allen Carr. He will be buried in the Mt. Vernon Memorial
Gardens Cemetery. The cemetery is also providing a memorial plaque.
submitted by Jim Cortina, Dir. CPWDA
---
In Loving Memory of
K9 MAKO
February 19, 2015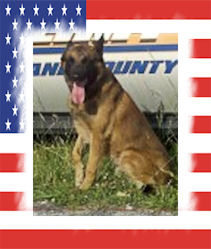 Handler: ?
Cleveland County Sheriff's Office
100 Justice Place
Shelby, NC
North Carolina K9 Succumbs to Injuries
Cleveland County K9 was attacked by another dog while assisting in serving a warrant. K9 Mako died of
injuries sustained three months earlier when he was attacked by another do while assisting members
of the agency's Vice / Narcotics Division serve a warrant near Shelby, North Carolina. As Mako and
his handler searched the outside of the home a dog that lived on the property attacked him.
him. Mako was immediately taken to emergency animal hospital and underwent surgery. He never fully recovered
and died on February 19th, 2015, as a result of the injuries. K9 Mako had served with the Cleveland County
Sheriff's Office for seven years. submitted by Jim Cortina, Dir. CPWDA
---
In Loving Memory of
K9 MOJO
February 26, 2015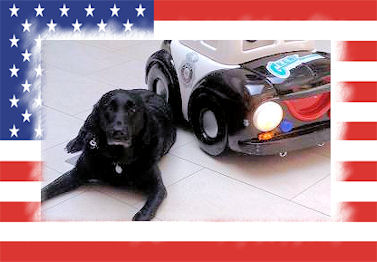 Handler: Officer Shannon Kinsey
Omaha Police Department
505 South 15th Street
Omaha, Nebraska 68102
WEBSITE - http://opd.ci.omaha.ne.us/
Omaha Police Department K9 dies unexpectedly
Mojo, an Omaha Police Department K9 died unexpectedly on February 26th. The dog worked with his partner, Officer Shannon Kinsey
as a Narcotics Detection dog at Westside Middle School. Mojo had an unforeseen internal medical problem and died. He spent the
day at the school, but showed signs of distress after coming home. He was rushed into surgery, but did not make it.
Officer Kinsey, who works as a Student Resource Officer at the school, wrote a tribute posted on the Omaha Police
Department's web page. "Mojo was loved by everyone and will be deeply missed," he wrote.Mojo and Kinsey have been working
at the school for around 5 years. "Mojo's official capacity was as a police narcotics detection dog but he did so much more.
Mojo served Westside and the community for 7 years. He was based out of Westside Middle School and was a familiar presence
at the high school and all 10 elementary buildings," wrote officer Kinsey. "Mojo's very presence made my job as the School
Resource Officer (SRO) infinitely easier. Everyone Mojo came into contact with wanted to see him, pet him and talk about him.
Mojo opened doors to start dialogues with children who otherwise wanted nothing to do with a police officer." In addition to
his duties at Westside, Kinsey wrote that Mojo also helped students learn about police work at various Omaha Police events
throughout the Omaha area. To finalize his note, Kinsey wrote "Mojo was my partner and my friend, and while he was "my"
dog and with me constantly, he truly was the school's and community's dog. He will be greatly missed."
submitted by Jim Cortina, Dir. CPWDA
---
In Loving Memory of
K9 METRO
January 21, 2015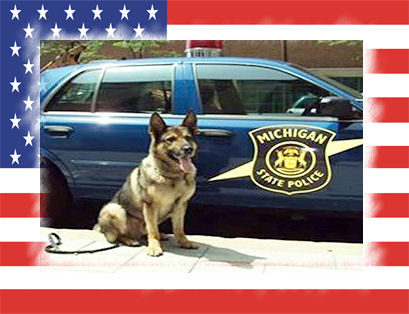 Handler: Trooper Matt McCaul
Michigan State Police
Michigan State Police dog loses battle with cancer
---
In Loving Memory of
K9 MIKA
January 15, 2015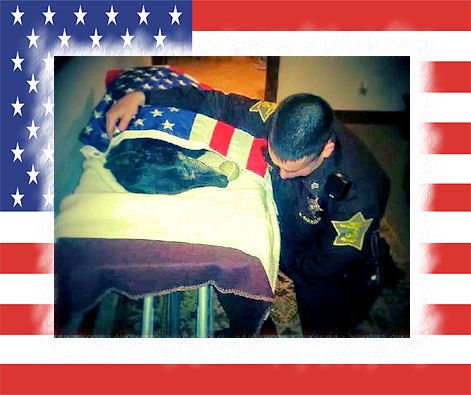 Handler: Sgt. Paul Kollros
Madison County Sheriff's Department
16 East 9th Street #305
Anderson, IN
Madison County Sheriff's Department Mourns K9
Madison County Sheriff's Department Sgt. Paul Kollros kneels beside his former K-9 partner, Mika, who was euthanized Thursday.
Mika spent nine years with the sheriff's department before retiring after she was diagnosed with cancer.
A retired K-9 with the Madison County Sheriff's Department has died, leaving a void in the life of her law enforcement partner.
"I'm sorry, I'm at a loss for words," said Mika's handler Sgt. Paul Kollros after a brief moment of silence. "I am just thinking
about all the times we had together." Mika, a 13-year-old Belgian Malinois, was euthanized at 5 p.m. on Thursday.
She joined the Madison County Sheriff's department in 2005 and retired in 2014 after being diagnosed with cancer,
said Kollros. "She was having trouble getting up and breathing so I felt selfish keeping her alive when she was
in so much pain," he said.
"Even though it was the hardest thing I had to do, it was the right thing." Mika is the third K-9 to die since the
department implemented the police dog program. According to the American Kennel Club, the Belgian Malinois is similar
to German Shepherds in appearance, but they have a smaller, lighter body frame. They are imported from Europe,
where the breed is used for herding, have high energy levels, are quick in apprehensions and valued for intelligence.
Kollros said Loose Funeral Home & Crematory, 200 West 53rd St. in Anderson, is cremating Mika at no cost to him
or the department.
During her career, Mika worked with the Secret Service when presidential candidates came to Madison County, as well as
officials when the Super Bowl was in Indianapolis. Her work also brought her into contact with President Barack Obama
and former Secretary of State Hillary Clinton. Following Mika's retirement from the police department, Kollros started
working with his new partner Lars, a German Shepard who is two years old. submitted by Jim Cortina, Dir. CPWDA