In Loving Memory of
MWD K9 FOXY
April 18, 2015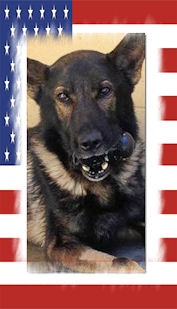 Handler: MA2 Molatore
Naval Base Ventura County
California


The Naval Base Ventura County kennels bid farewell to MWD Foxy
The Naval Base Ventura County kennels bid farewell to MWD Foxy (P446) this morning. Foxy was suffering from a medical
condition from which he could not recover and caused him great pain. He was seven years old. Foxy was surrounded by
those who knew and loved him and passed away in the arms of his handler, MA2 Molatore, with a Kong in his mouth.
MWD Foxy and MA2 Molatore served on over 15 Secret Service missions protecting the President, Vice President,
and several international dignitaries in numerous locations across the country. Foxy also assisted in numerous
apprehensions and deterrence operations on base, in addition to his normal detection and patrol duties. Foxy was a
big part of the NBVC kennels, and he will be greatly missed. Rest in peace. submitted by Jim Cortina, Dir. CPWDA
---
In Loving Memory of
K9 FREDDIE
March 2015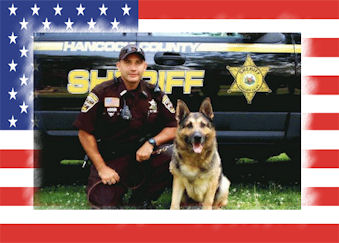 Handler: Deputy Pat Hoder
Hancock County Sheriff's Office
123 National Rd.
Greenfield, IN
Hancock County Sheriff's Office Mourns K9 Freddie
The Hancock County Sheriff's Office mourn the death of K-9, Freddie. Hancock County Sheriff Ralph Fletcher said Freddie,
a 9-year-old German shepherd born in Holland, began serving with the department and his handler, Deputy Pat Hoder,
in 2007. Freddie performed numerous drug arrests, tracks, apprehensions and public demonstration activities.
Freddie was recently diagnosed with a cancerous tumor. With the assistance of Town and Country Animal Clinic
in Wheeling, he passed away peacefully with Hoder at his side.
"Freddie served Hancock County well up until his passing on Wednesday," Fletcher said. "He was a loyal partner who
dedicated his life to serving and will be missed."
The memorial will be open to the public for anyone wishing to pay their respects.

submitted by Jim Cortina, Dir. CPWDA
---
In Loving Memory of
K9 FORREST
March 28, 2015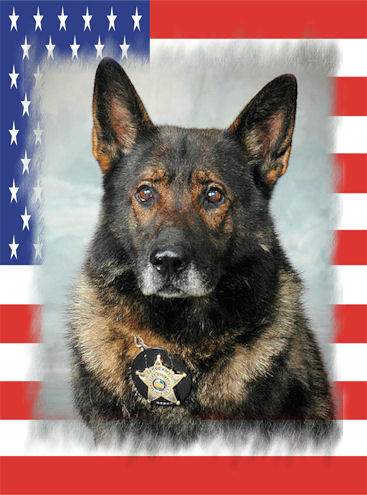 Handler: Chief Deputy Josh Clarke
Clay County Sheriff's Department
611 E Jackson St
Brazil, IN 47834
K9 officer Forrest dies at home of handler
Clay County Sheriff's Department Chief Deputy Josh Clarke and K-9 Officer Forrest
The Clay County Sheriff's Department has lost a K9 officer and Chief Deputy Josh Clarke has lost a friend. Forrest,
Clarke's partner, has been with him nine years. The dog passed away Saturday. "We were together 24-7," Clarke said
last Monday.
"I had him longer than I've had my kids." Clarke was off duty Saturday. When he got home that night, he tried to
feed Forrest and found him dead in his dog house. Clarke said he does not suspect foul play and said the dog just passed
away from old age. There could be a public ceremony but Clarke wasn't sure he wanted to do that. French Funeral Home
will cremate the body. "Nick French has just been great," Clarke said.
Donations can be made to the Clay County Humane Society to honor Forrest's life and service. Most K9s are retired after
several years and Forrest was showing his age, Clarke told the Clay County Council in February. Clarke said police dogs
have at least three functions: apprehensions, drug confiscation and public relations. Clarke said he and Forrest have done
programs from Clay County to Indianapolis. "The children don't remember my name but they remember the dog's," he said.
"They say, 'You're Forrest's daddy.'" The kids like the dogs and it reinforces the idea that police are good guys,
Clarke said.
Clarke told the council in February that the cost for each dog is about $14,000, including all expenses. He would like the
county council to allocate $28,000 for two new dogs. The council all seemed in agreement with purchasing the animal
using county funds and decided to continue the discussion. After the sheriff's department got Forrest, Dayk (pronounced "Dak").
Another K9 was purchased in 2008. He is handled by Deputy Brison Swearingen. submitted by Jim Cortina, Dir. CPWDA
---
In Loving Memory of
K9 FALKO
March 19, 2015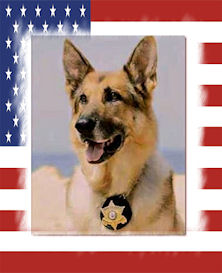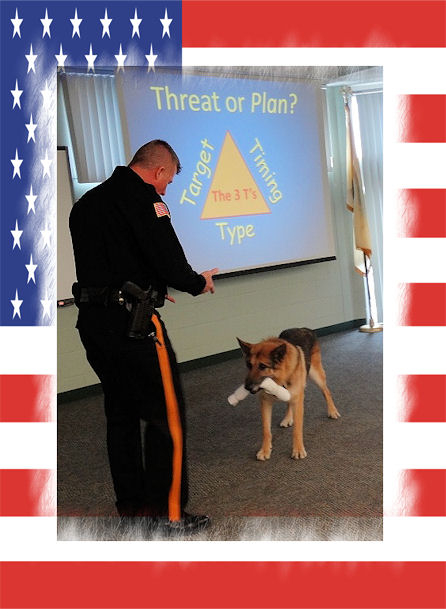 Handler: Officer James Fay
Monmouth County Sheriff's Office
2500 Kozloski Rd.
Freehold, NJ 07728
WEBSITE - http://www.monmouthsheriff.org/
K-9 Falko loses cancer battle
For the second time in less than a year, the Monmouth County Sheriff's Office lost one of its K-9 officers to cancer.
Sheriff's K-9 Officer Falko, a 12-year-old, bomb-sniffing German shepherd, was euthanized Thursday after a quick
battle with lung cancer, Sheriff Shaun Golden said. In what is known as an end-of-watch ceremony, K-9 officers and
handlers from numerous law enforcement agencies lined up outside North Star Vets in Robbinsville as Falko's handler,
Officer James Fay, and Fay's family accompanied Falko inside to be put down.
"The Monmouth County Sheriff's Office is extremely saddened on the passing of this exceptional and loyal member of
our K-9 unit, and we thank everyone for their continued support," Golden said. "Falko played a pivotal role in helping
to protect our county against criminal and terroristic threats and was an effective measure in providing a fast and
specialized response to potentially dangerous situations. We are grateful to Falko for his service. He will be missed."
Falko began working in the sheriff's office with Fay in 2004, after graduating from the New Jersey State Police
Canine Academy.
Throughout the dog's career, he and Fay responded to numerous school bomb threats and unattended packages in an
effort to rule out dangerous materials. Falko was one of the original members of the New Jersey Detect and Render
Safe Task Force, which is activated during large-scale events throughout the state. He and Fay worked at major
transportation hubs, large buildings and stadiums, according to the sheriff. They also were dispatched to several
presidential details and the 2014 Super Bowl to ensure safety. In addition, Falko and Fay participated in demonstrations
at schools and community events throughout the year, the sheriff said.
"He was a dog that was able to go to the schools and have the children pet him — an all-around good dog," said
Cynthia Scott, a spokesman for the sheriff. "Falko was my partner," Fay said. "He was a great dog, and great dogs
never leave, they live in your heart forever." Falko was diagnosed with lung cancer only about a month ago, but the
cancer progressed quickly, Scott said. The dog stopped eating a few days ago, she said. Fay met with the dog's
veterinarians on Wednesday and learned how fast the cancer had spread and that the best choice was to euthanize
him, Scott said. submitted by Jim Cortina, Dir. CPWDA
---
In Loving Memory of
K9 FRITZI
March 12, 2015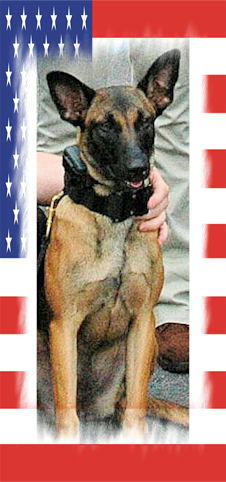 Handler: Officer Lance Marshall
Bath Police Department
West Virginia
K-9 dies after officer drives cruiser into creek
Fritzi, the Town of Bath Police Department's K-9, died Thursday night after her handler lost control of the cruiser he was
driving and went into Sleepy Creek off River Road, Chief Timothy J. Johnson said Friday. Town of Bath Police Department
Patrol Officer Lance Marshall was able to get out of the cruiser after the crash, but could not remove the dog from the
vehicle due to the water current and temperature, Johnson said in a news release. Fritzi, who had been Marshall's "loyal"
partner for 15 months, succumbed to the elements. The K-9 was eventually recovered after an extensive
rescue effort, Johnson said. Marshall was traveling north on River Road about 10 p.m. when the cruiser skidded on
gravel left over from a previous snow storm and the officer was unable to regain control of the vehicle, Johnson said.
The cruiser then went over an embankment and into the creek, Johnson said. The Town of Bath is the governing body
in Berkeley Springs, W VA. submitted by Jim Cortina, Dir. CPWDA
---
In Loving Memory of
K9 FAROAN
March 2, 2015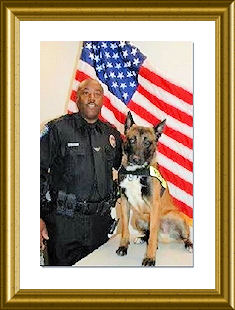 Handler: Sgt. Sean Humphrey
Florence Police Department
600 West 3rd St.
Florence, CO 81226
Florence Police Department K-9 dies
The Fremont County Sheriff's Office says a K-9, who served with the Florence Police Department, died on Monday.
The K-9, Faroan, died from an allergic reaction to medication he was getting for an injury. Faroan served the police
department for five years with his handler, Sgt. Sean Humphrey.
He was a Belgian Shepherd Dog. The sheriff's office says the details for Faroan's memorial service
will be released at a later date. submitted by Jim Cortina, Dir. CPWDA
---
In Loving Memory of
K9 FLASH
January 19, 2015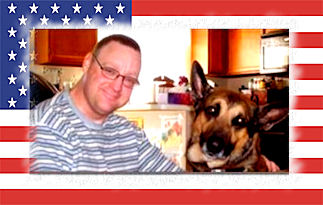 Handler: Officer JJ Smith
Jefferson County Sheriff's Office
11139 Bradford Road #700
Littleton, CO
Jeffco deputy say farewell to his partner
Video - http://link.brightcove.com/services/player/bcpid2862111165001?bckey=AQ~~,AAAAB_wnNRk~,WN9MweAQd_vhxxGtqRwBRH9jGlAift0G&bclid=0&bctid=4004035544001
JJ Smith is preparing to talk about his partner, who never once spoke for himself. "You know, I feel lonely, because he's not there.
He was always there," Smith said. For the last eight years, Smith - a K-9 handler for Jefferson County - has worked with and
trained bomb dogs. His partner was a Belgian Malinois named Flash. Early in the new year, cancer struck Flash. The diagnosis
was a 5-inch mass. That was on a Friday. By Monday, Flash was gone." It breaks your heart because your partner is suffering,"
Smith said. "It breaks your heart because your family's suffering, and then when the time comes you can never really prepare.
" Flash's career spanned eight years, 6900 searches, 120 calls and 41 dignitaries. Dozens of K-9 handlers, deputies, police
officers and judges came to Flash's memorial Wednesday evening. There are two kinds of cop funerals: the somber and the
not-so-somber. At Flash's farewell goodbye gives way to a good laugh. "I couldn't have asked for a better partner or
family member, so I'm blessed in that aspect," Smith said. submitted by Jim Cortina, Dir. CPWDA & Frank Brunetti, dir website.
---
In Loving Memory of
K9 FEDOR
January 2015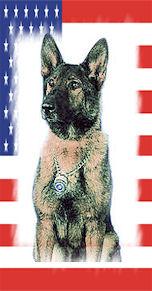 Handler:

Officer Dan Weegar
Newark Police Department
100 East Miller Street
Newark, NY 14513
Retired Newark K-9 mourned
The Newark Police Department has announced the passing of its former K-9 officer, Fedor.
The village Police Department announced the passing of its former K-9 officer, Fedor, earlier this week. Police Chief David Christler
said Fedor was diagnosed with colon cancer in July and removed from active service. Officer Dan Weegar and Fedor partnered
for several years after attending the state police K-9 training center in Cooperstown. Placed in service Feb. 9, 2009,
Christler said Fedor worked tirelessly as a drug interdiction dog while putting smiles on the faces of many children in the
Newark school district. "As a working canine, Fedor never missed a tour of duty and faithfully served the Newark Police
Department until his untimely retirement in 2014," Christler said in a press release.
Fedor was a grant to the village by former state police Superintendent Harry Corbitt. With the help of private sponsors,
Newark's first K-9 unit in 133 years was established at no cost to residents. Weegar is a veteran of the U.S. Army and
a graduate of the U.S. Air Force K-9 Training Center, Lackland Air Force Base, Texas. While with the Army, Weegar
was awarded the Department of Army Commendation Medal for his work as a K-9 explosive detection handler,
working on numerous special details that included presidential and United Nations assignments. Last October,
a 10-month-old Belgian Malinois, K-9 Mac, was purchased for the Newark PD through a private grant. Christler said Mac
and Weegar will graduate from the Cooperstown training center in April and be visible as they patrol the village streets.
submitted by: Jim Cortina, Dir. CPWDA