In Loving Memory of
K9 ERIC
April 26, 2015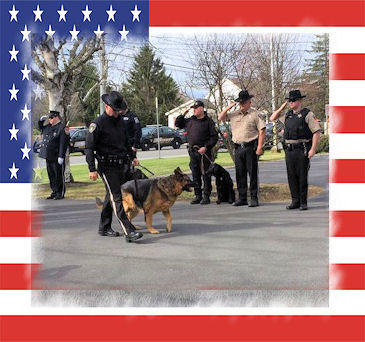 Handler: Patrol Officer Terry Combs
Warren County Sheriff's Office
1400 U.S. 9
Lake George, NY 12845
Police honor canine colleague
Officers salute Eric, the Warren County Sheriff's Office canine.
Police officers and first responders await the arrival of police dog Eric before he is euthanized.
Police officers and emergency responders from around the region gathered Sunday morning to honor a
Warren County Sheriff's Office police dog who had to be euthanized because of illness. Eric, a German shepherd
who has been with the department since 2008, was diagnosed with advanced bone cancer recently and
retired in December. He was put down Sunday, but not before he had a final tour of duty
and dozens came out to honor him as he was brought to Glens Falls Animal Hospital. Eric came to
the department when newly elected Sheriff Bud York resurrected the agency's canine program. He was 8 years old, was
owned and handled by sheriff's Patrol Officer Terry Combs and was an instrumental part of the Sheriff's Office drug
unit in recent years. He was partnered with officer Terry Combs during all six years of service. He was named for
Eric Loiselle, an Essex County sheriff's officer who was killed in an on-duty traffic accident on the Northway in 2005.
The Sheriff's Office has an additional dog assigned to the patrol division, Ozzy, named for fallen serviceman Ben Osborn,
who was killed in the line of duty on Aug. 17, 2005.... after being struck by a passing vehicle during a traffic stop.
In addition to bearing the sergeant's name, K9 Eric also wore the same badge number, 026. Sheriff's officers
from Warren and Washington counties, State Police, Queensbury Central firefighters and West Glens Falls EMS
members came out Sunday to support Combs and his partner. The team received basic training at the New York State
Police K9 Academy in Cooperstown. K9 Eric received specialty training in narcotics detection and patrol work.
He and his human partner were involved in hundreds of incidents together, including narcotics detection,
building searches, tracking suspects, locating missing persons, and doing demonstrations for various youth organizations.
submitted by Jim Cortina, Dir. CPWDA
---