In Loving Memory of
K9 CODY
April 29, 2015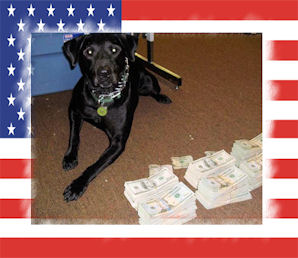 Handler: Detective Ramiro Rodriguez
Fresno County Sheriff's Office
2200 Fresno Street
Fresno, California 93721
Retired Fresno County sheriff's K9 Cody dies
The Fresno County Sheriff's Office lost of one its K9 partners this week with the death of K9 Cody, a rescue dog who served
for more than eight years, the office announced. K9 Cody seized more than $5 million worth of illegal drugs during his career,
much of it spent with detective Ramiro Rodriguez, Cody's owner. He retired from the Sheriff's Office to return to the
Rodriguez home in 2013. Cody had suffered from a cancerous tumor and was euthanized by a veterinarian
to avoid further pain. submitted by Jim Cortina, Dir. CPWDA
---
In Loving Memory of
K9 CZAR
January 3, 2015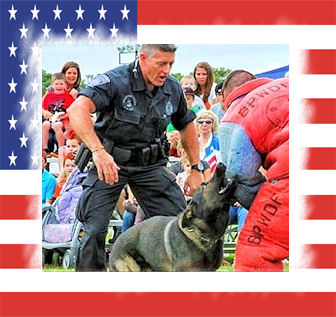 Handler: Officer Thomas Flannery
Braintree Police
Braintree, MA 02184
Police Mourn K9 Czar
Braintree Police K9 (Car) Czar was born in the Czech Republic in 2004. He started his work with The Braintree Police
in 2005 with his Partner, Officer Thomas Flannery. Czar was responsible for many apprehensions, finds and
recovery of evidence. After a brief illness Czar passed away on 01/03/2015.
submitted by Jim Cortina, Dir. CPWDA
---
In Loving Memory of
K9 CHUCKY
March 16, 2015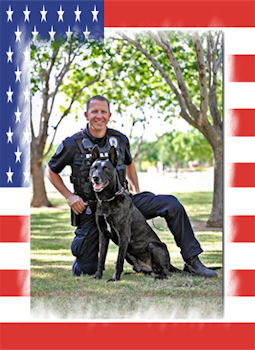 Handler: Officer Greg Thomas
Gilbert Police Department
50 E Civic Center Dr.
Gilbert, Arizona 85296
Gilbert Police Department Mourns K9 Chucky
The Gilbert Police Department lost a hero yesterday. K9 Chucky passed away after being retired for less than a year.
Chucky was an amazing police dog and he will be missed by many. Please keep Chucky and his family
in your prayers today. Rest In Peace Chucky and thank you for your service.
submitted by Jim Cortina, Dir. CPWDA
---
In Loving Memory of
K9 CLARK
February 27, 2015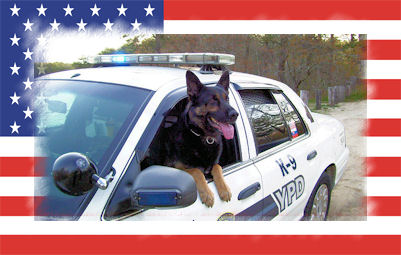 Handler: Patrol Officer Marc Thibeault
Yarmouth Police Department
1 Brad Erickson Way
West Yarmouth, MA 02673
Yarmouth police announce passing of retired K9 officer
The Yarmouth Police Department announced the passing of retired K9 Officer Clark Thursday. Clark, 10, served the department,
for most of his life, from 2005-2012 as a patrol canine. He was born in Slovakia and came to the States for a career in
law enforcement. Clark and his partner, Patrol Officer Marc Thibeault, served as the K9 team. He was trained in tracking,
searches, evidence recovery, crowd control and more. The successful track of a motor vehicle homicide suspect in Yarmouth
and the track of a child rape suspect in Dennis were noted as two of his greatest achievements, police say. He was
certified as a SWAT K9 and was part of the Cape Cod Regional Special Weapons And Tactics Team. He was injured
after a SWAT deployment in 2011, but recovered after surgery. He enjoyed spending time with children and at home
with Thibeault and his family. He retired in 2012. Police say he "will be greatly missed."
submitted by James Cortina, CPWDA
---
In Loving Memory of
K9 CLIP
February 18, 2015

Handler: Sgt. Randy Morris Jr.
Jemison Police Department
24747 US-31
Jemison, AL 35085
Jemison Police Department loses drug dog
The Jemison Police Department lost a fellow comrade last week when "Clip" the drug dog died.
The Jemison Police Department lost a fellow comrade last week when "Clip" the drug dog died. "He meant a lot to this entire department," Jemison Police Chief Shane Fulmer said. "Everyone was accustomed to seeing him around." Clip was struck and killed
by a car on Feb. 18 when he got out of his kennel at his handler's home and ran toward a road. The dog had been with JPD
since 2007 after they acquired him from the Chilton County Sheriff's Department. "When we got him, he was 2 years old,"
Fulmer said. Fulmer said Clip's handler, Sgt. Randy Morris Jr., had taken care of the dog since 2007.
"That is what makes it that much harder," Fulmer said. "Sgt. Morris had been with Clip every day since he got him. He took
care of him, fed him and let him stay at his home." Clip, a German shepherd, was used by JPD as a drug dog that would
often assist on various drug calls the department received. Morris said Clip was treated like a member of his family. "We
rode around together on calls for about 12 hours each day looking for criminal activity," Morris said. "We had a very
close bond." Morris said most people knew Clip to be a loveable and reliable dog. "I never underestimated him," Morris said.
"If he found something, I trusted him.
He was right on cue with everything. I sure relied on him and I know I might be biased, but I think he was probably one of
the best dogs around." Although Fulmer said he did not have an exact number of cases Clip assisted with, he estimated the
dog worked hundreds of cases during his time with the department. "There was one instance where there was a known drug
dealer several years ago, and we had an officer call up for assistance with the dog," Fulmer said. "Clip ended up searching
the car and found $76,000 worth of drugs hidden in a compartment in the car." Fulmer said typically a drug dog works
between 8-10 years with a department before "retiring."
"He was getting close to that mark, but he was really top notch," Fulmer said. "Each year, he would go with Sgt. Morris and
participate in the required K-9 training. If he didn't win the competition, he would win one of the top spots. He was a great
dog." Clip was also used to accompany officers to schools, Fulmer said. "Whenever we would go to the schools, we would
take Clip, and he loved that," Fulmer said. "If you saw him, he was intimidating and he could look mean, but he was
great with the kids." Fulmer said the department relied on Clip and knew with his training he would do what was asked of
him. "We never doubted his ability at all," Fulmer said. "When we needed him, we knew we had a top-notch dog there to
do what we needed him to do. We will miss him. Hopefully down the road we can find a dog to replace him, but it will be
hard because there weren't many dogs like him." submitted by Jim Cortina, Dir. CPWDA
---
In Loving Memory of
K9 COTTON
February 9, 2001 - February 19, 2015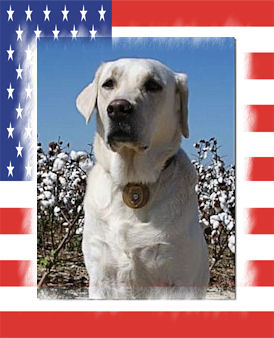 Handler: Investigator Bruce Gourley
Georgia
Veteran state fire dog dies 18 months after collaring last arsonist
Cotton, the dog who helped identify hundreds of arsons, died February 19, Insurance and Safety Fire Commissioner Ralph Hudgens,
said Monday. The Labrador Retriever had just passed his 14th birthday when he died Thursday after a brief illness. He was
the state's sixth and longest serving arson dog, Hudgens said. "Without his special abilities, hundreds of suspicious fires in
Georgia may have gone unsolved," Hudgens said. Cotton was born Feb. 9, 2001, and began his training as a canine arson
detective in August 2003 at the Maine State Police Training Center in Alfred, Maine.
Between September 2003 and January 2014, Cotton and his handler, Investigator Bruce Gourley, were involved in more than
3,000 fire investigations, which led to 250 convictions, including six arrests for murders that involved arson, Hudgens said.
Cotton specialized in sniffing out petrochemical products to determine if accelerants were used to start a fire. Gourley
and Cotton worked their last assignment in August 2013 on a business fire in Barrow County that was determined to be arson.
That case ended with a guilty pleas, a five-year probationary sentence and $1,000 fine, Hudgens said.
submitted by Jim Cortina, Dir. CPWDA
---
In Loving Memory of
K9 CLIFF
February 13, 2015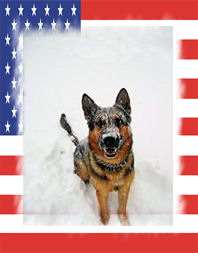 Handler: Sgt. Christopher Witts
Pine Hill Police
48 West 6th Avenue
Pine Hill, New Jersey 08021
Pine Hill police announce death of retired K-9 'Cliff'

Borough police announced with regret Friday the death of retired police K-9 "Cliff," who served with the police department from
2007 to 2014. Cliff began work with Pine Hill police in December 2007 and served as a patrol K-9 with narcotic detection specialization. "K-9 Cliff worked tirelessly with Sgt. (Christopher) Witts for the duration of his career and touched many
residents, especially the youth within the community," police Chief Chris Winters said in a Facebook post announcing the death.
Cliff retired on Nov. 1, 2014 after seven years of service with his partner, Sgt. Witts, who along with his family adopted
Cliff after retirement. In honor of the K-9's service to the Pine Hill Police Department, officers will wear mourning bands
covering their badges until 7 a.m. on Monday, Feb. 23, the chief added.
submitted by Jim Cortina, Dir. CPWDA
MORE:
PASSING OF RETIRED K9 CLIFF
DATES OF SERVICE 12/2007 - 11/2014
It is with deep regret I announce the passing of retired K9 Cliff who served the Pine Hill Police Department and residents of Pine Hill for 7 years. K9 Cliff began his service in December of 2007 and served as a Patrol K9 with Narcotic Detection specialization. K9 Cliff retired November 1st, 2014 after 7 years of dedicated service with his partner, Sgt. Christopher T. Witts. K9 Cliff was adopted by the Witts Fa...mily in November and has always been a member of both the Pine Hill Police Department Family and Witts Family.
K9 Cliff worked tirelessly with Sgt. Witts for the duration of his career and touched many residents, especially the youth within the community. Please join me in keeping Sgt. Witts, his wife Katie and their children in your thoughts and prayers during this difficult time.
In honor of retired K9 Cliff's service to the Pine Hill Police Department, effective immediately, Officers shall wear mourning bands covering their badges until 0700 on Monday, February 23rd 2014.
Sincerely, Chief Winters
---
In Loving Memory of
K9 CARSON
February 5, 2015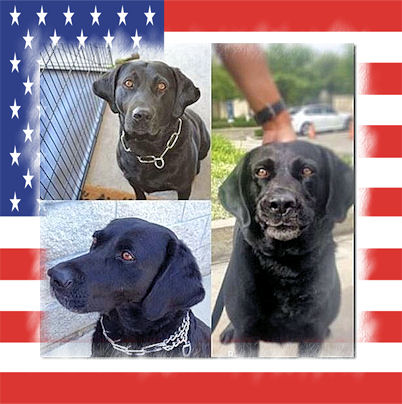 Handler: Detective Alfred Martinez
Montebello Police Department
Montebello City Hall
1600 West Beverly Boulevard
Montebello, CA 90640
Montebello police dog 'Carson' dies with his favorite tennis ball
The Montebello Police Department is mourning the loss of Carson the K-9, who had served the city since October 2008. Carson,
who was assigned to Detective Alfred Martinez to work as a gun detection dog with the Crime Suppression Unit,
died Thursday with his favorite toy — a tennis ball given to him each time he located a firearm — nearby, according to
the Montebello Police Department. Carson was due to retire this March, but in January, a large tumor was detected on
his spine which caused paralysis to the upper portion of his body. As a result, the 7-year-old canine could no longer
raise his head or walk.
Carson was certified at a five-week training course with Martinez and was one of the only gun detection dogs east of the
Long Beach (710) Freeway, except for canines working for the Los Angeles Police and Los Angeles Sheriff's Departments.
Carson and his handler were often called upon to assist other law enforcement agencies in the San Gabriel Valley.
Throughout his career, which began in the fall of 2009, Carson was able to locate 51 guns and several gun parts,
accessories and ammunition, according to Montebello police. submitted by Jim Cortina, Dir. CPWDA
---
In Loving Memory of
K9 CAR
January 3, 2015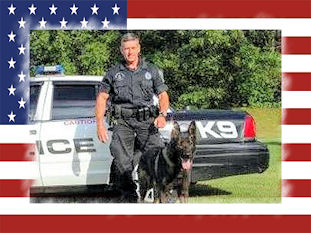 Handler: Officer Thomas Flannery
Braintree Police Department
282 Union Street
Braintree Massachusetts 02184
Braintree police force loses one of its K-9 dogs
Braintree police officer Thomas Flannery with his partner, a German shepherd named Car. The dog, which had worked
with Flannery for 9½ years, died on Saturday, Jan. 3, 2015.
Officer Thomas Flannery and his fellow members of the Braintree Police Department are mourning the death of K9 Car, one of the three K-9 dogs on the force. Car, who was also called Czar, died Saturday after a sudden illness. He was a German shepherd from the Czech Republic. He was 11 and had been an evening-shift patrol dog with Flannery for 9½ years. Flannery could not be immediately reached for comment, but Police Chief Russell Jenkins said losing a K-9 dog can affect officers even more than losing a house pet. "They form an extremely strong bond," Jenkins said. "Anyone who has a pet knows how close you become with your pet. But Car was a working dog."
You spend an entire shift with your K-9 partner, and sometimes time at home as well." As a patrol dog, Car would help Flannery
on calls such as building clearance after a breaking-and-entering incident, "To see if anyone was still in the building,"
Jenkins said. He also tracked scents leading away from crime scenes.On occasion, Car also helped Flannery locate missing persons.
On Sept. 8 of last year, the tandem responded to a report that a person with "mental health issues" was missing near
Watson Park off Route 53, Jenkins said.
Car and Flannery found the person unharmed in tall grass in the nearby marsh. Jenkins said it's too soon to know when a
new dog will be brought in to replace Car. "We're still mourning for Car," he said. submitted by Jim Cortina, Dir. CPWDA