In Loving Memory of
K9 WARDEN
August 8, 2014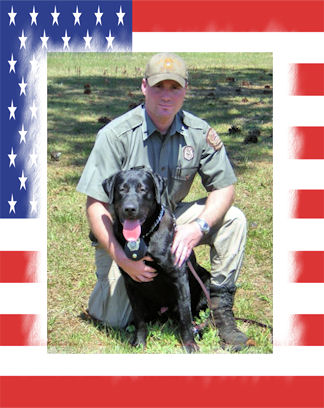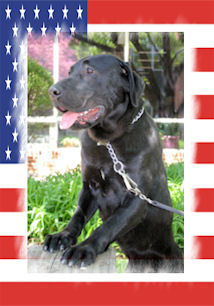 Handler: Officer Lt. Casey Zolper
Division of Fish and Wildlife Enforcement
Delaware
K9 Warden, a 10-year-old black Labrador retriever, worked for the Division of Fish and Wildlife
for the past eight years with his partner enforcement officer Lt. Casey Zolper

Since joining DNREC's Natural Resources Police, Division of Fish and Wildlife Enforcement in 2006, K-9 Warden followed his
outstanding nose and canine athleticism afield to track poachers and other law-breakers, uncover evidence and lead rescuers
in locating the lost and missing. On Sunday, Aug. 3, just a week before his formal retirement from the work he loved and
excelled at, the nearly 10-year-old black Labrador retriever died at home with his longtime Fish and Wildlife Enforcement
partner, Lt. Casey Zolper. "For eight years, K-9 Warden was a very valuable member of our team and of our law
enforcement family, and we honor him for his service to the people of Delaware," said Fish
and Wildlife Enforcement Chief Robert Legates.

Lt. Zolper and Warden became partners in the spring of 2006. At that time, and Warden to alert on the scent of river
herring to help in locating illegally-caught herring. Warden proved his skills on a wide variety of cases, from search and
rescue (SAR) to natural resource cases to criminal cases. He tracked all types of articles, people and wildlife, including
doves, turkeys, ducks and deer. His working ability helped locate marijuana growing in state wildlife areas, tracked missing
and wanted persons, and found key evidence in criminal cases, including firearms, ammunition and even a personal item
related to an attempted homicide.

In one case, Zolper and Warden were called to assist Delaware State Police in their search for a person believed to
be suicidal. Using his specialized training in tracking, K-9 Warden worked with the man's scent taken from his vehicle and
a slipper, and quickly located the man, who was unconscious during the middle of winter, in a large wooded area.
After the man was found by Warden, he was transported to a hospital, treated and stabilized. When Lt. Zolper and
his partner were not working in the field, Warden often served as Fish and Wildlife Enfo after more than two
years of research, Zolper had a plan approved by his superiors to start Delaware's first-ever fish and wildlife K-9 team.
Warden was donated by local dog trainer Bill Wolter, and training for Zolper and Warden was funded by donations
from Owens Station hunting preserve, the Dewey Beach Lions Club and the National Wild Turkey Federation. DNREC's
new K-9 unit graduated in June 2006 from an intensive, 400-hour, 10-week training course conducted by the Florida
Fish and Wildlife Conservation Commission. Certified by the United States Police Canine Association, Florida's
nationally-recognized training program focuses on follow-your-nose canine conservation detective work with hunting
dog breeds, rather than the more familiar bite-and-hold-the-suspect police dog training with German shepherds.
Through voice-command, praise-focused training, Warden learned to apply his highly sensitive nose to find and follow
scents in tracking, evidence recovery and wildlife detection. During their eight years on the job together, Warden and
Zolper sharpened and expanded the K-9's skill set through quarterly training with other fish and wildlife K-9 teams
from neighboring states, including two Florida classmates who work for Maryland Natural Resources Police. For example,
Zolper trained cement's K-9 ambassador, demonstrating his unique skills at schools, attending statewide community
events and assisting Zolper in introducing children and adults to Fish and Wildlife-specific law enforcement techniques.

On duty, Warden was Zolper's partner and all business, wearing his own badge on his camouflage police dog collar. However,
at the end of the workday, the good-natured K-9 agent was all about spending his down time with his family, especially
Zolper's 4-year-old daughter. "Warden was a great partner on the job, and a big part of my family at home," Zolper said.
"He will be missed both professionally and personally." submitted by Jim Cortina, Dir. CPWDA
---
In Loving Memory of
K9 WINSLOW
February 28, 2014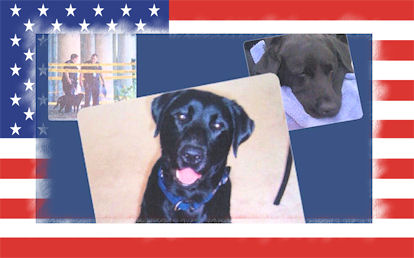 Handler: Sergeant Brian Salkeld
Charleston Police Department
180 Lockwood Blvd.
Charleston, SC 29403
Retired Charleston Police K9 Dies
The Charleston Police Department is mourning the loss of one member of the police family -- retired K9 Winslow.
Winslow died last Friday at age 8, the department said in a release. He was the partner of Sergeant Brian Salkeld,
before retiring in January 2013. "Winslow was in fact for many years the only ATF K9 in South Carolina,"
Sgt. Salkeld said in statement. "He also was the last ATF K9 in South Carolina and was one of only about
500 working ATF dogs in the world." submitted by Jim Cortina, Dir. CPWDA
---
In Loving Memory of
K9 WESSEL
January 2, 2014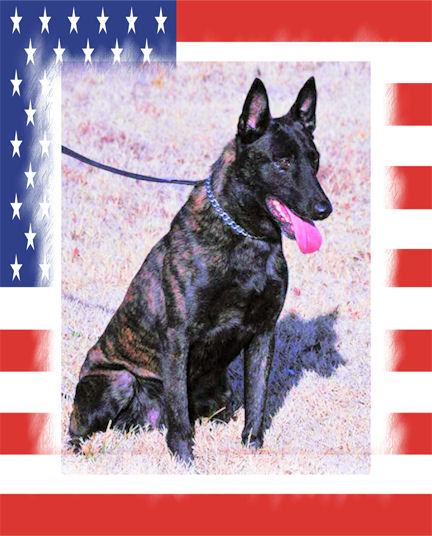 Handler: Det. Mike Porter
Lawton Police Department
#1- S.W. 4th St.
Lawton, OK 73501
Lawton loses canine officer
The Lawton Police Department lost an officer Thursday morning, but he was off-duty when euthanized.
Most police canine officers retire due to medical reasons after about five years of service, but LPD,
Det. Mike Porter's companion, Wessel, was gone before his time. According to an LPD press release,
Wessel had suffered an unspecified "intestinal" issue for some time, and LPD Capt. Craig Akard said he was
put down Thursday morning. Wessel, a Dutch shepherd, was purchased in 2011 with funds raised by the
Lawton Citizens' Police Academy Alumni Association and the General Employee's Board as well as funds from
the narcotics division fund, and he officially started in June 2011. By mid-July of that year,
the 2-year-old K-9 officer had already helped officers track a suspect in a pursuit and locate narcotics.
submitted by Jim Cortina, Dir. CPWDA