In Loving Memory of
K9 VINNIE
2014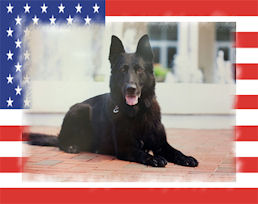 1st Handler: Officer Jim Griner
2nd Handler: Corporal Mick Lutz
Garden City Police Department
100 Central Avenue
Garden City, GA 31405
Garden City Retired K9 passes away
The Garden City Police retired Police Service K9 passed away at 13 years old from natural causes. Vinnie was an imported German Shepherd, which worked at the agency from 2003-2010. K9 Vinnie has the distinction of being Garden City's first full service police K9 in the agency's history. Vinnie was a "dual purpose" K9 which specialized in detecting illegal narcotic odor, tracking individuals, and engaging in criminal apprehension. For the bulk of Vinnie's career he was handled by Jim Griner (now Chief of Palmetto Dunes, S.C. Police Department). Additionally, Vinnie finished the last few years of his career being handled by Corporal Mick Lutz.
During Vinnie's career he contributed to countless arrest for illegal drugs or other felonious activities. A highlight of Vinnie's career occurred in 2005 when he apprehend a suspect fleeing the scene of an armed robbery and homicide. Thanks to Vinnie's apprehension of the suspect, investigators were able to identify, arrest and convict five individuals for the 2005 murder and armed robbery of Vipin Patel, the owner of the Kwikway on Highway 80. Vinnie was known as a tireless worker throughout the K9 community in Chatham County. One incident that demonstrated his tenacity for law enforcement was in 2006.
K9 Vinnie was involved in an operation to take down a notorious narcotics dealer in the West Chatham area. After a brief pursuit, two individuals fled on foot. One individual was quickly apprehended by K9 Vinnie, however, that suspect would end up fighting with
officers and Vinnie for several minutes before being taken into custody. Immediately after fighting with that suspect Vinnie would
track the other suspect through the woods and marsh, at one point in knee deep water, before he ultimately apprehended
that suspect as well.
Vinnie received numerous certifications, and awards during his career, including training and certifying with the NASA K9 unit at Kennedy Space Center in Florida. Vinnie enjoyed his retirement with former Garden City Police Officer, Larry Middleton and his family. Garden City Police issues our condolences to Officer Middleton, his family, and Vinnie's handlers over the years. He was an invaluable asset to the community, and loss will be felt throughout the agency. There will be a memorial escort of K9 Vinnie's remains beginning
at the Garden City Police Department on 4/29/14 at 1200 PM. First responders from other agencies that would like to participate
in the escort are welcome to attend if they would like.
submitted by Jim Cortina, Dir. CPWDA