In Loving Memory of
K9 URAC
October 9, 2014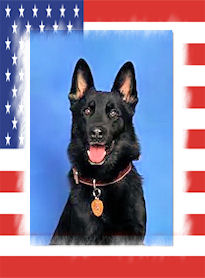 Handler: Sgt. Scott Hedrick
Columbia Police Department
701 E. Broadway
P.O. Box 6015
Columbia, Missouri 65205
Police mourn the loss of loyal K-9
Just recently, Urac and Hedrick were part of a team that got certified to be K-9 educators through the Missouri Police Canine Association. At that time Hedrick said CPD hopes to have two more dogs added to the K-9 unit within the next couple of years.

One of the Columbia Police Department's four police dogs died Thursday. K-9 Officer Urac had been ill for many months and
according to a police statement, "all options to help him, sadly did not work." The statement said Urac spent his final moments
with handler and friend Sgt. Scott Hedrick by his side. "He was loved by our community and was a beloved member of our
department," said Public Information Officer Latisha Stroer. Urac was born on December 16, 2008 in the Czech Republic
and joined the Columbia Police Department eighteen months later. "Urac had a long and distinguished career with our
department, assisting officers in locating narcotics and capturing offenders," Stroer said. "Urac will be sorely missed as we
remember his loyal service and constant friendship." The department's "End of Watch" notice on the dog's death said,
"Rest in Peace Urac. Thank you for your service buddy, we'll take it from here."
submitted by Jim Cortina, Dir. CPWDA

---
In Loving Memory of
K9 URICH
July 12, 2014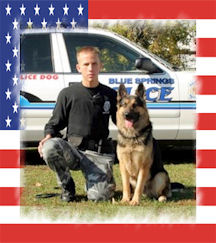 Handler: Officer Robert Unruh
Blue Springs Police Department
1100 SW Smith St.
Blue Springs, MO
Blue Springs police dog dies
Urich, one of the first dogs to serve in the Blue Springs police department's K-9 unit, died Saturday afternoon during
an emergency medical procedure, police officials said Sunday. The German Shepherd from the Czech Republic
worked with Officer Robert Unruh. The department introduced its first K-9 unit in 2006 with a grant from
the Federal Government covering the training costs for the dogs and their handlers.
Services for Urich had not been determined as of Sunday morning.
submitted by Jim Cortina, Dir. CPWDA
MORE:
Blue Springs police hold funeral service for K-9 officer
Police say K-9 Urich died of natural causes
Blue Springs police were mourning the loss of one of their police dogs Thursday. Dozens attended the memorial service for K-9 Urich. "We consider the K-9 it's a K-9 officer," said Jason Floyd of Blue Springs Police Department. Like any partnership, a K-9
relationship is built on trust. "He has to learn to trust me, that I'm not going to put him in unnecessary harm, and I have
to learn to trust him, that his nose is always right," Floyd said. Urich passed away from natural causes while serving his last
year on the police force. "He was in service for the police department for seven years, eight months and two days," said
Sgt. Mike Russell of the Blue Springs Police Department. Floyd said he understands the heartache of losing a K-9 partner.
"I spend more time with this dog than I do my own family. He's there all the time," Floyd said.
submitted by Jim Cortina, Dir. CPWDA
---
In Loving Memory of
K9 UMBERTO
March 4, 2014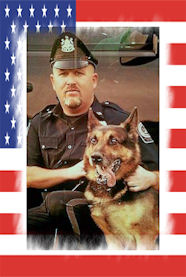 Handler: Cpl. Christopher Eiserman
Folcroft Police Department
1555 N Elmwood Ave
Folcroft, PA
After euthanizing his longtime K9 partner "Umberto" Tuesday night, Folcroft police Cpl. Christopher Eiserman sought a
continuance for a drug case listed Wednesday morning on Senior Magisterial District Judge Horace Z. Davis'
court docket. Instead, Davis surprisingly tossed the case on its first listing, apparently saying the officer's
reason for seeking a continuance "was not valid," Eiserman said Wednesday night. "Not valid? I was on the
vet's floor bawling my eyes out," the veteran law enforcement officer said of his situation less than
12 hours before he was due in Davis' court for the preliminary hearing.
And after leaving the vet's office late Tuesday, Eiserman went home to face the difficult task of cleaning out
the Umberto's space and belongings. "It was a long night," Eiserman said. "I was mourning the loss
of a partner I had since 2006." Contacted Wednesday night, Davis responded, "There is no discussion on it.
" Eiserman, who was due in court at about 9:30 a.m. Wednesday, said he returned to the police station
in the wee hours Wednesday and wrote a letter requesting the continuance, as per the judge's policy.
He left the letter for the police secretary.
The court case in question involved Dennis McKenzie, a 36-year-old Darby Township man who allegedly had
150 grams of marijuana when he was arrested on charges including possession with the intent to
deliver in January, according to authorities. "I followed up the letter with a phone call Wednesday morning.
I spoke directly to the police secretary. She spoke to the court clerk, who said it was OK," Eiserman said.
"There's never been any problem like this before. It's common." It was about mid-morning Wednesday when
Eiserman said he received a phone call from another officer who was in the courtroom who said,
"The judge dismissed your case."
According to Folcroft Officer Tom Kesser, who was in the courtroom for an unrelated matter, Davis dismissed
the charges against McKenzie, despite attempts by the assistant district attorney to explain Eiserman's
absence. "She was very professional," Kesser said of the newly assigned prosecutor whose name escaped him.
"She told the judge that the officer had a death in the family, which he did," Kesser said. Kesser doesn't
believe that Davis at that point knew that the prosecutor was referring to Eiserman's K-9 partner as the family
member. "He just said something along the line that it wasn't reason enough to grant a continuance," Kesser said.
When another case on the docket requiring testimony from Eiserman was called, Kesser said the prosecutor
again requested a continuance because of a death in the officer's family. Kesser said Davis then made a comment
along the lines, "What? A dog?" Recognizing the bond between Eiserman and Umberto, Kesser said he told
the judge, "It's not just a dog. It's his partner for 12 years." Kesser said his outburst drew no immediate
response from Davis. Davis then granted a two-week continuance in that case. The defendant in that case
is Tyrone Smith, who is charged with felony firearms and related offenses, according to online court records.
Smith's defense attorney Enrique Latoison said Wednesday night that he was not opposed to a continuance
after hearing about Eiserman's loss from another officer, Shane Coyle. According to Latoison, the prosecutor
never explained to Davis that it was Eiserman's K-9 partner that had died. The docket wasn't overly busy,
but steady, and Davis wasn't playing favorites, he said. Folcroft Cpl. William Bair said he spoke privately
with Davis on Eiserman's behalf. "I just wanted to make sure the judge understood that the dog was a
K-9, a member of the police department," Bair said. "The judge basically told me that it was his call
and we could be rearrested."
Umberto was almost 12 years old and was suffering with hip dysplasia and arthritis.
submitted by Jim Cortina, Dir. CPWDA