In Loving Memory of
K9 QUEEN
October 21, 2014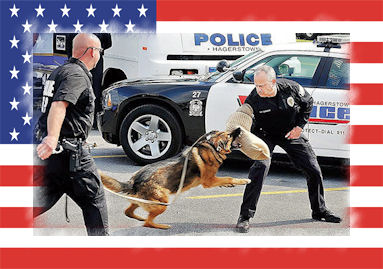 Handler: Officer Tom Bartles
Hagerstown Police Department
50 N. Burhans Blvd.
Hagerstown, MD 21740
Hagerstown police officer remembers partner, "Queen"
Hagerstown K-9 Officer Tom Bartles, left, lets his dog, Queen, loose on a protected Officer Sean Flanagan
during a demonstration at a safety event held at Wal-Mart in this file photo.

Her ashes are in an urn on Tom Bartles' dresser. "I was with that dog more than I was with my family," Bartles said of Queen, the German shepherd he handled during her 7 1/2 years with the Hagerstown Police Department. Bartles estimated that Queen logged close to 1,000 assignments for the department. Queen's contributions to the Hagerstown Police Department ranged from hunting down evidence in robberies and tracking suspects in crimes to sniffing out cocaine, methamphetamines, heroin and ecstasy. She started her career with the department in 2007.
Because of Queen's accomplishments, she was named Officer of the Month in October, the first time Bartles can remember that a K-9 received the award. Bartles, a patrol officer, said Queen developed a cough over the summer that initially was treated as an allergy. But there was concern about her condition, and a chest X-ray revealed Queen had lung cancer, which caused a tumor to develop in her stomach. Veterinarians said there was nothing that could be done to save her. On Oct. 21, she was euthanized at Mid-Atlantic Veterinary Hospital on Professional Court, Bartles said.
Queen was cremated, and today her ashes rest in an urn on Bartles' bedroom dresser, a testament to how much her death affected him. Queen was sent to the U.S. from Germany and came to Bartles through Rudy Drexler's School for Dogs in Elkhart, Ind. Bartles soon noticed Queen's ability to track suspects and search for evidence.
Bartles recalled some of Queen's highlights, like an armed robbery of a Pizza Hut at the intersection of Dual Highway and Mt. Aetna Road about four years ago. Queen tracked the scent of a suspect in the case and was able to find a hockey mask used in the holdup, Bartles said. Investigators were able to lift fingerprints off the mask, which helped lead to a conviction in the case, Bartles said.
The Washington County Narcotics Task Force, Maryland State Police and the Washington County Sheriff's Office used Queen to search for drugs, and she rode along with special-response teams in the county's Bearcat vehicle, Bartles said. Queen and Bartles were together day and night. Because Bartles was Queen's handler, she lived with Bartles at his home. In K-9 cruisers, there is a partition separating the front part from the back where the dogs ride. There is a door in the middle of the partition, and when Queen was in Bartles' car, she always wanted the door open, giving her the ability to poke her head through to watch the road ahead as she and Bartles scanned the streets of Hagerstown fighting crime.
"She had to see what was going on," Bartles said. "She loved to work." These days, Queen rests in her urn, her badge affixed to it, along with a photograph of her and a note indicating her End of Watch, 11:10 a.m., Oct. 21. Hagerstown City Council members on Tuesday night approved the purchase of two police dogs for the Hagerstown Police Department, one of which will be assigned to Bartles. Bartles will receive a dog similar to a German shepherd for patrol and narcotics. The dog comes from Cobra Canine in Loudon, Tenn., for a price of $11,000.
The second dog, a Hanoverian hound, is yet to have a handler assigned to it, Bartles said. That dog, to be used for tracking, cost $11,500. The two dogs will be added to three other K-9s in the department, which include two dogs that are cross-trained for patrol and narcotics detection. The third dog is used for narcotics detection, department officials said.
submitted by Jim Cortina, Dir. CPWDA
---
In Loving Memory of
K9 QUINN
September 2, 2014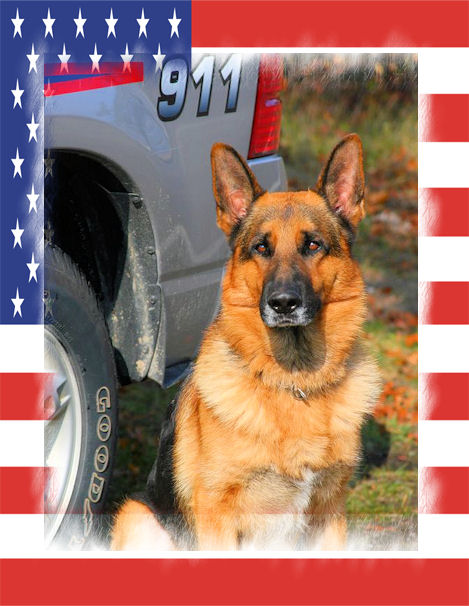 Handler: Officer Jeff Soli
Fowlerville Police Department
213 S Grand Ave
Fowlerville, MI 48836
Retired Fowlerville K-9 officer dies
K-9 Quinn, who served for eight years as a school resource officer for Fowlerville Community Schools, died Tuesday.
A Fowlerville police liaison officer is mourning the loss of this former K-9 partner and companion. Quinn, the village's drug-sniffing German Shepard, was laid to rest Tuesday after suffering from degenerative myelopathy, a disease of the spinal cord, for
several years. "He was an excellent dog," said Officer Jeff Soli. "He touched a lot of lives." The K-9 served the department
alongside Soli for eight years as a school resource officer for Fowlerville Community Schools. During that time, Quinn
assisted Soli in several drug busts in the village. He was trained in handler protection, article location, tracking, and
narcotics. Quinn retired in June 2012, due to physical restrictions. "We tried to do everything we could to keep him going,"
Soli said. Quinn spent his last two years in the care of Soli on his Shiawassee County farm, where he enjoyed chasing after
the animals. Soli said the dog would "get mad" each time he would take his current partner, Niko the Doberman to work
with him, leaving Quinn behind. The retired K-9 recently lost ability to use his hind legs, signaling Soli it was time to
euthanize him due to "quality of life" concerns. "It's horrible," Soli said. "I've lost dogs before,
but when you lose your partner, it's a little different story." submitted by Jim Cortina, Dir. CPWDA
---
In Loving Memory of
K9 QUANTO
February, 2014
Edmonton, Canada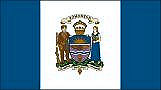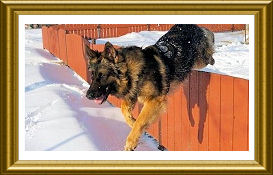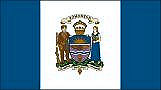 EDMONTON - A man has pleaded guilty to animal cruelty in the death of an Edmonton police dog. Paul Joseph Vukmanich was fleeing from police last October when he repeatedly stabbed the dog named Quanto. Officers had set the German Shepherd loose after Vukmanich crashed a car with stolen plates and ran away on foot. Vukmanich pleaded guilty to a total of six charges, which included animal cruelty and flight from police. He told court on Tuesday that he was high on drugs at the time. Police complained that the strongest criminal charge that could be laid was cruelty to an animal. The federal government said in its fall throne speech that it plans to bring forward "Quanto's Law" to protect police animals, but didn't specify what that might entail. A private member's bill to amend the Criminal Code to include such a law is also before the House of Commons. Ontario Conservative MP Costas Menegakis has said his bill was inspired by the hit-and-run death of a Toronto police horse in 2006. It states that anyone "who knowingly or recklessly poisons, injures or kills a law enforcement animal,'' including a horse or a dog, could be subject to a five-year maximum sentence. It's the same sentence carried by an animal cruelty charge, but Menegakis said having a separate law for police animals would be a symbolic change. Alberta's justice minister has said he supports the bill and that the province is also considering changing its Service Dog Act. Quanto is the fifth Edmonton police dog to die in the line of duty. The last police dog, named Caesar, was killed in 1998. In 2006, Edmonton police shot a fleeing suspect four times when he started stabbing a police dog. The animal, named Wizzard, survived. Kirk Steele also survived being shot by police, but doctors had to remove one of his kidneys and an adrenal gland. A judge scolded police for using excessive force but a disciplinary hearing later dismissed a charge of unnecessary use of force.
UPDATE>

UPDATE: Feb. 2014
EDMONTON - A judge has blasted the Alberta Solicitor General's office after a delay in getting a prisoner to court. Paul Vukmanich (vook-MAN'-itch) was to be sentenced this morning for killing an Edmonton police dog last year. When sheriffs still hadn't brought Vukmanich into the courtroom after 45 minutes, the judge rescheduled the sentencing for the afternoon. Judge Larry Anderson told the courtroom that the solicitor general is incapable of providing adequate resources. He said it's a recurring problem and completely unacceptable. Vukmanich was high on drugs and fleeing from police last October when he repeatedly stabbed the dog named,
"K9 Quanto." Officers had set the German shepherd loose after Vukmanich was caught driving a car with stolen plates
and ran away on foot. submitted by Jim Cortina, Dir. CPWDA