In Loving Memory of
K9 OBIE
December 8, 2014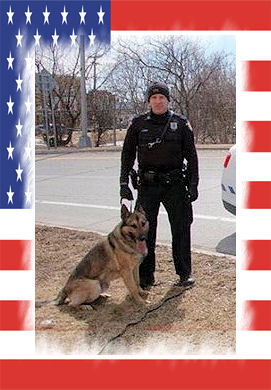 Handler: Officer Craig Faby
Troy Police Department
55 State Street
Troy, NY 12180
Troy PBA mourns the loss of a dedicated K9.
Troy Police said goodbye to a beloved member of the department Monday as K9 Obie was euthanized due to illness. Obie,
handled by Officer Craig Faby, was nearly four years old, and had been recently diagnosed with osteosarcoma, canine
bone cancer. Department spokesman Capt. Daniel DeWolf said Obie was put down due to do the aggressive nature of the
disease and the pain it caused. Obie was named after Police Sergeant James O'Brien, who died in December 2010, a month
before the canine's birth. "Jimmy was a great law enforcement officer and friend to all," said a press release from DeWolf.
"It was only fitting that a great police dog would be named in his honor." Obie was trained in explosive detection and patrol
work, and was a family pet after work hours. With Faby, Obie has helped make arrests and uncovered a number of explosive
items, including guns, bullets and fireworks, said DeWolf. "The Troy Police Department are thankful for the excellent
work that Obie performed for the citizens of Troy and often outlying areas that have been in need of a police K9 and
handler," said DeWolf in a press release. "Obie will always be fondly remembered." K9 Obie, thank you for your dedicated
service and risking your own safety to protect our members. May you rest in peace, we'll take the watch from here.
submitted by Jim Cortina, Dir. CPWDA
---
In Loving Memory of
K9 OSCAR
MAY 2014

(need photo)


Handler: Officer Mario Nelson
Fontana Police Department
17005 Upland Ave.
Fontana, CA 92335

K9 Ricky is under 2014-R
Fontana Police K9 program thrives, but two retired dogs pass away
After giving many years of service to the local community, retired Police K9s Oscar and Ricky recently passed away,
according to the Fontana Police Department.
• K9 Oscar joined the Fontana Police Department in 2003 and was assigned to Officer Mario Nelson. In 2004, Oscar was
reassigned to Officer Joe Moreno until Oscar retired in 2008. He served the Fontana P.D. for five years and remained in
the care of Moreno in retirement. He was 14 years old when he passed away in late May. "Oscar was a great dog,
an outstanding partner and will be missed very much," said Moreno.
• K9 Ricky joined the Fontana P.D. in 2004. He was assigned to Officer Jason Delair from 2004 until his retirement
in 2010. Ricky remained in the care of Delair in retirement and was 12 years old when he passed away in late June.
"Ricky was the best partner an officer could ask for. He did what he was told and never talked back," said Delair.
"He loved his job serving Fontana and we were inseparable."
The K9 Unit is considered a valuable asset to the Fontana P.D. and to the community, and the officers enjoy the
partnership with their four-legged friends. The Fontana P.D. retires each K9 after it reaches 10 years of age.
Fontana's K9 Unit began in 1976 and was the first such unit in San Bernardino County. Over the decades, the program
has grown from one K9 to six patrol K9s. A new training center for the dogs opened in 2012 and was honored with an
award from State Attorney General Kamala Harris. "It's a world-class facility," said Lieutenant Gary Aulis.
The facility includes specialized equipment such as a detection wall, blinds, obstacles, and a K9 search house. Community
donations made the training center a reality at no cost to the city. Fontana K9 Pals, a non-profit organization, has
purchased every dog used by the Fontana P.D for more than 20 years, with the exception of K9 Jaris, which was
purchased through a Homeland Security grant. At $10,000 per dog, the savings have been significant for the city.
submitted by: Jim Cortina, Dir. CPWDA
---
In Loving Memory of
K9 OOLICK
date 2014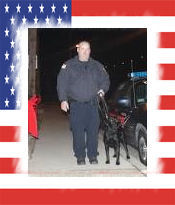 Need info regarding K9 OOLICK ... including department and address, etc.


---
In Loving Memory of
K9 ORY
June 16, 2014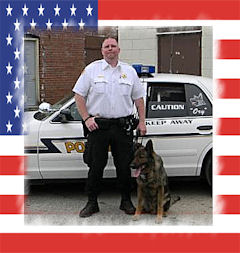 Handler: Chief Darin Crask
Lostant Police Department
Illinois
Retired police dog dies
A former Lostant police dog died of natural causes Monday night. Ory retired from duty in February after 10 years
with the department, said Chief Darin Crask, who also was the animal's handler. The dog helped take hundreds of
pounds of illegal drugs off the streets of the Illinois Valley, found many missing and endangered people and
protected citizens as well as Crask and his family, Crask said Tuesday. submitted by James Cortina, Dir. CPWDA
---
In Loving Memory of
K9 OLD DAN
May 30, 2014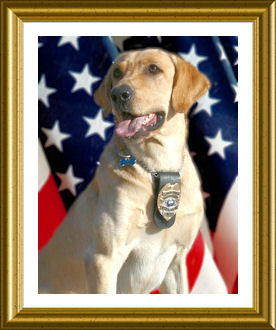 Handler: Lt. Kent Keeshan
Bettendorf Police Department
1609 State St.
K-9 officer dies
Bettendorf's K-9 officer, Old Dan, has died. Old Dan was a yellow Labrador Retriever that joined the Bettendorf Police Department
as a narcotics detection canine in 2005.A spokesperson for the department said Old Dan and his handler, Lt. Kent Keeshan,
seized large amounts of drugs including 32.9 kilos of cocaine, 7.59 pounds of ecstacy and 543.24 pounds of marijuana.
Old Dan died May 30, 2014 after surgery to remove a 9.7-pound tumor from his spleen. Old Dan is buried next to
Bettendorf's first K-9, Caesar, in Oakdale Memorial Gardens in Davenport.Old Dan's passing leaves Bono as the
one remaining full-service K-9 with the Bettendorf Police Department. No decision had been made yet about
whether the department might purchase another K-9. submitted by Jim Cortina, Dir. CPWDA
---
In Loving Memory of
K9 OUZO
May 13, 2014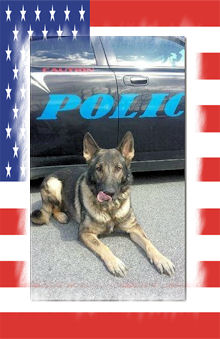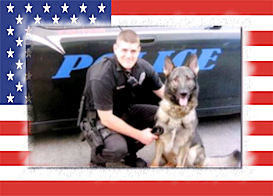 Handler: Officer Lance Marshall
Berkeley Springs Police Department
271 Wilkes Street # B




Berkeley Springs

,

West Virginia

25411
Police dog dies after surgery
After a two-year career as a K-9 officer with the Town of Bath, German Shepherd "Ouzo" died on May 13 following surgery
and repair to an injury to his throat. According to Lance Marshall, Ouzo's supervising officer who cared for the dog,
Ouzo was playing with sticks in the yard on May 12 when he was injured.
submitted by Jim Cortina, Dir. CPWDA
---
In Loving Memory of
K9 ODIN
May 13, 2014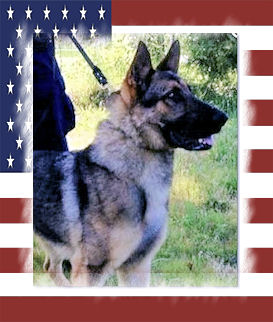 Handler: Officer Randall Cox
Roanoke Police Department
348 Campbell Ave SW
Roanoke, VA 24016
Roanoke Police Department Mourns Passing of K9 Odin
The Roanoke Police Department announced the death of K9 Odin, who proudly served the Department since June of last
year. K9 Odin passed away in the early morning hours on May 13th. K9 Odin's partner, Officer Randall Cox, was
there by his side. The results of a necropsy performed later that same day revealed Odin died of an intestinal
torsion. K9 Odin was a two-year-old male German Shepherd. K9 Odin was trained and fully certified in
explosive detection and patrol. K9 Odin graduated from Basic K9 School last September after certifying with the
Virginia Police Work Dog Association and the North American Police Dog Association in Explosive Detection and Patrol.

"K9 Odin was not only my partner," said Officer Randall Cox, "he was the partner of the entire Police Department and
really the entire Roanoke Valley. I was just the one lucky enough to ride in the car with him." K9 Odin was
responsible for a variety of tasks from entertaining school children during K9 demonstrations, to criminal
apprehension, to conducting building searches so officers wouldn't be put in harm's way, to explosive detection
detail for any state or federal dignitary's visit to Roanoke. Officers are planning a private memorial service to honor K9 Odin.
submitted by Jim Cortina, Dir. CPWDA