In Loving Memory of
K9 NOMAK
December 10, 2014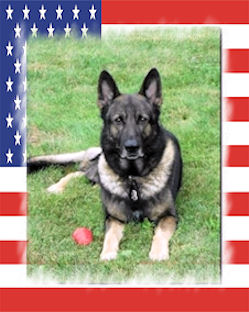 Handler: Officer Andy Kovlakas
Norwalk Police Department
1 Monroe St.
Norwalk, CT 06854
Norwalk police K-9 passes away
t is with great sadness the Norwalk Department of Police Service announces the passing of retired police service dog "Nomak." Nomak lost his battle with myelopathy and passed away on Dec. 10. Nomak began service with the Norwalk Police Department in May of 2006 and retired in January of 2012. In those six years of service, Nomak was responsible for several narcotics arrests in Norwalk and surrounding towns. In May of 2007 Nomak and his handler, Officer Andy Kovlakas, were named the department's "Officers of the Month." Officer Kovlakas and Nomak responded to a residence in which a male subject broke into an ex-girlfriend's apartment.

The male subject, carrying a large butcher knife, chased the female into the bathroom where she was able to lock herself in.
As the male was breaking down the door, she was able to cal 911. Upon hearing the call to the police, the male fled the apartment. Nomak conducted a building search of the common areas of the building and apprehended the male, who was still holding the knife.
Upon retirement, Nomak was able to enjoy life with Officer Kovlakas and his family. He passed away as Officer Kovlakas
held him and thanked him for a great nine years together. Officer Kovlakas and K9 Nomak were members of
the CPWDA from 2007-2011. submitted by Jim Cortina, Dir. CPWDA
---
In Loving Memory of
K9 NALA
November 11, 2014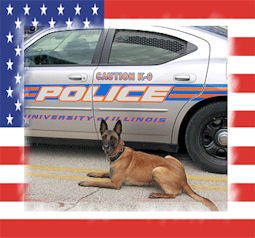 Handler: Officer Troy Chew
University of Illinois

Bomb-sniffing dog dies
For a decade, Nala the bomb-sniffing dog helped patrol University of Illinois athletic events and was the canine to call when potentially explosive packages were found.
She retired as a working dog this past August after a nerve condition progressively robbed her of feeling in her hind legs. But she continued to make her home with UI Officer Troy Chew, living out the rest of her days as a Chew family pet until she died Nov. 11. On her next birthday, which was coming up in February 2015, she would have been 13, Chew said. Having to have his longtime four-legged partner put down was tough, he said.
The youngest of his three children took the loss of this dog especially hard, and as for him, "it was the hardest thing I ever had to do," Chew said. A Belgian Malinois — a type of sheepherding dog often favored for police work — Nala was the first bomb-sniffing dog UI police ever had. She was brought in during the aftermath of 9/11, when there was a heightened focus on explosives, Chew said. Nala came to UI police in 2004 as a 2-year-old dog, already trained in her work and taking her commands from Chew in Dutch. Chew, who is also a UI patrol officer, took her for additional training that was largely for him to learn how to interpret her body responses, he said.
The "passive alert" given by Nala and other explosive-sniffing dogs is sitting or lying down at the location of the odor they're trained to find, he said. Chew said he and Nala were called out when suspicious packages, such as abandoned backpacks, were found, and they were also part of the security at UI football and basketball games.
Fortunately, Nala never had to find a real bomb. But Chew kept her trained and interested in her work by setting up explosives for her to find, and always rewarded her after each exercise with a tennis ball. At Chew's home, Nala lived in a kennel and was taken for walks and spent time out in the yard with the family.
She was kept in a separate space from the family's pet dog, a black lab named Tori, but the two dogs got along just fine, he said.
Nala was still sharp when she retired some months after Chew began noticing her favoring her left hind leg and took her to the vet, and even as her leg condition worsened, she remained sharp, he said. Toward the end of Nala's life, she had developed sores on
her back paws from dragging them. Chew said he needed to lift up her food bowl to her so she could eat, and in the last
week she'd lost interest in eating entirely. Chew began working with a new partner dog, Zuri, when Nala retired.
Making the transition wasn't that hard then, "because I still had Nala," he recalled. Zuri is a 17-month-old female Belgian Malinois
who arrived untrained, but can now find a bomb if she needs to, Chew said. Like Nala, she also comes home with him every
night and enjoys a reward for her work, which for her is a rubber ball on a rope. Chew, 41, had dogs growing up and enjoys
working with them. He worked for the state Department of Corrections and Danville police before coming to the UI in 2001.
He hopes to get another good 10 years on the job with Zuri, and by then he'll be nearing retirement, he said.
Barring something tragic happening to Zuri along the way, Chew said, "she will be my last dog, probably." Zuri, the UI's new
bomb-sniffing dog, is one of two in Champaign County. The other, named Gunner, works at the county courthouse and is
handled by court security Officer Tim Pavlik. Gunner replaced the county sheriff's office's first bomb-sniffing dog,
Duke, who died in 2009.
submitted by Jim Cortina, Dir. CPWDA
---
In Loving Memory of
K9 NERO
October 16, 2014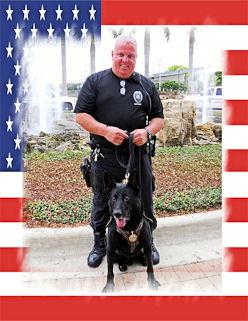 Handler: Sergeant Michael McHale
2099 Adams Lane
Sarasota FL 34237
WEBSITE - http://www.sarasotapd.org/
Sarasota Police Department Announces Passing of K9 Officer Nero
The Sarasota Police Department is sad to announce the passing of K9 Officer Nero. K-9 Nero, 9, passed away Thursday
morning after a brief battle with cancer. K-9 Nero was the loyal partner to Sarasota Police Sergeant Michael McHale.
K-9 Nero, a German Shepard, was born in the Czech Republic in June 2005 and joined the Sarasota Police Department
in June 2006, serving and protecting for eight (8) years before his passing. He served the City of Sarasota proudly, being
certified in both Patrol and Narcotics. K-9 Nero spent time with children and adults throughout the City of Sarasota
during presentations for schools, community groups and the Sarasota Police Department Citizen Academy.
K-9 Officer Nero and his partner, Sgt. McHale, have been a shining example of the impact that a K-9 team can have
since 2006. They have had the uncanny ability to respond to almost any criminal incident and address it efficiently and
effectively and turn around and represent the Police Department at a community or school event within the same shift
without missing a beat. Our K-9 Officers are incredibly effective Police Officers; they are fearless, courageous,
and will not hesitate to lay down their life to save a fellow Officer or citizen. K-9 Officer Nero exemplified those
qualities. SPD K-9 Officers are members of our Police family and K-9 Officer Nero's passing will be felt by our
organization for some time." said Captain Patrick Robinson, Sarasota Police Department.
submitted by Jim Cortina, Dir. CPWDA
---
In Loving Memory of
K9 NICK
September 20, 2014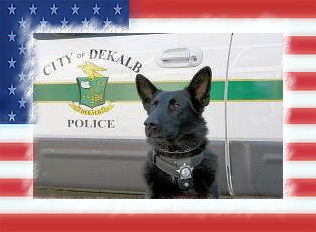 Handler: Officer Thomas Reilly
DeKalb Police Department
700 Lincoln Hwy.
DeKalb, IL
1st DeKalb Police canine dies at 11
K9 Nick, Dekalb Police Department's first canine, died Saturday due to declining health.
The 11-year-old German shepherd was imported from Holland by Canine Associates International in 2006,
according to the 2010 DeKalb Police Annual Report. Officer Thomas Reilly was the dog's handler.
"On the morning of Sept. 20, [Nick] had steak for breakfast and his handler spent his last two hours alone with
him where they played fetch and hung out in the yard," according to police.
submitted by Jim Cortina, Dir. CPWDA
---
In Loving Memory of
K9 NARCO
September 4, 2014


Handler: Officer James Taylor
Rusk County Sheriff's Office
Hallsville, Texas

Officer says goodbye to his police dog, friend Narco
Thursday afternoon in Hallsville, members from many law enforcement agencies paid their respects to Narco, a retired police dog who was put to sleep that morning. But tears soon turned into smiles as they remembered what he meant to the force, and especially what he meant to the man sharing that close bond. Officer James Taylor now works as a police officer in Fairview, before that he was with the Rusk County Sheriff's Office. But he got his start with Tatum PD, which is where he and Narco met, and at first, their relationship was a bit rocky. But it's left a lasting impact, as on Thursday, he said goodbye to his partner.
When it comes to a close friendship, home is never defined by a spot on a map, but rather how close you are to one another. "He's been with me everywhere I've gone, different states, different houses, all East Texas different places and everywhere we went, he was always right there, and it never really bothered him where we were as long as he was around," said Taylor about Narco. Officer Taylor and Narco, had that type of relationship, which lasted longer than Narco's time on the force. But as the years went by, Narco developed a disorder, where his spine slowly began to degenerate.
"Just got to the point where he was in pain and had trouble with just basic walking and standing up. He's very proud, he didn't want to admit it or show it, but, it was time," said Taylor. So Thursday morning he was put to sleep and that afternoon laid to rest in Hallsville. "He spent his last few months here and then it was only fitting that he rests here," said Taylor. The decision was short notice, and Taylor only let a few people know. But when 5:30 PM rolled around, faces from his and Narco's past showed up, along with other officers, and fellow dogs, who showed up to pay their respects.
"A lot of people look at this as just a dog but, the ones that do this kind of work and work around them, or get the privilege of working with them, they're a lot more than that," said Taylor. As stories were shared, and memories recalled, the scene became quite clear. This was more than a handler saying goodbye to his K-9 unit, it was a friend, telling his buddy, he'll see him soon. "Today was tough and, it was short notice but, in the end I'm supremely confident that he is right now charging somebody else down somewhere. That's what he's doing, so it ends on a good note," said Taylor. submitted by Jim Cortina, Dir. CPWDA
---
In Loving Memory of
K9 NYX
July 9, 2014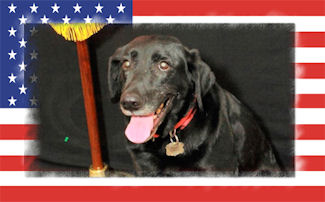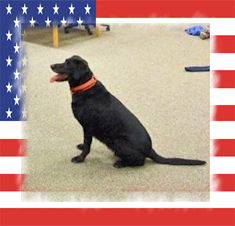 Handler: Officer Zachary Lee Miller
Mills Police Department
4800 W Yellowstone Hwy
Mills, WY 82644
WEBSITE - http://millspd.org/
K-9 Dead; Officer Accused of Leaving Dog in Car for 6 Hours
A Mills Police officer is accused of leaving his K-9 dog in a police vehicle for over 6 hours with no air conditioning, ventilation
or water as a result of those six hours in the heat. The animal was found dead in the patrol vehicle. Our own Jeff Platt
has been working to gather details for several weeks now and joins us live from outside the Mills Police Department.
According to an affidavit obtained from Natrona County Circuit Court. The dog was K-9 Nyx and he was in the
custody of Officer Zachary Lee Miller of the Mills Police Department.

A division of criminal investigations officer looked into the incident and describes video footage that shows Nyx being left
in the patrol vehicle with the windows up shortly before 6 A.M. on July 9th and Officer Miller not returning to the
vehicle until shortly after noon when he found Nyx dead in the back of the car. The affidavit also says it was 86 degrees
outside that day and the patrol car was parked behind the station. Officer Miller was accompanied by Officer Jake Bigelow
who was training under officer Miller that day. The affidavit outlines Miller's recollection of the events. Miller says
he yelled at Bigelow for not leaving the air conditioner on.
Although Miller acknowledged he was the one responsible for the animal. We've asked Mills Police Chief Bryon Preciado
for an interview but he declined to comment. He did say officer Miller is still employed by the Mills Police Department
and is on leave right now for unrelated personal reasons. Miller entered a plea of not guilty for the misdemeanor
charge of not providing a dog with adequate water, food, or protection from the weather. Miller is scheduled to appear
in court soon and Jeff will keep you updated as we learn more on this developing story.
submitted by Jim Cortina, Dir. CPWDA
---
In Loving Memory of
MK9 (Nine)
(need proper name...help)
June 20, 2014
Afghanistan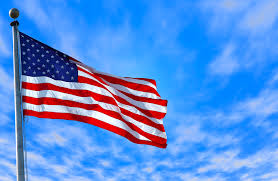 Three NATO Troops and Military K9 Killed in Afghanistan Blast

A Taliban attack killed three NATO soldiers and a military dog in southern Afghanistan on Friday, officials said, in the
latest sign of the insurgents' capability as the coalition winds down operations. NATO's International Security
Assistance Force (ISAF) will end its combat mission later this year, leaving the Afghan police and army to take
on full responsibility for battling the resilient Taliban insurgency. "Three ISAF service members and one ISAF
canine died following an improvised explosive device attack in southern Afghanistan today," the NATO force
said in a statement.

Military dogs are often used to sniff for explosives, though they have proved unpopular with Afghan civilians
as they are seen as unclean by many Muslims. In line with ISAF policy, it did not identify the nationality of the dead
troops, though most soldiers in the south are American. The attack occurred in the volatile Nad Ali district of
Helmand province, according to Afghan officials. "The bomb was carried on a motorbike and detonated close to
an ISAF patrol," the provincial governor's spokesman Omar Zawak told AFP. The Taliban claimed responsibility via
a text message sent to the media.

The last major incident involving NATO troops was ten days ago when five US soldiers were killed in an accidental
"friendly fire" air strike in Zabul province during clashes with insurgents. All 50,000 remaining NATO combat troops
are due to leave the country by the end of this year, though a small US deployment will remain until the end
of 2016 if a long-delayed deal is signed between Washington and Kabul.

need name of K9
---
In Loving Memory of
K9 NIKKOLAI
June 2014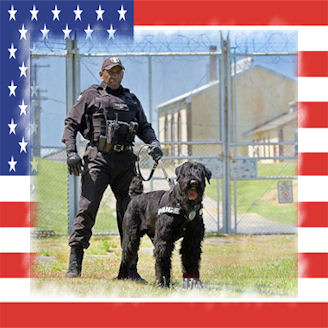 Handler: SCO Myron Kelley
New Jersey Department of Corrections

It is with great GREAT sadness that we report the passing of K9 Nikkolai, a Patrol/Narcotic Trained Black Russian Terrier,
with the New Jersey Department of Corrections. Recently, K9 Nikkolai and his handler SCO Myron Kelley
were featured in the 2014 Cops and Dogs Calendar (photo credit).

K9 Nikkolai touched the lives of anyone who crossed his path with his charming personality, impressive size,
and his amazing abilities. K9 Nikkolai was a tremendous part of the NJ DOC K9 Unit and will
be greatly missed by ALL who knew him.

On behalf of the Capital K9 Association's Executive Board and Members, may you rest in peace gentle giant…
thank you for your service. Our thoughts and prayers are with his handler SCO Myron Kelley,
the NJ DOC Family, and all who had the pleasure of knowing him.
submitted by GLOUCESTER COUNTY POLICE K9 ASSOCIATION <noreply@gcpk9a.com>
---
In Loving Memory of
K9 NITRO & K9 HAWK
April 22, 2014 (fire)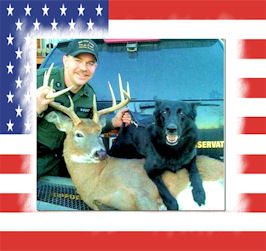 Handler: Officer Brett Armstrong
New York

Two police K9s die in fire
Two highly trained police K9s of the DEC's Division of Law Enforcement and a family dog died recently of smoke inhalation
from a house fire at their handler's residence. Environmental Conservation Officer Brett Armstrong and his family were away
from their Chenango County residence on April 22. When they returned, they discovered their home was on fire and full
of smoke. Responding firefighters found the K9s, along with the family dog, dead inside. One of the K9s, "Hawk",
a 3-year-old Belgian Malinois, had been with the DEC and Armstrong for less than a year.
The dog was certified in shell casing and firearm detection and was in the process of completing his training this spring,
according to DEC. The other K9, "Nitro," was a 10-year-old German shepherd who was well-known and used by officers
for his wildlife detection and tracking abilities. The dog worked with DEC officers for nine years and was frequently
used by officers for demonstrations in numerous public appearances throughout Region 7. The family dog, "Shadow" was an adult, chocolate Labrador retriever.
There are currently seven trained DEC K9s that work with environmental conservation officers across the state. They're
used for wildlife detection, tracking, spent shell/firearm detection and to protect their handlers. While the Armstrongs
do have insurance, the house and its contents were declared a total loss. submitted by Jim Cortina, Dir. CPWDA
(ahhhh... poor deer) - LRK
---
In Loving Memory of
K9 NERO
February 14, 2014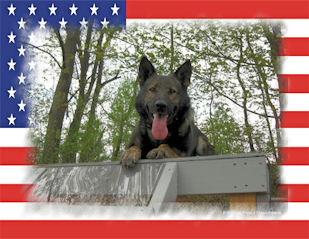 Handler: Officer James Parise
Pittsfield Police Department
39 Allen St
Pittsfield, MA 01201
Pittsfield Police Mourn Loss of K-9 Nero
It is with deep sadness and regret that the Pittsfield Police Department announces the passing of K-9 Nero. Nero died on Friday, Feb. 14, 2014, after a long illness. He had worked alongside his handler, Officer James Parise, since 2006. In his nearly eight years with the department, Nero responded to 419 K-9 calls in Pittsfield, throughout Berkshire County and elsewhere in Western Massachusetts. During that time, he was responsible for the apprehension of numerous dangerous felons and the seizure of more than 40 pounds of illegal drugs. In 2009, K-9 Nero received the department's Life Saving Commendation for his actions in locating a woman who had wandered away from a homeless shelter in freezing temperatures and not dressed for the weather. Nero located the missing woman trying to keep warm under a pile of leaves.
In 2012, Nero tracked an elderly man who had wandered from his home in freezing cold temperatures. After a two-mile track, Nero located the man in a barn, where he was seeking shelter and trying to stay warm. In addition to his enforcement and operations duties, K-9 Nero participated in hundreds of K-9 demonstrations for schoolchildren throughout Berkshire County. Nero was requested on a regular basis by the elementary schools in Pittsfield, where he and Officer Parise would teach young children about police work, the K9 program, and most importantly, how to be act around dogs in order to avoid being accidently bitten. K-9 Nero was a valued and productive member of the Pittsfield Police Department and will be missed greatly.
submitted by Jim Cortina, Dir. CPWDA
---
In Loving Memory of
K9 NINJA
February 2, 2014
Handler: Patrolman Michael Anderson
Youngstown Police Department
116 W Boardman St
Youngstown, OH
Police dog Ninja put down
One of the police department's first police dogs had to be put down over the weekend. Ninja, who had been on the force since 2007, had to be euthanized Sunday because of complications from kidney failure, police officials said Tuesday. Ninja was almost 9 years old. His handler, Patrolman Michael Anderson, said in an email Tuesday: "Not much to say except he was an awesome dog and excellent in his work as a police canine. All the way to the end I could see in his eyes that he wanted to please me but could no longer do so." Anderson also added that saying goodbye to his partner and friend was one of the hardest things he has had to do.
"Going to miss my canine, Ninja," Anderson wrote. Ninja joined the department in March 2007 and was 2 when he was paired with Anderson. Ninja also was part of a wave that saw four dogs join the department that year. Now, from that class, the only dog left is Helo, who works with Patrolman Josh Kelly. Lt. Frank Rutherford had one of the dogs, but he is no longer a dog handler since being promoted from detective sergeant. Former officer Ron Jankowski, who is on medical disability, was the other handler. In November, the department added three dogs. Their handlers are officers Jessica Shields, Nick Bailey and Martin Stachowicz.
Police Chief Robin Lees said Ninja was a valuable asset to the department and will be missed. "It's a credit to Ninja that we extended the canine program because of the success by him and the other dogs," Lees said. Over the years Ninja had quite an eventful career and had been used to find drugs during traffic stops. He also was assaulted by a man in February 2012 who tried to run from a traffic stop. Anderson and Ninja have received several departmental awards for their work over the years. Capt.. Kevin Mercer, who is Anderson's supervisor, said it is not yet known if the department will have a memorial service for Ninja.
He said Ninja will be cremated, and Anderson will be allowed to keep his ashes. Mercer said Ninja had been sick for some time. "He [Ninja] had some ongoing issues he'd been battling," Mercer said. Because of Anderson's job as a union official, he often worked days and there were usually two dogs on the day shift with Kelly also working. Now there will just be one police dog on day turn, Mercer said. Ninja is the first of the department's dogs who joined in 2007 to have died, Mercer said. The others were retired.
submitted by Jim Cortina, Dir. CPWDA
---
In Loving Memory of
K9 NERO
January 16, 2014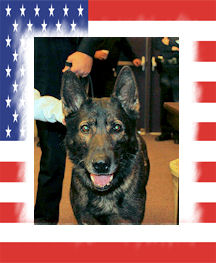 Handler: Patrolman Ted Bell
Stow Police Department
3800 Darrow Rd.
Stow, OH
Police dog Nero mourned, remembered as 'universally loved'
Ted Bell and Nero were partners for nine years. Nero retired from active duty this past fall.
Whether all dogs go to heaven or not, those who knew Nero would very likely agree that he belongs there. "He was a good dog," said Police Chief Louis Dirker. "He enjoyed his work. I guess that's the best thing you can say about him. He loved being here." The Stow police K-9, a nine-year department veteran who retired in October, died Jan. 16. He was 10. "I would say he was universally loved," said Mayor Sara Drew. "A great dog, a great police dog." The police department posted photos of Nero on the department's Facebook page with an announcement of his death, as well as a sketch of Nero drawn by a Lakeview Elementary School student.
As of Jan. 22, about two dozen people had left comments expressing their sorrow. "Oh how sad!" wrote one woman. "I too want to send my condolences to Officer Bell and his family! Like all German Shepherds, Nero is now always watchful and will watch and wait....good boy!" "Oh my goodness, so sad. Nero will definitely be missed," wrote another woman. Nero lived with his handler, Patrolman Ted Bell, both before and after his retirement. "Nero will obviously be missed by Officer Bell and his family as well as his Stow PD family," stated the Facebook announcement. "I'm just grateful he had such a great family to live with," said Drew.
Bell said that two weeks before Nero's death, he took him to a veterinarian to have a growth checked out on his shoulder. An X-ray also included his chest and it was discovered that Nero had lung cancer. Bell said the prognosis was poor and the veterinarian told Bell to just take him home with pain killers and feed him what he wanted to eat. "He did pretty good for a couple of weeks," said Bell. "I managed the pain. He went at home with his family around him." The city has two other police dogs, Colt and Spectrum, the latter of whom joined last year, increasing the department's roster of dogs from two to three. Bell now works with a new dog, Mingo.
Bell said that while Mingo and Nero never fought, they never became close either, with Nero, "the old man," wanting to be left alone by the youngster. He said Nero "struggled a bit" in adapting to his retirement. "He knew I was ready to go to work and he wanted to go with me," said Bell. Nero, a black sable German Shepherd, was born on June 19, 2003. He joined the force in 2004, filling a vacancy created by the retirement of Bruno, Bell's previous K-9 partner. He was trained and state certified to both sniff out drugs and track people, as well as to protect Bell and other officers. "He was an excellent tracker," said Dirker. "He was really known for his nose."
According to the Facebook announcement, "Nero trained and worked many hours throughout his nine years with us; was successful in many searches; located drugs on numerous occasions; apprehended many suspects after successfully tracking them; seized money was awarded to the city on numerous occasions after Nero located it. Nero was also involved in clearing several cases after locating evidence." Nero's finest hour, or certainly one of them, came in May 2009. Dirker said two men robbed the BP service station at routes 59 and 91, shooting an attendant, who survived, in the stomach. Police chased the robbers south to Tallmadge Circle, where they crashed into a tree.
Both robbers got out of the vehicle and one fell to the ground and was arrested. The other, however, crouched at the side of the vehicle and refused to raise his hands. "Nero went in there and took him down," said Dirker, adding the man was then arrested. That action earned Nero the American Red Cross of Summit and Portage Counties' Acts of Courage award in the Animal Hero category in March 2010. Bell said that when he first got Nero, he could not help comparing him to Bruno, but over time realized that Nero would work out fine. "He was a great dog," said Bell. "He turned out to be just as good as my old dog. He never gave up. He was full of courage."
Other Facebook comments responding to the news of Nero's death also showed he had an impact. "RIP Nero... Thank you for your service!" wrote a woman. "Aww. Well done, Nero. RIP," wrote another. "From all of us at Summit Metro K9 our condolences. RIP Nero," said another comment. "RIP Nero," wrote a woman. "Ted, you're an amazing handler and a fine teacher. I'm so sorry for your loss." "It's sad for the city and sad for the police department," Drew told the Stow Sentry.
submitted by Jim Cortina, Dir. CPWDA