In Loving Memory of
K9 LIBERTY
December 10, 2014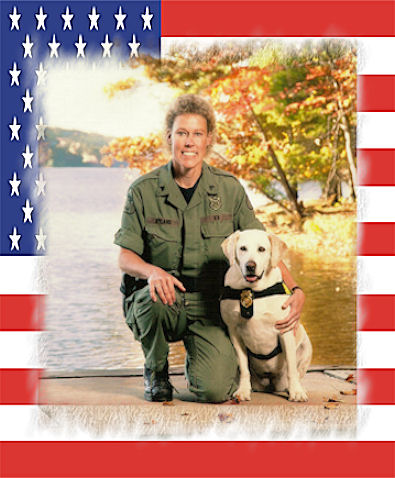 Handler: Sgt. Lisa Nyland
Maryland Natural Resources
USA
Maryland Natural Resources Police Mourns the Passing of K-9 Liberty
The Maryland Natural Resources Police mourns the passing of Liberty, the senior member of the K-9 team, who died Wednesday
night at the age of 13. The yellow Lab was the long-time partner of Sgt. Lisa Nyland, the founder of NRP's K-9 unit, and was
based at the agency's Hillsboro office in Queen Anne's County. Liberty's specialty was detecting human remains and tracking
human scent during search-and-rescue missions. "Liberty was our first specialty cadaver detection K-9," said
Col. George F. Johnson IV, NRP superintendent. "Her contributions to NRP's mission and assistance to other law
enforcement agencies were invaluable."
At Nyland's command to search, Liberty worked with singular purpose, following the scent and alerting her handler where
to look with a high-pitched bark. Liberty's reward for a job well done was a few moments of play with her favorite ball.
"She was one of a kind," said Nyland. "She excelled in water search and forensic investigations, locating numerous
drowning and homicide victims during her 11 working years. She will be profoundly missed." In 2008, Liberty and one
of Nyland's other dogs, Patriot, teamed up to help crack a two-year-old murder case involving a man who shot his
ex-girlfriend, cut up her body and burned the pieces in a 55-gallon drum behind his Somerset County home.
Patriot found the skeletal remains of the victim and Liberty detected tiny drops of blood on the wall that the murderer
missed when he cleaned up the crime scene. "What Liberty did was phenomenal," Nyland said. Nyland started NRP's
K-9 unit in 1994, with contributions from local businesses and Jesse, a yellow lab from the local animal shelter. The
pair proved their worth, finding a newborn baby in a Delaware trash bin and a Boy Scout missing for several days in
Dorchester County. They also spent a six-day shift searching the charred rubble of the Pentagon after 9/11.
When Jesse had to be euthanized in 2005, just shy of her 11th birthday, NRP planted a dogwood tree outside the eastern
regional office in Queen Anne's County. Liberty was born two days before the 9/11 terrorist attacks. "The Pentagon
was why I got Liberty," says Nyland. "I wanted to be ready in case something else happened. "Hobbled by a bad hip
in later years, Liberty was semi-retired, but there were times when the dog would join Nyland on some tougher cases
with Patriot and Justice, Nyland's youngest dog. Next year, NRP will plant another dogwood tree at the Hillsboro
office in honor of Liberty. submitted by Jim Cortina, Dir. CPWDA
---
In Loving Memory of
K9 LUCA
October 29, 2014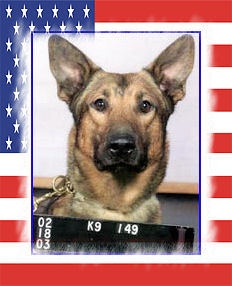 Handlers: Officer Maurizio, Sgt. Mike Goosby, & Officer Mike Peters
Los Angeles Police Department
California
Luca was the most successful K9 in LAPD history to this day. Luca retired from active duty 3 years ago in January 2011.
He was adopted by my family to offer him the retirement he so much deserved. While on active duty,
Luca had over 250 successful searches. Luca died at 0900 on October 29, 2014, his approximate age was 15.
Luca will be greatly missed. Strength and Honor Luca
submitted by
maurizio cascapera <romanpower@yahoo.com>
---
In Loving Memory of
K9 LOKI
September 9, 2014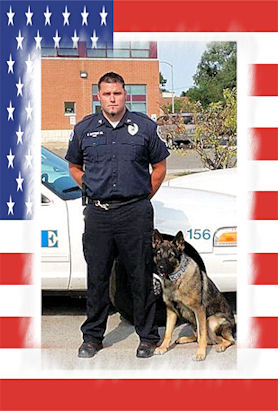 Handler: Cpl. John Artibey
Gary Police Department
555 Polk St.
Gary, IN 46402
Four-year-old K9 Loki dies from cancer - Handler: Cpl. Artibey
One of the city's most active police dogs died Tuesday when it was discovered he had cancer, police said. Loki, who would
have turned 4 years old later this month, appeared bloated during a training session Tuesday with his handler,
Cpl. John Artibey, police spokeswoman Cpl. Gabrielle King said. Artibey and Loki worked for a time with the
Lake County Gang Unit and have assisted several law enforcement agencies with searches and apprehensions. "We had a
lot more criminals to capture," Artibey said. A local veterinarian recommended that Artibey should take Loki
to Purdue University, where he was diagnosed with a large tumor on his liver. Artibey made the "gut-wrenching"
decision to have Loki put down, King said. The dog "was obviously in excruciating pain," she said. Artibey accrued
about $6,000 in veterinary bills for Loki, who was purchased through the Gary K9 Association. King said the
Gary K9 Association is accepting donations to defray the cost of Loki's care.
Anyone wishing to donate can mail them to P.O. Box 64409, Gary, IN 46401.
submitted by Jim Cortina, Dir. CPWDA (I graduated from Lew Wallace HS.....lulu)
---
In Loving Memory of
K9 LUNA
September 2014

(need photo)


Handler: Need name
Stinnett Police Department
609 MacKenzie Ave
Stinnett, TX 79083
(806) 878-2422
Police K-9 dies of apparent heat stroke
Stinnett Police Chief Andrew Trahan confirms the department's only active K-9 police dog has died from an apparent heat stroke. Trahan said the officer who is responsible for taking care of the German Shepherd, "Luna", left her for about 36 hours outside
in a kennel, and came home to find her dead. The officer told Trahan he did provide Luna with enough food and water
for the 36 hours. According to the department Luna and another dog, a retired K-9, were both outside; the retired dog
was okay when the officer got home. The city purchased Luna in November 2013 for a little more than $10,000. Trahan
said "Rumors of Luna being locked inside a garage without food and water are just that, a rumor." The department ordered
an autopsy of Luna which concluded, "The clinical history is strongly suspicious for death by heat stroke." Trahan said
as of now the department doesn't plan to replace her.
submitted by Jim Cortina, Dir. CPWDA
I would love to make my personal comments on this... but I will leave it to all of the readers of my sad reporting..... ! lulu
---
In Loving Memory of
K9 LEKTOR
Week of July 20, 2014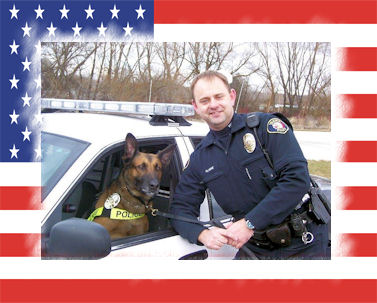 Handler: Sergeant Mike Henne
Yakima Police Department
200 S 3rd St
Yakima, WA
Yakima police say goodbye to first K-9 dog
There's been a loss for the Yakima Police Department. The department's first patrol K-9 died earlier this week.
K9 Lektor served on the force for eight years.

Sergeant Mike Henne was Lektor's handler before adopting him. Henne says the K-9 helped find hundreds of suspects and
evidence. He says it's been hard coping. "To go downhill is really, really difficult," said Sergeant Mike Henne. "But still
I look back at it as that was the highlight of my career ---- so far was the time I spent working with my dog."
Lektor started working with YPD when he was about a year and a half. Lektor was 16 years old.
Donations paid to bring the K-9 officer to the force.
submitted by Jim Cortina, Dir. CPWDA
---
In Loving Memory of
K9 LEE
May 9, 2014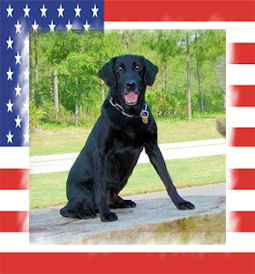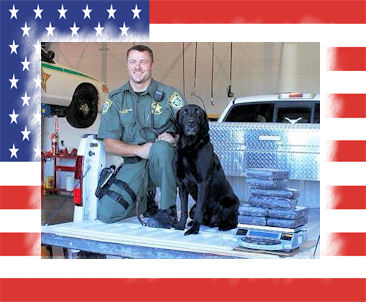 Handler: Sergeant Nick Bearden
Walton County Sheriff's Office, FL
The Walton County Sheriff's Office is remembering one of its own – K9 "Lee" who passed away on May 9th (Friday) due to health issues. K9 Lee retired on September 29th, 2013, after nine years of service to the Sheriff's Office and the citizens of Walton County. He began his law enforcement career with the Sheriff's Office in 2004. K9 Lee worked with two handlers and has been Sergeant Nick Bearden's partner since 2007. He had approximately 1,742 hours of training, 1,218 deployments, 844 alerts with finds, tracked and apprehended 22 suspects and recovered 8 children who were lost. The biggest drug bust of K9 Lee's career was 20 lbs of cocaine found off I-10 in 2010.

Sergeant Bearden and K9 Lee won the Top Dog Award in 2011 at the United States Police Canine Association (USPCA) Regional Field Trials and finished in the top 20 at the USPCA National Competition held in Perl, MS. In 2013, Sergeant Bearden and K9 Lee were selected as the USPCA Detector Case of the 1st quarter. K9 Lee had certifications for narcotic detection and tracking through USPCA as well as through the National Narcotic Detection Dog Association (NNDDA). Sheriff Mike Adkinson said "We are grateful to K9 Lee and for all the contributions he made in making our community safer." K9 Lee was more than a partner, he was a loyal companion, a trusted teammate and a true friend. We will miss him but never forget him.
submitted by Jim Cortina, Dir. CPWDA