In Loving Memory of

K9 KATO

December 5, 2014



Handler: Sgt. Dan Eliasen

Glassboro Police Department

1 South Main Street
Glassboro, NJ 08028

Police mourn death of retired police K-9 Kato after 7 years on force

In this April 2014 provided photo, Glassboro Mayor Leo McCabe presents a proclamation to retiring Glassboro Police Department K-9 Kato at the April 22 borough council meeting, along with council members Ed Malandro, Anna Miller, George Cossabone and Joe D' Alessandro.

Borough police announced Friday the death of police K-9 Kato, who retired from the force eight months ago after a distinguished career that included a number of drug-related investigations and tracking of missing persons. Police said that Kato's health had deteriorated rapidly after retirement and Sgt. Dan Eliasen, his handler, "felt it was time to let him go — with him by his side." Kato began his seven years of service with Glassboro police after graduating in 2006 from the Philadelphia Police K-9 School. Throughout his career, Kato tracked down criminals and other missing persons, got wanted individuals to peacefully surrender and alerted police to illegal drugs during both Glassboro and county investigations.

In 2011, Kato assisted in arresting two Glassboro residents charged with possessing more than 50 grams of marijuana and possession of marijuana within 1,000 feet of a school. Kato was also involved in numerous altercations, including a case in 2010 when the dog and Eliasen worked together to subdue a 41-year-old Clayton man who was allegedly delivering crack cocaine from his home into Glassboro. "Kato was highly effective on street patrol," helping to keep officers and Eliasen safe during their shifts, Glassboro police said. Kato was also utilized to educate people on the various assignments K-9 teams do and the skills that a police dog possesses, performing demonstrations at schools and community events. "We extend our deepest condolences to SFC. Eliasen and thank Kato for his service," police said. submitted by: Jim Cortina, CPWDA Dir. & Glassboro PD-K9 unit, NJ.

---

In Loving Memory of
K9 KOF

December 2, 2014


Handler: Officer Bailey

Granite City Police Department

Police Dog Dies

(Photo) Officer Bailey and K9 Kof in Washington DC.

K9 Kof, a Granite City Police Department K-9, has died. Kof had worked for the department since 2008 and was undergoing
chemotherapy for cancer when he died. Kof had been undergoing aggressive treatments due to an illness which could not
be overcome. All attempts were made by Officer Bailey, the department and Vets for Kof to remain in service.
He was assigned to Officer Eric Bailey. According to Granite City Chief of Police Rich Miller, Kof had a distinguished
career with many successes including tracking, officer protection and crowd control.
MORE:

Police officers from all over the area showed up in Granite City To pay their final respects to an officer who died too young.
It was a touching tribute for a special officer who helped take a bite out of crime. It was the sort of funeral procession
you'd expect for a police officer. But, this one was in honor of a police dog. He was a German Shepherd named Kof.
He was only eight years old.Kof was one of the best in town. So, it's no wonder some of the mourners had names like Tank,
Yago, Ivan and Otto. They seemed to come from everywhere. Including six teams from St. Louis County.In his six year
career Kof apprehended 16 suspects and helped find 50 more.

But, on November 11th he was diagnosed with an aggressive form of cancer no dog could beat.Kof's funeral procession was
more than a half mile long and traveled from Granite City to a police K-9 training park in Sauget. That is where they
buried Kof's ashes after officer Bailey's wife read a short poem. Some may think this seems like a lot of trouble to go
to on behalf of a dog. But, everyone appreciates loyalty and the value of companionship. All this was really just a
celebration of all that. In all, about 80 officers from 20 agencies attended Kof's funeral. submitted by Jim Cortina, Dir. CPWDA

---

In Loving Memory of
of K9 KENA
December 29, 2000 - October 9, 2014


Handler: Officer Kenneth Sweeten
Camden County Department of Corrections
New Jersey


Kena came to our family at 14 weeks old with the intentions of being the very first K9 in the Camden County Department of Corrections NJ. After many months of training by Officer Kenneth Sweeten on his own time, she was evaluated by a
trainer with the sheriffs department who agreed to certify her for the Department in narcotics detection. Kena graduated
the academy in March of 2002 and began work immediately on a part time basis. It quickly became apparent to the
department that she was an asset to be utilized, and she was placed into service full time before the end of summer.
She remained the only K9 until the expansion of the unit in 2005.


When Officer Sweeten and Kena were not in the jail, they could be found outside in the community doing outreach,
demos, and drug resistance programs for children. Kena also assisted other departments, prisons, jails, and was utilized
throughout the county for school searches. She proved her abilities many times over.


Upon her retirement in 2011, she continued to reside with Officer Sweeten, his family, and his new partner Nika. There
was never a day that anyone doubted who the matriarch of the house was...that title still belonged to Kena, she was in
charge at all times. In the months leading up to her passing, she was beginning to develop cataracts, and her hearing
had left her, but she still had a little pep in her step, she still was ready to go 'play towel', even though she didn't
quite see it, or hear that oh so manly squeal of 'Good Girl!!!!', her nose never failed her...she would still smell it, and
still would find it! She was a faithful and loyal partner until the end.


She passed quietly and peacefully at home, surrounded by her partner of 14 years, her human mom Sharon, and 2
human sisters Morgan and Gretchen, and their priest and family friend Margaret...she never left her partner alone,
and he did not leave her alone for one moment.


The following morning, she was laid out in a private viewing at Pet Meadows in Hamilton Twp. NJ. She left with the
grace and dignity that a true and faithful servant deserves.


Rest in Peace sweet girl. Wait for us over that Rainbow Bridge, we will see you once again.
submitted by Sharon Sweeten

---

In Loving Memory of
K9 KARMA
August 3, 2014

Handler: Justin Whaley

Tennessee

It is with a heavy heart that we regret to inform you of the loss of one of K9s Karma. While working in the line
of duty with her handle, Justin Whaley, searching for a missing juvenile, she was struck by a car and killed.
submitted by Jim Cortina, Dir. CPWDA
---
In Loving Memory of
K9 KAI
2014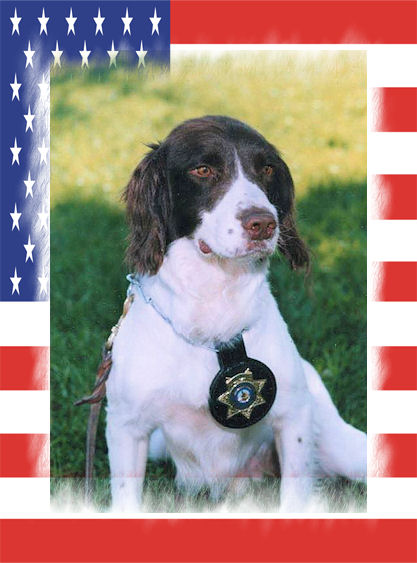 Handler: Officer English
Metro Police
Las Vegas, NV

Retired Metro bomb dog dies
A retired K-9 with Metro police has died. Kai, a 15-year-old Spaniel, served Las Vegas as a bomb dog for almost 11 years.
Kai was a dedicated partner who we could trust to clear the way ahead during bomb threats making it safe for everyone
involved. Along with his partner, Officer English, Kai helped search for several presidents and other diplomats across
the world. They swept major events in Las Vegas before anyone else arrived, making it safe for the crowd who never
knew he was there." Thanks for your service, Kai. submitted by Jim Cortina, Dir. CPWDA
---
In Loving Memory of
K9 KELA
date? 2014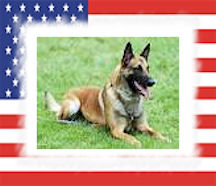 Handler: Deputy Kevin Williams
Duplin County Sheriff's Office
112 Hill St
Kenansville, NC
K9 Left In Cruiser Dies, Deputy Reassigned
A highly trained police dog has died after authorities say his handler left him inside a hot patrol vehicle. Duplin County Sheriff Blake Wallace confirms that Deputy Kevin Williams has been reassigned to a courthouse bailiff after the death of "Kela" last month. Wallace says "Kela" was a Belgium Malinois and had been trained to track down people and narcotics. The sheriff says Williams was on duty when he received a call that his child was sick and needed to be picked up from school. Wallace says once arriving home, the deputy took his child inside and then went back out to feed the dog.
The sheriff says Williams forgot to take "Kela" out of the cruiser and the dog was later found dead. "Williams loved the dog and is devastated about this tragic accident," said the sheriff. He added that Williams "is an animal lover and would never do anything to intentionally harm an animal, especially his own dog." "Kela" had been with the sheriff's office for four years and was obtained through seized drug money. Sheriff Wallace says Williams was not charged because this was the first incident of this type for the deputy and he believes it was an accident. submitted by Jim Cortina, Dir. CPWDA
*could not find photo of K9 Kela .... (generic photo of Bel Mal) please email me if you have one. loulou5858@comcast.net
---
In Loving Memory of
K9 KID
September 3, 2014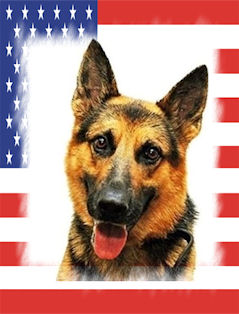 Handler: Deputy Steve Fischesser
Hamilton County Sheriff's Office
1000 Sycamore St #100
Cincinnati, OH 45202
Hamilton Co. Sheriff announces death of bomb-sniffing K-9, Kid
Hamilton County Sheriff Jim Neil announced Wednesday the death of explosive detection canine, Kid. Kid was born January 2, 2007
in Czechoslovakia where he was raised and trained for explosive device detection. He was a six-year veteran with the Sheriff's
Office and began his career as a police service dog, according to the news release. Kid was considered for military use in
Afghanistan, but Homeland Security funds awarded to the Sheriff's Office allowed Kid to join the force in Hamilton County.
Kid and his handler, Deputy Steve Fischesser, trained at the Cincinnati/Northern Kentucky International Airport or with
the other canine units. Kid and Fischesser also worked security at Cincinnati Bengals home games. Over his six-years of
service, Kid responded to 500 requests for service and also participated in demonstrations held at schools throughout
Hamilton County, the Sheriff's Office stated. In a news release, Hamilton County Sheriff Jim Neil stated that Kid
was a hardworking but gentle member of the Sheriff's Office and he will be missed.
submitted by Jim Cortina, Dir. CPWDA
---
In Loving Memory of
K9 KYE
August 25, 2014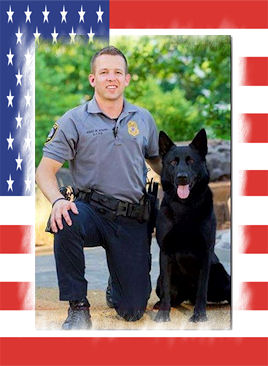 Handler: Sgt. Ryan Stark
Oklahoma City Police Department
219 E Main St.
Oklahoma City, OK
K9 Officer dies after being stabbed several times
Oklahoma City police are mourning one of their own. A K-9 officer stabbed during a chase with a suspect has died. Police said Kye,
a 3-year-old Belgian German shepherd, died of cardiac arrest Monday afternoon. He was stabbed several times Sunday night.
Kye's handler, Sgt. Ryan Stark, shot and killed the suspect after attempting to separate the two. According to investigators,
the suspect led police and troopers on a half-hour chase. It began near Tinker Air Force Base and ended on Interstate 35
at the Goldsby exit after troopers rammed the suspect's car off the road into a ditch. Police say the suspect bailed out,
ran about a quarter of a mile and hid behind a business. Officers released the K-9 dog to go after him. When Stark
caught up "the suspect was actively stabbing the dog," said Capt. Dexter Nelson, with the Oklahoma City Police Department.
"The dog is an officer; he's considered that officer's partner. They train together, they work together. So when a
dog gets injured, it's like an officer getting injured," said Nelson. Police say they were involved in another chase near
Bricktown an hour earlier Sunday night, and it might have been the same suspect. Detectives aren't sure yet. Police say
the officer who shot and killed the suspect has been placed on routine, paid administrative leave. The identity of the
suspect has not been released pending next-of- kin notification.
submitted by Jim Cortina, Dir. CPW
DA
---
In Loving Memory of
K9 KARMA
August 7, 2014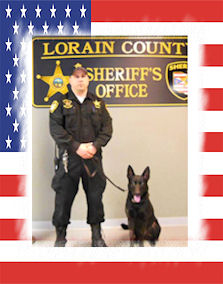 Handler: Deputy Glenn Mead
Lorain County Sheriff Office
Ohio
website -
http://www.loraincountysheriff.com/
Lorain County Sheriff K-9 dies at deputy's home

Karma, a K-9 that only had been with the force for a year, was found dead Thursday morning. Sheriff's Capt. Jack Hammond
said that even in her short tenure, she had become like family. Karma was found dead from an apparent heart attack in
the home of her handler, Lorain County sheriff's Deputy Glenn Mead. The Malawa dog — also known as a MALINOIS, a
variety of Belgian shepherd — was 4 years old and bought by the Sheriff's Office a year ago as one of three police
dogs used in the correctional facility, Hammond said. She was assigned to Mead, who worked with her in the correctional facility
and took care of her at his home. "These are working dogs at work and family members at home," Hammond said of the
department's six dogs — three of which are used in the correctional facility and three on the road. Karma had been
used to find drugs in the jail and calm down inmates. "When inmates get a little antsy, their presence settles them down,"
" Hammond stated. Though the Sheriff's Office hasn't started plans to get another police dog yet," Hammond said that Mead
would be the officer to handle the next K9 dog.
submitted by Jim Cortina, Dir. CPWDA
---
In Loving Memory of
K9 KODA
July 16, 2014
Handler: Officer Bill Allen
Oolitic Police Department
Oolitic, IN 47451
Police dog killed after she was hit by vehicle
Oolitic Police officer Bill Allen's dog, Koda was killed after she was hit by a vehicle.
Allen said he went home Wednesday about 9 p.m. He let Koda out of the house for a break
when she took off after seeing another dog.
submitted by Jim Cortina, Dir. CPWDA
---
In Loving Memory of
K9 KASEY
July 7, 2014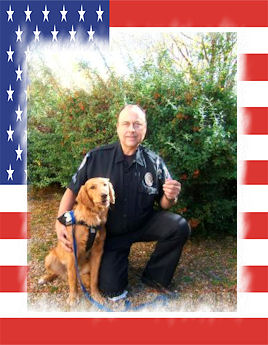 Handler: Officer Bruce Pratz
Santa Fe Police Department
2515 Camino Entrada
Santa Fe, NM 87507
Canine dies after cancer battle
Kasey, a 9-year-old golden retriever who visited thousands of Santa Fe school-children with police Officer Bruce Pratz,
died of spleen cancer on July 7. She and Pratz were named City Employees of the Month in February 2009.
Kasey, a 9-year-old golden retriever who visited thousands of Santa Fe schoolchildren with police Officer Bruce Pratz and was
a fixture at community events, died July 7 after a battle with spleen cancer. "We learned of her illness shortly after
my husband retired from the Santa Fe Police Department about six months ago," said Annette Pratz, Kasey's "mom." Kasey
started going to the schools with Officer Pratz when she was 6 weeks old, helping put the kids at ease as Pratz taught
them about responsibility, honesty and the importance of staying in school. The friendly mutt attended numerous civic
functions, ranging from child identification projects to National Dance Institute fundraisers. In February 2009,
Officer Pratz and Kasey were named City Employees of the Month. "Over the years Kasey brought lots of love and
smiles in the Santa Fe community, where she became a giant," Annette Pratz said. "I could not be a more proud
puppy mom, and was blessed to have been given such a beautiful gift as our little girl Kasey."
Submitted by Jim Cortina, Dir. CPWDA
---
In Loving Memory of
K9 KILO
June 17, 2014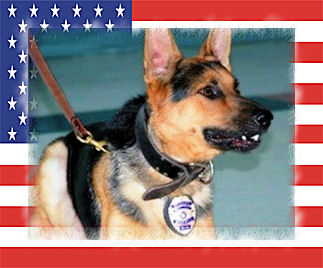 Handlers:
1ST Handler: Officer Gayla Adcock
2nd Handler: Sergeant Eric Nester
Broken Arrow Police Department
2302 S 1st Place
Broken Arrow, OK 74012
Retired K9 Officer Passes Away
K9 Kilo became an officers in 2006 and worked drug detection for his entire career. The Broken Arrow Police Department
said a retired K9 officer passed away Tuesday. They said Kilo became an officer in 2006 and worked drug detection
for his entire career. Kilo retired in November of 2012 and lived with his handler Sergeant Eric Nester, until he passed.
They said Kilo was a great officer who did great work for the agency.
Submitted by Jim Cortina, Dir. CPWDA
---
In Loving Memory of
K9 KALLIE
May 29, 2014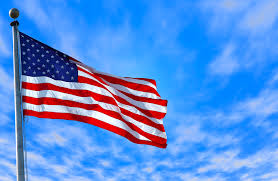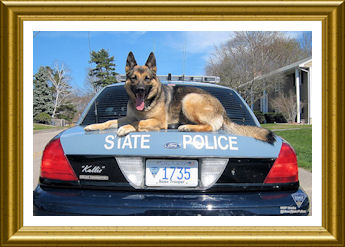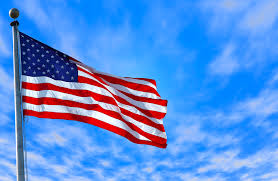 Handler: Trooper Lt. Joseph King
Massachusetts State Police
USA
Trooper writes touching tribute after death of K-9 partner
"Good girl, Kallie. Free Time."
So begins a touching tribute from Massachusetts State Police Lt. Joseph King as he writes about the passing
of his longtime partner, a K-9 whose death came suddenly. "Kallie was a good dog and she worked hard for
the Commonwealth for over seven years," King wrote on the state police Facebook page. "I think she deserves
some public recognition for a job well done." King said he had to make the "awful decision" to put Kallie
down last week after she suddenly became ill and was diagnosed with a particularly aggressive form of cancer.
"Kallie tracked and located missing and lost hikers in the woods, fleeing felons, domestic abusers, B&E suspects,
shoplifters and various other types of missing and/or wanted people," King wrote in recounting the German
Shepherd's state police career. "She found people hiding in thick bushes, in high weeds, in sheds, in swamps,
up on roofs, in crowded bus stations, under overturned kiddies' pools in back yards, passed out in drainage
ditches along the side of the highway," King wrote. Kallie's real talent was narcotics detection.
"During her seven year career, Kallie sniffed out a total of over 30 kilos of cocaine, six kilos of heroin,
369 pounds of marijuana, 123 grams of methamphetamine and her narcotics alerts contributed to the seizure
of approximately $1.6 million in illegal drug money," King wrote. Last Thursday, Kallie suddenly developed
trouble walking and breathing. When veterinarians delivered the grim prognosis, King said he could not bear
to see his longtime companion suffer. "I sat down on the floor next to Kallie while the doctor administered
the medicine. Kallie lay down, put her head on my lap and went to sleep, forever."
submitted by Jim Cortina, Dir. CPWDA
---
In Loving Memory of
K9 KIRBY
2014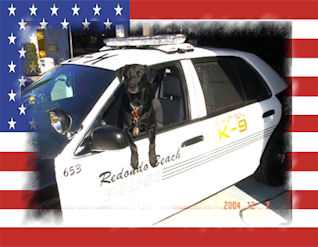 Handler: Officer Kevin McCamy
Redondo Beach Police Department
401 Diamond St
.


Redondo Beach

,

CA
90277
The 14-year-old Labrador was retired and had battled cancer.
The Redondo Beach Police Department announced the death of a beloved police dog named Kirby. Kirby retired in 2007 and was the partner and companion of retired Officer Kevin McCamy, according to a Redondo Beach P.D. press release. A Labrador, Kirby was euthanized after battling cancer. She was 14. During her career, Kirby was assigned to the RBPD's Special Investigations Unit and the Patrol Division as a narcotic detection dog. Kirby was involved in more than 700 searches where she helped recover approximately:
400 pounds of marijuana
33 kilograms of cocaine
5 pounds of methamphetamine
4 pounds of heroin
5,000 ecstasy pills
More than $100,000 in narcotic proceeds
Born in Arizona in 2000, she got her start in public service locally in 2001, according to a news release. "Kirby was loved by everyone around her and will be sorely missed by retired Officer Kevin McCamy and his family," says the statement. Kirby was often seen making special appearances at various community functions. Kirby competed in several narcotic detection competitions and won 11 different awards. submitted by Jim Cortina, Dir. CPWDA
---
In Loving Memory of
K9 KHULU
March 12, 2014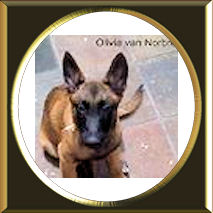 Handler: Sergeant Shawn Jooste
BELLAIR, SOUTH AFRICA
Suspect, police dog electrocuted in chase, officer shocked
A suspected cable thief and a metro police dog were electrocuted during a chase in Bellair on Wednesday.
The dog's handler, who was also shocked, was discharged from hospital later on Wednesday. EThekwini Municipality
spokesman, Thabo Mofokeng said Sergeant Shawn Jooste and his dog, Khulu, of the metro police's dog unit,
were responding to cable theft in the M7 informal settlement in Bellair. "Jooste and Khulu entered the bush
abutting the M7 between the Engen petrol station and Umbilo River, assisting the SAPS Dog Unit in search of a group of
suspects wanted for cable theft and assault," he said.
After the dog unit made an arrest, Jooste continued the search, leading him through the Umbilo River in the vicinity
of the Portuguese Club towards Wakesley Road. During the pursuit the suspect, with Khulu giving chase, ran into
illegal and unprotected electricity cables leading to an informal settlement. "They were both electrocuted,"
said Mofokeng, adding that Jooste was also shocked when he tried to untangle the cables binding Khulu
and the suspect. Jooste rushed Khulu to the police vet, but they were unable to resuscitate him. "Jooste was
taken to St Augustine's Hospital for treatment and was discharged on Wednesday," said Mofokeng. He said that
Jooste was upset about losing Khulu. An arrested 19-year-old suspect is to appear in the
Durban Magistrate's Court "soon". submitted by Jim Cortina, Dir. CPWDA
---
In Loving Memory of
K9 KANYON
February 15, 2014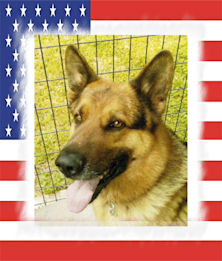 Handler: Officer Z. Whitley
Rocky Mount Police Department
330 South Church Street
PO Box 1180
Rocky Mount, NC 27802-1180
website - http://www.rockymountnc.gov/police/
It is with great sadness and regret to announce the passing of our K9 'Kanyon' (2005-2014) on Saturday,
February 15, 2014 at 1400 hours due to unforeseen medical issues.

Kanyon was an 8 ½ year old German Sheppard that was born in Republic of Czechoslovakia. He was sent to the
United States and then acquired by the Rocky Mount Police Department. Kanyon started with the RMPD
in the fall of 2008 with his first handler Amanda Cryer. He worked with Officer Cryer from 2008 until 2010.
In the spring of 2010, he was assigned Officer Zane Whitley. K9 Kanyon and Officer Whitley went through
twelve weeks of extensive in house K9 training. They graduated returning to the streets working on patrol.
While on duty, K9 Kanyon made and assisted in numerous arrests. He has been noted with finding large
amounts of narcotics and locating suspects via tracking. K9 Kanyon and Officer Zane Whitley have been
an asset to the Rocky Mount Police Department's Canine Unit.

Officer Whitley and K9 Kanyon have been members of the USPCA Region II since 2008. K9 Kanyon and
Officer Whitley have competed and passed all certification trails set forth by the
United States Police Canine Association over the past 6 years.

K9 Kanyon was a loyal canine and friend to Officer Zane Whitley. Kanyon's service is appreciated
beyond words and we will miss him immensely.

MORE:
Rocky Mount K-9 officer dies
A Rocky Mount police K-9 officer died Saturday from an undisclosed medical condition. K-9 officer Kanyon,
an 8-year-old German shepherd, had served with two handlers since starting with the department in 2008 and
he was currently assigned to the patrol division with handler Off. Z. Whitley. During his career,
Kanyon was credited with numerous narcotics seizures and arrests as well as certifications through
the U.S. Police Canine Association. "He will be greatly missed," police Cpl. Mike Lewis said.
"He served admirably since becoming an officer of our department." The department has three remaining
K9 officers and a process will be conducted to replace Kanyon. A department service will be held to
commemorate Kanyon's career. submitted by Jim Cortina, Dir. CPWDA