In Loving Memory of
K9 JASKO
December 24, 2014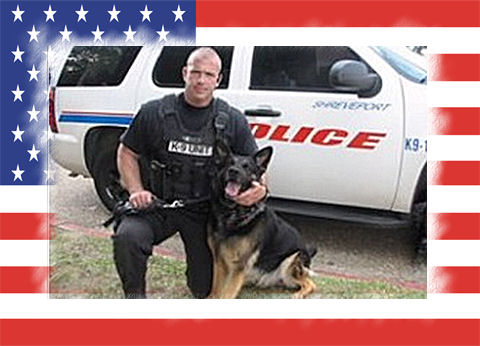 Handler: Corporal Jeff Hammer
Shreveport Police Department
1234 Texas Avenue
Shreveport, LA 71101
Shreveport Police lose one of their own
Shreveport Police are mourning the loss of one of its own with the passing of K9 "Jasko." The much beloved German Shepherd passed away on December 24th following a brief and unexpected illness. Jasko and his handler, Corporal Jeff Hammer, worked as a team for six years, quickly developing a bond known only to a select few in the law enforcement community. Together, the dynamic duo worked faithfully, helping track and arrest numerous felony offenders. Jasko was 10-years-old. Services honoring the life and service of Jasko will be held today (Tuesday, January 6th) on the grounds of the Shreveport Regional Fire and Police Training Academy.
submitted by Jim Cortina, Dir. CPWDA
---
In Loving Memory of
Air Force K9 Jjackson
November 14, 2014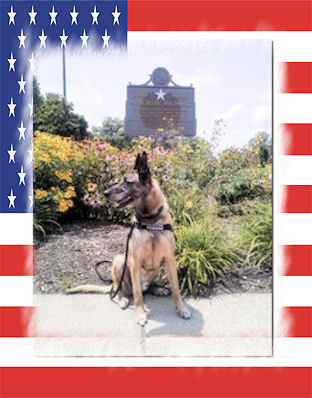 Handler: Deputy Harvey Hold
Greene County Sheriff's Department
Indiana

Holt bids final farewell to Jjackson
Greene County Sheriff's Department Deputy Harvey Holt and his Air Force K-9 Jjackson pose for a photo while sitting atop a tank in Iraq. Jjackson became ill recently and passed away Friday afternoon.
Jjackson, the former Air Force K-9 Explosive Detection and Patrol Dog owned by former handler GCSD Deputy Harvey Holt, stands in front of a memorial to military dogs. Jjackson passed away on Friday after a brief illness.
Greene County lost a hero on Friday. After a short illness, Jjackson, the retired Military K-9 who has spent the last eight months with his old friend and former military handler Greene County Sheriff's Deputy Harvey Holt, drew his last breath and bid farewell. "My main thing is to let everybody know that Jjackson is gone," Holt said sadly Friday afternoon. "The love that everybody here in Greene County has shown him the last couple years and the last eight months especially, has been overwhelming for him." Holt said there was no official reason for Jjackson's passing other than perhaps his old friend thought it was time for him to finally rest.
"Between all of his medical issues and his old age he just decided it was time," Holt said sadly. "Up to about three days ago he had been perfect in every way. It's just one of those things, some dogs just decide it's time to go." In the first few hours after Jjackson's passing, Holt said he received support from over 14,000 supporters from as far away as Australia and South Africa. "I know he's touched people all around the world," Holt said. "I just wanted everybody to know their well-wishes and prayers meant a lot over the last three days and that it kept me going."
From 2004-2007, the former Air Force Technical Sgt. and the Belgian Malinois explosive detection and patrol dog worked side-by-side for what Holt estimates were at least 100 combat missions together. They ranged from detecting explosives to rescuing fellow soldiers and other friendly forces. Holt made a promise to Jjackson that if he kept him safe in the Middle East, he would bring the dog home after the days of serving his country were through. "A promise kept is very important," Holt said. "If you make a promise to a person or a dog, you do everything in your power to fill that promise because you don't know if you're going to have an opportunity to do that again and I was very blessed and God was on my side to be able to get him back for this short amount of time."
Jjackson was born and bred in the military at Lackland Air Force Base, Texas. As a puppy he was destined to fulfill a role, that few people realize is so extensive in the military, before he was finally retired from active duty and made available for adoption. "He never knew a thing about the world as far as civilian life," Holt said. "He touched people's hearts from the time he was born until the time he passed away and even after that now. He was a true warrior, but he was also very blessed in that he touched a lot of people's hearts." Holt says there's a lot of people that are thankful for what Jjackson did while serving his country.
He says there are countless soldiers, many of whom would refuse to sleep in the same tent with him afterwards in fear of being bitten, that have Jjackson to thank for keeping them safe and making sure they were able to return home. "I know a lot of people in Iraq owe their lives to him," Holt said. "Whether it be mental or physically, through good times and bad times, there was just something about him that people loved him. There were so many things he did in the military that would never be able to fit in a simple obituary." Last March after a plethora of paperwork and red tape and thanks to the efforts of many, Holt and Jjackson were reunited.
"I never thought that people who didn't know him would do that and that didn't know me very well would do that for me," Holt said. "Everybody he met I know he touched a part of their heart and I know they touched a part of his heart." Holt felt the kindness strangers and friends alike showed Jjackson was a reinforcement of what his friend had missed since the two parted seven years ago. "They showed him all of the love he never got over the last couple of years," Holt said. "I know because of everybody here in Greene County -- and actually throughout the world -- that I was able to fulfill that promise I made him. And that I was able to sleep better at night because I know I did all I could and was able to fulfill that promise that I made to him."
When asked how best to sum up Jjackson's life, Holt used two simple words -- pure love. "He loved everybody and for some reason everybody loved him," Holt noted. "I never met a single person that did not like him. And that didn't get him into their heart." Holt admits he didn't believe he could have bonded with a dog as quickly as he did with his canine pal, but when it happened it was special, especially since the newly-trained K-9 handler had trouble finding just the right partner. "When I first became a dog handler, it was frustrating because we were trying to find the right dog," Holt said.
"The first time they gave me the leash I looked down and said what am I going to do with him. But the first time he turned around and looked up at me and I saw into his copper eyes, I fell in love with him." The love and the bond between the two continued well after Holt gave up the leash for the last time. He admitted he felt the loss of the dog after his time with Jjackson was over. "I never got to tell him good-bye," Holt said referring to when he left Iraq. "In the last eight months I got to tell him good-bye and like I said I know I'll be able to sleep better at night." Holt didn't realize until their reunion that the love and respect was mutual.
He had no idea Jjackson had missed his old friend and comrade as much as Holt had missed him. "The day I picked him up they said he'd not wagged his tail or had his ears up," Holt said. "He's never stopped wagging his tail and keeping his ears up in the eight months since I've had him. That's because of the love people showed him." Holt also credited Jjackson with helping his old handler through the difficulties involved with Post Traumatic Stress Disorder. "Getting Jjackson back, I didn't have a single nightmare from the day I got him back," Holt said. "I had no nothing, no more issues.
I know it brought a lot of peace to me and I've been a lot happier in my life, I'm happier than I've ever been in my life." Life after the military can be difficult, especially for a K-9 that spent the majority of his life either training or in the field almost constantly. In the case of Jjackson, life after the military was truly a retirement, one he adapted to well. For one thing, he found a girlfriend according to Holt. Dristan, the former Bloomfield Police Department K-9, and Jjackson quickly took up with one another and spent a great deal of time together. "He was a lazy, happy house dog with a girlfriend," Holt said of his partner's final days.
"He and Dristan never left each other's side. Once him and Dristan met, I could never separate them." Holt said Jjackson also became quite the attention-seeker when it came to being in public. He dearly loved a friendly stroke to his head or back. "He loved it," Holt said. "I'm surprised he had hair left on his body because of all of the people that have petted him." Holt says Jjackson had a knack for wanting to constantly be the center of attention, regardless of who it was. "Once you started petting him, he wouldn't let you stop until the next person started," Holt said.
"When we would make public appearances, I always warned people that they would either get arthritis or they would have to find somebody else to pet him -- he was a lover." When asked if there was a special memory he wanted people to remember about Jjackson, Holt said there were just too many to single out. Instead he said the last eight months have been a special time for both himself and the dog. "There's so many memories and I just know the outpouring over the last three days has been a true honor," Holt said. "I believe in the last eight months it shows in the outpouring we got and the ambassador he was trying to be for military working dogs and the true spirit of honor of keeping that promise and the well-wishes we're receiving from throughout the world."
submitted by Jim Cortina, Dir. CPWDA
---
In Loving Memory of
K9 JENNY
2014




Handler:
Sindh Police
The Sindh police's K-9 (canine) Unit lost another sniffer dog , this time a female Labrador Jenny. The K-9 family, comprising
Labradors and German Shepherds, have already lost three of its beloved members – two Labradors, named Dollar and Bold,
and a Germen Shepherd, named Tyson in the past. Sources in the police's dog unit told The Express Tribune that
Jenny died few days after she gave birth to two puppies, adding that her puppies too died soon after Jenny's demise.
The unit is now left with just seven dogs, including a female Labrador named Sheela. In September last year,
a four-month-old female Labrador pooch, named Pepsi, was gifted to the department by a SP but she could
not survive and died. submitted by Jim Cortina, Dir. CPWDA
---
In Loving Memory of
K9 JAKE
September 21, 2014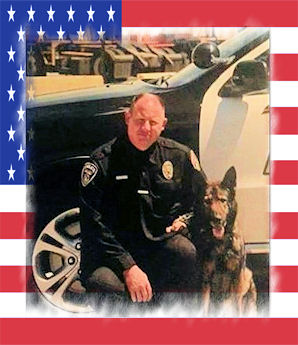 Handler: Special Agent Hagmeier
submitted by Jim Cortina, Dir. CPWDA
---
In Loving Memory of
K9 "J"
September 22, 2014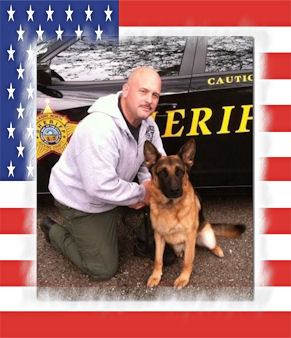 Handler: Captain Jerrod Alford

Hocking County Sheriff's Office

25 E 2nd St. Logan, OH 43138
Hocking County Sheriff's Office mourns the loss of a police dog
J, seen leaning against K-9 handler Captain Jerrod Alford, served with the Hocking County Sheriff's Office for five years.
K-9 handler Captain Jerrod Alford returned to work on Friday after the devastating loss of his partner, "J." The seven-year-old German Shepherd had been struggling with health issues for the last year. On Monday the duo visited OSU for an exploratory procedure, but only Alford came home. "We knew he had some bowel issues, but we just couldn't hammer down what his deal was," said Alford, who established the sheriff offices K-9 unit in 2002 and has been working there ever since. "We did some testing, and it came back inconclusive, a lot of it came back as if he had an infection, so we treated him with antibiotics," Alford continued.
"His white blood cell count, usually in dogs it ranges 6,000-17,000, at one point his was 66,000, which is usually a sign of cancer or an extremely bad infection." Alford and the vets worked with J, and by Monday his white cell count was down to 45,000. "We originally took him up there [to Ohio State University Veterinary Medical Center] to get a scope, basically they were going to go through his intestinal tract to figure out where the problem was. But I came home Sunday and he had thrown up in his kennel, which was odd," said Alford.
"So I took him outside, cleaned up his kennel, cleaned him up, and he acted like he was not feeling well, so I took him back in the house and watched him all day. "I got up the next morning to come to work, he'd thrown up in his kennel, so I called the Sheriff, ended up calling the vets and took him to OSU, and that's when they said he had a perforated bowl," explained Alford, taking a moment to collect himself. "What that means is his bowel had a laceration, basically," Alford continued, struggling through the pain of his loss. "And fluid and gas was leaking into his abdomen, requiring emergency surgery, which was four to six thousand dollars.
So, being that price, with his age, we decided to euthanize him." The appointment that Alford had hoped would help J ended up being his last. After, Alford brought J home and informed his family, who were also crushed by the loss. J had not just been a police dog, he had been a part of their family, and Alford, his wife, and their four children felt J's absence deeply. "He was family," said Alford. "I'd rather have seen him go in his sleep, but Monday, he was suffering. Cardaras Funeral Home picked him up the day before yesterday to take him and get him cremated, and hopefully I'll get him back next week."
J will have a place of honor next to his late comrade Condor, Alford's former police dog who passed in 2011. J served with the Hocking County Sheriff's Office for five years, going through six weeks of training with Alford to get certified, though he spent eight weeks prior to that being trained in narcotics and bite work with a trainer. He was re-certified several times during his service, both for bite work and narcotics. "Bite work is criminal apprehension, basically when he goes up and bites. Say if a felon is fleeing from me, if he runs and I have the justification to send my dog to bite him and apprehend him, the dog will bite him and hold the position until I get there and tell him to release, and we can handcuff the suspect," explained Alford.
When selecting dogs to go through police training, officers look for dogs with a very high drive to work. They do not need a big, aggressive dog, they need a partner who wants to do their best to follow commands, enjoys being on the job and follows commands. "They're like, 'Dad, what do you want me to do now?' and they're happy to do it, they do what they want to do to please you and make you happy. And their reward is to play, that's all they want to do. Even when they bite someone, they're not being mean, they just want to play. They think it's fun because I'm happy that he's biting the person, [following orders], so his tail is wagging and he's happy," said Alford.
"J was social. J was one of those 'love me love me love me' types," continued Alford. "He'd lean against you, he'd lick the heck out of you, I mean, licked everything. Really good dog, probably the dog you'd want to have. He got along with everybody," praised Alford. Though the canine unit does still have two dogs to work narcotics, without J there is no one trained in bite work who can act as back up to the officers, and Alford feels that absence more than anyone. "It's more in the car that I miss him, because it's empty. That's the tough one," said Alford sadly.
"It's hard to figure out if I'm going to pass the torch or keep it, I like doing it, I love doing it, but…" Alford had to stop, overcome for a moment with grief for his lost partner.
At this time, Alford is unsure if he will remain a handler if a new dog arrives, though he does hope that a new dog will be brought into the department despite the significant cost of the dog and training. "We'll see what the future holds for us, you never know," said Alford. "We'll take it day by day." submitted by Jim Cortina, Dir. CPWDA
---
In Loving Memory of
K9 JUSTIS
September 9, 2014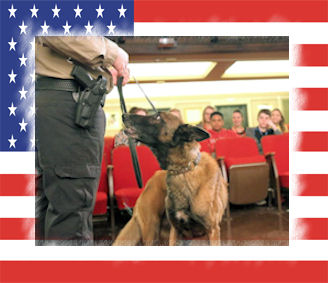 Handler: Officer Brian Zebron
La Salle Police Department
745 2nd St
LaSalle, IL 61301
Police dog dies after more than 6 years on the job
La Salle police officer and K-9 handler Brian Zebron and K9 officer Justis showed La Salle-Peru Township High School
forensic science students in January how easily Justis can identify a drug-tainted package. Justis died Tuesday evening.
Zebron said his favorite part of working with Justis was public demonstrations. Justis is credited with taking millions
of dollars worth of drugs off the streets.
K-9 handler Brian Zebron was getting ready for work with his partner, Justis, on Tuesday evening for the night shift with
the La Salle Police Department when he noticed the dog was slow to exit his kennel. "Usually, he's really excited to go
to work," Zebron said. "I looked at his gums, and they were discolored — pale, not red or pink. That's when I thought
I'd better make an emergency (veterinarian) appointment." After spending about an hour at the vet's office, the two went
back to their car. "I set him in the squad car, and two seconds later, he passed away," Zebron said,
recording the time as 6:09 p.m.

The doctor's preliminary assessment this morning said pancreatic cancer was the likely cause. "The last couple weeks, I
noticed him slow down," Zebron said, adding that Justis' drug-sniffing abilities remained excellent but his difficulties
were physical. "Where he used to run 32 miles per hour, he was kind of walking." Justis, a Belgian Malinois, was
born in Hungary in 2005 and started work with La Salle police in 2008, Zebron said. He was deployed for drug
searches more than 1,500 times and located more than 675,000 grams of cannabis, more than 10,000 grams of
cocaine and more than 3,500 grams of heroin — a combined street value of more than $13 million, Zebron said.

Justis received commendations from La Salle, Peru and state police as well as the U.S. Marshals Service and the
Drug Enforcement Agency, Zebron said. "My favorite thing was doing public demonstrations with him," Zebron said,
noting how unusually friendly Justis was with people. "I would take him into preschools and let him off-leash, and
the kids would play with him. He could make huge drug busts and catch bad guys and bring them down, and the next
day he was playing with kids." Justis also assisted in tracking a lost man in Starved Rock State Park one
summer, and Zebron believes Justis helped to save the man's life. There will be a public tribute to Justis at 6 p.m.
Friday in the La Salle City Hall council chambers. Zebron said he wanted to thank everyone whose donations had helped
to make Justis' job possible, since the K-9 units were not tax-supported. "Because he did so many public demos,
he touched so many people," Zebron said. submitted by Jim Cortina, Dir. CPWDA
---
In Loving Memory of
K9 JAZMIN
May 28, 2014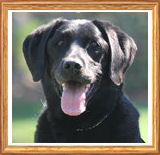 Handler:----
Winnipeg Police
151 Princess Street
Winnipeg, MB, Canada
Winnipeg's First Drug Detection Dog Dies
Winnipeg Police are mourning the death of our city's first full time specialty drug detection dog. Jazmin died in her
sleep at her home May 28th. Police say Jazmin touched the lives of many school children, families and others
in the justice system including Crowns, judges, even defense lawyers. It's estimated the dog's drug detection
work resulted in the seizure of over 48-million dollars of illicit drugs, proceeds of crime and property.
submitted by Jim Cortina, Dir. CPWDA
---
In Loving Memory of
K9 JOHNNY
May 25, 2014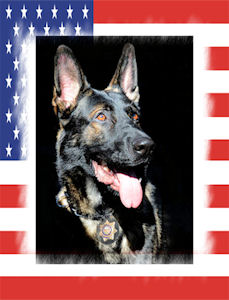 Handler: Officer Dan Knox
Reno Police Department
455 E 2nd St
Reno Police Service Dog Dies After Surgery
---
In Loving Memory of
K9 JACK
May 6, 2014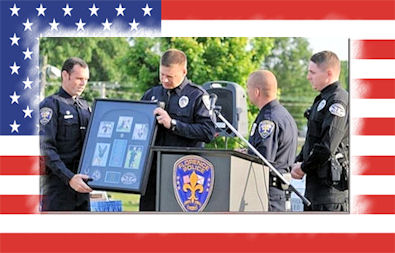 Handler: Ofc. Jason Fort
Florence Police Department
702 S. Seminary St.
Florence, AL 35630

Police honor late K9 officer
Jack was assigned to Ofc. Jason Fort (second from left) during part of his tour of duty.
Florence police included a special tribute to a K-9 officer in Friday's
Officer Memorial Service
. Officers said
K-9 Officer 'Jack' died on May 6. Jack served the Florence Police Department from 2007 to 2012. During that time,
police said he was deployed in service more than 600 times and was responsible for more than 100 criminal
apprehensions. Police said Jack also recovered tens of thousands of dollars of U.S. currency and illegal narcotics over
his career. During his tour of duty, Florence police said Jack was assigned to Lt. Ryan Fleming and Ofc. Jason Fort.
submitted by Jim Cortina, Dir. CPWDA
---
In Loving Memory of
K9 JINX
May 6, 2014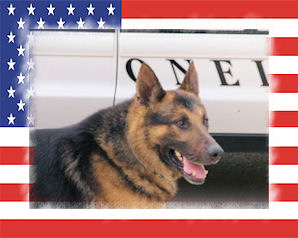 Handler: Officer Steven Ward
Oneida Police Department
121 Municipal Dr
Oneida, TN 37841
Oneida PD mourns K9 officer's passing
K9 Jinx, a 10-year old Oneida K9 officer, died last Tuesday.
The Oneida Police Department has gone from 14 officers to 13 after the sudden passing of their K9, Jinx, last Tuesday.
"When he was born, as a little puppy, they gave him a name and he stuck with it," said handler Officer Steven Ward.
Jinx died while he was on patrol with Officer Ward. He was with the department for eight years, working on a
number of tasks for the small, rural Scott County community. "From tracking lost children to searching vehicles
for narcotics and search warrants," Officer Ward described. "It's hard to get in and come to work now.
I'm still used to seeing him back there." However, the next officer to take over Jinx's role will be costly
for the police department. Ward said the costs between Jinx's purchase and the future K9 are doubled.
"It's gone upwards to 10 grand for a dog, and that's a lot of money for a small department," Ward said.
Oneida Police is now looking for ways to raise that money. For an area that deals with drug busts often,
having a K9 officer is vital, Ward said. "My routine was going to work, I work evening shifts,
that's when K9 officers go to work, get him out of his kennel and hit the road."
submitted by Jim Cortina, Dir. CPWDA
---
In Loving Memory of
K9 J-R
March 28, 2014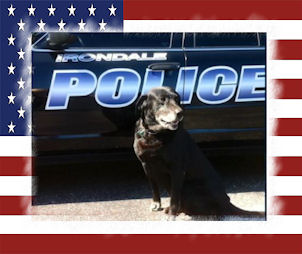 Handler: Sgt. Kyle Roberson
Irondale Police Department
101 20th St S
Irondale, AL 35210
Police Department mourning the loss of K9 officer
The Irondale Police Department is in mourning Monday. Over the weekend, officers lost a trusted and beloved brother in blue,
according to Detective Mike Mangina. K9 officer J-R spent a lot of time with his partner, Sgt. Kyle Roberson.
On Friday, a tumor in J-R's spleen ruptured. Because of his age and the severity of the condition,
the decision was made to put him down. "In my 23 years, J-R was one of the best drug dogs I've seen,"
Mangina said. "He loved to work, always so eager to jump in a car and go to work. They will miss him.
What a great dog. Great around Sgt. Roberson's family. Friendly, playful dog." J-R spent more than
12 years working with Irondale police officers. submitted by Jim Cortina, Dir. CPWDA
---
In Loving Memory of
K9 JAMISON
February 5, 2014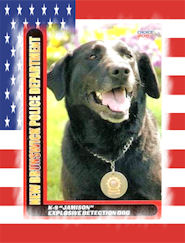 Handler: Detective John Drury
New Brunswick Police Department
25 Kirkpatrick St
New Brunswick, NJ 08901

Police mourn police canine Jamison
The New Brunswick Police Department is mourning Police Canine Jamison, who died Feb. 5 because of health complications.
Jamison, a 12-year-old black Labrador retriever, specialized in explosive detection. She was partnered with
New Brunswick Detective John Drury in 2004. Jamison was a graduate of the New Jersey State Police
K9 Training Academy. In addition to serving New Brunswick, Jamison and Drury were members of the
New Jersey State Police Render Safe Task Force, a Homeland Security Unit, dedicated to a statewide response
of canines trained in the detection of explosive devices. Over her career, Jamison assisted in hundreds of calls
for service in addition to participating in many educational presentations at area schools, where she brought
smiles to children. In 2011, Jamison partnered with Odin, a German shepherd police canine also specializing in
explosive detection. Drury handled both canines in preparation for Jamison's retirement from police service
in July 2013. Drury described Jamison as, "a gentle friend who loved to work and play; she will be greatly missed."
submitted by Jim Cortina, Dir. CPWDA
---
In Loving Memory of
K9 JAX
January 25, 2014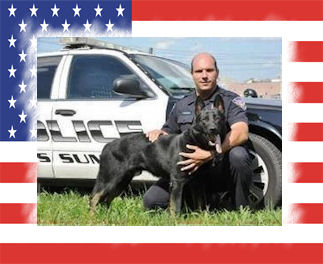 Handler: Officer Scott McMilian
Lee's Summit Police Department
10 NE Tudor
Lee's Summit, MO 64086
WEBSITE - http://cityofls.net/Police.aspx
Jax, one of Lee's Summit Police Department's two patrol

dogs, died this last weekend from intestinal cancer,
the department announced on Wednesday morning.

Jax, one of Lee's Summit Police Department's two patrol dogs, died this last weekend from intestinal cancer,
the department announced Wednesday morning. Jax was partnered with Officer Scott McMilian.
The 6-year-old dark-coated German shepherd hit the streets in August 2009. The pair was the
fifth K-9 unit for the department since the first unit was activated in January 1992.
"Jax's presence will surely be missed by those officers who worked closely with him, and the positive
impact he provided in keeping our community safe," the department said in a release.
submitted by Jim Cortina, Dir. CPWDA
---
In Loving Memory of
K9 JAGER
January 27, 2014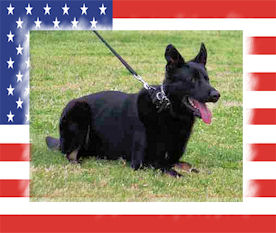 Handler: Officer Kevin Collins
Petersburg Bureau of Police
37 East Tabb Street
Petersburg, Virginia
website - http://www.petersburg-police.com/

K-9 Killed in Training Exercise
Petersburg Police K-9 Jager succumbed to injuries he sustained while involved in a training demonstration on January 27.
Officers of the Petersburg Bureau of Police will honor the Police K-9 for his service by shrouding badges for a period
ending on February 1. K-9 Jager's handler, Officer Kevin Collins, is a five year veteran of the Bureau and has been a
K-9 officer for three years with Jager at his side for that time. Jager has been credited with the apprehension
of several robbery suspects during his tenure.
Donations in K-9 Jager's honor can be sent to the Cockade City K-9's; P.O. Box 2109; Petersburg, VA 23804-1409.
submitted by Jim Cortina, Dir. CPWDA