In Loving Memory of
K9 HEIKA
December 3, 2014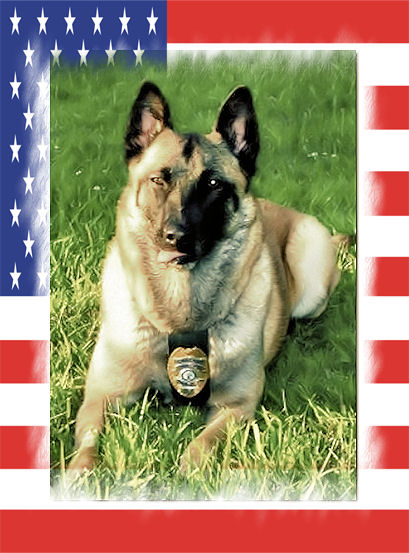 Handler: Sergeant Robert Pintye
Plumsted Police Department
2 Cedar Street
New Egypt, New Jersey 08533
Police Mourn Loss of K-9 Who Served for 10 Years
Plumsted Chief of Police Matthew Petrecca issued a statement today regarding the death of the township's original K-9 officer.
"I regret to inform the residents of Plumsted Township, Plumsted Police Department's first official K-9 dog Heika, Badge #01,
passed away this morning. Heika was K-9 handler Sergeant Robert Pintye's partner since March 5, 2002. Heika served this
agency and this community with Courage, Pride, and Dedication. She assisted Police Departments such as, Trenton Police,
Manchester Police, Jackson Police and especially the officer's of this organization in battle against illegal narcotics.
"Heika conducted countless searches and seizures which resulted in the apprehension and conviction of criminals for drugs in
Township Police Departments K-9 Training Center and became certified with the United States Police Canine Association.
Upon completion of this very demanding training, Heika and Sgt. "Pintye became a certified Narcotic Detector Dog Team.
She was trained in the detection of narcotics such as, Marijuana, Hashish, Cocaine, Crack Cocaine, Heroin and Methamphetamines.
Additionally, this outstanding canine team was trained to work various settings such as residence, commercial buildings, warehouse, storage facilities, motor vehicles, buses and trucks. "Heika protected and served the officers and this community until 2012,
in which she officially retired. Throughout her years of service, K-9 Heika maintained all her certifications with highest of
levels of excellence and within the New Jersey Attorney General Guidelines. She worked with the community in K-9
demonstrations for the New Egypt MOMS Club, New Egypt Day Events, and assisted the Plumsted Township School District.
K-9 Heike will be missed as member of the Plumsted Police Department, but she will never be forgotten for her loyal and dedicated service. The officers of Plumsted Police Department are snapped to attention and we salute you K-9 Heika, Badge #01, for the
last time. Rest in Peace Job Well Done!! "Sergeant Pintye would like to thank the Lombardi Foundation for their assistance
in establishing the K-9 Unit within Plumsted Police Department and the residents for all their support throughout the years."
submitted by Jim Cortina, Dir. CPWDA
---
In Loving Memory of
K9 HERO
October 15, 2014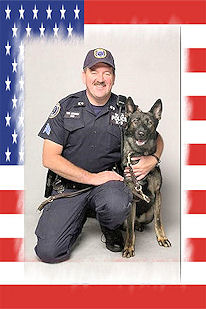 Handler: Lt. John Kerwick
Metropolitan Transportation Authority Police Department
New York
The Passing of canine "Hero"
It is with deep regret that I announce the passing of canine "Hero", who was the devoted and loyal partner of Lt. John Kerwick
of the Metropolitan Transportation Authority Police Department. Lt. John Kerwick had to make the very difficult decision
that many of us have had to face in the best interest of their partner. "Hero" was named is in honor of , New York City Police Officer Stephen P. Driscoll a Member of ESU Truck #4 who lost his life on 9/11/2001 in the World Trade Center disaster.
Stephen was also a close personal friend of Lt. Keswick's
"Hero" and Lt. John Kerwick were assigned to the MTA Police Department Special Operations Division where they protected
the citizens of the New York Metropolitan area by deterring acts of terrorism, protected countless dignitaries and prevented
crime throughout their career. There were numerous examples of K9 Hero's distinctive career. One such incident comes to mind,
it was in 2009, there was an armed robbery in White Plains, NY and White Plains Police requested the assistance of K9 Hero
and his partner. When the team arrived, Hero began tracking, something that Hero excelled at. Within minutes they had the perpetrator. The team then conducted an evidence search and Hero recovered the .40 caliber gun used in the robbery.
Lt. Kerwick and Hero received a Medal of Merit for that Canine job. There were many more canine jobs performed by
this team, but they also participated in a number of different Studies with DHS Center of Excellence in Explosives at the
University of Rhode Island which was a Study that dealt with the very dangerous Peroxides explosives. Lt. Kerwick and
Hero were partners for 10 years and in those years Hero was certified by the United States Police Canine Association (USPCA)
and the New York State Division of Criminal Justice Services in Patrol and Explosives Detection. Hero and Lt. John Kerwick, represented the MTA Police Department in an exemplary manner. submitted by Jim Cortina, Dir. CPWDA

---
In Loving Memory of
K9 HAVOC
September 14, 2014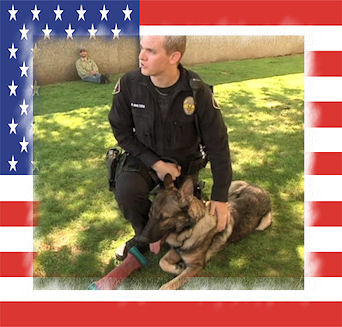 Handler: Officer Robert Walters
Yakima Police Department
Yakima police dog Havoc dies after hit by vehicle
A Yakima police dog died this weekend after jumping a fence and being hit by a vehicle, department spokesman Mike Bastinelli reported Monday. Havoc, a German shepherd and a year-and-a-half veteran of the K-9 patrol unit in Yakima, was struck by a vehicle in the 5000 block of Summitview Avenue at 2 p.m. on Sunday, a police press release says. He was taken to an emergency veterinarian clinic, but the vets found that he had a ruptured spleen and was bleeding internally, injuries too severe to be fixed. He died during surgery at about 6 p.m. Bastinelli said that Havoc was off-duty Sunday afternoon at his handler's house when he jumped over a 6-foot fence and ran into the street.
The driver who struck the dog was actually the one who notified authorities, and that person was pretty upset, Bastinelli said. "They're very athletic dogs," he said. "There's no negligence on the part of the driver's or anything." Havoc started working for the police department in February 2013 when he was 2 years old with his handler, Officer Rob Walters. He would have been 4 years old in November. He was originally from the Czech Republic, where many K-9 patrol dogs come from, Bastinelli said. Since marijuana was legalized, police dogs don't do drug searches anymore, but are primarily involved in tracking down suspects, Bastinelli said.
In his career, Havoc had "dozens of deployments and multiple finds." Havoc is the third police dog to die this year. Retired K-9 members Lektor, who served for eight years and was the first police dog on the force, and Brutus, who served for seven years, both passed away earlier this summer; Lektor in July at age 16 and Brutus in August at age 9. Havoc is the first police dog to die while still active, and by far the youngest. The entire department is upset, Bastinelli said, especially Havoc's handler. "If you're familiar with the bond officers have with their K-9, it's a part of the family," Bastinelli said.
"They get very very close because they not only work with them; they live with them." Police dogs are a significant investment, costing around $16,000 to train and take on, but Havoc's death leaves the department with only three K-9 members, so there's a "distinct possibility" that the department will get another dog, Bastinelli said. The cost of dogs in the past has been covered by local donations; Bastinelli said there is interest among local businesses in supporting another dog. Yakima police Chief Dominic Rizzi said he would like to have some kind of memorial service for Havoc but a date has not been set. It's not clear if that service would be open to the
public or not. Submitted by Jim Cortina, Dir. CPWDA
---
In Loving Memory of
K9 HANS
July 5, 2014

(waiting for photo)

Handler: Ofc. Tommy Krouse
Gloucester County Police K9 Association
New Jersey
http://www.gcpk9A.com/

GK9 Hans succumbed to terminal and inoperable cancer at the University of Pennsylvania Veterinary Hospital.
He will be fondly remembers as one bad ass Malinois, who did his job every single day.
Rest in peach Hans! The GCPK9A.
---
In Loving Memory of
K9 HERO
June 3, 2014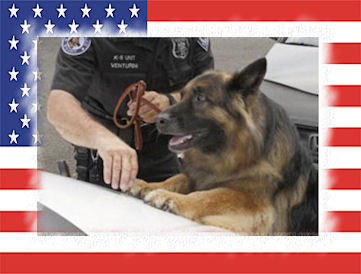 Handler: Officer Lou Venturini
Suffern Police Department
61 Washington Ave.
Suffern, NY 10901
Retired Suffern Police Dog 'Hero' dies
He worked for more than half of his life, responding to hundreds of emergency calls, providing aid to hurricane survivors and opening up a drug investigation in which half a million dollars was seized. On Tuesday, Hero, Suffern's second police K-9, was euthanized. He was 13. "Hero was a dog with kindness in his eyes," said Suffern Police Officer Lou Venturini, the animal's handler for more than a decade. "You just looked in his eyes and you could see the kindness he had toward people. He was the kind of dog that everyone wanted to be near."
A German shepherd from Czechoslovakia, Hero began his career in Suffern in 2003 after the village's Chamber of Commerce and others in the community raised the money needed for his purchase. In order to become a certified police dog, Hero underwent 18 weeks of service training and an additional six weeks of narcotics training. He specialized in patrol work, tracking, evidence recovery (scent detection), search and rescue, suspect location and narcotics search. Despite the extensive training early on, Venturini, who also handled Aran, the department's first dog, and currently handles Patriot, Suffern's active dog, said work with service animals requires daily diligence.
Venturini's countless hours paid off for Hero, who was involved in many notable cases until his retirement in June 2011. Hero served on Rockland County's REACT unit, or Rescue, Entry and Counter Terrorism Team, and, in 2005, traveled to Mississippi to aid emergency responders working in the aftermath of Hurricane Katrina. During one local incident, Suffern police pulled over a car that had been reported stolen. Hero searched the vehicle and found over $265,000 hidden in the spare tire. The find kicked off a larger investigation during which nearly $500,000 in cash and drugs was seized, Venturini said.
Venturini said one of the dog's most notable contributions, however, came on a cold February evening several years ago. "The most important thing you can do is find a missing person," the K-9 handler said. "There was a missing child in Haverstraw. He was about 4 or 5 years old and he was unable to hear and unable to speak. He had been out playing with friends and became lost in a heavily wooded area. Hero was able to locate him, which made all the difference because temperatures were frigid and the night was growing dark." Suffern Police Chief Clarke Osborn said Hero's value to the department could not be measured.
"Hero was a one-of-a-kind dog," Osborn said. "He was very sociable and approachable, but at the same time, he was a very thorough K-9 when called upon." After Hero retired, leaving police business to his housemate, Patriot, Venturini continued to bring him out while running errands to create the illusion that they were still working. The ruse was an act of kindness designed to aid in transitioning Hero from a work dog to a family pet, a period which can be difficult for animals constantly trained to serve. Venturini said the German shepherd, always a community draw, continued to enjoy his popularity whenever he was out and about in the village. "People would approach Hero and I, and would be eager to see him and pet him," Venturini said. "They'd say, 'Thank you for showing us your dog,' and I'd say, 'I took the time because the outside of a dog does good things to the inside of people.' That's true of any pet, any service dog, working dog or military dog. They're all good."
submitted by Jim Cortina, Dir. CPWDA
---
In Loving Memory of
K9 HUNTER
2014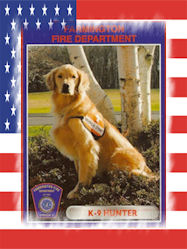 Handler: Ofc. Deb Monde
Farmington Fire Department
Connecticut
'Farewell' to Farmington Fire Department's K9, Hunter
Today we said goodbye to our friend Hunter. As his handler, Deb Monde states, "Hunter did not work long for the fire department
due to his medical condition. he did perform a few searches for both the FD and PD. He also worked for a private investigation
firm working a political cold case here in CT. Hunter taught me how to be a better K9 handler and trainer."
RIP Hunter. We thank you for your service.
submitted by Jim Cortina, Dir. CPWDA
---
In Loving Memory of
K9 HAWK
April 22, 2014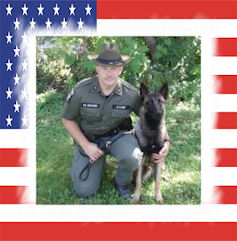 Handler: Officer Brett Armstrong
DEC Division of Law Enforcement
New York
https://m.youtube.com/watch?v=N-wUrpvMMr0
Two highly trained police K9s of the DEC's Division of Law Enforcement and a family dog died recently of smoke inhalation from a
house fire at their handler's residence. Environmental Conservation Officer Brett Armstrong and his family were away from their Chenango County residence on April 22. When they returned, they discovered their home was on fire and full of smoke. Responding firefighters found the K9s, along with the family dog, dead inside. One of the K9s, "Hawk," a 3-year-old Belgian Malinois, had
been with the DEC and Armstrong for less than a year.
The dog was certified in shell casing and firearm detection and was in the process of completing his training this spring, according to DEC. The other K9, "Nitro," was a 10-year-old German shepherd who was well-known and used by officers for his wildlife detection
and tracking abilities. The dog worked with DEC officers for nine years and was frequently used by officers for demonstrations in numerous public appearances throughout Region 7. The family dog, "Shadow," was an adult, Chocolate Labrador Retriever.
There are currently seven trained DEC K9s that work with environmental conservation officers across the state. They're used for
wildlife detection, tracking, spent shell/firearm detection and to protect their handlers. While the Armstrong's do have insurance,
the house and its contents were declared a total loss.
submitted by Jim Cortina, Dir. CPWDA
---
In Loving Memory of
K9 HUNTER
February 20, 2014



Handler: Officer Craig Appleby
Hamden Police Department
2900 Dixwell Avenue
Hamden, Connecticut, 06518
Hamden police mourn loss of canine Hunter
A memorial service for police canine Hunter, who died on Feb. 20, will be held Wednesday, police said in a press release. Capt. Ronald Smith said Hunter died suddenly of pneumonia. He and his partner, Officer Craig Appleby, have served with the Hamden police canine unit since May 2007. Smith said Hunter was born in May 2005 in Hungary. He was imported to the U.S. as a police dog candidate and was purchased from Renbar Kennels in New Milford. Appleby and Hunter completed the K-9 Academy, sponsored by Hamden police, in May 2007. The team was most recently assigned to the day shift with the patrol division.
"Hunter was well-known throughout the community for the numerous K-9 demonstrations he performed for local students and civic organizations," Smith said in the press release. "He was also known for his ability to locate illegal drugs and track criminal suspects." Smith said the department would like to thank Dr. Donald Mullen, of the Guilford Veterinary Hospital and Dr. Anna Crosby, of Central Veterinary Hospital in North Haven "for all their efforts to save this faithful and loyal protector. "The memorial service will be held at the Hamden Elks Lodge, 175 School St. at 9 a.m. Wednesday. Smith said, "anyone wishing to aid in the purchase of a new police dog can send your donations to the Hamden Police Department, in care of the K-9 Unit." submitted by Jim Cortina, Dir. CPWDA