In Loving Memory of
K9 YAENKEE
November 10, 2013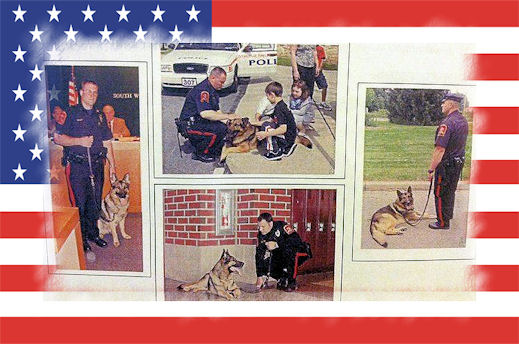 Handler: Officer Kyle Golden
4444 Walbert Ave
Allentown, PA 18104
Retired South Whitehall Township police dog Yaenkee dies
A retired South Whitehall Township police dog died earlier this month, police Chief Thomas Toth said tonight.
Yaenkee vom Friedwalder Schlob died Nov. 10, the chief said. He was 11 years old. Yaenkee served the
township police department from March 4, 2004, until his December 7, 2011, retirement, a news release says.
The German shepherd and his handler, Officer Kyle Golden, completed a two-month training program through
Kromerhaus Kennels in Walnutport, the release says. The duo also trained at Progressive K-9 Academy,
also in the borough.
Yaenkee was a certified annually as a patrol and narcotics detection dog through the Eastern Police Canine Association,
the release says. He and Golden searched for criminal suspects and drugs in South Whitehall, in addition
to assisting other Lehigh Valley municipal police departments and Pennsylvania State Police. Yaenkee also
assisted the Lehigh County Drug Task Force and Lehigh County school districts. He was loved by children and
routinely participated in special events, such as bicycle safety clinics, crime watch group presentations,
National Night Out and the township's annual Emergency Preparedness Day fair, the release says.
Yaenkee lived with Golden, who now works with Cirrus, a police dog who has been on the job since Dec. 17, 2011,
officials said.
submitted by Jim Cortina, Dir. CPWDA
---
In Loving Memory of
K9 YOSHI
April 18, 2013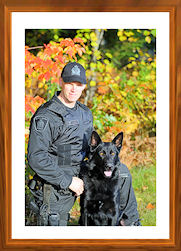 Handler: Const. Derek Gardner
Waterloo Regional Police Service
Canada
Police canine, Yoshi, dies of cancer
Last week, Yoshi worked with Const. Derek Gardner to track down a suspect who was hiding in a shed. Just four days later, the shepherd, one of six in the Waterloo Regional Police Service canine unit, was dead. "Sunday just past, he found a bad guy hiding in a shed, a guy who was breaking into cars and stealing change and GSP electronics and stuff like that," Gardner said. "He was 100 per cent on Sunday and on Monday. And then on Tuesday, bam, it hit him." Yoshi didn't feel well enough to eat on Tuesday, and after X-rays and an ultrasound, a veterinarian decided to perform surgery on Thursday, hoping to find the dog had eaten something that was causing an obstruction. Instead, they found a cancerous tumor.
"They couldn't do anything about it," Gardner said. "It wouldn't stop bleeding, so they said it wouldn't be fair to wake him up." Yoshi was not yet six years old, and had been with the canine service since 2008. He was about a year old when the cop and dog duo first paired up for a 16-week training course. After learning general purpose tracking, he was also trained for detective work, learning to locate drugs, guns and money. Dogs from the canine unit work alongside their handlers for every shift, riding in a kennel in a police SUV. They can be called in for anything from a traffic stop to a major drug bust.
"Yoshi comes home with me at the end of the shift — he's part of the family at home," said Gardner, who also has a non-working pet shepherd named Starsky and two children. "At home, he was just like a hyper pet." Along with his tracking work, Yoshi appeared at numerous community events and visited schools. He even dropped the puck at a Kitchener Rangers game in 2011, a trick that Gardner and Yoshi practiced every day. The pair was also gearing up for an international police dog competition that is to be held in Waterloo Region this summer. Gardner doesn't yet know if he'll be moved back to patrol or to another specialty unit, but he hopes to stay with canine. "I'm hoping to get another dog soon," he said. "I would stay here for the rest of my career if they would let me."
submitted by Jim Cortina, Dir. CPWDA