---
---
In Loving Memory of
K9 MACHO
December 3, 2013

Handler: Sgt. Robert Strand
Detroit Lakes Police Department
1025 Roosevelt Avenue
PO Box 647
Detroit Lakes, MN 56502
Detroit Lakes Police Department K9 Macho dies
K9 Macho, a retired Police K9 here died late Tuesday night. Ten-year-old Macho was taken to the vet after being sick
for the past couple of days, according to a release from the Detroit Lakes Police Department. X-rays showed
he had a tumor on or around his spleen. Macho served the Detroit Lakes Police Department from January 2007
until his retirement in July. His partner, Sgt. Robert Strand, said in a statement that Macho touched the
hearts of many and left a lasting impression on others. submitted by Jim Cortina, Dir. CPWDA
---
In Loving Memory of
K9 MAX
November 9, 2013

Handlers: Officer Larry Middleton & Officer Tim McMillan
Garden City Police Department - GA
Retired Garden City police K-9 dies
By Savannah Morning News
A K-9 who was retired from the Garden City police died last week following a stroke.
K-9 Max, who retired at the end of last year following about six years of service, died Nov. 9, said Garden City Police
Capt. Al Jelinski. Max joined the police department, where he was trained to find drugs, track people, clear buildings
and apprehend suspects, in 2006, three years after he was born in Holland. As a young nationally certified police dog,
Max was awarded the United States Police Canine Association's top novice dog for region 2 award.
Throughout his career, in which he was credited with assisting on numerous arrests, Max worked with Larry
Middleton and Lt. Tim McMillan.
After retiring, Max lived with McMillan's family where he enjoyed
playing with the family's English bulldog and eating scraps from the family's toddler, Jelinski said.

McMillan said Max never lost his police instincts and once found marijuana while going for a walk in the park.

submitted by Jim Cortina, Dir. CPWDA
---
In Loving Memory of
K9 MACO
November 1, 2013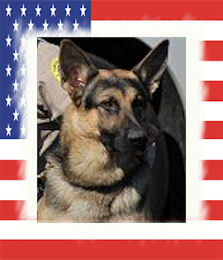 K9 Maco was struck and killed by a vehicle on Courthouse Road during a training exercise in the Five Forks Battlefield area of the county. Maco was off lead when he spotted a herd of deer in the field and began chasing them.
He was struck by the car as he chased them across the road. Maco had served with the
Dinwiddie Count Sheriff's Office for one year.
submitted by Jim Cortina, Dir. CPWDA
MORE:
Dinwiddie K-9 deputy remembered for his love of people during memorial service.

Image Gallery for Dinwiddie K-9 deputy remembered for his love of people during memorial service
DINWIDDIE - K-9 Deputy Maco was known for his love of life. While at work, the German Shepherd-Belgium Malinois had located illegal drugs for the Dinwiddie Sheriff's Department on at least 50 occasions. During off-hours, he would aid his handler,
Deputy Brock Tomlin, in catching fish while the two were sailing. On other weekends, Maco and Tomlin would hike in the mountains.
"Everywhere I would go, he would go," Tomlin said....but on Nov. 1, Major William Knott with the
Dinwiddie Sheriff's Department got the call that no one ever wants to get.
Maco had been struck by a car during an early morning training exercise in the Courthouse area of the county.
His watch ended that day. "This was a devastating blow to all of us," Knott said.
Tomlin said he best remembers the most talented K-9 deputy that he ever worked with by thinking back
to Maco on the sail boat. Maco would also never hesitate to greet people - or the camera.
"He was a show-off. Whenever we brought out a camera, he would always ham up to the camera," he said.
The Sheriff's Department honored Maco with a memorial service Friday, which featured a poem written
by Deputy Terrell Coles.
"I gave you my paw, and you gave me your hand.
I promised to protect you, just as you have done for me, my friend.
Every time I strapped on that harness, I knew it was time to go to work.
I hit the ground hard, my nose pressed against the dirt.
I never had someone that knew me better than you.
I almost learned how to tie your boots,"

part of the poem read.
Maco was born in the Czech Republic in July 2011 and joined Dinwiddie's K-9 team a year later,
specializing in drug and narcotics detection, tracking and article location.
Knott previously noted that hardly a day went by that Maco did not find drugs.
In his last call, Maco caused a traffic stop to lead to a drug arrest.
After he tapped on the trunk, deputies recovered
a small bag of marijuana that had been packed inside a suitcase.
"Even during his short time in service, his service was significant and sincere," Deputy Steven Pugh said during the service. "Celebrate knowing that his life in service was not in vain."
A portrait of Maco donated by Petersburg artist Mary Kate Gerschick was unveiled during the ceremony.
"I was blown away by it. I thought it really captured Maco," Knott said.
The portrait will be hung in the Sheriff's Department as a permanent memorial to Maco.
"We have been overwhelmed by the outpouring of support following this tragic loss," Sheriff D.T. "Duck" Adams said in a press release. "The Sheriff's Office has received cards and calls from law enforcement officers and animals lovers from across the country. These expressions of sympathy and support mean a lot to me and to my officers."
J.T. Morriss & Son provided free cremation services for Maco. His remains were given to Tomlin and remain in
his possession. - Vanessa Remmers can be reached at 804-722-5155 or vremmers@progress-index.com.patrick
kane/progress-index photo
---
In Loving Memory of
K9 MAX
September 13, 2013


Handler: Officer Christopher Bezio
Miami Gardens Police Department
1020 NW 163 Drive
Miami Gardens, FL 33169

Florida K9 Dies in Surgery after Search for Burglary Suspects
Glass panel came loose and severely lacerated Max's ear

Officer Christopher Bezio and his canine partner Max, age 5 years old, responded to assist Operations personnel who were responding to a reported burglary in progress on NW 176th Terrace in which multiple suspects were believed to be inside of a residence. Upon arrival officers believed that the subjects were still inside the residence. In an effort to confirm their presence, Officer Bezio deployed his canine partner Max and brought him to a jalousie window that appeared to be a potential access point. During this deployment a glass panel above Max collapsed, causing a severe laceration to one of his ears. Max was immediately transported to Hollywood Animal Hospital where Veterinarians performed surgical procedures to repair the laceration. During this procedure, Max's cardio vascular system failed and all revival measures were unsuccessful. Canine Max was assigned to Officer Bezio on May 19, 2009 and he has served the City of Miami Gardens meritoriously as a certified apprehension and explosive ordinance detection K9 for four years until his death. Max will be deeply missed by Officer Bezio, our K9 Unit, the entire Miami Gardens Police Department family.
MORE:

Max, a Miami Gardens K9 officer, gets a heartfelt goodbye
9/25/13
The Miami Gardens Police Department holds services Wednesday, Sept. 25, 2013,
for Max, a German Shepherd K-9 officer killed in the line of duty.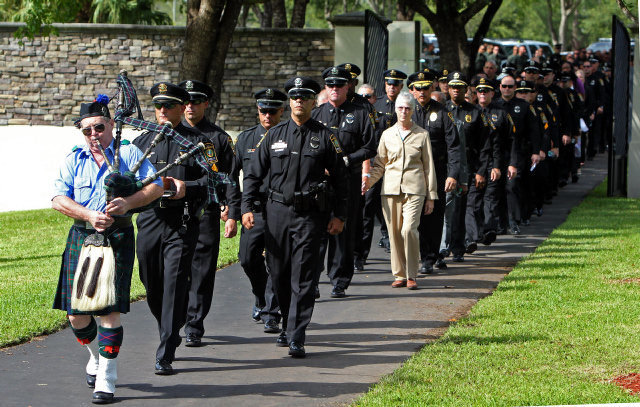 The Miami Gardens Police Department holds services Wednesday, Sept. 25, 2013,
for Max, a German Shepherd K-9 officer killed in the line of duty.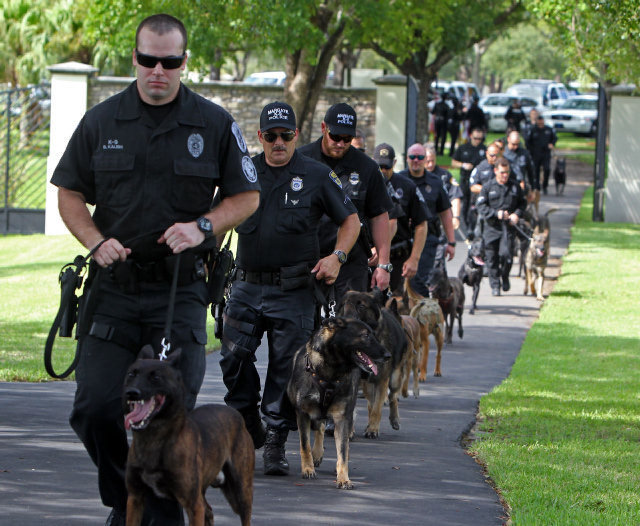 The Miami Gardens Police Department holds services Wednesday, Sept. 25, 2013, for Max, a German Shepherd K-9 officer
killed in the line of duty.
Police officers throughout South Florida gathered Wednesday to say goodbye to Max, a highly decorated police dog killed
in the line of duty. "Max was an integral part of the Miami Gardens Police Department ," Police Chief Matthew Boyd
said during the ceremony at Tropical Park in Southwest Miami. "His services will definitely be missed."
The 5-year-old German Shepherd died from injuries sustained while responding to a burglary call at
740 NW 176th Terrace on Sept 12. Police dogs often respond to burglary calls
to see if there are any suspects still inside, Sgt. John Muclahy said.
Their keen sense of smell allows them to quickly do the work of three or four police officers. During the search a
glass window panel fell on the back of his head. The head injury required emergency surgery and Max was
transported to Hollywood Animal Hospital. He did not survive. About 100 police officers and some of their
canine partners from agencies in Broward, Miami-Dade and Monroe counties attended the service. K9 officers
from various departments often train together and develop a strong community. Officer Chris Bezio, Max's partner,
thanked everyone who showed up to "say goodbye to the best partner a handler could ask for."
Max joined the Miami Gardens K9 Unit in 2009 when he was 13 months old. In his four years of service he
apprehended multiple suspects, including a man who sent a police officer to the hospital after a fight.
He was certified in apprehension and explosives detection and received the second highest level of
certification in the country. The German Shepherd participated in multiple high profile security sweeps
including two presidential visits, a Super Bowl and Heat championship. "The only thing he would
ask for in return was a toy, a scratch under his chin, and the occasional 'good boy,'" Bezio said.

The service, which featured bagpiper leading the procession to Highland Cathedral, mirrored that of an
officer killed in duty. Officers and their canine partners develop a strong bond with one another,
Sgt. John Mulcahy said. Their dogs live with them and the two never stop training. K9 officers spend
more time with their god than they do with family members. Stoic uniformed officers shed tears for
Max during the ceremony. "The bond is stronger than any human bond," said Mulcahy, who worked as
a SWAT officer for 14 years before joining a K9 unit.
submitted by Jim Cortina, Dir. CPWDA
---
In Loving Memory of
K9 MARKO
September 2013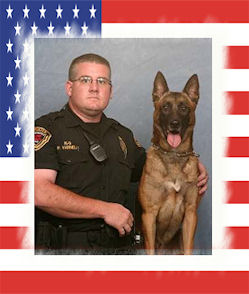 Handler: Officer Phil Yarnell
Springfield Police Department
321 E Chestnut Expy.
Springfield, MO 65802
Police dog's career lauded after death
Marko, a Belgian Malinois, served with Officer Phil Yarnell for 10 years. Marko died earlier this month.
A retired Springfield police dog credited with helping find more than 50 suspects in almost 1,000 deployments has died. Marko, a Belgian Malinois from Holland, was 12 years old. Marko served with the police department with Officer Phil Yarnell from 2003-2012. During his nine-year career, Marko had approximately 550 narcotic search deployments and about 400 patrol deployments. According to a release from the department, he was responsible for locating 53 suspects, several weapons and many lost and stolen items. He also assisted with cash seizures of about $15,000. The release says the department "appreciates the service of Marko to the department and the community he served. He is and will continue to be missed by his handler and the officers who have worked with him over the years." Marko, who died earlier this month, is buried at the Police Service Dog Memorial on South Lone Pine.
submitted by Jim Cortina, Dir. CPWDA
---
In Loving Memory of
K9 Max & K9 Meika
August 22, 2013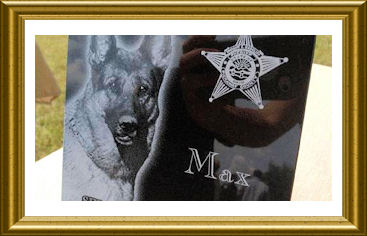 Handler: Deputy Tracy Andrews
PCSO
Police Community Support Officer
United Kingdom

The ceremony also honored Meika, another German shepherd, who served the department several years in the mid-1990s and is considered its first canine deputy. "We remember a time when canine units did not exist," said Sheriff Robert Radcliff.
"But with the rampant influx of drugs and the things we deal with on almost a daily basis, we can't imagine doing
the job without them now. They are faithful, true officers who serve with bravery, distinction and dedication."
Deputy Tracy Andrews, Max's handler and long-time partner, delivered the eulogy for the canine who served as his partner
for nearly a decade and retired just last summer. Andrews said Max was responsible for numerous drug seizures
and apprehensions on a professional level but also commended the dog for his personal loyalty. "He was a great partner,"
Andrews said. "When he retired, he continued his loyalty to me, my family and my home. He was a great dog,
he did a good job, and may he rest in peace."
Thursday's ceremony was led by Dr. Doyne Wiggins, Sheriff's deputy and chaplain for the PCSO, who also helped
dedicate the ground where the permanent memorial is planned. A permanent marker is planned for the grassy
area near the entrance to the Sheriff's Office. Members of the SALT Council agreed Wednesday at their
regular monthly meeting to head up a fundraising effort for its construction.
"This hallowed ground will be a memorial for our fallen canine units," Wiggins said. "God bless them for their
loyalty and unselfish service to their community."
The service was provided by Schoedinger Pet Services and Defenbaugh-Wise-Schoedinger Funeral Home.
submitted by Jim Cortina, Dir. CPWDA