In Loving Memory of
K9 LOZO

December 18, 2013
(need photo)


Handler: Officer John Doskocz

Cheektowaga Police Department

3223 Union Road
Cheektowaga, NY 14227

Retired police K-9 Lozo loses battle with health conditions

Hearts became heavy in the Cheektowaga Police Department as the news of the passing of police K-9 Iozo spread.
The 11-year-old shepherd passed away on Dec. 18 after suffering from many health conditions, according to his
owner and partner Officer John Doskocz. Iozo was born in Budapest, Hungary on July 6, 2002 with the birth
name of Kolozsvar-Mellecki-Jazzy-Iozo.
He was brought to the United States in 2004 when he began his training to be part of the Cheektowaga Police Department.
After extensive training, following New York State guidelines, Iozo became specialized in narcotics detection and
patrol functions that included criminal apprehension, building search, open area search, crowd control and tracking capabilities.

He was certified by the NYS Bureau of Municipal Police, Eastern Police Canine Association,
North American Police Work Dog Association, and the National Narcotic Detector Dog Association.
Doskocz said that at one point, Iozo held more independent canine certifications than any canine team in
the Western New York Region. He even assisted other local and federal agencies with hundreds of
narcotics and criminal search operations. After years of sniffing out narcotics, dealer money and
helping put the criminals behind bars, Doskocz decided it was time for Iozo to retire.

While he was a police dog at work, he was still a pet at home and Doskocz wanted what was best for his pet.
Iozo retired in 2012. "It was time to retire him," said Doskocz. "Being eight or 9 years old is the time to
start retiring a dog. I wanted to retire him relatively young so he could enjoy his retirement." Shortly
before Iozo's retirement, Doskocz began training with Wazi, who would work to take Iozo's place in the field.
Iozo and Wazi quickly became friends. Off patrol, Iozo had become part of Doskocz's family through the years.
"He was more than just a dog. He was my partner. He was my friend. He was like a child," said Doskocz.

Doskocz added that while retirement was a great time for Iozo to enjoy his family and home, health problems
began to take a toll and he could tell his dog missed being in the field. "Iozo started seeing he was no
longer going to work. It definitely took a toll on him," he said. "He was always the type of dog that was always
excited when I put my uniform on. He would want to jump in the truck." Even down to his last few weeks
before his passing, Iozo would still get excited to go for rides in Doskocz's truck, even when that ride
was to take him for a veterinary appointment, which there were many.

Iozo's vet said his health issues could've been from a number of things but that they weren't from his time
training or serving on the police force. Doskocz said that, while Iozo was a police dog and was trained to work,
he was a great pet, a friendly dog and a great companion. "Iozo was a ham and a half," he said. "He could
go into a crowd of kids with them pulling his tail and pulling on his ears but there wasn't a mean bone
in his body." Iozo is already greatly missed by his family and the department. Doskocz said a memorial
service might be planned for after the holidays. submitted by Jim Cortina, Dir. CPWDA
---
In Loving Memory of
K9 LEO
December 16, 2013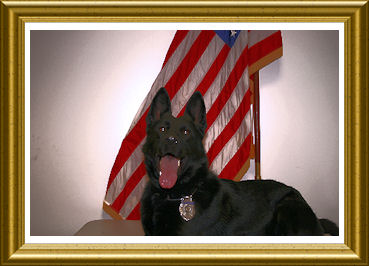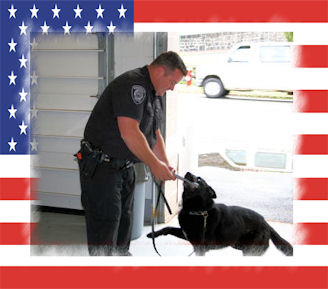 Handler: Officer Rossicone
Wakefield Police Department
1 Union St., Wakefield, MA
Police Department K-9 Passes Away
Leo was with Wakefield Police for 7 years. Inoperable tumor was found recently. Wakefield Police announced Monday morning that the department K-9, Leo, has passed away. Police reported that an inoperable fast-growing cancerous tumor was found in Leo. "After much introspection and with guidance from the veterinarians, it was decided the humane thing to do was have him put to sleep," reported Lt. Scott Reboulet in an email to local media. Leo had been a member of the Wakefield Police Department for 7 years and was described as an invaluable asset to both the department and town.
"Over the years, Leo was instrumental in many drug searches& seizures, searches for criminals as well as missing persons. Officer Rossicone and Leo also participated in many demonstrations for civic groups as well as for school children. Leo also had the ability to understand when he was"off-duty" and was the family pet for the Rossicone family as well," said the announcement, adding that Leo will be sorely missed by the department and especially the Rossicone family. At this point, Wakefield Police have yet to determine what the future of the town's K-9 program will be moving forward. submitted by Jim Cortina, Dir. CPWDA
---
In Loving Memory of
K9 LUGER
November 17, 2013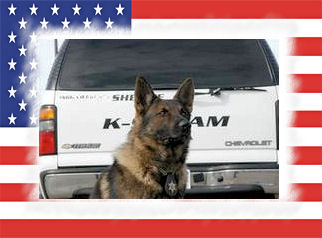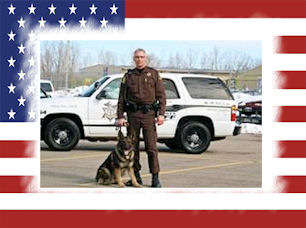 Handler: Deputy Gregory Harris
Ingham County, MI
Police Dog Hit By Car, Killed
An 8-year-old police dog was killed after he was hit by a car early Sunday morning. Deputy Gregory Harris found out
at 4:30 a.m. Sunday when he was getting ready for work that the dog was missing. The dog, Luger was staying at
Deputy Harris' home. Luger was teamed with Deputy Harris for over seven years.The storm damage hit
Deputy Harris' house and the kennel Luger was staying in, allowing the dog to escape. A vehicle hit the Luger
several blocks from Deputy Harris' house. The dog was taken to the hospital. In the seven years Deputy Harris
and Luger were a team, they caught 86 suspects, obtained over $50,000 in cash, found several missing people
and made presentations at school. submitted by Jim Cortina, Dir. CPWDA
---
In Loving Memory of
K9 LIDA
February 18, 2013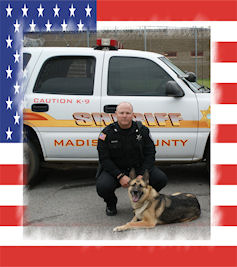 Handler: Deputy Lance Zaleski
Madison County Sheriff's Office
138 North Court Street
Building #7
Wampsville, NY 13163
End of watch for Madison County's K9-1 narcotic team
Madison County's first narcotic canine team, known throughout the law enforcement community as unit K9-1, is no longer available. The team, consisting of canine Lida and her handler, Deputy Lance Zaleski, were coming close to the end of their joint efforts when Lida was due to retire in March of this year, as she ten years old. "Lida was starting to show signs of her age" said Sheriff Allen Riley, "but her nose was as good as the day she started, and her police instincts were as sharp as ever. While she was very intimidating as a police dog, on the other hand, she was a gentle and caring animal and a loyal partner to Deputy Zaleski."

Onset of a serious health issue gripped the animal recently, and she was on medication and being examined by the Sheriff's Office veterinarian to address those issues, but her condition deteriorated rapidly this past weekend. Lida was put to rest on Monday, Feb. 18. Lida was a 10-year-old German Shepherd, born in the Czech Republic.
She possessed an Advanced Narcotics Certification, as well as certifications for tracking and police patrol work, which consisted of building searches, area Deputy Zaleski and Lida searches, and apprehensions.
Lida and Zaleski maintained their certifications with intense monthly trainings, done in conjunction with other police agency canine teams from Onondaga and Cayuga Counties as well as the Syracuse Police Department. Since coming onto duty in 2005, Lida and Zaleski were routinely called upon for not only drug searches, but building and area searches. Lida searched for not only suspects, but missing or lost children, and adults that wandered from their homes. One of the more notable cases took place when the team assisted the Town of DeWitt Police with a vehicle search.
Lida's detection allowed law enforcement to seize nearly eight pounds of marijuana and $50,000 in cash that was hidden in the vehicle. The team also was involved in numerous cases that over the years have led to the seizure of large amounts of marijuana and narcotics in Madison County. Lida was also responsible for the apprehension of ten individuals on various call-outs that involved building searches, mostly residential but also when three juveniles broke into the Otto Shortell Middle School. The team also performed several community service events at area schools. Lida spent her years as a police dog side by side with Zaleski, and lived with the Zaleski family at their home.
She was buried on Zaleski's property where she spent most of her life. The Sheriff's Office still has an active K9 team in place. Deputy Shawn Burbidge and his partner, Kota, are a certified explosive detection canine team, and also certified in tracking and police patrol. The team started duty early in 2012. Sheriff Riley noted "having an invaluable resource such as a narcotic detection canine team in this County, to assist in our efforts with the ongoing battle of illegal drugs in our communities is essential."
The Sheriff will be working with County Supervisors to obtain funding for the replacement of a narcotic canine team.

submitted by Jim Cortina, Dir. CPWDA
---
In Loving Memory of
K9 LEE
January 21, 2013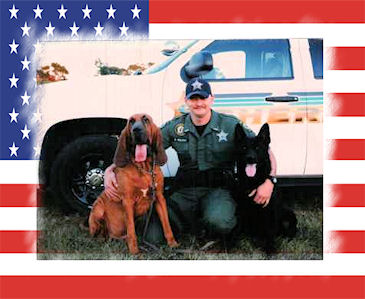 Handler: Deputy Robert Wilkins
Pasco Sheriff's Department
8700 Citizen Dr.
New Port Richey, FL 34654
Pasco deputy mourns the loss of loyal police dog Lee
Deputy Robert Wilkins kneels between his two patrol dogs,
Copper, left, and Lee. Lee died unexpectedly Monday morning.
Mornings this week have been different. Empty. Pasco sheriff's Deputy Robert Wilkins hasn't gotten ready for work alone in nearly eight years. He used to spend almost all of his waking moments shadowed by a dark figure, fluffy with pointed ears, a wet nose and deep brown eyes: Lee. The black German shepherd knew the sound of Wilkins' jingling patrol SUV keys. They made him scramble out the door, ready for the ride. Wilkins said Lee loved going to work. They didn't choose each other. Lee, then a 1 1/2-year-old imported from the Czech Republic, was a police dog issued to Wilkins by the Pasco County Sheriff's Office.
"You get what you get," Wilkins said. "They're like people. All have their own personalities." Man and dog forged their bond over 600 hours of training. Tracking, searching buildings and detecting narcotics. Wilkins said Lee could read his stress through all of the sessions. He was an excitable dog at work. Calm at home with Wilkins' wife Rose, son Jacob and hound Copper. They were quick to find out that Lee was one of the pack. He was known for burrowing his head under the hand of anyone on the couch. He made nightly welfare checks while the family slept, prodding them with his wet nose just enough to make them stir in their sleep to know they were safe.
In training, Lee showed high drive but a short attention span that made his master laugh. During long training scenarios, Wilkins said, Lee would sometimes stop and stare off into space until a command would snap him back into duty. In other scenarios, Lee would drop his toys in front of "bad guys," urging them to play. He did it a few times on duty, too. "He didn't care who you were," Wilkins said. "He'd play with you." At work, they tracked suspects, conducted narcotics searches and set up SWAT perimeters. At home, once every six months or so, Lee would gnaw the heels off Rose's shoes. Wilkins would have to take her shopping.
Like all canine unit dogs, Lee was trained to meet aggression with aggression on duty. But Wilkins remembers Lee bending to the will of a toddler when Jacob, now 13, would tell him to "go lay down." By the time Lee was 9, gray powdered his muzzle. He had slowed a little. Wilkins said it's common for working dogs Lee's age to develop bone spurs that can numb their hind legs. On Friday, he took Lee to the veterinarian for a check-up. The vet took an X-ray of Lee but came back with startling news. Lee had developed a tennis ball-sized mass on his spleen. "Was it something he ate?" Wilkins asked.
"No," the vet told him. It was a tumor. He figured Lee had six months left in him. The vet did blood work and sent them home with antibiotics. But Lee faded faster, much faster, than the vet predicted. On Sunday, he refused food and water. That night, there was no welfare check. Monday morning, Rose was getting ready for work early when she called back to her husband. "Can you go check on Lee?" she asked him. "I don't think something's right." "Lee!" Wilkins called, expecting the dog's head to pop up from the front door spot where he slept. But Lee was still. Wilkins went over and shook him, but he was gone.
Now, mornings are lonely. There's a spot missing on daily patrol. Copper noticed it, too. Earlier this week, the hound searched every room in the house after seeing the empty dog bed next to his own. The Sheriff's Office said it will issue Wilkins another dog if he wants. There will not be a memorial service for Lee, Wilkins said. He's not sure what he'll do. He said he needs time to clear his mind. On the side of his patrol SUV, under the canine unit sticker are still two names, monogrammed in cursive "Copper & Lee." Wilkins hasn't brought himself to correct it. "As far as I'm concerned," he said, "it can stay for a while."
submitted by Jim Cortina, Dir. CPWDA