In Loving Memory of
K9 JOERI
December 3, 2013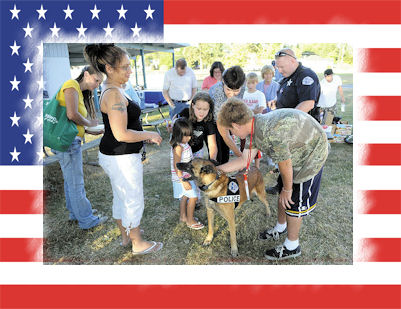 Handler: Officer Nate Ard
Albany Police Department
1117 Jackson St SE
A good police dog
The Albany Police Department lost someone willing to mix it up with the worst criminals for the public's safety, a worker who had
been punched, kicked, choked and even beat with a 2-by-4 that had nails sticking out of it. By all accounts, Joeri,
pronounced "Yuri," was a good dog. The 12-year-old canine had to be put to sleep on Dec. 3. "The last few years,
he's been battling kidney disease," said Officer Nate Ard, Joeri's handler. Ard said Joeri, a tracking and
protection dog, had two distinct personalities — teddy bear and ferocious beast. "He was super social with people.
We did tons of community events. On the other hand, he was a tremendous fighter out on the street," Ard said.
Though Joeri was officially the city of Albany's property, the dog lived with Ard. The Albany Police Department
currently has two police dogs, one to detect drugs, and the other for patrols. The department is looking at
getting a replacement for Joeri in early 2014, and the total costs of the canine and training will be near $14,000,
said Capt. Eric Carter. Carter added that there will be a selection process for the coveted canine handler position.
Ard said he wants to partner with another dog. "It's a lot of fun, and it's a lot of extra work and time," he said.
It's also worth it, he added, saying that Joeri tracked down multiple suspects that had gone unnoticed
by human officers.
With his keen nose and other senses, Joeri could search an area much faster than his two-legged co-workers.
"You can catch the people that don't easily get caught," Ard said. Carter agreed. "It's hard to put a price
tag on how valuable they are. When you get a capture, they pay off," he said. Carter added that police dogs
also serve as a deterrent so suspects don't try to fight officers. During one memorable incident in Sweet Home,
a suspect brandishing a knife came at officers, and he wasn't being affected by Taser shocks. Joeri held
him down until he could be arrested, Ard said. "That guy's probably still alive today because of Joeri," he added.
Joeri had worked for about two years while he was sick. "He was obviously slowing down toward the end,
but he was able to work until the age of 12, which is pretty uncommon for police dogs," Ard said.
And when Joeri retired Nov. 13, the department had a party in his honor, complete with cake and doggie treats.
Joeri wore his police gear one last time as he rode in a patrol car to the veterinarian on Dec. 3.
submitted by Jim Cortina, Dir. CPWDA
---
In Loving Memory of
K9 JUSTICE
November 18, 2013

Handler: Officer Craig Buhl
Coeur d'Alene Police Department
3818 N Schreiber Way
Coeur d'Alene, WA
Lake City Police Dog Justice Dies
It is with great sadness we tell our community that our loyal police dog Justice passed away yesterday on November 18th 2013
after suffering complications from a surgery. Justice recently retired from the Police Department after eleven years
of outstanding service. Her partner and long-time handler Officer Craig Buhl was at her side when she passed.
Justice has the distinction of being the first canine officer for the City of Coeur d'Alene. Justice received her name
in 2002 from the 5th grade students at Borah Elementary. We are very proud of her story that is a bit of
"Rags to Riches" and we have told it often. Justice was saved from an animal shelter and she was donated to
the Canine Training School at McNeil Island Correctional Facility in Steilacoom Washington to learn how to
be a narcotics dog. Here is the story told by Justice herself through her handler, Officer Buhl.
submitted by Jim Cortina, Dir. CPWDA
---
In Loving Memory of
K9 JAEGER
November 11, 2013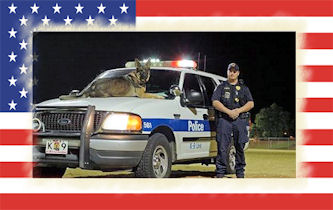 Handler: Officer Reed Ribotta
Tempe Police
120 E 5th St, Tempe
AZ 85281
Tempe police mourn loss of K9 officer
Tempe police K9 Officer Jaeger tracked down more than 40 fleeing suspects and used his sensitive nose to assist in more
than 360 drug arrests, but Jaeger was unable to rebound from a severed leg he suffered while pursuing a suspect at
a Tempe restaurant. In the end, it was fellow K9 officers who came to Officer Reed Ribotta's assistance to lend
emotional assistance when Jaeger, a German Shepherd also known for spirited games of tug-of-war, was
euthanized this week. In an email sent to department employees, Tempe Police Chief Tom Ryff said Jaeger's
contributions will not be forgotten.
"In our careers, in law enforcement, these service animals are part of our family," Ryff said. "We depend upon them
just as much, if not more so, as our fellow law enforcement officers." He said Jaeger underwent surgery after
the incident this summer to repair his leg. But eventually, age and other injuries caught up to Jaeger and
police decided to end his suffering. Jaeger, who began his law enforcement career in April 2006, was "retired"
in July as the result of his injuries. Ryff said a shooting suspect broke into the House of Tricks restaurant,
broke out a window and was throwing bottles of wine at an officer, who eventually shot him.
Jaeger was sent inside to assist in the arrest when he cut his leg on the broken glass. "There is no doubt Jaeger
excelled at his job and possessed many traits making him an excellent police K9 – namely his sheer size, drive,
intelligence, tenacity and above all else, his loyalty," Ryff wrote in his email. "But more importantly, in
addition to serving as a dual purpose apprehension and narcotics detection dog, Jaeger served as a dual purpose
family dog; a valued and loved member of both the Ribotta Family and the Tempe Police Family." In addition
to apprehending suspects and smelling for drugs, Jaeger would visit schools with Ribotta, where the officer
would explain to children the purposes of police dogs. "The impact is really immeasurable," Ryff said.
"It's a sad day for our entire department." submitted by Jim Cortina, Dir. CPWDA
---
In Loving Memory of
K9 JACK
October 4, 2013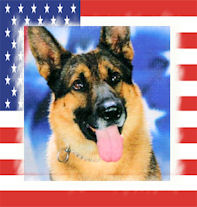 Handler: Officer Reggie Beddard
Cleveland Police Department
1300 Ontario St.
Cleveland, Ohio
Police mourn death of drug-busting K-9
Cleveland police are mourning the death of a department K-9 credited with assisting officers in numerous drug busts.
German shepherd Jack died Oct. 4 after suddenly becoming ill on duty. He was 7 years old. Jack lived and
worked with his handler Patrol Officer Reggie Beddard. The K-9 was responsible for locating 3,000 pound of
marijuana during one of his many drug busts, police said. Jack spent most duty days patrolling Cleveland
streets with Beddard. "Jack will be greatly missed by all of us and especially by his handler," the department
wrote on its blog. "Jack was one tough puppy and let's just say that if he had to chase a bad guy, the bad
guy was going to jail thanks to Jack." Cleveland police will purchase another K-9 to replace Jack. Officers
will honor Jack Oct. 15 during a private ceremony at the Cleveland Police Patrolmen's Association hall.
The first Cleveland police K-9 unit was formed in 1989. The dogs and their police handlers receive 16 weeks
of training on searching out missing persons, criminal suspects, evidence, narcotics and explosives.
submitted by Jim Cortina, Dir. CPWDA
---
In Loving Memory of
K9 JAGO
September 2013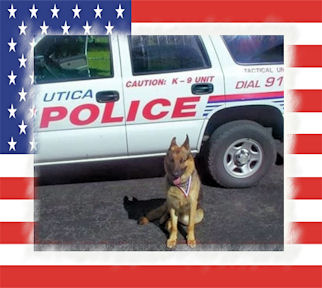 Handler: Investigator Mark Field
Utica Police Department
413 Oriskany St. W. Utica, NY, 13502
Retired K-9 with Utica police dies
Jago, a retired K-9 with the Utica Police Department, has died. The dog retired from his work with the force in 2008.
A retired K-9 with the Utica Police Department has died. Jago, who retired from service in 2008, worked with
Investigator Mark Field on many calls, including drug seizures, missing persons cases and felony apprehensions.
Police said Jago and Fields received many awards for their service. "Jago was an incredible dog and
asset to the Utica Police Department, and will be missed," police said in a news release
submitted by Jim Cortina, Dir. CPWDA
---
In Loving Memory of
K9 JARI
August 2013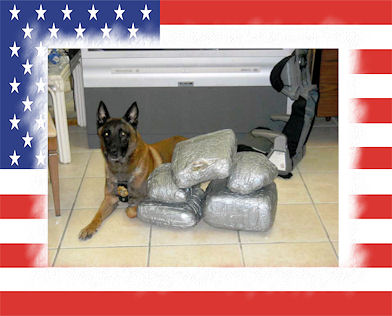 Handler: Agent Jeremy Brown

Surfside Beach Police
South Carolina

Police remember K9 who lost battle with cancer

Police and members of the public joined at the graveside to remember the life of a police canine who lost a battle
with cancer. The memorial service for Jari, a K-9 for the 15th Circuit Drug Enforcement Unit, was held on Wednesday,
August 21 at 3:00 p.m. at the Hillcrest Cemetery on Dennis Lyden Memorial Highway in Conway. Representatives
from Aynor, Surfside, HCPD, the Horry County Sheriff's Office, Myrtle Beach PD, DEU, and SLED were in
attendance. Sgt. Jeff Benton with sheriff's office read the Rainbow Bridge Poem. "It's a sad day for area law
enforcement, and I've seen condolences from around the country.

The amount of drugs that this K-9 has taken off the street is phenomenal," Sgt. Benton said. K-9 Jari was diagnosed
with Squamous Cell Carcinoma. He was treated, released and returned to full duty, but during a recent veterinary
visit, his partners learned his cancer had returned, spreading to his throat and stomach. Jari was inoperable,
the doctor advised, and the canine was put to sleep on August 14. Deputy Commander Dean Bishop said Jari
was donated to the 15th Circuit DEU by Surfside Beach Police in 2008. Agent Jeremy Brown was assigned to
the unit by Conway Police as his handler. Jari was instrumental in the seizure of more than $1.3 million worth
of illicit drugs and financial seizures totaling over $750,000.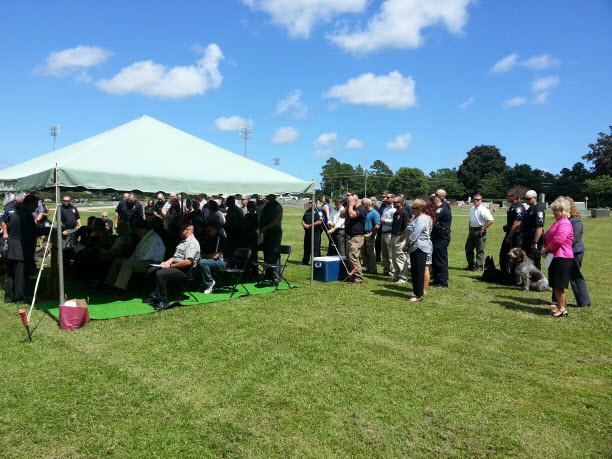 submitted by Jim Cortina, Dir. CPWDA
---
In Loving Memory of
K9 JAKE
July 12, 2013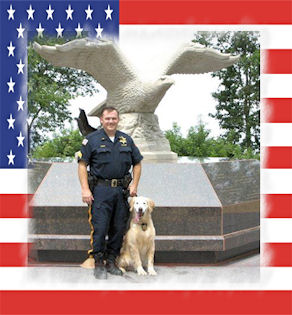 Handler: Sgt. Pat Hamor
Monmouth County Sheriff's Office
50 East Main Street
Freehold, New Jersey 07728
Monmouth County Sheriff's Office K9 dies of cancer
A 10-year-old Monmouth County Sheriff's Office K9 died of cancer on Friday. Jake, a Golden Retriever,
served the agency since 2005 with partner Sgt. Pat Hamor. He graduated from the Port Authority
Police K9 Academy and specialized in explosive detection. "This is a sad time for the
Monmouth County Sheriff's Office," Sheriff Shaun Golden said in a release. "A K-9 team shares a
special bond. They work and live together, and protect one another, day in and day out. Jake was
an extraordinary member of the K-9 Unit. He will be missed and never forgotten." Jake and Hamor
worked at high profile events, including presidential visits. They also responded to "numerous" bomb
threats and suspicious package calls. submitted by Jim Cortina, Dir. CPWDA
---
In Loving Memory of
K9 JUNA
June 29, 2013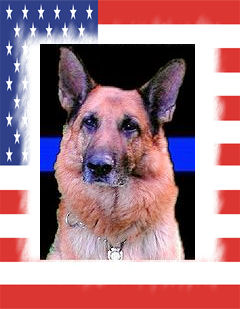 Handler: Trooper Daniel Snyder
New York State Police
1220 Washington Avenue
Building 22
Albany, NY 12226-2252

Drug busting, pumpkin plot foiling New York State Police dog dies
Juna, the New York State Police dog who snuffed out pumpkin patch raids and illegal drugs alike, died June 29 of
a medical condition that hasn't been released, police announced Saturday. The male German Shepherd was 9.
A part of the New York State Police Canine Unit since 2005, Juna was handled by Schuyler-based
Trooper Daniel Snyder.
The dog was responsible for the seizure of large amounts of narcotics, state police said in an announcement.
In 2011, Snyder and Juna caught three men reportedly in the act of stealing pumpkins, according to the
Post-Standard's archives. One of the men said he was alone, but admitted he had company after Snyder
threatened to have Juna search the car, the archives show. After Juna's death, Herkimer police said in
a Facebook post that the dog had helped their department on several occasions and would be missed.
"It is with deep sorrow that we share this update," Herkimer police said.
"RIP Juna: You will be forever missed."

submitted by Jim Cortina,Dir. CPWDA
---
In Loving Memory of
K9 JUSTICE
May 27, 2013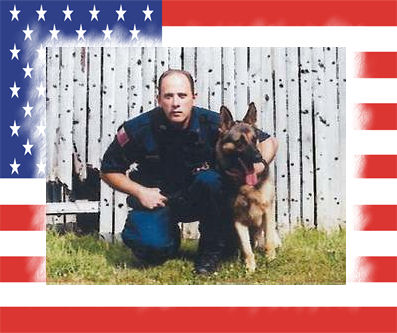 Handler: Officer Thomas Carroll
Kent Police Department
25 Sybil's Crossing
Kent Lakes, NY 10512
PH: 845 225.4600

Kent Police Canine 'Justice' Passes Away
Kent Police Chief, Alex DiVernieri remembered "K9 Justice" Tuesday as an "incredible" canine.
The German Shepherd who became a member of the Kent Police Department, assigned to Office Thomas Carroll in 2002,
died on Memorial Day at the age of 13.
submitted by Jim Cortina, Dir. CPWDA
---
In Loving Memory of
K9 JUSTICE
April 29, 2013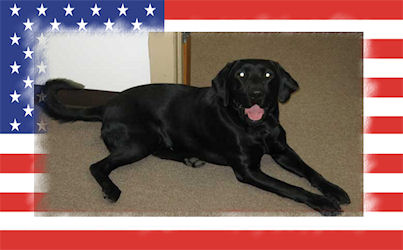 Handler:
Edmond Police Department
23 E. First street
Edmond, OK 73034
Edmond K-9 Dies From Overheating In Police SUV
Justice came to the department in 2012 from the Animal Welfare Shelter. He was primarily used as a single purpose,
non-aggressive dog with the Edmond Public Schools to detect illegal narcotics. A K9 dog with the Edmond Police Department
died Monday afternoon after authorities say he became overheated in the back of a police SUV. According to police, a K-9 named "Justice" was found lethargic in the back of a police SUV. He was rushed to the vet
where he later died. Police say it appears that Justice overheated, even though the vehicle was running with the AC
left on during the time he was in the SUV. Police are inspecting the vehicle's AC unit to help determine the cause
of Justice's death. According to Edmond police, Justice came to the department in 2010 from the Animal Welfare
Shelter. He was primarily used as a single purpose, non-aggressive dog with the Edmond Public Schools to
detect illegal narcotics. submitted by Jim Cortina, Dir. CPWDA
---
In Loving Memory of
MWD JINGS
10 April 2013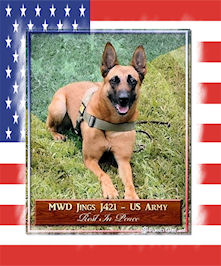 Ft. Eustis Kennels

US Army Military Police MWD Jings (j421) was laid to rest 10 April 2013. After six Iraqi and one Afghanistan deployments,
saving and protecting countless lives,... Jings was put down due to terminal illness. Godspeed MWD Jings, you will
find yourself in excellent company at the Rainbow Bridge. Our prayers are with his handler and all members of
the Ft. Eustis Kennels in this difficult time.
submitted by Jim Cortina, Dir. CPWDA