In Loving Memory of
K9 HAWK

September 2, 2014


Handler: Officer Eric Gum

Sealy Police Department

1320 Rexville Road
Sealy, Texas 77474

Police give Hawk final salute

Sealy police officer Eric Gum leads his partner, Hawk, the department's drug dog,
into Sealy Veterinarian Hospital where he ended his battle with cancer.

It is with a heavy heart that the Sealy Police Department announces the loss of our beloved K9 Hawk. After a 5 month
battle with cancer he passed away 9/2/14 while being comforted by his partner and family. Hawk was a Belgian Malinois
who served with the police department since the spring of 2012 and his final tour of duty was September 2, 2014.
K9 Hawk was responsible for countless drug seizures and was currently the only K9 deployed in Austin County.
He enjoyed going to work more than anything else and he was able to enjoy his last few months
at home with his handler and family.

submitted by Jim Cortina, Dir. CPWDA

---

In Loving Memory of
K9 HICKOK
November 9, 2001-October 23, 2013


Handler: Officer John Lien

Moorhead Police Department

9th Avenue North

Moorhead, MN 56561-0817
PH: (218)299-5120 TDD/TTY#711

Retired Moorhead police canine Hickok dies

Retired Moorhead police canine Hickok died Wednesday at the age of 12, according to a release from Moorhead police.
Officer John Lien started working with Hickok spring 2004 and together they excelled in their street duties
and regularly ranked high during required certification training, regionally and nationally, the statement said.
Due to physical limitations, Hickok was retired in spring 2011. He lived the remainder of his life
with Lien's family in Moorhead. Lien now works with Milo, another police canine.
more: Hickok is originally from Czechoslovakia. He received his training in St. Paul, MN.
Hickok was named after legendary law officer James Butler Hickok, aka; "Wild Bill."

U.S.P.C.A. Certified - Police Dog 1/Narcotics
Duties:
*City Wide Patrol, *Building Searches, *Tracking for Missing Persons/Suspects,
*Suspect Apprehensions, *Locating Illigal Drugs, & * Police Demonstrations/Presentations.

A Special thank you to the Moorhead VFW and Ladies Auxilliary Post 1223,
who purchased Hickok for the Moorhead Police Department.

BUILDING SEARCHES: 12 with 2 find.
OPEN AREA SEARCHES: 3 with 0 finds.
TRACKS: 29 with 11 finds.
WARRANT SERVICES: 2 (Finds are not applicable).
ARTICLE SEARCHES: 4 with 4 finds.
MISCELLANEOUS USES: 29 with 0 finds.
PUBLIC DEMONSTRATIONS: 15
PUBLIC PRESENTATIONS: 6
NON-PHYSICAL APPREHENSIONS: 10
PHYSICAL APPREHENSIONS: 1
NARCOTIC VEHICLES: 43 with 35 finds.
NARCOTIC BUILDINGS: 34 with 11 finds.
TOTAL TRAINING HOURS: 155.75 hrs.
CANINE CALL-OUTS: 18
CANINE OVERTIME HOURS: 54.75 hrs.
submitted by Jim Cortina, Dir. CPWDA
THANK YOU to the Moorhead PD and Officer John Lien for your letter and
especially for K9 Hickok's trading card.
---
In Loving Memory of
K9 HUNTER

June 23, 2013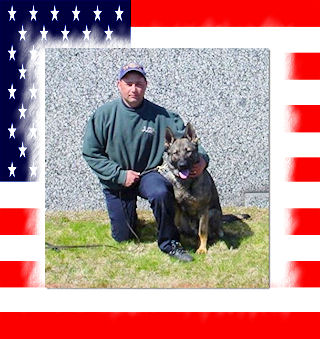 Handler: Robert Arduini

Wethersfield Police Department
250 Silas Deane Hwy.
Wethersfield, CT 06109
It is with the deepest sadness and a heavy heart that I have to send this e-mail letting everyone know that K9 Hunter passed away this weekend. Hunter was the first police K9 assigned to the Wethersfield Police Department and I will be forever honored that I was allowed to act as his partner. Hunter proudly served the Wethersfield Police Department and the community for six years and loved every minute of it. He loved to train, he loved to work and with out a doubt he was a great police working dog. It really was in Hunter's DNA to be a police K9.
Retirement unfortunately wasn't for Hunter. Over the past few years Hunter's overall health grew increasing worse. Just like when he worked, Hunter fought hard to be the best pet he could but unfortunately he could no longer fight the fight at home. Being a pet just wasn't in Hunter's DNA.
For those within the PD that helped me throughout my K9 endeavors I will forever and always be grateful. Without your assistance in helping me train when extra training was needed or fundraising when special equipment was required, Hunter would not have had the opportunity to develop into the incredibly proficient K9 that he did.
Hunter never received the accolades or awards that he probably deserved but just knowing that within the "K9 inner-circle" Hunter was always considered one of the hardest and best trained police dogs was reward enough. Hunter was always referenced by CPWDA master trainers as one of the premier K9's and would constantly be called upon at training or seminar events when a K9 patrol technique needed to be demonstrated at its highest level. Hunter was also great with children and his love to perform at youth demonstrations was amongst his and my favorite things to do.
I can't express in words how much I will miss Hunter. He was not only my partner but he was without a doubt my best friend. He will always be my daughters' Lindsey and Chelsey's "Hunter-Boy".
Hunter, you will be missed and thanks for the memories and for always standing by my side!!!
Ofc. Robert Arduini
submitted by Jim Cortina, Dir. CPWDA
---
In Loving Memory of
K9 HONDO
January 1, 2013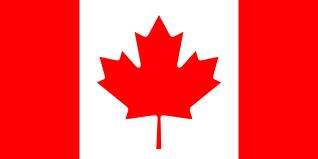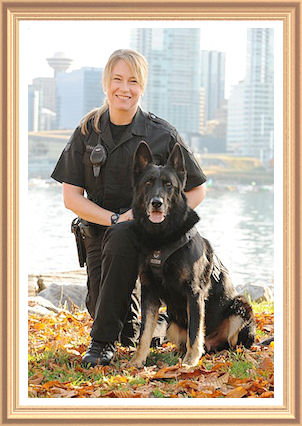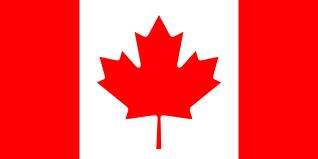 Handler: Const. Sandra Glendinning
Vancouver police
2120 Cambie St.
Vancouver, B.C. Canada V5Z 4N6
Beloved police dog Hondo dies of cancer nearly two weeks into retirement
Vancouver police Const. Sandra Glendinning did not expect to start 2013 without her faithful partner, her best friend. On New Year's Eve, Glendinning went on a walk with her recently retired police service dog, Hondo. The eight-year-old German shepherd had the
energy and curiosity of a puppy as he explored the trail. But a day later, Hondo was laboring and in obvious distress.
"My dear, sweet dog, my faithful partner since 2005 was leaving me," Glendinning wrote on the blog she has kept since late 2008.
He passed away Tuesday afternoon.
Hondo loved chasing bad guys and using his keen sense of smell to track people and property, as Glendinning chronicled many
times in her blog. Just 12 days before he died, Hondo worked his last shift before becoming a pet for Glendinning's family.
"Hondo's getting on, and it's time for him to enjoy a very well-deserved retirement. He's ready to crash out on the
big fluffy dog bed in front of our fireplace, and to being self-assigned the job of keeping starlings off the bird feeders
in our back yard," she wrote.
Hondo had a number of health problems — including allergies, a near-fatal immune disease in 2010 and surgery to remove his
spleen in November — but they didn't affect his work. The one thing he couldn't overcome, however, was cancer. "The vet
who treated Hondo for the cancerous tumor on his spleen said that, when the cancer came back, it would be very sudden.
I would know when it was time," Glendinning wrote. "Hondo was propped on his forelegs, laboring for breath. It was
clear he had suffered a catastrophic setback — he made a soft cry with every breath. It was time." Vancouver police
spokesman Const. Brian Montague said police dogs and their handlers are very close because they live, work and vacation
together. "It's definitely a member of the family that Sandra's lost," Montague said.

submitted by Jim Cortina, Dir. CPWDA