In Loving Memory of
K9 FLIP
September 1, 2013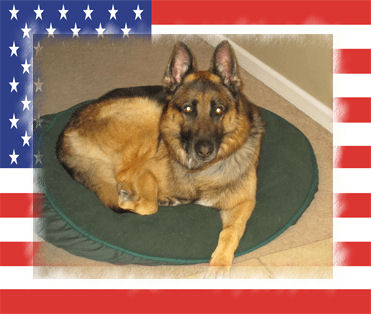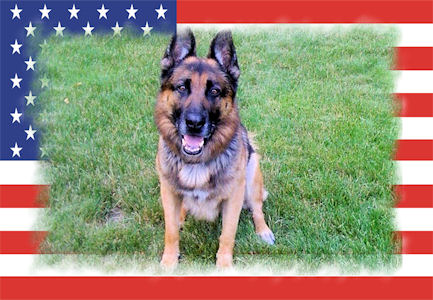 Handler: Officer Joe Lutkowski
Pocono Mountain Regional Police
Pennsylvania 940 PA 18334
Flip, a police dog who retired in 2010 from the Pocono Mountain Regional police after eight years of service, died on Sunday.
Flip was 121/2 years old. He was a patrol dog and an explosives detection dog. "I sadly announce the passing
of our retired K-9 Flip," Pocono Mountain police Chief Harry Lewis said. "On behalf of the entire
PMRPD family, we wish to thank Flip for his years of dedicated service with PMRPD and for our community."
MORE:

Man's best friend was cops', too
A dog can be much more than man's best friend. Television and film have celebrated dogs for decades, showcasing their impressive loyalty, intelligence and savviness in a pinch. Lassie, Rin Tin Tin and other canine heroes are the stuff of legend. Monroe County has its own canine heroes, mostly unsung. One of them died recently with little fanfare, despite his eight years — decades, reckoned in "dog years" — of public service.Flip, the stalwart German shepherd, was a member of the Pocono Mountain Regional Police Department from 2002-2010. During that time, he sniffed out explosives, tracked and apprehended suspects, located missing items and cast-off evidence.
Flip also visited schools and public events, serving as an ambassador for the police and demonstrating his value to the department and the community. He was so dedicated to his human partner, Officer Joe Lutkowski, that even off duty, he'd sit by the door whenever Lutkowski left home, waiting for his buddy to get back. Dogs offer special skills to law enforcement. Their mobile ears can identify the direction of sound. The olfactory capabilities of a dog are nothing short of phenomenal. When it comes to directly tracking a scent, they have it all over humans, who depend mostly on visual observation. Dogs are nimble.
They can run or trot over sites that would be daunting for their upright colleagues. And dogs are instinctively brave, uniquely useful in a pinch. Lutkowski recalled how police sometimes arrived at a burglary scene with the perps still inside. Officers would warn them to come out, but if they refused, Flip went in. Sensibly fearing his jaws, the violators gave up. Next time you pour out the kibble for your own pet, remember the efforts that working dogs like Flip put forth willingly and enthusiastically, asking for nothing more than a pat on the head in return. We salute Flip for his honorable service.
submitted by Jim Cortina, Dir. CPWDA
---
In Loving Memory of
K9 FLINT
July, 2013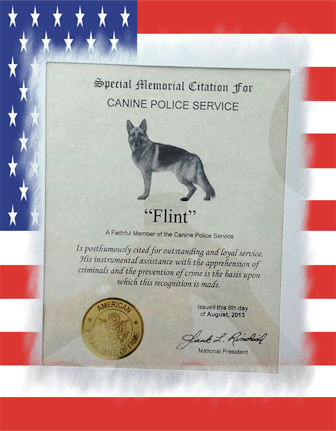 Handler: Sgt. Shane Shamblin
Putnam County Sheriff's Office
3389 Winfield Road
Winfield, WV 25213
Former Putnam County K9 Officer Honored Posthumously
A longtime member of the Putnam County Sheriff's Office was honored posthumously on Tuesday.
Flint Vom Rubohaus, who was a German Shepherd, was inducted to the Police Hall of Fame in August. His handler, Sgt. Shane Shamblin, accepted the award on the deceased dog's behalf Tuesday outside the Putnam County Sheriff's Office in Winfield. The 11-year-old dog passed away in July after serving eight years with the department. Shamblin described Flint as a loyal, goofy, fun-loving dog that was very much a member of his work and personal family. Shamblin said Flint was vital in the discovery of narcotics and bad guys. Shamblin said Flint was a dedicated officer. "When we're doing the job, you don't think about what you're doing." Shamblin said. "It's just part of the job, it's what he liked to do. I think now you look back and see what great things he did and how amazing he was." Flint also enjoyed being around kids.He often worked security and conducted searches in schools. The German Shepherd retired from the department in October, 2010 and passed away July 25th. submitted by Jim Cortina, Dir. CPWDA
---
In Loving Memory of
K9 FRITZ
July 25, 2013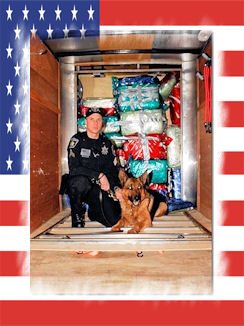 Handler: SGT Shane Shamblin
Putnam County Sheriff's Office
3389 Winfield Road
Winfield, WV 25213

Former Putnam County K-9 Police Dog Dies
Members of the Putnam County Sheriff's Department honoring K9 Flint yesterday and handler SGT Shamblin, prior to
entering Cross Lanes Veterinary Hospital. We also would like to thank the doctors and staff yesterday afternoon
that showed a high level of professionalism and sympathy towards all sworn members of this department.
The Putnam County Sheriff's Office said goodbye to one of its former four-legged members this week.
German Shepherd Flint Vom Rubohuas originally named Fritz, worked on the Putnam County Sheriff's
Department force for eight years. He retired in October of 2010. Flint was successful in many narcotic
discoveries over the years, including the location of more than 680 pounds of marijuana with a street
value of more than $2 million according to the Putnam County Sheriff's Office. Flint was also successfully
a part of many missions, where he unselfishly placed himself on the front line, to protect his handler,
Sergeant Shane Shamblin, and fellow deputies. Flint had been recognized throughout the
Putnam County School system due to school searches, demonstration for students, and security work at
high school football games. Commonly referred to as "The Big G" by his co-workers, Flint attended two
K-9 competitions hosted by the Charleston Police Department. In 2004, Flint won first place in the
tracking competition and in 2006 Flint won first place in the narcotic detection competition.
Flint died on Thursday, July 25. He was 11 and a half years old.
submitted by Jim Cortina, Dir. CPWDA
---
In Loving Memory of
K9 FLEX & USM Cpl David Sonka
May 4, 2013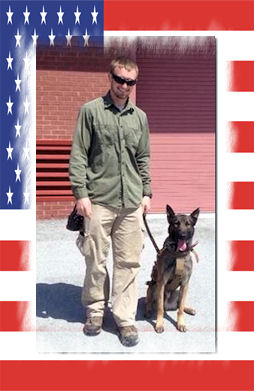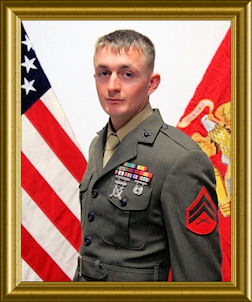 Handler: USM Cpl. David Sonka
Afghanistan
U.S. Marine, Cpl. David Sonka, 23, and his military K9 Flex, who was trying to save him were killed on 5/4/13 during a combat operation in Afghanistan's Farah province. Cpl. David Sonka and his dog, Flex, were killed allegedly during an insider attack. They were working with a unit that was training an Afghan National Army soldier when the Afghani man allegedly turned his weapon on the Marines. Cpl. Sonka was from Parker, Colorado. Also Staff Sgt. Eric Christian, 39, of Warwick, N.Y., also was killed in the incident. The two Marines were assigned to 2nd Marine Special Operations Battalion, Camp Lejeune, N.C. Sonka born in Aurora. He joined the Marines in August of 2008 and graduated recruit training in November 2008. During his service Sonka received numerous personal decorations, including a Navy and Marine Corps Achievement Medal, Marine Corps Good Conduct Medal and a Combat Action Ribbon. Sonak attended military police school, and, once finished, began courses to become a Military Working Dog handler. Assigned to the III Marine Expeditionary Force K9 Section of the Marine Corps Air Ground Combat Center in California from July 2009 to March 2012, Sonka was then deployed for Operation Enduring Freedom. Sonka was then assigned to Marine Special Operations Combat Support Battalion, Marine Special Operations Support Group at Camp Lejeune, N.C., where he completed Special Operations Training Course, and Multi-Purpose Canine Course Phase I and Phase II. From there, Sonka attached to 2nd Marine Special.
submitted by Jim Cortina, Dir. CPWDA
---
In Loving Memory of
K9 FRITZ
January, 2013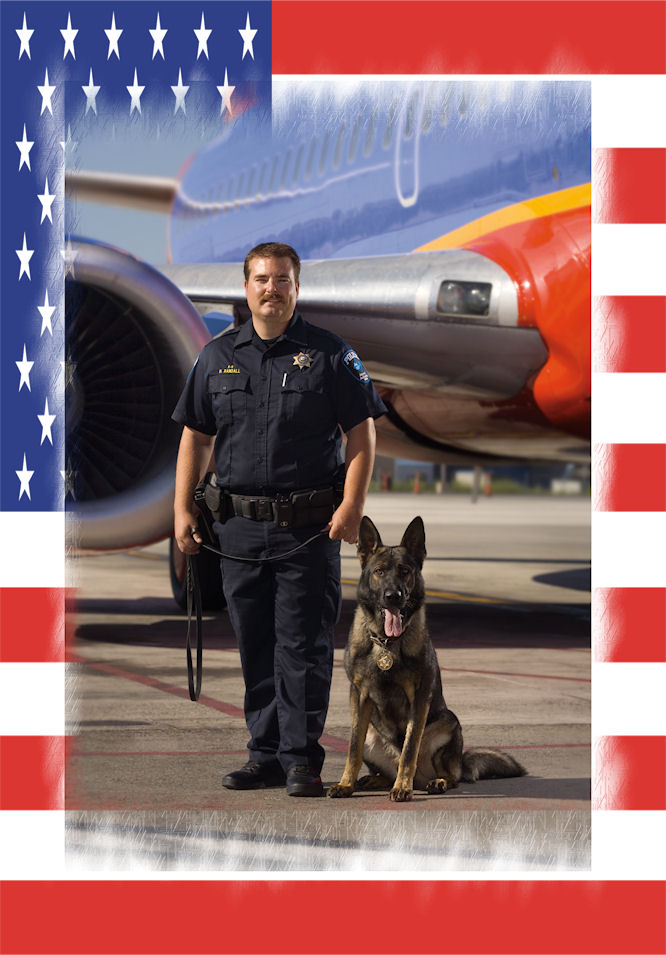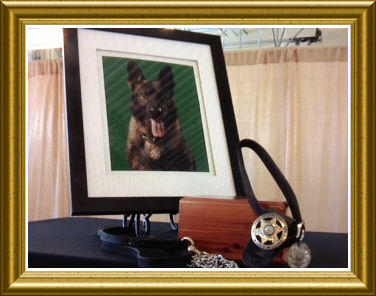 Handler: Officer Brandon Randall
Reno-Tahoe International Airport

Memorial service for airport police canine
The Reno-Tahoe International Airport will hold a memorial service on Tuesday, Feb. 19 for an airport canine police officer who passed away last month from a health issue. The memorial for Fritz will be held at 10:00 a.m. Tuesday at the Airport Fire Station at 1805 Riley Ave. It is a tradition to offer police canines a respectful memorial that is fitting for a police officer. The airport is inviting the media, local law enforcement and airport tenants to attend the ceremony. Please note that the Fire Station is too small to invite the general public.
Fritz was a highly trained canine explosive detection officer who worked to protect two US Presidents, 3.5 million passengers per year and millions of pounds of cargo. His work went beyond the airport where he used his training to protect against bomb threats and to ensure the safety of political candidates and VIPs throughout the region. Since 2007, Fritz worked with his partner and human handler, Airport Police Officer Brandon Randall, as one of three airport canine officers. Fritz was an 85-pound German Shepherd with a fun and friendly personality combined with a determination to do his job to protect the flying public.

---
In Loving Memory of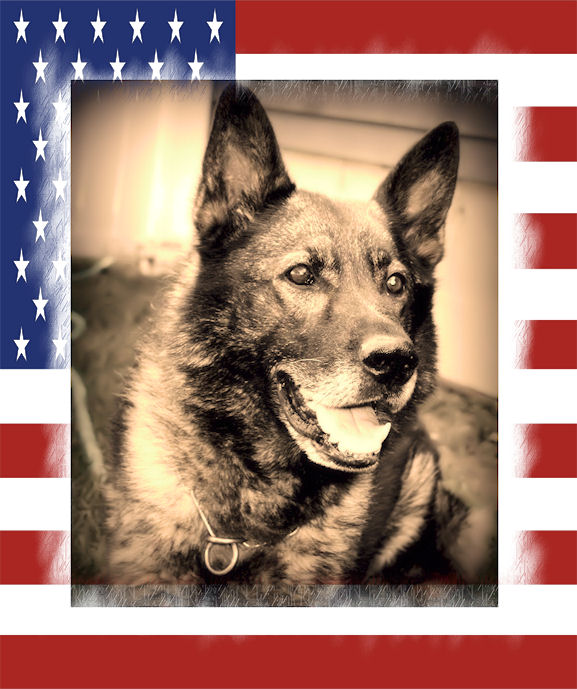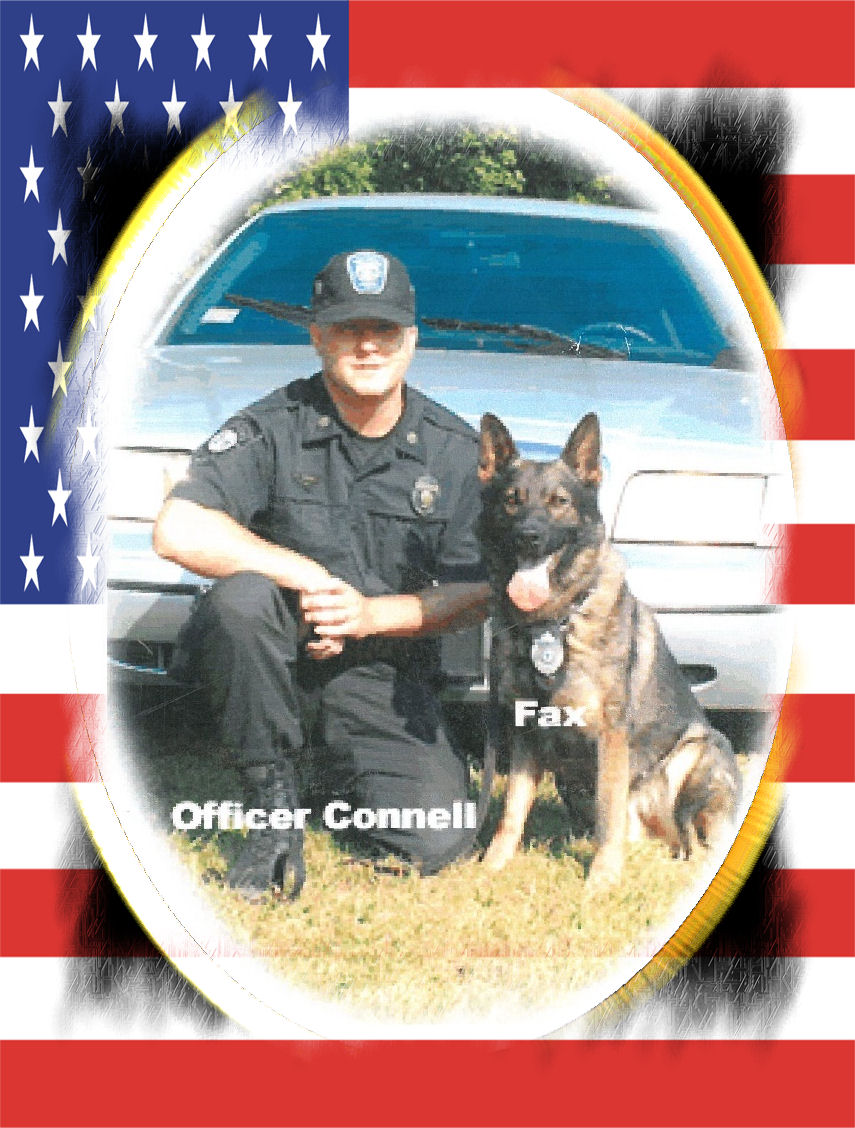 Handler: Sgt. David Connell
Westford Police Dept.
Massachusetts
When Sgt. David Connell would leave his home and get into his cruiser, his partner in the backyard would be itching to join him, ready to be deployed to the next crime scene. Fax vom haus Vortkamp, a German shepherd, was a working dog through and through, Connell said. "Any time he did come out of the kennel and went into the cruiser, he knew we were going to work," said Connell. Fax, one of the town's first K-9s, died last week at Connell's home. He was a few days shy of his 14th birthday. Fax worked for about seven years with Connell. During some of that time, Connell had another K-9 named Sam, a German shepherd that died during the height of his career due to complications from cancer. Westford police Sgt. David Connell with his police dog Fax. Fax died last week at Connell's home. Fax, a patrol and narcotics dog, died of old age. "In mind and spirit, he would have kept going, but his rear end wouldn't let him," said Connell. Fax recently started to move slower than he used to and had trouble getting up due to spinal degeneration. Fax's ashes will be buried alongside Sam's in a memorial garden outside the Police Department that is being planned. .
The current K9 narcotics dog, Misty, is passively trained. She will lie down in front of a locker where she smells drugs. At home, Fax would spend time in a specialty kennel that kept him warm in the winter and cool in the summer. Connell said there are several K-9s that are treated as pets of their handlers, but Fax got his stimulation and satisfaction out of working. Although he never had a live bite, Fax could be a bit edgy around people, growling when he was in big crowds. Connell said Fax was what you want in a police dog. If he went into the woods to look for a dangerous person, Fax would be prepared to capture that person. "He was all business," said Connell.
Connell said Fax would work whole-heartedly on whatever task was put in front of him. "The courage and the strength of these dogs, sending them in to go after somebody," Connell said. In his retirement, Fax mellowed and developed a great relationship with Connell's daughter, who would take Fax for walks after school. Fax stayed true to his German roots. He was imported from Germany and all of his commands were in German. Connell had to learn the commands like "platz," which means "lie down." Connell, who retired Fax when he was promoted to sergeant in 2008, said being a K-9 officer was the highlight of his career.
"No doubt, if you're deployed, you're getting something good. The adrenaline was always going," he said. Sam and Fax paved the way to keep the K-9 program in the Police Department going. Officer Corey Peladeau now handles two dogs, Misty and Beny, a patrol dog. "I got home safely to my family every time I got deployed because of these dogs," Connell said.
submitted by Jim Cortina, Dir. CPWDA