In Loving Memory of
K9 COOPER
June 7, 2013




Handler: Deputy James Taylor
Aiken County Sheriff's Office
420 Hampton Ave., NE
Aiken , SC 29801
Deputy disciplined after death of police K-9 left in cruiser
The Aiken County Sheriff's Office confirmed Tuesday that a deputy was disciplined last year after the death of a police K-9 that had been left in a hot car. The dog, an explosives-detecting canine named Cooper, died June 7, 2013, according to Capt. Eric Abdullah, a spokesman for the Sheriff's Office. The weather that morning was cool and rainy when the dog's handler, Special Operations Deputy James Taylor, brought Cooper to work with him. "The K-9 was inside the patrol car in his kennel," Abdullah said. "The handler generally kept him in there during the day, giving him several breaks throughout the day when they're not working or training."
Abdullah said Taylor gave Cooper several breaks that day, but that the weather became hot and humid that afternoon. When Taylor returned to the vehicle, he found Cooper "unresponsive." The dog was taken to a veterinarian, where he was pronounced dead. Taylor was demoted to deputy and placed on probation for six months, according to Abdullah. An officer cannot have disciplinary issues during that period, and can face further disciplinary action or termination if he does. Abdullah said Taylor did not have disciplinary issues during that period, and submitted his resignation at the end of the probation in January 2014.
The Sheriff's Office did not notify press agencies of the dog's death or the disciplinary action against Taylor. "We considered it to be a personnel issue at the time," Abdullah said. "The agency took the appropriate measure to implement the disciplinary action." No public burial was held for the K-9, as is usual practice by local police. Taylor, who worked for the Sheriff's Office from February 2008 until January 2014, took responsibility for his actions and "took it upon himself to have a private burial," Abdullah said. He had no previous disciplinary issues.
"This was a tragic event that occurred; one that did happen, and we took measures because it was considered a personnel issue," Abdullah said. "We took the appropriate disciplinary action. Deputy Taylor took complete responsibility for what occurred. I know from interacting with him that he took it very hard and dealt with that situation." Teddy Kulmala covers the crime and courts beat for the Aiken Standard and has been with the newspaper since August 2012. He is a native of Williston and majored in communication studies at Clemson University. submitted by Jim Cortina, Dir. CPWDA
---
In Loving Memory of
K9 CONNOR
September 23, 2013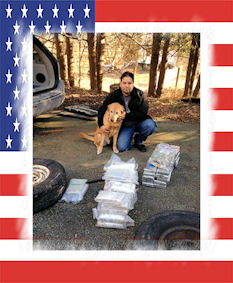 Handler: Detective Gus Rodriguez
Hartford Police Department
253 High St.
Hartford, CT 06103
STRUCK BY VEHICLE STRUCK BY VEHICLE
This is Detective Gus Rodriguez and retired narcotics K-9,Connor. Connor was struck by a vehicle today
and succumbed to his injuries. Connor we thank you for your service and your years of dedications.
submitted by Jim Cortina, Dir. CPWDA
---
In Loving Memory of
K9 CASH
2013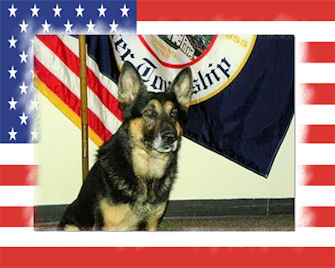 Mt. Morris Township police
5447 Bicentennial Drive
Mt. Morris, MI 48458
Non- Emergency Phone # (810) 785-1311

Mt. Morris Township taking time to heal before bringing on new police dog
When people get scared, they call the police. When the police get scared, they call the SWAT teams. And when the SWAT teams get scared, they call in the dogs. But after years of calling in its police dog Cash for help, Mt. Morris Township has been without that resource following the dog's death in October. Eight-year-old Cash died of lung cancer after more than 6 years of service.
Mt. Morris Township police Lt. Matt Lasky said the department plans to continue its K9 officer program but needs to take time to heal before bringing in a new dog.
When Cash was diagnosed, the doctors said he only had a few weeks left, but Lasky said he only lived another few days. "The vet techs at Michigan State didn't know how he was still out working, and that just shows how tough these dogs are." Lasky said. Cash was recently honored during The Hundred Club of Genesee, Shiawassee and Lapeer counties' annual Heroes' Night at the Flint Golf Club. Mt. Morris Township's Detective James Williams, Officer and Cash's handler Jeff Iski, along with the K9 officer, were the first honored for their efforts on June 12, 2012.
Lasky said officers were dispatched to a report of a home invasion and shots fired after a resident returned home to find his house broken into and a number of guns missing. The resident began questioning three suspicious men who were near the home. The men responded by opening fire on the resident. Police were called around 12:10 a.m. to the scene for three people firing shots at a vehicle at the intersection of Hobson Avenue and Hunter Road. Williams was searching the area when he saw two men in the area of Gracelawn Avenue and Doran Street. He called them over and got out of his vehicle.
That's when one of the men pulled out a gun and fired shots at the detective. The detective took cover behind his vehicle and returned fire. The two suspects fled and Iski and Cash were called in to track them. Iski and Cash soon found the suspects and two guns. A third suspect was found in a vehicle a short distance later. There were no injuries during the shootings, but Harris said Cash had a "one-on-one encounter" with two of the suspects. "We don't ever want the dogs hurt. If we know the dog is not going to win the battle, we don't use them." Lasky said. "There are a lot of people who would just get away if you didn't have a dog to lead you to where they are."
submitted by Jim Cortina, Dir. CPWDA
---
In Loving Memory of
K9 CEZAR
November 2013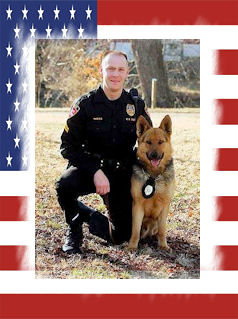 Handler: Officer Mayes
Ozark Police Department
Springfield, MO
Thanksgiving turned somber for an Ozark family and the city's police officers, who said goodbye
to canine Officer Cezar. "He was our second police dog for the city of Ozark, but he was the first city-owned dog,"
Officer Kevin Mayes said.
Mayes solicited donations for the Ozark Police Department to purchase Cezar in 2003. Ozark police officers,
citizens and business owners helped raise about $13,000 for Cezar to travel from his native Czech Republic
to Cape Girardeau, where he received further training in drug detection. "Cezar was tan but he had a beautiful,
beautiful crisp bright red on his chest," Mayes said. "He was one the most beautiful shepherds I've ever seen."
Cezar's work ethic outweighed his good looks. The German shepherd worked in Ozark and in neighboring communities.
"(Cezar) was the first dog we actually owned," Ozark Police Chief Lyle Hodges said. "He worked for several years
with the department before he retired, and he went and stayed with Officer Mayes' family."
Ozark previously employed a dog named Pistol who worked with Lt. Susan Cole, but Cole purchased Pistol privately.
Mayes says he was grateful for all of the donations that helped bring Cezar to Ozark and into his family.
"It was an honor to have the first city-owned dog," Mayes said.
Cezar spent a total of seven years as an Ozark police officer. He could detect methamphetamine, cocaine,
heroin and marijuana. He was also trained to search buildings for people who were hiding from police officers.
"We did hundreds of searches," Mayes said.
When Cezar retired, the city of Ozark signed over custody to Mayes, who now works for the Ozark
School District as a school resource officer at the high school.
"He became a pet at that point, still a partner. We still played and we trained in different areas," Mayes said.
"I switched him over to finding deer antlers that they shed."
The 40-year-old father of three says Cezar settled into retirement well.
"He always did get along with (the children), but after I retired him and he kind of relaxed down,
he became even closer with them," Mayes said.
Cezar died the day after Thanksgiving at the age of 14. Mayes initially considered laying Cezar to rest
at the family home, but the retired officer was buried in the special police dogs garden at Rivermonte
Memorial Gardens in Springfield.
"With all the man hours and training he had, with all the dope that he had found, and with all
the cases he worked, he deserved to be in the police dog cemetery," Mayes said.
submitted by Jim Cortina, Dir. CPWDA