In Loving Memory of
K9 YLAN
AKA: Ylan van Joefarm
May 7, 1999 - October 1, 2012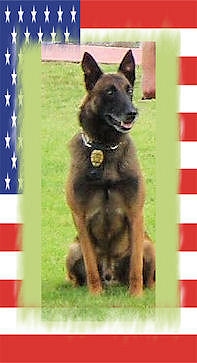 Handler: Officer Jeffrey Coleman
Whitehall Twp. Police Department
3731 Lehigh Street Whitehall, PA 18052
(610) 437-5252

Ylan passed away this morning in my arms at Blue Ridge Veterinary Clinic. He had been battling a tumor in his upper
chest that was constricting his airway and causing an uncontrollable cough or dry heave. He also had seizures that
were slowly increasing in frequency and duration. This weekend was tough with Ylan having three very long
seizures between Saturday afternoon and Sunday night. It was time to make the hard decision.
He was born "Ylan van Joefarm" on May 7, 1999 at Joefarm Kennels in Holland. He joined the
Whitehall Township Police Department with Officer Richard Hope in June of 2002 and became my partner on
March 4, 2003. He was certified in Patrol and Explosives Detection on May 23 2003.
Ylan retired from service on May 31, 2009 and became the family pet up until his passing on
October 1, 2012 at 10:30am.
He touched many lives both during his career and after. His bloodlines are recognized to this day by those
in the breeding industry as being among the best. From his unique apprehension style to his
loving demeanor he will be remembered by many.
"I will always remember you, Ylan---my Partner, my Friend." - - - Officer Jeff Coleman.
submitted by Rich Garner

---
In Loving Memory of
K9 YAIRA
July 9, 2012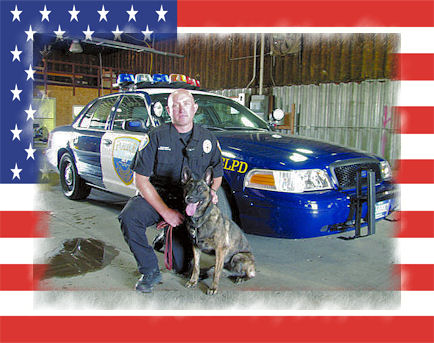 Handler: Officer Shane Brevik
Spirit Lake Police Department
1607 Ithaca Avenue
Spirit Lake, IA 51360
Lymphoma claims Spirit Lake's newest police dog
14 Month K9 only on force for about 1 week
Spirit Lake Police Department's German Shepherd, Yaira.
It was a short and bittersweet stay for Yaira at the Spirit Lake Police Department. A few days after making her first official drug bust over the July 4 holiday, the new police canine was diagnosed with lymphoma. The cancer was so aggressive and rare that a mutual decision was reached between doctors and the local police department to put Yaira down. She was euthanized Monday night, according to Spirit Lake Police Chief Jeff Hanson. Hanson informed Spirit Lake City Council members of the development at the council's Tuesday night meeting. "She was showing symptoms of being ill," Hanson said.
"It led us to consult the ISU veterinary clinic -- which is basically the Mayo Clinic for dogs." Cancer is extremely rare in canines, especially in ones as young as Yaira -- who was only 14 months old. Initially, symptoms led doctors to believe her behavior could be traced to a more common fungus-borne illness. The cancer was already accelerating when it was discovered and confirmed in Ames. Yaira was barely past her first week on the job, but her health declined drastically in her final week. "It's a very unfortunate situation," Hanson said.
"She had a very aggressive cancer, which nobody suspected with her being such a young dog. It deteriorated so quickly and got into her organs and nervous system that we had no recourse, we had to put her down." Further diagnosis determined that a tumor was growing behind Yaira's heart, causing breathing problems and other symptoms. Hanson said the condition would have only continued to worsen and they didn't want to see her go through the pain. "There is no cure for something like this," he continued. "We didn't want her to suffer, which is why we decided to put her down."
Officers started to notice Yaira's health quickly and drastically deteriorating last week. It led to concerns among her handler, Officer Shane Brevik, and others throughout the department. "She was a very personable and friendly dog," Hanson said. "She was a good dog. Shane (Brevik) and Yaira had bonded. It's tough, even if it was a short time. You can't try to make sense out of nonsense." Yaira's lone drug bust came on July 4 when she helped an investigation involving Kai Fritz-Watson of Eagan, Minn. The 23-year-old was stopped near Templar Park at 7:45 p.m. Brevik brought Yaira over to sniff Fritz-Watson's black Toyota Solaria and located a substance believed to be marijuana and drug paraphernalia. The driver was arrested on charges of possession of a controlled substance and possession of drug paraphernalia. The Spirit Lake Police Department is further investigating the possibility of whether or not Fritz-Watson was operating the vehicle while intoxicated.
The Spirit Lake Police Department won't have to absorb the purchase price of their specially-trained German shepherd from Europe. Other losses will be harder to account for, however -- Hanson said Yaira will be missed by everyone in the department, even though her time with Brevik ended too soon. Hanson hopes to have another canine join the force sometime in the near future. They will soon inquire with North Iowa K-9, out of Humboldt, to see if they have any dogs readily available. In addition, Hanson said the department is receptive to donations, whether to help with the medical costs or everyday pet care for the new canine. The Spirit Lake Police Department has employed a canine for the last 15 years. For now, officers will conduct searches without a specialized four-legged partner to assist. submitted by Jim Cortina, Dir. CPWDA