In Loving Memory of
K9 ROCK
July 7, 2012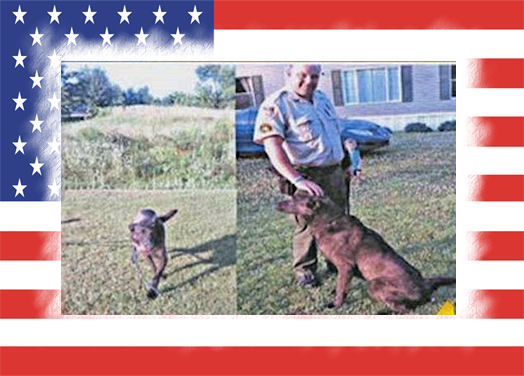 Handler: ?
Macon County, TN
The death of a police K-9 this month in Macon County was likely caused from heat exhaustion, said the local sheriff's department.
The police dog named "Rock" died in his pen July 7. The sheriff's department said the dog had food and water,but may
have not been able to cool off during the heat of the day. The dog was buried at the Justice Center.
submitted by Jim Cortina, Dir. CPWDA

---
In Loving Memory of
K9 RENO
December 2, 2012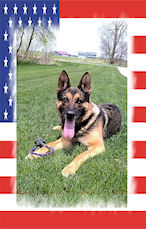 Former Handler: Officer Tim Nading
De Mines Police Department
Iowa
On Sunday, the Des Moines Register announced the death of a police dog who was highly regarded by
the Des Moines, Iowa, Police Department. Reno, an 11-year-old German shepherd, worked for the
department from 2003 to 2011.
On November 29, the retired K9 died in the arms of his former handler, Officer Tim Nading.
During his working years, Reno was applauded for his heroic service. Back in 2004, the fearless dog was shot two
times in the midst of a pursuit for a suspect wanted on drug charges. That suspect was apprehended and sent to prison.
Though grievously injured in both the spine and leg, he recovered quickly and was back on duty in just four months.
For his efforts, he and his partner were given a distinguished service award and the canine even received
an honorary key to the city. In the years that followed, Reno continued to serve the department and
his efforts were recognized with more awards, including "police dog of the year."
On the day of his death, Nading recognized that something was terribly wrong with Reno and rushed him
to a veterinary clinic where it was discovered that a soft tissue tumor had ruptured.
Reno died in the arms of the man who had been his partner, handler and friend for much of his life.
submitted by Jim Cortina, Dir. CPWDA
Photo credit:
Des Moines PD Facebook page