In Loving Memory of
K9 PHELAN
December 2012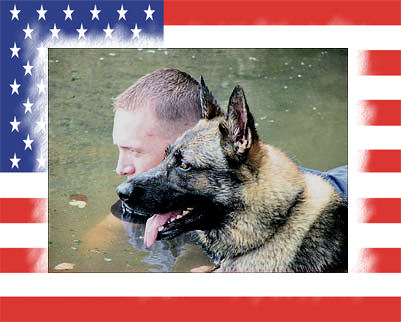 Handler: Officer SEAN SPENCER
Hopewell Police Department
300 N. Main St.
Hopewell, VA
PH: 804 541.2282
Dogs are frequently referred to as best friends. They can also be some of the best co-workers. Such was the case with K-9 Phelan, who served the Hopewell Police Department from 2007 to 2012. "I loved working with Phelan," said Officer Sean Spencer, as he held a box containing the remains of his partner at a ceremony Wednesday.
Other police dogs and handlers from Chesterfield, Petersburg and Richmond joined the Hopewell police department in Ashford Civic Plaza to say goodbye to a dynamic and effective member of the police force. The announcement of Phelan's death led to an outpouring of support when it appeared on the police department's Facebook page. The post was seen by 8.303 people, "liked" by 873 and shared by 81 people.

Ninety-three people commented on it, writing messages including, "K-9 Phelan helped the Tri-Cities many times," and, "thank you for protecting the citizens of Hopewell." Phelan and Spencer were a team, working together.
Police Chief John Koehane called guests' attention to a picture of Phelan and Spencer performing a water exercise together that was folded into many programs, showing dog and handler swimming in sync, focused on a common goal.
"I can see no better picture of a relationship between K-9 and handler than what you see of this picture here that many have," Keohane said.
In 2007, Spencer went to police headquarters to pick up his new co-worker. As he was signing the papers for Phelan, Spencer's wife, who had accompanied her husband to meet the dog and was expecting the couple's first son, went into labor.
"Phelan met my oldest son at the time, just once, and it was through the fencing of his kennel," Spencer wrote in a biography, read to the crowd gathered in the plaza on Wednesday by Captain Greg Taylor.
Four months after that first meeting, Phelan and Spencer were participating in graduation demonstrations at the Norfolk K-9 Academy. During an identification exercise, in which Phelan was to locate various objects placed in the field, the dog went above and beyond, making an additional identification no one expected him to make.
"Phelan immediately leaped up and ran, at a sprint, for the crowd," Spencer wrote. "People were screaming and running in different directions, trying to escape from the four-legged monster bearing down on them. Phelan continued to run to the back of the bleachers. It was then that I saw his target. He was running directly at my four-month-old son."
As he ran after the dog, Spencer feared he might have to put Phelan down in front of the crowd to protect his child. As it turned out, that was Phelan's intention too. "Phelan ran up to the stroller, put his giant head inside, sniffed my son and sat with him in an apparent move to guard him from everyone else," the biography said.
After he was brought back to the field, Phelan performed flawlessly on the article search. It was the start of a six-year partnership. "There were different things about Phelan that endeared him to me besides the job he did," Taylor read from Spencer's biography. Phelan would bark when their unit number was called, and got excited any time Spencer put the car in gear, spoke on the radio, made a traffic stop, approached a large crowd or drove fast to respond to a call. "He was ready to work," he said. There were silly moments too, like the time Phelan fought a possum, throwing it into the air then retreating back to Spencer when the possum returned for more. Or the times he would accidentally activated the car's siren, scaring everyone around. "He would also spin in the kennel is such a way that, at times, he would open the interior kennel door," Taylor read. "On more than one occasion, I had come out from a call and found him sitting in the driver's seat." Whenever they parked, Phelan would watch the view from the back windows of the vehicle intently, letting Spencer know if anyone was approaching. His vigilance and enthusiasm made his appearance a welcome sight to officers at many a scene. "There was nothing better to have than that beast in the back, and see him rock the whole car back and forth violently, while still wagging his tail so hard against the kennel it sounded like gun shots, in his excitement to get out and go to work," Taylor read from Spencer's biography. "I know he made me feel safer, and I believe he made other officers feel safe too."
In his six years of service, Phelan never bit anyone, although he assisted in the apprehension of many suspects, using his bark, his speed and his nose. He tracked a suspect in a child abduction case straight to his house, although witnesses swore the man had continued past that spot. During another pursuit, a suspect scaled an eight foot fence and paused to laugh when Phelan hit the obstacle. Spencer lifted Phelan up and threw him over the fence to continue his pursuit, which ended in surrender. Another suspect wanted on federal fire arms charges gave up as Phelan pursued him tirelessly. "He wasn't perfect, and he needed a lot of work a long the way, but he made me a better handler than I might have been had he not come into my life," Spencer said in Phelan's biography.
At the police department's mid-year award ceremony in December, Spencer was recognized for his control of Phelan during an incident where Spencer and a subject struggled. Spencer was able to control the agitated dog through voice commands alone, making sure there were no bites. During Wednesday's ceremony, Spencer was presented with Phelan's remains as other police dogs stood at attention. Spencer said that after Phelan passed away, many of his fellow officers expressed sympathy, but said that they were under the impression the dog hated them.
"I assured everyone, he didn't hate that person, he didn't hate the next person," Spencer said. "He just didn't know whether someone was a good guy or bad guy and his only job was to let someone know not to approach me or to approach the vehicle unless they had good intentions. My dog didn't hate anyone, he liked everyone, he just had a different way of showing it."
Phelan and Spencer were part of a long tradition of dog and handler teams. A police dog history appearing on the website of the London, England based Metropolitan Police notes that officers in the 1800s were frequently accompanied by dogs on patrols, although the animals were not formally trained. In 1899, the city of Ghent in Belgium began strategically training dogs to assist police, and the practice spread across Europe and North America.
Police Chaplain Phil Andrews recognized the contributions of Phelan and the many other furry, four-legged officers who have assisted humans on battlefields and at crime scenes throughout history in his remarks at the memorial ceremony. "The dogs that have been trained to serve alongside a police officer fill a very important role in police work," he said. I'm sure that many a police officer's life has been spared because of a good K-9."
contributed photo "The picture says it all:" Sean Spencer and Phelan completing a water exercise.
photo by Sarah Steele Wilson An officer and a gentle dog: K-9 Officers and their dogs came from surrounding localities to recognize the contributions of dogs like Phelan make to law enforcement.c.
It's a dog's life: police remember K-9 Phelan for service and enthusiasm By Sarah Steele Wilson, Newsroom Editor - Jan 11, 2013, 13:12
Submitted by Jim Cortina, Dir. CPWDA
photo by Sarah Steele Wilson Dogs and officers from the surrounding area came out in force to honor K-9 Phelan, who died in December, 2012.
---
In Loving Memory of
K9 PACO
August 2012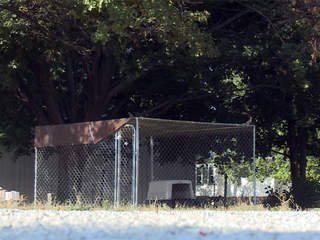 Sgt. Tom Shamaugh
Hancock County Sheriff's Dept.
123 East Main Street
Greenfield, IN 46140

Sergeant shoots own police dog
A Marion County Sheriff's Office sergeant said he was forced to shoot his own dog, and now the shooting is under investigation by his own department and the Hancock County Sheriff's Department. "The dog had escaped earlier
that day from his kennel, and while he was out there, the dog tried to come at him,"
said Captain Robert Campbell with the Hancock County Sheriff's Department.
"He did have some bite marks on him from the dog." According to the police report,
Sgt. Tom Shambaugh's dog Paco "went to the area of the kennel where he had escaped from that morning."

Shambaugh claimed he feared for his safety because the dog was agitated and aggressive so he grabbed his department-issued 12-gauge shotgun and shot the dog twice. The Hancock County Sheriff's Department responded to a 911 call he placed after he called his superiors. The dog was already dead. The police report stated the dog sustained "one shot to stop the threat, and the second shot to stop the action." "[The dog] was donated to him, but it was in the process of being cleared to be used I think for narcotics use," said Captain Campbell. Campbell also explained why they were investigating. "Was the shooting appropriate, and was there any aggravated circumstances that would have been appropriate for him to shoot the dog." The Marion County Sheriff's Office would not comment on the ongoing investigation. Shambaugh also declined an interview.
submitted by Jim Cortina, Dir. CPWDA
---
In Loving Memory of
K9 PACO
June 10, 2012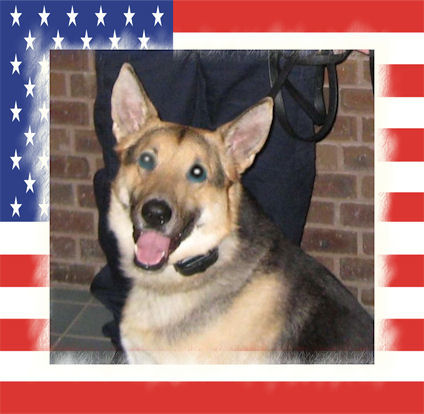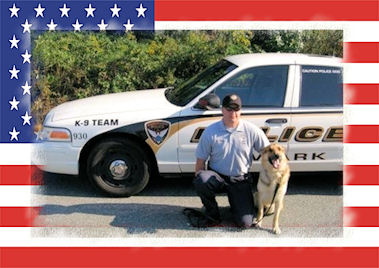 Handler: Cpl. Christopher Jones
Newark DE Police Department
220 Elkton Road
Newark, DE 19711
Phone:302-366-7111

Newark police dog named 'Paco' dies
K-9 Paco served the Newark Police Department since August 2006.
Retired police K-9 Paco, who for the last six years tracked crimes and criminals along with his Newark police partner, Cpl. Christopher Jones, was put to rest Sunday , police said today. The canine was diagnosed with bi-lateral hip dysplasia and retired in September, but his health grew progressively worse and a decision was made to put him to sleep with Jones and his family by his side, said police spokesman Lt. Mark Farrall,
The K-9 was acquired for Vohn Liche Kennels, in Denver, Indiana., in August 2006 and trained by the state police Canine Unit. His entry to service marked the first time in two decades that Newark police had used a canine in day-to-day police operations and formation of the Newark Police Canine Program. During his tenure, Pace handled more than 1,500 complaints, answered 400 burglar alarms, conducted more than 100 tracks, was involved in 700 searches, and confiscated more than $150,000 in drug money, Farrall said. He was also responsible for seizing 30 pounds of marijuana, several firearms and two vehicles used to transport narcotics. Paco was a big hit with the community for his friendly disposition and was always surrounded by children at school demonstrations and community events, police said.
The canine was recognized by the U.S. Police Canine Association as a nationally certified narcotics detection dog and in 2008 as the fastest completion of the timed certification course by a first-time participant.

Contact Terri Sanginiti at 324-2771 or tsanginiti@delawareonline.com
Photo courtesy Newark police - submitted by Jim Cortina, Dir. CPWDA
---
In Loving Memory of
K9 PORTER
2012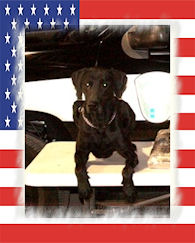 Handler: Deputy Juan Chapa - Montgomery County
Precinct 4
co.montgomery.tx.us
23628 Roberts Rd.
New Caney, TX 77357
281 577.8919
Porter was a black Labrador Retriever, trained in narcotics detection and joined the agency in April 2010
@ 3 years old. Porter was assigned to Deputy Juan Chapa of Montgomery County, Precinct 4, Constables Office.
They immediately began working drug interdiction and were very successful. Porter lived with Deputy Chapa's family which include a wife and young son. He was soon regarded as a forth member of the family as well as a
partner.
Porter always seemed to be under-weight, regardless of diet, but otherwise appeared healthy. That is... until
one day in March when Deputy Chopa returned to his patrol vehicle and could see Porter had fallen ill.
He rushed him to the ER and where he briefly improved, two days later, Porter died.
The veterinarian said it appeared that he had some kind of infection. Deputy Chapa and family were
devastated by his loss, as were other members of the Constable's office. Not only Porter was an
excellent tool in the battle against illegal drugs, but he was also a loving and gentle dog with an
outgoing personality.
submitted by Jim Cortina, Dir. CPWDA
---
In Loving Memory of
K9 PLAYER
March 3, 2012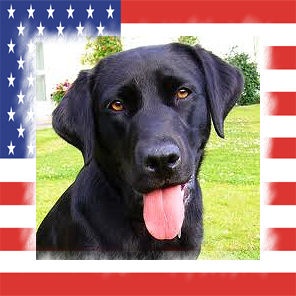 Handler: Lt. Jeff Michael
Russellville Police Department
400 North Jackson Ave.
PO Box 1000
Russellville, Alabama 35653
WEBSITE - http://russellvillepd.org/
Police Department's first drug dog dies
For Lt. Jeff Michael, Saturday was just another day. He and his canine partner, Player, were going through their
routine to prepare for their shift with the Russellville Police Department. Michael did know then, but it would
be the last time he and his friend would work together. "Jeff said he was at the car getting things ready
to leave, and Player came up and laid down by the car door," Russellville Police Chief Chris Hargett said.
Michael said everything appeared to be normal.
"I was logging on to the computer," Michael said. "Once I got through, I was going to open the back door
and let him in the car. When I got out (of the vehicle), he was just lying there.
The way he was breathing, I knew something was wrong." Michael took Player to the a local veterinarian,
but the 13-year-old canine died shortly after getting to the clinic. Hargett said Player, a solid black Labrador Retriever, was purchased in 2001 and was the department's first drug dog. He said it appears the dog died of heart failure. Michael began working with Player when the dog was 8 months old. "He has been a part of our family,
and it feels like we lost a child," Michael said. He said he and his wife, Linda, cried when Player died.
"To some people he was just a dog, but he was my best friend. He was with me 24-7," Michael said.
"He wasn't just a pet. He lived and worked with me.
We had a special bond, and I will always have memories of the times we spent together. Hargett said
Player was a major part of the department. Michael said the dog participated in several large drug cases
in the county. They assisted the Franklin County Sheriff's Office on one case and helped discover
more than $30,000 and drugs in a safe inside a house. On another occasion, they worked with
the federal Drug Enforcement Agency when more than $1 million in marijuana was found inside clay
pots being carried in a tractor-trailer that was stopped in Russellville. Hargett said plans are for a
small memorial to be placed in front of the Russellville Police Department to honor Player.
The department also has a multi-purpose dog that is used for tracking, apprehension and drugs.
Hargett said it's unclear whether the department can replace Player.
"Regardless, there will never be another Player," he said.
Tom Smith can be reached at 256-740-5757 or tom.smith@TimesDaily.com.
submitted by Jim Cortina, Dir. CPWDA