In Loving Memory of
K9 MAJOR
December 13, 2012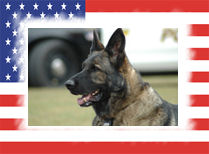 Handler: Officer Dale Merchant
Garfield Heights Police Department
5407 Turney Road
Garfield Heights, Ohio 44125
Farewell to K9 Major
Police Chief Robert Sackett announced the death of retired K9 Officer Major, who was a sworn member of the Garfield Heights Police Department from October, 2003 through October, 2012. Major had advanced cancer and had to be put to sleep Dec. 13 at The Family Pet Clinic. While a member of the police department, Patrolman Dale Merchant served as Major's handler. Major was born November 5, 2002. A German shepherd breed, the K9 was imported from Slovakia and all his commands were spoken in the German language. Major was trained at Von der haus Gill Kennel Police dog training academy in Wapakoneta, Ohio. During Major's service, Major and Officer Merchant maintained certification through the State of Ohio and the National Association of Professional Canine Handlers as a dual purpose K-9 Team (Patrol/Narcotics). Officer Merchant has been a K-9 Handler since 1999 and a trainer with the National Association of Professional Canine Handlers since 2009. He was attending training with the department's new K9 when he received the news about Major's advanced illness.
submitted by Jim Cortina, Dir. CPWDA
---
In Loving Memory of
K9 MAKO
December 31, 2012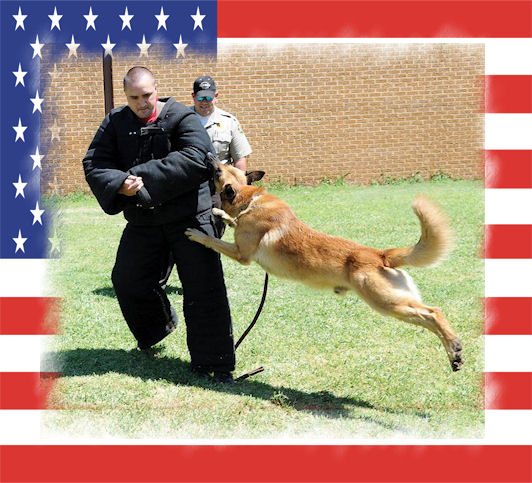 Handler: Deputy Darryl Beebe
Garfield County Sheriff's Office
114 W Broadway
Enid, Oklahoma 73701

Mako attacks Steve Miller on Deputy Darryl Beebe's command during the 56th annual Southwest Garfield County District Fair and Sooner Celebration Aug. 21, 2010.
Garfield County Sheriff's Office lost one of its members Monday when K-9 Mako died from stomach tumors, his handler Deputy Darryl Beebe said. The 7-year-old Belgian Malinois began serving with the sheriff's office five years ago. Beebe had purchased Mako when the two still were reserve deputies for the sheriff's office. Mako, who was imported from Europe, was purchased from and initially trained by Sooner State Police K9 of Waukomis. "I purchased Mako with my own funds, and that was still when we were still reserves," Beebe said. "Shortly after that, we became full-time."

At the time, the Garfield County Sheriff's Office had only one K-9 team. Mako was a dual-purpose police K-9, trained in both narcotics detection and patrol. Beebe said after joining the sheriff's office, he and Mako completed basic handler school and were state-certified. The pair also received certifications through National Police Canine Association and California Narcotic Canine Association. Most police K-9s live with their handlers, and Mako was no exception."Most of the dogs stay with us. He stayed with me, was part of our family," Beebe said. "We've done demos, and I've taken him to schools out in the county.
We've been in front of about 1,000 kids." Beebe said Mako not only worked for Garfield County, but also assisted other agencies in the area, including Enid Police Department, Oklahoma Highway Patrol and Waukomis Police Department. "He's got the most apprehensions out of our department," Beebe said. "He was always watching. No one could ever sneak up on me in the Tahoe, because he was always watching." Beebe said he'll always remember the time he spent with Mako at work and at home. "He was so smart, he could open cabinet doors with his paws. Just stuff like that," Beebe said.
"He got me surprised by that one. He opened the cabinet doors to get his dog food. He hooked it with his claw and was able to pull it open." Mako also was a star: He had a part in the Skeleton Creek Production "Cactus Creek." "They used him for a bite scene," Beebe said. "He had several scenes in that." Garfield County Sheriff's Office K-9 Team's Facebook page remembers Mako for the service he provided the community and the department. "Mako was a valued member of the Garfield County Sheriff's Department family. He was also the protector, partner, friend and family member of Deputy Darryl Beebe," it reads. "Mako's passing is a significant loss to us personally and professionally. His enthusiasm and sense of duty to the people of Garfield County will be missed." A memorial service for Mako is being planned.
submitted by Jim Cortina, Dir. CPWDA
---
In Loving Memory of
K9 MARSHALL
November 19, 2012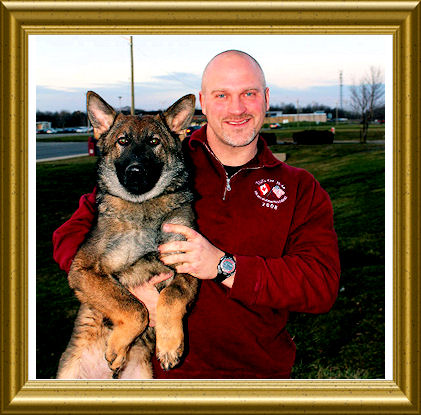 Handler: Const. Jake Grant
Niagara Regional Police


K9 cop leaves legacy
Marshall Junior, left, and Niagara Regional Police Const. Jake Grant mourn the loss of Const. Marshal, a police dog who served with Grant for eight years. He died in November, but left behind a puppy for Grant to train to follow in his father's paw prints.
Constable Marshal spent eight years with the Niagara Regional Police Service chasing down suspects, locating missing persons and taking care of his partner, Const. Jake Grant, before losing his battle with lymphatic cancer. When Grant joined the force's canine unit he knew he would develop a bond with his dog, but he didn't know just how strong that bond would be. "Marshal was a great partner, but he was also a great dog. He had two personalities. When he was at work he was a tough guy, but when he was at home my seven-year-old (daughter Leah) could boss him around." The German shepard died Nov. 19 with Grant by his side. He was on duty until three weeks before his death. Grant's eye's fill with tears as he talks about the day he lost his partner. Riding without Marshal has been a difficult adjustment for Grant, who now works in Niagara Falls. Marshal had a kennel in the front seat of Grant's cruiser and would always rest his head on Grant's shoulder. "I'm still waiting for that head to be there," Grant says. He learned Marshal was sick in August after chasing a suspect through vineyards for three hours in Niagara-on-the-Lake.
Marshal didn't complain and did his job that night, but just as the shift was ending Grant noticed Marshal's neck was swollen. He thought it was an allergic reaction, but after a visit to a veterinarian Grant knew he was going to lose his partner. "He made it easy to forget that he was sick. He responded so well to the medication that a few weeks after we found out (he was ill) he was out there chasing bad guys again." Not only did Marshal catch bad guys and help Grant fight off criminals, he was great with people and loved children. Grant recalls taking him to a school activity day event to show children some of Marshal's skills.
Even though children were running around, screaming and playing, Marshal was great — except when he stole a student's hotdog. "There were probably about 50 kindergartners and I didn't notice one of them come up behind us. He slurped this hotdog right out this kid's bun and the kid started screaming and I just died laughing because it was just funny the way he took it." Grant will never forget his time with Marshal. Before grant found out Marshal was sick he decided to breed the dog in the hopes of training more police dogs. He kept one of the puppies and named him Marshall Junior — with a double L because everyone spelled his father's name wrong. "I named him Marshal," Grant says of the senior dog, "like there's a new marshal in town, but nobody really got that." Grant hopes to start training six-month-old Junior this spring. submitted by Jim Cortina, Dir. CPWDA
---
In Loving Memory of
K9 MIES
September 1, 2012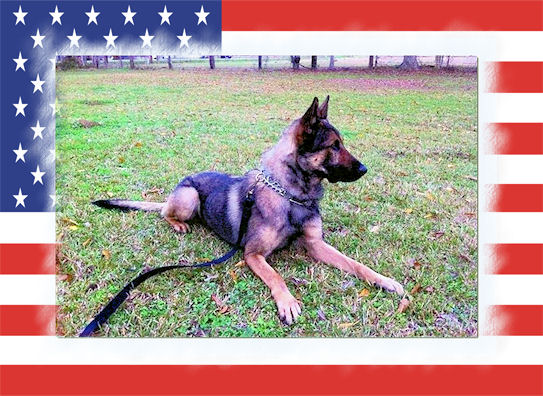 Handler: Officer Kenneth Johnson
Monroe Police Department
700 Wood Street
Monroe, LA 71201
Results in on investigation into police dog's death
"Mies " was found dead last month in Monroe, but the cause of death has been under investigation. The results of that necropsy are in and Monroe Police Chief Holmes says he suspects that the dog died from injuries suffered in a car crash when it was slammed up against its back seat kennel. Now they're planning a memorial service to honor his time with the force. "They are treated just like one of us," says Monroe Police Chief Quentin Holmes. Police dogs are an integral part of every police force. Chief Holmes says Mies was no different. "They have saved numerous lives and numerous people from getting injured in terms of searching buildings and finding the bad guy," he says. But Mies' life was cut short on September first.
He was found dead at just four-and-a-half years old in the care of the canine supervisor, who had taken custody of the dog after his partner, Officer Kenneth Johnson. Johnson resigned on September fifth and was charged with possession of meth among other felonies. He was involved in a crash just days before with Mies in the vehicle. "The other vehicle pulled out in from of him while he was in route to an emergency call," says Chief Holmes. But the necropsy report from LSU says Mies may have been fatally injured in the crash. His body showed signs of back contusions and hemorrhaging behind the eyes. symptoms Mies did not have when he visited a vet for a routine check-up just hours before the crash.
"There's a possibility that during the crash canine Mies was slammed into the cage, which caused his injuries and ultimately his death," says Holmes. Now Chief Holmes say he's planning a memorial service for Mies, one in which he will be honored as any law enforcement officer killed in the line of duty. "It will be the 21 gun salute taps the full procedures they'll have for him," he says. The memorial service is set for the morning of November seventh at ten.
According to Holmes, Johnson came into contact with suspected methampetamine while training his K-9 unit, Mies. "When we train our K-9 units, we use actual narcotics," Holmes said. "These narcotics are assigned out from either our Metro Narcotics Unit or the Drug Enforcement Agency." Holmes said the narcotics are placed in sealed containers and placed in special devices for the dogs to learn. "The container is such that the officer should not have to come into contact with the narcotic," Holmes said. He said in the midst of training, Johnson told him his finger came into contact with the narcotics. "The investigation is ongoing, but either the narcotic spilled out of the package or he opened it," Holmes said. "He told me he tasted it, then said he (used the narcotic) four or five times."
Holmes said Johnson told his supervisor the narcotic addicted him quickly. Once the criminal investigation is complete, Johnson could be brought up on charges of malfeasance in officer, theft and possession of methamphetamine. Holmes said Johnson was hired by the department in 2008 and received at least one commendation and showed remorse when he resigned earlier in the day. "He was always very respectful," Holmes said. "He was very sorrowful for what he did." "Law enforcement personnel should be held to a higher standard," Holmes said. "We all took an oath to do our jobs. It's our responsibility to adhere to that oath. submitted by Jim Cortina, Dir. CPWDA
---
In Loving Memory of
K9 MORGAN
August 20, 2012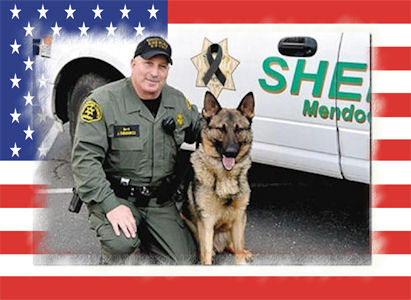 Handler: Deputy Joey DeMarco
Mendocino County Sheriff's Office
125 E Commercial St #200
Willits, CA 95490

K-9 Deputy Morgan dies during training accident
Police dog "Morgan" died last month at a Northern California training facility during an exercise designed to train the dog to sniff out narcotics, the Mendocino County Sheriff's Office announced Tuesday.
It was believed the dog died from accidentally eating methamphetamine after his teeth punctured a training tool containing the drug, according to MCSO spokesman Capt. Kurt Smallcomb. "He had lots of promise," Smallcomb said. The dog was in his first week of a three-week training course when he showed signs of distress during the Aug. 20 training exercise, according to the MCSO. Morgan died in the time it took his handler, deputy Joey DeMarco, to describe the dog's symptoms to a veterinarian.
Morgan, a 15-month-old German shepherd imported from the Czech Republic, started service with the department Feb. 12. He had lived with DeMarco and his family for about three months, according to Smallcomb. "Morgan was not only a part of the MCSO family, but a treasured member of the DeMarco family as well," a Tuesday press release from the MCSO stated. "Deputy DeMarco is coping with the loss given how fast he bonded with his K-9 partner." Morgan was being trained for patrol work and to sniff out methamphetamine, heroin, marijuana, cocaine and MDMA. He was the first MCSO police dog to die in either training accident or field work since the department's K-9 program began in 1988, according to the MCSO.
"Deputy DeMarco is one of the most experienced K-9 handlers in the department," the MCSO press release stated. Smallcomb said DeMarco has been a handler for more than 15 years and has been involved in the department's K-9 unit almost since its inception. "The training methods used had been in place for over 25 years without incident," the MCSO stated. Sheriff Tom Allman ordered a review of the department's K-9 training protocols and "is committed to ensuring the safety of our service dogs," according to the release, which went on to say, "Morgan will be remembered as courageous, loving and loyal." The department is in negotiations with its K-9 program vendor in an effort to replace the dog, according to Smallcomb. submitted by Jim Cortina, Dir. CPWDA
---
In Loving Memory of
K9 MAGNUM
August 20, 2012

Handler: Officer Matt Jarrett
Anderson Police Department
1040 Main St.
Anderson, Indiana 46016
ph: 765 648.670 (& skype)
Anderson police dog dies after shooting
The Anderson Police Department confirmed that Magnum died Monday morning.
The Anderson Police Department has lost its second K-9 officer in as many months.The public information officer for the Anderson Police Department confirmed Monday morning that Magnum has passed away.
The K-9 officer was shot Saturday while tracking down a robbery suspect. His handler, Officer Matt Jarrett, said Magnum was shot in the left eye and ear. The dog underwent surgery at noon Saturday, and Jarrett was hopeful his partner would recover.
The Anderson Police Department said Magnum had to be put to sleep and passed away Monday morning. An Anderson firefighter told Fox59 that the department has been asked to lower flags to half staff in Magnum's honor.
Another Anderson K-9 officer, Kilo, died in July after being hit during a shoot-out in Pendleton.
submitted by Jim Cortina, Dir. CPWDA
---
In Loving Memory of
K9 MAX
June 25, 2012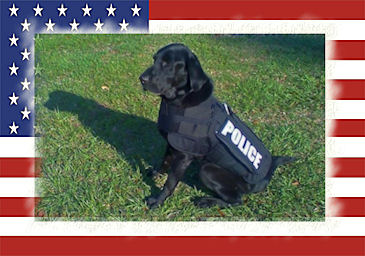 Handler: Cpl Donald Babbin
Brunswick Police Department
206 Mansfield Street
Brunswick, GA 31520
Ph: 267.5559 Fax: 267.5526
info@brunswickpolice.org
WEBSITE - http://brunswickpolice.org/
Brunswick Police K9 officer dies
The members of the Brunswick Police Department announced Friday that K-9 Officer Max has passed away from kidney failure. Officer Max began working with the department on February 2005 and maintained a 99 percent canine proficiency score throughout his service. Over that time he worked with the narcotics team, school police and the College of Coastal Georgia. As a canine officer, Max was certified in detecting illegal drug substances, and over his career he was responsible for having several automobiles seized, as well as over 100 pounds of marijuana, over 90 pounds of cocaine and over 200 ecstasy pills. Max also located two missing children. At 10 a.m. Tuesday, the members of the Brunswick Police Department will hold a memorial service for Officer Max. This service is open to the public and will take place at the Brunswick Police headquarters, 206 Mansfield Street.
submitted by Jim Cortina, Dir. CPWDA & Paige Browning <pbrowning@brunswickpolice.org>
---
In Loving Memory of
K9 MARCO
May 14, 2012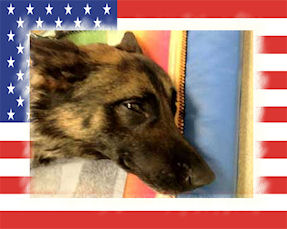 Handler: Edward J. Renfer
Las Vegas Police Department
A Las Vegas police dog that was shot by an officer last week has died, according to a Facebook group tracking the dog's progress. Marco, a 2-year-old Belgian Malinois police dog, was shot May 14 after he mistakenly bit officer Michael R. Foster, 28, as police were chasing a man through the backyards of homes near Alta Drive and Jones Boulevard, police said. The Facebook group "Friends of the Las Vegas Police K9s" posted the news on the site about 6 a.m. "It is with a heavy heart that we share with you the news of Marco's passing. Our heart goes out to his partner," group administrators wrote. "He was our little Hero but his Legacy will go on!" Marco latched onto Foster's arm and would not let go until the dog's handler called him, police said. Foster's partner, Edward J. Renfer, 28, shot Marco once after the dog appeared to be coming back toward Foster.
Contact reporter Mike Blasky at mblasky@reviewjournal.com or 702-383-0283.
RSSBy MIKE BLASKY LAS VEGAS REVIEW-JOURNAL

UPDATE:
The Las Vegas Metro police K-9 who was shot by an officer during a foot pursuit has died. Marco, a 2-year-old Belgian Malinois, was euthanized Tuesday night after "all attempts to restore neurological function failed," according to a statement. He was surrounded by his family and several officers, including his handler, Officer Jeffrey Corbett. A private memorial service will be held for Marco, police said. The animal was shot by Officer Edward Renfer after he became confused and bit Officer Michael Foster during a May 14 foot chase in a west Las Vegas neighborhood.
Marco suffered spinal cord damage in the shooting and he was unable to move both his front and back legs. The Facebook page "Friends of the Las Vegas Police K9's" first reported Marco's passing Wednesday morning. "It is with a heavy heart that we share with you the news of Marco's passing," a status update said. "Our heart goes out to his partner and all the [officers of] the Las Vegas Police K9 Unit. He was our little Hero but his Legacy will go on! "Marco joined the police department in January and was assigned to patrol duty in April.
submitted by Jim Cortina, Dir. CPWDA
---
In Loving Memory of
K9 MAGGIE MAY
May 2, 2012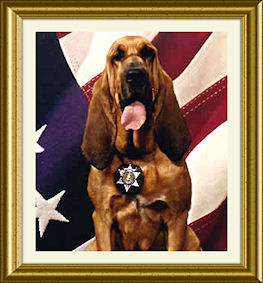 Handler: Lt. Coby Webb
Riverside County Sheriff's Department
4095 Lemon Street
Riverside, CA 92501
WEBSITE - http://www.riversidesheriff.org/
High Decorated California Police Bloodhound Died
K9 Maggie Mae, an award-winning bloodhound that worked on some of the most notable cases in Southern California, and whose tracking abilities were recounted in magazines and television, has died. Maggie Mae, the first bloodhound hired by the Riverside County Sheriff's Department, was taken on her bed to a veterinary hospital by a team of sheriff's K-9 handlers after she couldn't get up on her own the morning of May 2, her partner Lt. Coby Webb said by phone. She was 14. "She was my best friend and partner," Webb said. "She taught me a lot about life. She was very devoted. She never gave up on a track."
Starting with the first one, Webb said. Not long after Maggie and Webb joined the Sheriff's Department as volunteers in 1999, they were assigned to help find a lost hiker near the top of the tram on Mount San Jacinto. Maggie Mae was the first to find the hiker safe. "When that first one she found alive, I said she was paid for in my eyes," Webb said. From that point, every time Maggie Mae found a missing child or a suspect on the run, Webb took her to Pet Smart to pick out a new toy. And she quickly collected lots of toys, Webb said.
Maggie Mae worked hundreds of cases, including the kidnappings of Samantha Runnion and Danielle Van Dam, who was found in 2002 in a remote area of San Diego County, Webb said. In the search for Samantha, who was murdered by a Lake Elsinore man in 2002, Maggie Mae ran almost 25 miles in one day in the Cleveland National Forest between Orange County and Lake Elsinore. Maggie Mae was featured in Dog Fancy magazine and on an episode of the Discovery Channel TV show "Animal Planet."
She led the way in the sheriff's full time bloodhound unit, which recently received the Sheriff Department's Medal of Valor. The dog received several awards and accolades, such as Officer of the Year in Moreno Valley, the Distinguished Service Medal, the American Kennel Club's top tracking police dog two years in a row, and the Hero's Award, a sheriff's news release stated. Maggie traveled across the country and was in the top Advanced Tracking Dog group with the National Police Bloodhound Association.
She was instrumental in starting numerous law enforcement bloodhound programs, including in the Los Angeles Police Department and the Singapore Police Force, the release stated. When she retired in 2010, Maggie Mae was honored by the California Police Officer's Association for her work. Even in retirement she stayed busy, serving as an unofficial nanny to Webb's twins up until her death. "I didn't really realize the impact (her death) would have on my kids," Webb said softly. "I'm happy that so many recognized her. She was really more than a partner."
submitted by Jim Cortina, Dir. CPWDA
---
In Loving Memory of
K9 MAC
May 7, 2012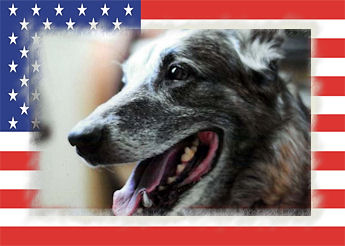 K9 Mac is on the left
Handler: Deputy Randy Morton
Licking County Sheriff's Office
155 E Main St.
Newark, Ohio 43055
Retired Licking County Sheriff's Office dog leaves legacy for son
Early Monday, Belgian Malinois Junior placed both paws on his father, Mac, licked his face and watched as the more than 11-year veteran of the Licking County Sheriff's Office peacefully closed his eyes. Mac, who retired from the sheriff's office Nov. 1, died of complications from an unstable heat rate and breathing problems, partner Deputy Randy Morton said. The canine officer was 14 years old. Morton, his wife, Shelly, their daughters, Megan and Mindy, and Junior took Mac to the veterinarian Sunday to say their goodbyes.
The family is planning a memorial service and has received condolences from people across the United States, including Florida canine handlers and Licking County Boy Scouts. "It's been a tough time," Morton said. "In time, it will get better." Morton met Mac in 1999 after the dog arrived from Belgium. During Mac's career, he apprehended 104 criminals, including one murderer, assisted in 574 calls, performed 415 narcotic searches and located more than $300,000 in drug money.
He was part of a team that placed third in a United States Police Canine Association competition. "It's a tool that never quits," Morton said. "They go in places where nobody else wants to go." Morton recalled one instance when Mac stopped a man who initially was intent on escaping or being shot after beating a West Main Street bar employee. "Mac came out and there was no deadly force, no one injured," Morton said.
submitted by Jim Cortina, Dir. CPWDA

---
In Loving Memory of
K9 MAX
February 2012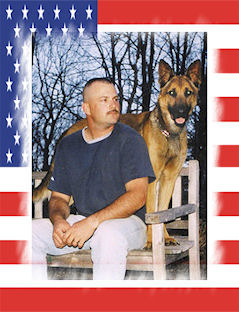 Handler: Sgt. Thomas Young
Berkeley County Sheriff's Office
West, VA
WINCHESTER -- "Putting your first work dog down -- that's like losing a child."
Sgt. Thomas Young of the Berkeley County (W.Va.) Sheriff's Office still gets teary-eyed thinking about his German shepherd named Sultan, who was put down in December because he had fluid around his lungs and heart. Sultan retired from the K9 unit of the Sheriff's Office almost exactly a year earlier, but he was with Young until the day he died, just like Max stayed by the side of his handler, Deputy Jonathan Pyles of the Frederick County Sheriff's Office, until he died in January. "I know what [Pyles] is going through," Young said Wednesday after a nonprofit organization that helps local law enforcement officers -- the West Virginia chapter of the Defenders Law Enforcement Motorcycle Club -- surprised Young with a plaque displaying black-and-white pictures of him and Max, a Belgian Malinois.
Max was almost 11 when he died, according to Pyles. "A good police dog is indispensable in my mind," said Sheriff Robert T. "Bob" Williamson of the Frederick County Sheriff's Department. "Max was one of the better, if not the best, dogs we ever had." Max was with Pyles nearly 24 hours of every day and often accompanied him for the entirety of his shifts, even if he wasn't needed for every call, according to Williamson. Pyles, a certified police dog handler, shipped Max over from Holland and trained him himself. He was one of four canines on the unit, but after the dogs started retiring, the county couldn't afford to replace them. One police dog can cost $6,500 or more, which is exactly how much an undisclosed local businessman paid for a new canine, which he has donated to the Frederick County Sheriff's Office, Williamson said. In fact, the local benefactor bought two -- Dax, a 3-year-old German Shepherd, and Saro, a 16-month-old Dutch shepherd and Belgian Malinois mix. Dax came from a police department in Pennsylvania that recently cut its K9 unit after budget restraints. The local businessman bought the dog for $1,000, but that police department had paid $8,000 for him, Pyles said. Pyles, along with Deputy Jason Walthen, are in their second week of training the dogs, a process that could last six to 13 weeks, according to Pyles. Williamson plans to hold a press conference soon to reveal the name of the benefactor. Pyles wholeheartedly agrees that putting down Max was like losing a family member. "At least," he said. "Maybe a little bit more. ... They're with you 24 hours a day, and when they're gone, it's definitely a lifestyle change. "It's part of their equipment that they take to work on a daily basis, only it has a personality and it's living and breathing," Williamson said. "I would venture to guess that Jonathan probably felt as good having Max as a backup than any guy who could provide him, maybe better."

submitted by Jim Cortina, Dir. CPWDA - By Candace Sipos -- csipos@nvdaily.com
---
In Loving Memory of
K9 MAX
January 20, 2012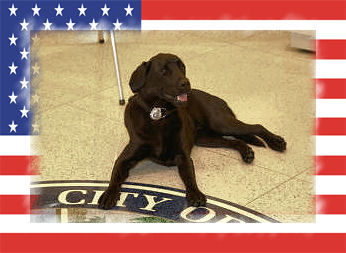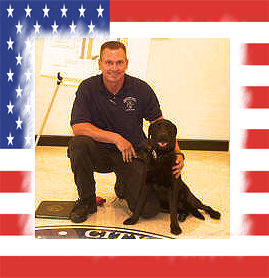 Orlando Fire Department
400 S Orange Ave, #7
Orlando, FL 32801
(407) 246-2390
website: http://www.cityoforlando.net/fire/index.htm
Orlando's First Arson Dog Dies
One of Orlando's most important dogs died Friday Jan. 20. Mayor Buddy Dyer was at a memorial ceremony Wednesday to honor the passing of Maxine, the Orlando Fire Department's first arson dog. Maxine, known as Max, passed away after a battle with cancer. Max served with the Orlando Fire Department for more than 11 years, retiring last year at nearly 13 years of age. Max was considered one of the best arson dogs in the country, having worked more than 400 fires with a success rate of 97 percent for locating evidence of accelerants. She also worked for OFD by fulfilling countless public service requests and participating in demonstrations and educational presentations for citizens throughout Central Florida. After the tribute ceremony, Max was laid to rest with her Police K-9 counterparts at the Primrose Center.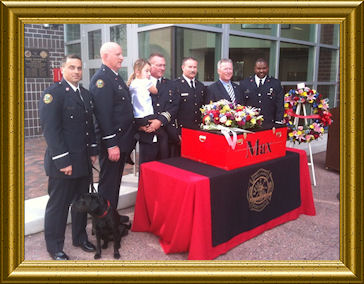 MORE:
Max, Orlando's first arson accelerant dog, is laid to rest.
January 25th, 2012
Michael Freeman
---
In Loving Memory of
K9 MIKE
January 5, 2012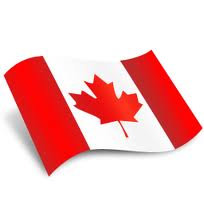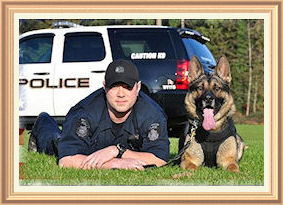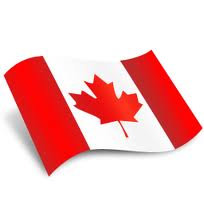 Handler: Staff Sergeant Jeff Young
West Vancouver Police Department
1330 Marine Drive
West Vancouver, BC V7T 1B5
Phone: 604 925.7300 Fax: 604-925-5938 Toll Free USA: 1 (877) 399-9898
WEBSITE - http://wvpd.ca/
Veteran West Vancouver police dog dies
The West Vancouver Police Department has lost a member of its canine team. Police service dog "Mike," a three-year member of the force, died after some training yesterday afternoon. "He had him out for a walk in the park next to the police station, and he walked him over to the police underground... and they got into the underground and mike stopped walking and just kind of stood there looking at him, and then he just collapsed." Staff Sergeant Jeff Young says "mike" had been a part of over 75 investigations.
submitted by Jim Cortina, Dir. CPWDA
M O R E:::::::::::::::::::::::::::
Tragic loss for the West Vancouver Police
In August 2008, after a lengthy and exhaustive search, the West Vancouver Police selected the best candidate for the position of Police Service Dog. PSD 'Mike', born in Germany on November 29, 2006, was the successful candidate in the selection process and was subsequently assigned to be partnered with Cst. Jeff Wood. The Ambleside Tiddlycove Lions Club played an instrumental role by purchasing PSD "Mike", a gesture truly appreciated by the WVPD. Cst. Wood and PSD 'Mike' received formal training with the Vancouver Police Dog Squad and graduated from the program in December of 2008. They were immediately deployed into active service as the West Vancouver Police Department's newest dog team. PSD 'Mike' and Cst. Wood played an instrumental role while serving the District of West Vancouver; the team has attended many schools and public events demonstrating Police Service Dog skills. PSD 'Mike' participated in over 75 investigations and committed to hundreds of hours of Police Dog training, including qualifying as a narcotics detection dog. Recently PSD 'Mike' tracked down two suspects after they had committed a theft at a local business. Tragically, on January 5, 2012, PSD 'Mike' collapsed after a training exercise at the WVPD. He was rushed to the emergency hospital by Cst. Wood and Cst. Tyler Burchynsky, however PSD 'Mike' showed no signs of life while a veterinarian and paramedics attempted to revive him.
The cause of death is not known at this time, however the preliminary veterinarian opinion
suggests that PSD 'Mike' may have died as a result of a heart attack.

---
In Loving Memory of
K9 MARCO
January 3, 2012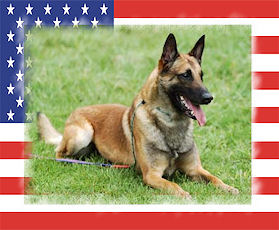 Handler: Officer Terrance Fawcett
Millville Police Department
18 S. High St.
Millville, NJ
photo is generic .... waiting for real photo of Marco
Wednesday, January 4, 2012
---
A moment of silence for Marco
One of Millville, NJ - PD's retired K-9's passed.
Detective Lt. Les Watson reported the passing of Marco, a Belgium Malinois, on Tuesday.
"Imported from Holland, retired police K9 Marco. . . joined the Millville police department in 2001 and was assigned to officer Terrance Fawcett, as his K9 handler," said Watson.

He also noted that Marco had an extensive education in law enforcement.

"K9 Marco graduated from the NJ Police Canine Association Academy in 2001 where he obtained his certification in patrol work. Later that year, K9 Marco graduated the NJ State Police Canine Academy and was certified in narcotic work."

Watson said Marco worked for six years, and then retired in 2007 to live with Fawcett and his family.

"K9 Marco is credited with countless criminal apprehensions and narcotic seizures during his career," concluded Watson.
Posted by Carl B. Johnson at 8:17 AM

WEBSITE - http://millvillepolicenj.org/
Former Millville, NJ K9 Marco passes away
The police department announced that a retired police canine has passed on to that big dog park in the sky. Detective Lt. Les Watson reported the passing of Marco, a Belgium Malinois, on Tuesday. "Imported from Holland, retired police K9 Marco. . . joined the Millville police department in 2001 and was assigned to officer Terrance Fawcett, as his K9 handler," said Watson. He also noted that Marco had an extensive education in law enforcement. "K9 Marco graduated from the NJ Police Canine Association Academy in 2001 where he obtained his certification in patrol work. Later that year, K9 Marco graduated the NJ State Police Canine Academy and was certified in narcotic work." Watson said Marco worked for six years, and then retired in 2007 to live with Fawcett and his family. "K9 Marco is credited with countless criminal apprehensions and narcotic seizures during his career," concluded Watson. There was no mention of Marco's age or funeral plans. submitted by Jim Cortina, Dir. CPWDA