In Loving Memory of
K9 LOLA
BORN 11/1/00 - DIED 5/11/12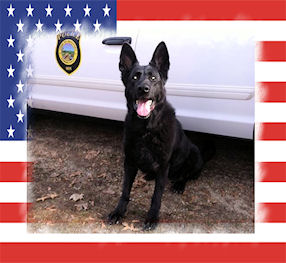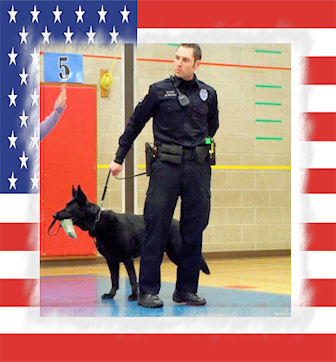 Handlers:
1ST OFC. FOTI KOSKINAS
2ND OFC. MARC HEINMILLER
WESTPORT POLICE DEPARTMENT
50 JESUP ROAD
WESTPORT, CT 06880
Lola was an all-black German Shepherd, and is trained in patrol work, tracking, and narcotic detection. After 10 years of
service, and over 1,000 arrests to her credit. Lola first joined the police department in 2002 and was handled by then
Officer Foti Koskinas until his promotion in 2007. Officer Marc Heinmiller then took over the responsibilities as handler
and caretaker of Lola until her retirement in January 2012. Lola leaves behind a legacy that includes:
numerous drug seizures, criminal apprehensions, the finding of the lost or missing, and the relationships
she has made with many of the youth in town who have attended one of her many public demonstrations.
Some highlights of her career include:
- In 2003, Lola assisted the Fairfield Police department in locating a suicidal male in the area of Lake Mohegan.
Lola started the search from the man's vehicle and tracked to his location along the edge of the lake.
- A year later, Lola located a burglary suspect who had broken the windows to a residence, and fled on foot.
He was located by Lola hiding in the back seat of an unlocked vehicle several streets away.
- Tens of Thousands of dollars in cash seizures and several vehicles seized in association with narcotic enforcement.
Recently, $3,200 was seized assisting the Connecticut State Police in a drug search on a motor vehicle stop.
- Recently her services were requested by the Wilton Police Department after a suspect with a felony warrant
ran from officers. A track done by Lola led officers to a wooded area. Lola alerted on the area and began barking.
The suspect stood up several feet from the officers and gave up with without any aggression,
or combative behavior towards officers.
Often, Lola's mere presence was enough to cause the most violent offender to become passive and submit to officers without violence. Conversely, Lola's presence in front of the 5th grade students of the department's DARE (Drug Abuse Resistance Education) program elicited smiles and curiosity. Lola would demonstrate for the kids how she would search for drugs, and show how well trained she is at obedience.
Lola lived out her days enjoying Officer Marc Heinmiller's home, and her family there.

submitted by Jim Cortina, Dir. CPWDA

---
In Loving Memory of
K9 LUCY
October 10, 2012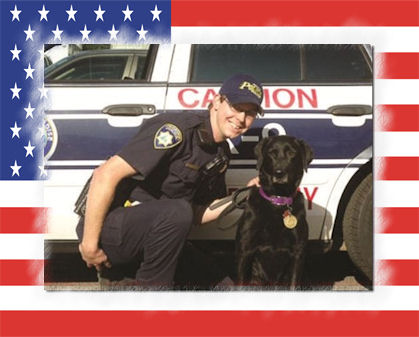 Handler: Officer Robert Wright
Paradise Police Department
5595 Black Olive Drive
Paradise, CA
Paradise Police Officer is shown with Lucy, a black Lab drug-sniffing dog that died due to a cancerous tumor in her heart.
Lucy had been with the department since 2006 and was purchased through donations from the community.

A six-year veteran of the Paradise Police Department has died due to cancer. Lucy, the department's drug-sniffing K9,
had been with the department since November 2006 and saw duty while assigned to the
Butte Interagency Narcotics Task Force. The black Lab appeared to be in good health,
but was taken to an emergency veterinarian a couple of weeks ago when she began showing signs of
distress, according to the department. Lucy was diagnosed with a terminal cancerous tumor in her
heart and the decision was made to euthanize her to end her suffering.
He said Lucy was certified in identifying methamphetamine, cocaine, heroin and marijuana. Her handler,
Officer Robert Wright will go back to patrol, Rowe said. "We do have a desire to get a new dog,
but we don't have the funding or staff to train or purchase a new dog," Rowe said. He said a new
dog costs about $5,000, but that doesn't include training with a handler. Rowe said there is not
enough overtime in the budget to fill an officer's position while the officer is away training with
a new K9 unit. The K9 units are purchased entirely through donations from businesses and citizens.
Lucy was the first PPD K9 dog to die while still in service, leaving the department with only one K9 unit.
Lucy was 10 years old. submitted by Jim Cortina, Dir. CPWDA
---
In Loving Memory of
K9 LOUIE
August 10, 2012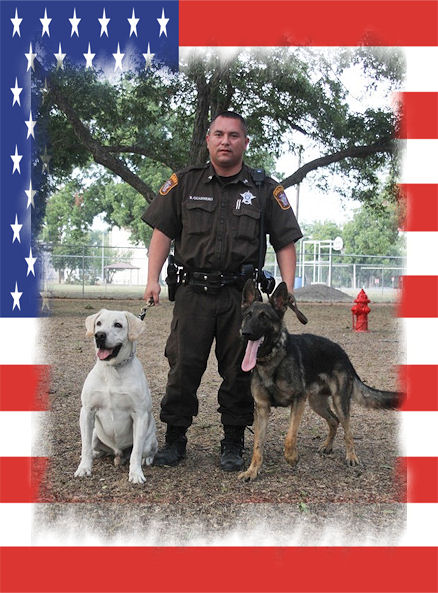 Handler: Deputy Rudy Guarnereo
Guadalupe County Sheriff's Office
2617 North Guadalupe Street
Seguin, TX 78155
(830) 379-1224 begin_of_the_skype_highlighting
FREE (830) 379-1224 end_of_the_skype_highlighting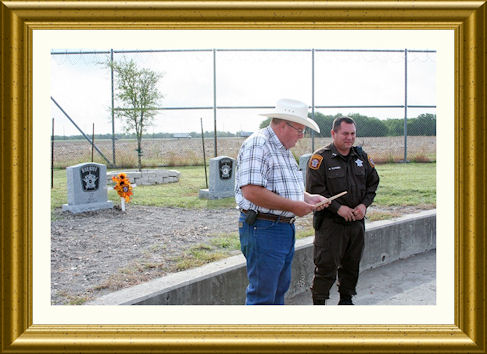 Guadalupe County Sheriff's K-9 Deputy Rudy Guarnero poses with his old partner Louie (left)
and new partner Tom at the Seguin Dog Park on Tuesday.

Louie was born to fight crime. With an athletic build, a gregarious personality and a nose for trouble, he also fell victim to a classic cop cliche.
"I was taking him around and introducing him. When we went into dispatch, he jumped into the trash, grabbed a half-eaten doughnut and ate it," recalled Louie's partner, Deputy Rudy Guarnero, a K-9 officer with the Guadalupe County Sheriff's Office. "From that day, I knew he'd be a good police dog."

K-9 Louie, age 11, died Aug. 10 after being diagnosed with extensive kidney failure. He was laid to rest behind the sheriff's office, alongside other K-9s who served the county well.The yellow Labrador had retired from service nearly a year ago and made his home with Guarnero. He developed health problems in his last days, and when it was determined that Louie's kidney failure was terminal, Guarnero made the difficult decision to have him put down.
"I am just glad he didn't have to suffer and that he didn't have to be in more pain," Guarnero said solemnly. The sheriff's office held a memorial service for Louie on Friday. His law enforcement family — both human and canine — gathered to say goodbye at his grave next to K-9s Sir and Guido. As Sheriff Arnold Zwicke said a few words about the departed narcotics search dog, the crowd was filled with tearful sniffs and the occasional K-9 whine. "Louie was known as the most mischievous, and he was one of the most highly-recognized K-9s in the Guadalupe County Sheriff's Office," Zwicke said. The sheriff also thanked Dr. Scott Bugai and Dr. Bill Campaigne for caring for Louie, as well as James and Laurie Deathrage at Carter Memorials for, again, donating a headstone for one of the force's K-9s.
Like the other K-9 markers, Louie's stone will feature a photo of the happy-go-lucky lab, once completed. Louie, who came to Guadalupe County in 2004 at the age of 3, made quite the impression during his career. He competed in a National Narcotics Detector Dog Association event, detecting marijuana and cocaine planted as part of the competition. In 2007 he placed fifth and the following year he took first place. He was also a champion on the beat, uncovering thousands of dollars in drugs hidden in homes and vehicles. "There are many stories we could tell about Rudy and Louie," Zwicke said. "Throwing him his Kong with Louie swallowing it whole, requiring surgery to have it removed from his stomach only to qualify the next day; chewing up the TV remote in the motel; The 50 pounds of cocaine he found on a traffic stop; the numerous searches; the request for Rudy and Louie by the DEA and many other agencies; we could go on and on about the partnership those two had together."
Guarnero admitted that Louie, at first, didn't appear to be the kind of dog he wanted. "I was disappointed at first because I was expecting a German shepherd," he said. However, the two became inseparable over the years, sharing a love for crime fighting and hot wings. Once, during a competition, Guarnero left Louie in a hotel room for a short time. He returned to find that Louie had raided leftover wings that Guarnero left behind. "I came back and found wings scattered all over the bed," he recalled with a laugh. "Louie was asleep on the bed with his head on the pillow and a wing still in his mouth." When Louie retired last year, Guarnero was given a new working K-9, German shepherd Tom. Though no longer an active K-9, Louie was quick to help show the rookie the ropes.
"When I would discipline the new dog, Louie would growl and bark at him," Rudy said. "It was like he was helping." Guadalupe County Sheriff's Administrative Assistant Dawn Caddell, who read a poem for Guarnero and Louie at the service, said that the happy-go-lucky K-9 will be missed by all who knew him. "He was like part of the family around here," she said. Guadalupe County has four K-9 officers, and Zwicke said he considers them a crucial tool for law enforcement. But added that the dogs are also truly part of the team. The K-9 officers spend countless hours training with and working side-by-side with dogs, making them close partners. "We didn't have the luxury of K-9s when I was out on patrol. I consider them a necessary tool," he said. "Louie was like one of the officers."

submitted by Jim Cortina, Dir. CPWDA
---
In Loving Memory of
K9 LAK
June 28, 2012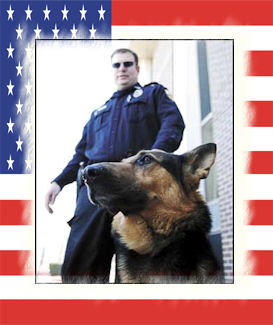 Handler: Officer Joe Bauer
Fremont Police Dept
Nebraska
Former police canine dies
Lak had an important job at the Fremont Police Department. As a K-9, Lak (pronounced "Luck") was involved in various investigations before he was decommissioned due to age in 2009. The dog, who'd since become a pet of Officer Joe Bauer, died Thursday morning. Lak was about 10 years old."He was a good dog," said Interim Chief Jeff Elliott. "Lak served with distinction and was involved in some good arrests. We were very glad to have him while he was here."
Fremont's first police dog, Andy, served the city from May 1997 to October 2001, when he was medically discharged with a bone disease. That dog was about 9 years old when he died in March 2004. Lak served from February 2002 to December 2009. "He served longer than most K-9s do in that capacity," Elliott said. Bauer was Lak's first handler. Former officer Todd Sabata was the animal's second handler. Bauer cared for the dog until its death. Elliott said Lak had been sick for some time and had stopped taking food and water. The animal was euthanized. The police department doesn't have a K-9 at this time. "We'd like to start the program up again when funding allows," Elliott said.
submitted by Jim Cortina, Dir. CPWDA
---
In Loving Memory of
MWD K-9 LEX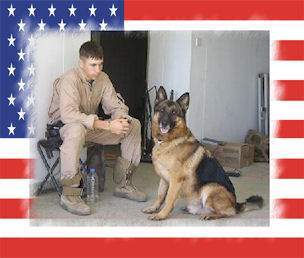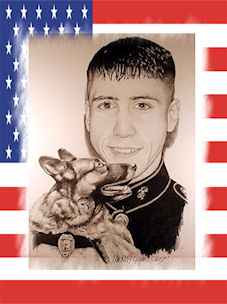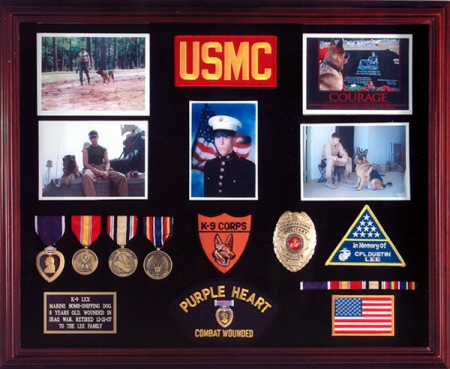 March 26, 2012
Handler: Corporal Rachel Lee
ragirl03@yahoo.com
I wanted to let you all know that today, 3 PM this afternoon our time, Corporal Lee's family is saying good bye to Lex, Dustin's beautiful K-9 who went on to survive and help the Lee family and many, many Veterans in veteran hospitals cope with their loss. His journey was two tours overseas, the ultimate battle that took Dustin's life in Fallujah, where he lay upon his soldier until help came.
He then came home to be in a hospital for months, coping with his wounds from the roadside blast that took Dustin's life. Rachel Lee, Dustin's mom, fought the battle and won to have Lex retire with the Lee family. Rachel and Lex have been working tirelessly to make the retired Military Working Dog world easier and more helpful for medical needs and the adoption process, and also their admirable work with wounded veterans.
Lex is a world symbol of the bond between animal and human, and shows us all how deep it can run.
If you take a moment at 3 pm today say a quick prayer for Lex and the Lee family. It is a hard parting but we are all envisioning Lex running through heaven, free of pain, to his Soldier Dustin who is waiting with open arms!

If any of you would like to send a note of encouragement and strength to Rachel her email address is: ragirl03@yahoo.com
She is asking that nothing be posted on Facebook - she will do that herself.
I'm sure a short note to show support in this time for her would be appreciated. It is a tough call for her; letting Lex go, the last link to her son.
I'm so glad I got to meet Lex, a National Hero, as I am sure those of you who met him also feel. He is a beautiful, majestic being. He'll always be a Hero in my mind. Vaya Con Dios, Lex. (Go With God) Thank you for your service to our country.
submitted by Lulu & Laurie Coffin <wndymeadows@roadrunner.com> and Jim Cortina, Dir CPWDA
---
In Loving Memory of
K9 LEROY
September 9, 2003 - January 9, 2012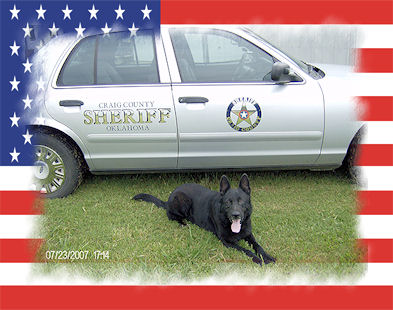 Handler: Travis Fleming
Craig County Sheriff's Office
210 West Delaware Suite 101
Vinita, Oklahoma 74301
(918)256-6466 (918)256-6466
E-mail the Sheriff's Office
County: Craig
The Craig County Sheriff's Office lost a hard-working deputy today. It is hard to explain how difficult this is, especially for his handler, Travis Fleming. K9 Leroy was born on September 9, 2003 in the Netherlands. K9 Leroy met his handler in May of 2007 at which they began working the rural county roads together in December of 2007. K9 Leroy protected and served the citizens of Craig County seizing multiple pounds of illegal drugs, tracking missing persons, and providing his handler with protection. In September of 2010, on a stormy day, K9 Leroy was "loading up" in the back of his patrol car when he slipped and fell out of the car. During the following months, and many vet appointments later, K9 Leroy was retired because of a compression in his spinal cord. Over the next year, K9 Leroy spent his life loving his family and his retired life. In the recent month however, K9 Leroy's injuries worsened. He was euthanized on January 9, 2012 at the hard decision of his handler and family.
Writing this, I cannot explain how blessed it was to be in K9 Leroy's life. The bond that his handler and K9 Leroy had will never be understood except by another K9 handler. He served Craig County well and may he watch over all who serves and protects the United States in pursuit of the "criminal element". With love and condolences from many fellow officers, family members, and friends. ~ Tricia Fleming, The Wife of K9 Handler and Deputy, Travis Fleming
submitted by: Tricia Fleming & Handler Depute Travis Fleming
EMT-Intermediate/ EMT - T
CPR and First Aid Instructor
EMS Instructor
Firefighter

BEST OF ALL....MOM!
---
---