In Loving Memory of
K9 KANTOR
July 27,2012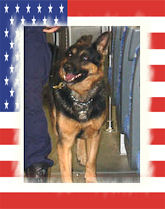 Handler: Sgt. John R.Gates
Regional Transit Authority
Ohio
K9 cop dies - 8/14/12
The RTA Police force has lost K-9 team member Kantor, one of RTA's original K-9s. Sgt. John Gates was his handler.
Kantor was not only Sgt. Gates' canine partner, but part of his family for the last 8 years.
Kantor passed away from complications from cancer. There will be a memorial ceremony Tuesday at 10 a.m.
for Kantor. Kantor was one of our original K-9s and was very good at his job.
He worked with Sgt. John Gates in explosive detection, as well as patrol of the system,
and also had the ability to do human tracking and apprehension.
Here are some other facts about Kantor and his role with the force:
Sgt. Gates/K-9 Kantor are one of seven teams; each includes an officer (handler) and K-9 (canine)
Explosive Detection on trains, buses, all RTA property
Assist Visible Intermodal Prevention and Response (VIPR) Team
Assist Anti-Terrorism Team
Regularly asked to assist neighboring communities that don't have dedicated explosive detection teams
Dogs live with their handlers; are part of their families
RTA maintains an on-call schedule for around-the-clock incident response
RTA extends condolences to Sgt. John Gates and his family for their loss and other K-9 teams
around the region will be there to support him as well.
+++++++++++++
MORE: (another version)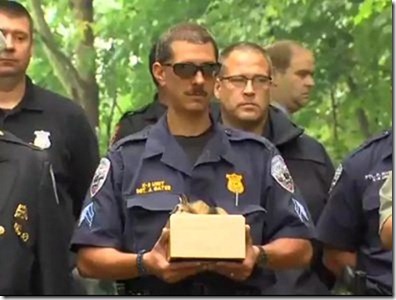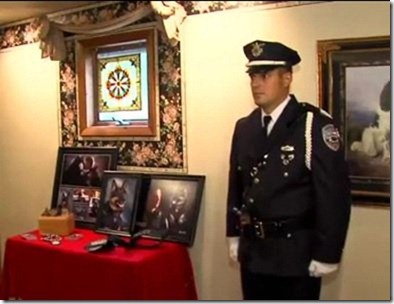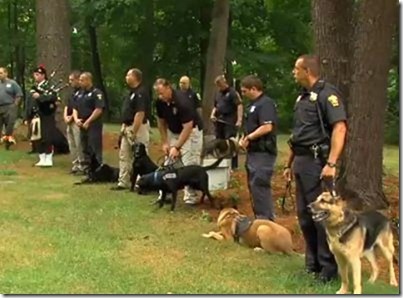 The RTA lost one of its original transit police dogs, and held a memorial service for the fallen K9 Tuesday morning.
Kantor died from cancer complications. His handler, Sgt. John Gates, and many others, turned out to honor
the dog at the Paws Awhile Pet Memorial Park on Brush Road in Richfield. Sgt. Gates worked with
Kantor in patrols, human tracking and apprehension on detection on trains, buses and RTA property.
But Kantor's specialty was explosives detection on the anti-terrorism team. RTA K9 handlers take
their dog partners into their homes, so the loss is especially great for Sgt. Gates because Kantor
was part of his family. The service included visitation, bagpipes, and remembrances when Kantor
was featured with his team members on the cover of "K9 Magazine." At certain times during
the service, other K9s seemed saddened, and could be heard whining. Kantor worked with
the RTA police department for eight years.
submitted by Jim Cortina, Dir. CPWDA
---
In Loving Memory of
K9 KILO
July 26, 2012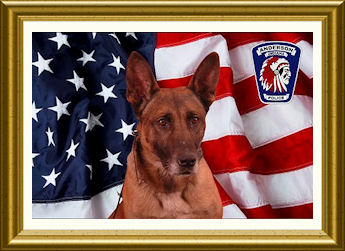 Handler: Officer Marty Dulworth
Anderson Police Department
120 E. 8th St.
Anderson, IN 46016

The Anderson Police Department is mourning the loss of it's K-9 officer. Police say Kilo gave his life defending his
Anderson Police Department handler, Officer Marty Dulworth, in a Thursday night shootout with an armed
suspect in Pendleton. Dulworth was wounded in both legs. His wounds were not life threatening,
but he underwent surgery at an Indianapolis hospital.
Officer Dulworth and Kilo have been partners since 2010. During their time together, the duo has been responsible
for several drug arrests and has participated and earned awards during K-9 Olympics.
Kilo is the first Anderson Police Department K-9 to have died in the line of duty.
Submitted by Jim Cortina, Dir CPWDA and Gary R. Klett
---
In Loving Memory of
K9 KAI
July 25, 2012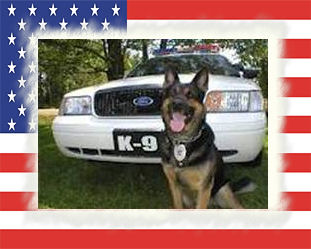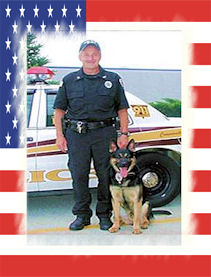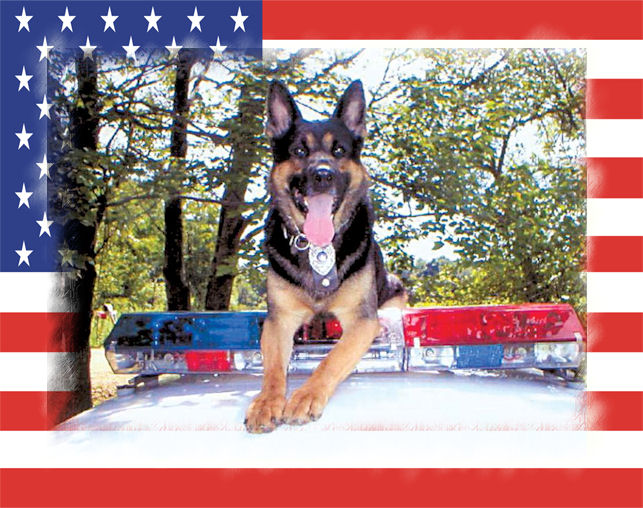 Handler: Officer Clarence "Pete" Peterson
Titusville Police Department
Titusville, PA
WEBSITE - http://www.titusville.com/sectionindex.asp?sectionid=7
Titusville K9 Officer Passes Away
Some sad news out of Titusville - the town's police department announced its K9 officer passed away Wednesday.
His name is Kai. He joined the department in March 2004 and was purchased through donations and the community's support. Kai helped an officer make numerous drug arrests and arrest several fugitives over his eight year career.
He was humanely euthanized after the sudden onset of illness.
A memorial service will be held. No specifics have been announced yet.
submitted by Jim Cortina, Dir. CPWDA
++++++++++++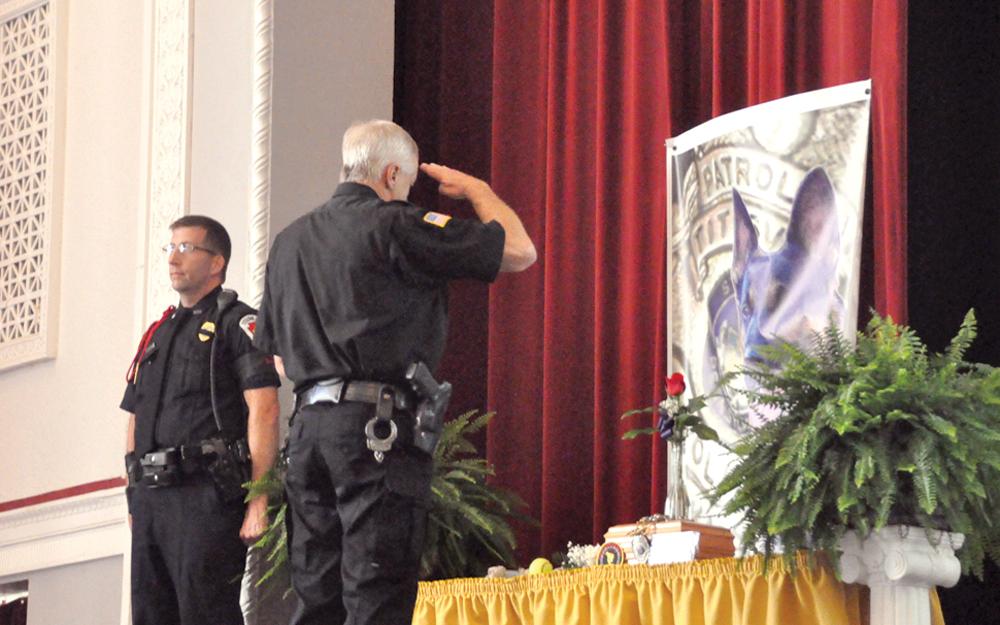 More about Kai:
'You did good, Kai'
City's crime-fighting canine put to rest
By Tom Boyle
Wednesday, July 25, 2012 11:55 PM EDT
news@titusvilleherald.com

One of the most well-known officers that ever served with Titusville's finest died early Wednesday, with
his partner at his side. According to the Titusville Police Department, K9 Kai was put to sleep Wednesday
around 1:30 a.m., after receiving emergency treatment in Titusville and Erie for a ruptured tumor.
Kai was euthanized at Northwest Pennsylvania Pet Emergency Center, in Erie, after being taken
there following emergency treatment at Titusville Veterinary Clinic. The police department released
a statement Wednesday saying that Kai's partner, Officer Clarence "Pete" Peterson, was with Kai
when he died.
Kai lived with Peterson at his home. Peterson was unavailable for comment on Wednesday.
Kai, a German Shepherd, was born on Dec. 21, 2002, in the former Czechoslovakia. He joined the Titusville
department in the spring of 2004. He was purchased from Faus K-9 Specialties, in Elkhart, Ind.,
"through the donations and support of the community," according to the statement.
In his eight and a half years of service to Titusville, Kai and Peterson had "numerous drug arrests, and also
assisted in locating and apprehending several fugitives," according to police officials.
News of Kai's death spread quickly Wednesday through social media, such as Facebook, where the police
department first made the announcement. Kai's sudden death hit the police department
hard and struck a chord in the community.
Dozens of people shared photos of Kai and posted condolences on the Internet.
Deanna Hodak posted on the department's Facebook page, "You did good, Kai;
thanks for keeping us safe for so long. Rest easy."
n a written condolence, Titusville Magisterial District Judge Amy Nicols said, "Thinking of Officer Peterson
and the entire Titusville Police Department. Kai's service will be greatly missed."
Police Chief Gary Thomas told The Herald, "He's just going to be missed. He has been part of the
department for the past eight
and a half years." Thomas explained that Kai had a tumor inside of him that had ruptured.
"Nobody knew [about the tumor]," Thomas said. "He had blood work done regularly. It's common for this type
of breed to have this kind of issue." Thomas described Kai as a goodwill ambassador for the community.
"Not everybody likes the police, but everyone seemed to like Kai," Thomas said. "He did his job well.
He worked 24-7."
The department credited the local veterinary clinic for its care of Kai ever since he joined the force
and in his time of emergency. "The Titusville Police Department would like to express its thanks to
Dr. Jon Walker and Dr. Tracy Brown, of the Titusville Veterinary
Clinic, who have provided care for Kai since he joined the department. The doctors at the local clinic
and Northwest Pennsylvania Pet Emergency Center provided the best care possible during this
unexpected emergency."
A memorial service will be held at a time and place to be determined.
When asked if the department would get another dog, Thomas said, "It's still up in the air.
This will be determined in the near future."
Kai cost $8,500, plus training expenses. The city, however, had to purchase a special vehicle for Kai,
so the price tag for the four-legged officer was around $29,000.
Much of that money was raised through donations.

---
In Loving Memory of
K9 KODA
July 7, 2012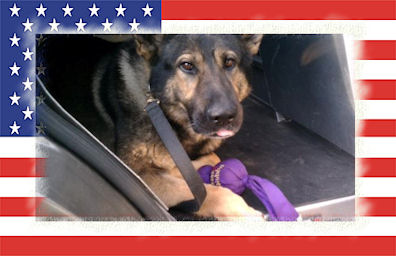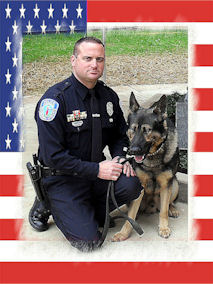 Handler: Officer Montague Agee
Richmond Police Department
301 So. Meadow St.
Richmond, VA 23220
804. 646-1412
begin_of_the_skype_highlighting
FREE (804) 646-1412 end_of_the_skype_highlighting

After 5 years of loyal service to The Richmond Police Department and the K9 Unit, K-9 Koda, a 6-year-old German Shepherd, has died. Koda began showing signs of distress and discomfort on Saturday and was taken to the emergency vet. After emergency treatment, Koda peacefully passed away after a terminal illness was discovered. K9 Koda had been assigned with his handler, K9 Officer Montague Agee since 2007. Officer Agee said K9 Koda possessed a great temperament, one that allowed the dog to be deployed with the Department SWAT team during incidents. Agee say his animal partner, Koda loved to work. He loved tracking and was excited about his job. He loved catching bad guys. There was nothing more important to him than to find something or catch that suspect and get his toy as a reward.
"His favorite toy was a purple octopus that squeaked. It's funny because he's supposed to be this "vicious" dog and yet the best thing in the world to him was to run around with this purple octopus that squeaked." Police say that since the start of his work with the K9 Unit, K-9 Koda contributed greatly to the Richmond Police Department's work: the dog made 55 apprehensions and located approximately 25-plus pieces of evidence, including firearms, clothing and items belonging to suspects. He was also certified in smokeless, meaning he was specifically trained to find firearms, shell casings and bullets. Chief Bryan T. Norwood issued a statement about K-9 Koda's dedicated service to the Richmond Police Department: "Koda and Officer Agee are reflective of the high quality of our K-9 Unit," Chief Bryan T. Norwood said.
"We will miss the team of Officer Agee and K-9 Koda and their dedication to the K-9 Unit, Richmond Police Department, the city of Richmond and to the law enforcement community." After emergency treatment discovered a terminal illness, K-9 Koda passed away peacefully on Saturday, July 7. K-9 Koda will be recognized during the Department's Salute to Excellence Awards on Aug. 9. Anyone wishing to send cards, donations or learn more about
the K-9 Unit may do so
Friends of the Richmond K-9 Unit
P.O. Box 25495
Richmond, VA 23260
K-9 Sgt. Michael Bohannon
+++++++++
submitted by Jim Cortina, Dir. CPWDA
---
In Loving Memory of
K9 KORI
April 2012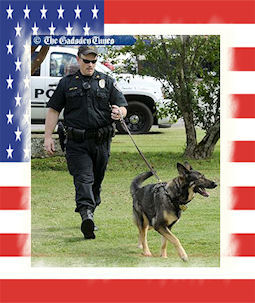 Handler: Capt. Richard Cox
Attalla Police Department
302 6th Ave. NW
Attalla, Alabama 35954
Death of Attalla drug dog leaves void
Attalla Police Department Capt. Richard Cox and drug dog Kori are seen Thursday, September 22, 2011, in Attalla, Ala.
Attalla Police K-9 Kori was an eight-year veteran with the department and her death in April has left a void, especially for her handler, Capt. Richard Cox. Attalla Police Department Capt. Richard Cox and drug dog Kori are seen Thursday, September 22, 2011, in Attalla, Ala. Kori died unexpectedly on April 20 after she became ill during a routine annual drug sweep at Etowah Middle School. She was the only narcotics dog being used by law enforcement in Etowah County. A plaque was presented to Cox, identifying Kori as a devoted officer and partner for her years of service. Cox said she showed that devotion until the last night she was alive.
During the search at the school, she began to hold her left hind leg up and started screaming, Cox said. "She wasn't just howling or barking," he said. "She was in terrible pain." He rushed her to the veterinarian and she was taken to Birmingham. It was determined she had a tumor in her bladder and the bladder ruptured. She had to be put down. Before she died, Cox had taken her home and she was in his living room when he saw Cox in uniform, ready to begin his shift. "She tried to get up and go to work," he said. "She was dedicated to her job." Pets At Peace in Trussville did cremation at no cost because Kori was a certified police dog.
Cox now hopes to replace Kori with another K-9, tested and approved for training as a tracking and drug dog. Kori was a drug dog only. "We have a need here for a drug dog and a tracking dog," Police Chief Lamont Tucker said. Kori was Cox's third dog since 1997. She had many successful cases and often sniffed out marijuana in trunks of cars, or packages of methamphetamine or cocaine hidden in strange places. Cox said he knows a new dog will not take Kori's place, but he is excited to begin training another. He became interested in K-9s used in police work and has been training them since 1991. He has grown accustomed to a K-9 as a partner and can't imagine anything else.
Taking care of a K-9 takes a lot of dedication and is a big responsibility. Kori was like a member of Cox's family and lived with him. Until last year, Cox paid for her food and vet bills out of his pocket. The city of Attalla began paying those costs last year. Cox will train the new dog and it also will live with him. He hopes to raise some of the cost to replace Kori through donations. The cost for the new dog and the training necessary to become certified is about $4,000, Tucker said. Tucker and Attalla Fire Chief Robert Dillard each kicked off a fund-raising drive Friday by donating $100 each to go toward the cost of a new dog. Anyone who wants to help can make a donation by mail or in person at the Attalla Police Department at 302 Sixth Ave. NW, Attalla, AL 35954. For more information, contact the police department at 256-538-7837. Donation jars have been set up at some local businesses, including the Alabama Power office in Attalla.
submitted by Jim Cortina, Dir. CPWDA
---
In Loving Memory of
K9 KIVA
May 8, 2012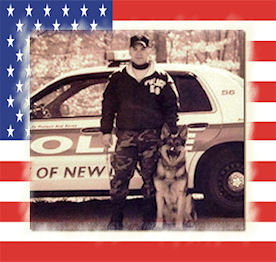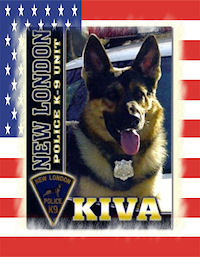 Handler: Officer Chad Stringer
New London Police Department
5 Governor Winthrop Boulevard
New London, CT 06320
(860) 447-5282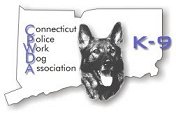 Retired New London Police Dog Dies
The

New London Police Department

is mourning the loss of one of its finest. Kiva, who was the K-9 partner of Officer Chad Stringer (retired), served the department faithfully and with honor for seven years, retiring from active service on July 1, 2008.

During Kiva's tenure, he was best known and recognized for his tracking skills. Kiva had many tracking successes by locating persons who were suffering from Alzheimer's as well as tracking missing youth and suspects who had committed criminal acts.
K-9 handler Stringer received many letters from appreciative family members for Kiva's strong tracking abilities. Kiva was a police K-9 who used his teeth, but only when absolutely necessary.
Another proud story is one of a man who wanted to entice officers to shoot him by attacking them, a suicide by cop. Kiva was able to successfully subdue the man without serious injury to anyone involved. He was a working patrol dog, but Kiva was also a teacher. He was active in demonstrating his skills to other departments and children throughout the area. One memento children always seemed to be excited to receive was Kiva's colorful baseball-style card. Kiva, who began his life on November 4, 1999 in Czechoslovakia, was 12 years old when he was laid to final rest. The members of the New London Police Department are proud of and thankful for the work Kiva did for the citizens. We extend our deepest sympathies to the Stringer family, who were able to enjoy and love him as their family pet when this exemplary K-9 officer was off-duty.
submitted by Jim Cortina, Dir. CPWDA
---
In Loving Memory of
K9 KAZON
April 24, 2012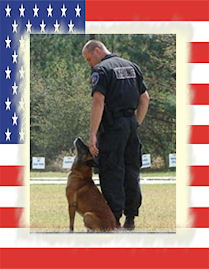 Handler: Sgt. Tommy Ferrand
Tangipahoa Parish Sheriff's Office
12616 Jackson Street
Tangipahoa, LA 70465

Tangipahoa Parish Sheriff Daniel Edwards announces that TPSO K9 Kazon passed away at the age of 15 on Tuesday, April 24, 2012. Kazon lived with his handler Sgt. Tommy Ferrand and his family until his death.
Kazon's life was celebrated by many. Kazon was among the first full time K9 Units established by Sheriff Edwards in 2004. "Kazon loved to work." Edwards stated. "Kazon remained an active and viable deputy until his retirement
a little over one year ago."
As a duel-purpose K9, Kazon made many apprehensions, drug detections and narcotics seizures. Sgt. Ferrand says that Kazon was feisty and full of life, however he had a short temper. These characteristics combined, with his love for "lemonhead candies" is what made him an excellent partner.
It was only in the end that Kazon wanted affection and would let anyone pet him other than his handler. "Kazon wanted to work even though his body did not allow him to." says Ferrand.
Heavy hearts are walking around the TPSO and in the Ferrand household. Even though Sgt. Ferrand knows Kazon is in a better place, he says there is a hole in our hearts that will never be filled again.
Kazon, one of the finest K9's of the Tangipahoa Parish Sheriff's Office, will be forever missed.
In Loving Memory of
K9 KING
February 10, 2012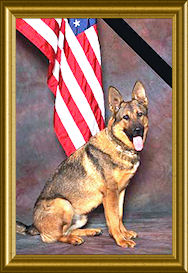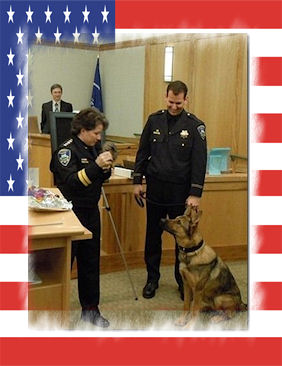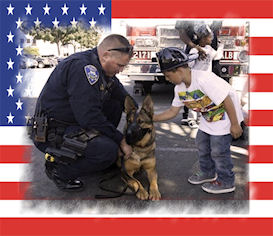 Handler: Officer Joshua Del Prado
El Cerrito Police Department
10900 San Pablo Ave.
El Cerrito, CA 94530

WEBSITE -
http://www.el-cerrito.org/index.aspx?nid=135

No memorial events are planned, but condolences from the community are welcome, police said.
See address above..........................
El Cerrito's first police dog, King, dies
The first police dog in the history of El Cerrito died Friday, while off duty the department said. He joined the force in late 2010, first working alongside Officer Aaron Leone and then partnered with Officer Del Prado in August 2011. King was taken to the vet by Officer Del Prado after showing signs of distress, Police Chief Sylvia Moir said in a release. After undergoing emergency surgery, it was determined that King was suffering from catastrophic internal damage due to illness and his condition was not survivable, Moir said, and King was put down. His partner, Officer Joshua Del Prado and other members of the El Cerrito Police Department where by his side at the time of death. King was trained in handler protection and person searches. Among King's notable achievements was his tracking of a missing Alzheimer's Disease patient who had wandered away from home and become lost, Moir said. King also apprehended a suspect who had resisted arrest and was hiding from officers. King, instead of a police officer, put himself in harm's way to remove the man from beneath a vehicle. In addition to their patrol duties, Officer Del Prado and King also made appearances at several community events and participated in regional Police K-9 trainings with other K-9 teams from the greater bay area. King was purchased by the department after the police employees' association and members of the community raised funds to start the K-9 program. No memorial service is planned, but condolences from the community will be welcomed at the front counter of the Public Safety Building at 10900 San Pablo Avenue.
submitted by Jim Cortina, Dir. CPWDA
+++++++++++++++++++++++++++++++++++++++++++++++++++++++++++++++++++++++++++++++++
King was purchased by the department after the police employees' association and members of the community raised funds to start the K-9 program. No memorial service is planned, but condolences from the community will be welcomed at the front counter of the Public Safety Building at 10900 San Pablo Avenue.
Rick Hurd covers public safety. Contact him at 925-945-4780 and follow him on Twitter at Twitter.com/3rdERH.
---
In Loving Memory of
K9 KARO
January 20, 2012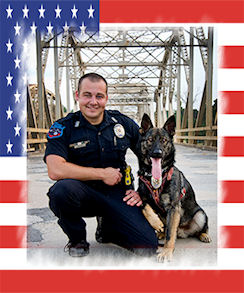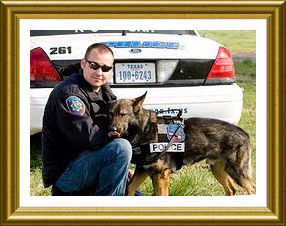 Handler: Officer Colby Webster
Catoosa Police Department
208 South Cherokee Street
Catoosa, OK 74015
Phone 918-266-2424 | Fax 918-266-4311
WEBSITE - http://www.catoosapd.com/
Catoosa Police Dog Dies
The Catoosa Police Department is mourning the loss of their K9 Officer Karo. The 2 1/2 year old shepherd K9 died last week from complications of ingesting a fungus. The police department says Karo could have ingested it in stagnant water or on vegetation. It attached to the dog's intestines causing him to bleed to death. Karo had been on the force for 9 months. He is credited with 15 drug seizures valued at more than $7,100. Karo was also active in searching schools for drugs and assisting the Oklahoma Highway Patrol and the Tulsa County Sheriff's Office.
Officer Colby Webster was Karo's handler. He says, "it's like losing a member of the family. He lived with me, we did everything with each other." Karo came to the US from Holland and was trained at Canine Unlimited in Tulsa. Canine Unlimited has offered to pay for half of the fees for a new K9 Officer. Melton Truck Line is going to match their donation. Catoosa Police say they are still about $2,000 short for training and the necessary equipment. They are accepting donations at the Catoosa Small Animal Hospital located at 1901 N. Hwy. 66. The phone number is 918-266-4090.
submitted by Jim Cortina, Dir. CPWDA and Frank Brunetti
---
In Loving Memory of
K9 KORA
January 2, 2012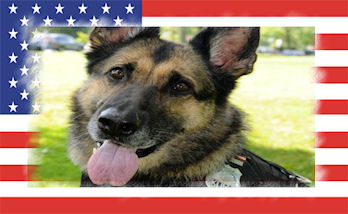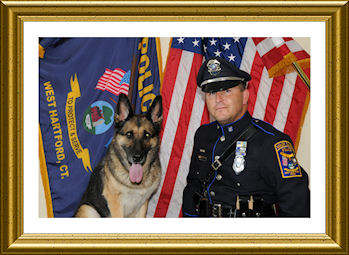 Handler: Officer Eric Rocheleau
West Hartford Police Department
103 Raymond Road
West Hartford, CT 06107
860/523-2066 (Office)
Police officers consider K-9 partners members of the force.
So it was with great sadness that the West Hartford Police Department learned one of its own, Kora, a police dog, was being put down Monday. The 11-year-old was retired over the summer, after serving in the Department since 2003 with her handler, Officer Eric Rocheleau, according to Lt. David Dubiel.
Kora had developed cancerous tumors common with old age, and had to be euthanized Monday, Dubiel said. But Kora got one last chance at being a police dog.
Rocheleau took Kora to the vet Monday, and after some tests, was told the best thing for the dog was to put her down.
Before that happened, the officers at the West Hartford Police Department agreed to take Kora
for a final ride in a police cruiser.
"I was met at the vet with my old cruiser, and we were able to give Kora one last ride in her old car,"
Rocheleau told the
Hartford Courant
. "Both K-9 handlers, the K-9 unit supervisor, the sergeant
on duty and animal control were there to give me support."
Kora also spent one last day at the police department, to give all of the officers a chance to say goodbye.
In her 9 years of service, Kora was responsible for uncovering 205 pounds of marijuana, 458 bags of heroin, 41 grams of cocaine, and 117 arrests. Rocheleau and Kora received a statewide award for their service in 2005.
Kora was a decorated police dog. She received a merit award for her performance during a 2003 robbery in Bloomfield. The dog found the robbers in the woods, and Kora got a suspect who tried to run away by the arm. She was also instrumental in solving several other cases.
Kora was the fourth West Hartford K-9 dog to retire. The police department threw a party in her honor on her last day.
Kora's body has been cremated. Rocheleau said Inserv, a Manchester company, donated cremation services and a wooden urn.
submitted by Jim Cortina, Dir. CPWDA