In Loving Memory of
K9 HURLEY
July 17, 2012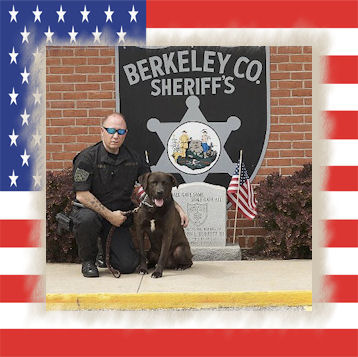 Handler:
Sheriff's Deputy Sgt.Tim Sherman

Berkeley Co. Sheriff's Office
802 Emmett Rousch Drive
Martinsburg, West Virginia 25401
Berkeley Co. Sheriff's Office K-9 Hurry Passes
Berkeley County Sheriff's Deputy Tim Sherman is seen with his late K-9 partner, Hurley.
After being acquired in February, Sherman's previous K-9, Hurley, died on July 17 due to complications with a cancerous tumor found in his stomach, according to Berkeley County Deputy Sheriffs' Association President Scott Myers. Hurley
was 3-years-old. "On April 1, 2012, Hurley began his career on the streets of Berkeley County and over his
short career he had numerous vehicle and building searches some of which resulted in seizures of illegal
narcotics and illegal cash involved with the sale of narcotics."Hurley was not only a great partner but a
loyal companion and friend." Sheriff's Deputy Sgt. Tom Young, had trained Hurley in seven different
odors of narcotics.

submitted by Jim Cortina, Dir. CPWDA
---
In Loving Memory of
K9 HARLEY
August 29, 2012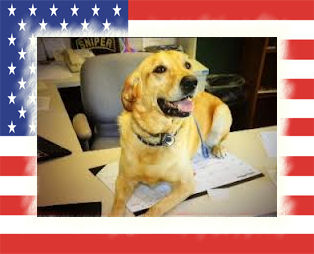 Handler: Officer Brian Mathis
Des Moines Police Department
25 East 1st Street
Des Moines, IA 50309
(generic photo of K9 Harley.. please email true photo of belated Harley)
Des Moines police dog found dead in cruiser
Authorities say the brutal heat is suspected in the death of a Des Moines police dog found dead
inside a patrol vehicle. Harley, a Labrador retriever assigned to the narcotics team, was found
Wednesday afternoon. The temperature had already reached the low 90s. Police Sgt. Chris Scott says
Harley had been working with his human partner, Officer Brian Mathis, on Wednesday. Scott says it was Mathis
who found Harley dead in the vehicle. Investigators are checking how long Harley was left inside
the vehicle and whether the air conditioner was on or some windows were rolled down.
Scott says the department has "lost a fellow officer who just happened to be a dog."
submitted by Jim Cortina, Dir. CPWDA
MORE:
Police say inquiry into K-9′s death is ongoing
---
In Loving Memory of
K9 HIGHWAY
August 20, 2012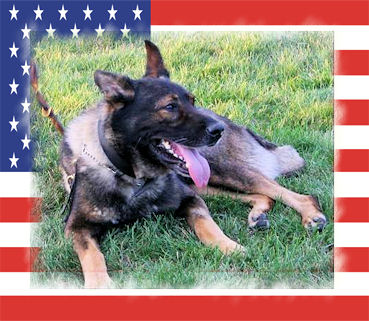 Handler: Officer Mike Stevens
Round Lake Police Department
1947 No. Municipal Way
Round Lake, IL 60073

Round Lake authorities mourn loss of Highway the police dog
Round Lake police Tuesday mourned the loss of a valued member of the department, a go-getter who tracked criminals
and narcotics with a rare drive. Highway, a sable-colored German shepherd, died Monday night of thyroid cancer,
dealing a blow to the department where he had served as the canine in the K-9 unit the past five years.
"Over the years, he was involved in a lot of arrests and seizures of drugs and properties and he helped find a
lot of missing people," Chief Michael Gillette said. "He was an asset to the community."
Highway, who was about 6½ years old, was purchased from TOPS Canine Complex in Grayslake. The facility,
which long has supplied police dogs to various departments, and trains them for three months
before they are partnered with a handler.
Those selected are a special breed and Highway was at the top of the class, said TOPS owner Alex Rothacker,
who has been training dogs for more than 30 years.
"It's got to be a dog that has a lot of drive," he said. "He was one of our best."
Every day, Highway reported to work with his handler, Officer Mike Stevens, and went home with him at night,
in a round-the-clock partnership.
"He was always with me," Stevens said. Highway was "a family member and partner," he added.
Stevens also has Sniper, now 12, the department's first police dog who was retired due to arthritis.
Besides the initial 150 hours of training, the nationally certified unit trained about 16 hours a month.
The pair averaged 80 to 100 calls per year, Stevens said. At the most basic level, Highway was a tool that helped
police do their jobs better.
"He paid for himself on drug seizures. He helped us apprehend more than 20 people," Stevens said
The pair was one of two K-9 teams working with the Northern Illinois Police Alarm System,
a regional SWAT team, and had won awards for their achievements.
Besides the hard work of tracking criminals and protecting officers and citizens,
Highway loved doing public demonstrations, opened the rear door of his patrol car with his nose,
walked backward and could run 40 mph, according to the department.
Gillette said Highway had a tumor removed about six weeks ago and was going through chemotherapy
when another, fast-growing tumor was found. Highway's last day on duty was about two weeks ago,
Gillette said.
"We will probably have some memorial service for him as part of our healing process," he said.
submitted by Jim Cortina, Dir. CPWDA
---
In Loving Memory of
K9 Hades & K9 Vegas
Bexar County Sheriff's Dept. Texas
July 26, 2016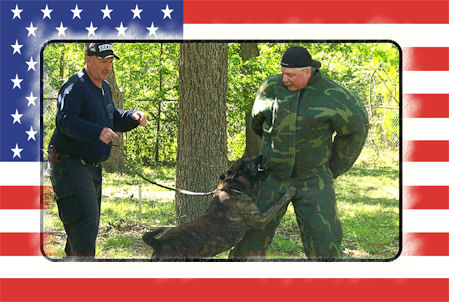 Handlers: Deputy Steve Benoy & ?
Bexar County Sheriff's Office
200 N. Comal
San Antonio, TX
*Not sure if these are the handlers ... found photo on website.

Handler on leave after two county K-9's die left in vehicle overnight
Two Bexar County police dogs died this week and their handler is on administrative leave after the animals were left inside a county vehicle overnight, according to authorities. Bexar County Sheriff's Deputy Steve Benoy, a 23-year veteran of the sheriff's office, is on a 10-day leave while the department investigates the deaths of the two Belgian Malinois. Although authorities believe the dogs suffered from apparent heat exhaustion, Animal Care Services is conducting a necropsy. Deputy Chief Ronald "Dale" Bennett said Benoy drove the dogs to his Adkins home, 23 miles east of San Antonio, after he got off work around 2 p.m. Tuesday, like he did every day.
"He had a routine," Bennett said. Benoy then left town for the night. When he returned home Wednesday, the dogs weren't where he usually keeps them, "[they] weren't where they were supposed to be," Bennett said. Benoy found the dogs where he left them: in a county-owned Chevrolet Tahoe fitted with dog kennels. Animal Care Services was called to retrieve the bodies. Officials did not immediately release the names and ages of the dogs, but Bennett said one was a narcotics dog and the other was assigned to patrol. "It's just a very tragic accident," Bennett said. Benoy "is completely devastated." Benoy declined to comment on the deaths Thursday.
He has been a K-9 handler for 13 years and spent 10 years before that on patrol, Bennett said. The sheriff's office is conducting two investigations: one to rule out animal cruelty and the other for administrative purposes. Bennett said a decision on any further action against Benoy won't be made until the investigation is complete. "After the 10 days, it depends on what the investigation reveals," Bennett said, adding that Benoy is "one of my most dedicated guys." According to state law, a person could face a charge of animal cruelty if the offense is committed "intentionally, knowingly, or recklessly." The charge is a Class A misdemeanor.
In 2010, a Bexar County K-9 named Duke died of medical complications after he was left in a patrol car for 15 minutes with the air conditioning running. Duke hadn't been acting normal earlier in the day, officials said at the time, and his handler was making arrangements to take him to the veterinarian. No charges were brought in that case. Handlers take their animals home overnight, Bennett said, and the county pays for their kennels. Benoy has other dogs of his own and also raises horses, he said. The county's policy regarding care requirements for police dogs was not immediately available.
"They work with them during the day and go home together at night," said Sharon Gregory, the executive secretary of the Veterinary Medical Association of Bexar County who also manages a vet clinic. "I know they become extremely attached. Not only were they companions, but it's also a tremendous financial loss." Buying a police canine alone costs a couple of thousand dollars, she said, and training, supplies and upkeep can cost close to $40,000, Gregory estimated. Although it's unclear exactly what time Benoy discovered the deceased dogs, the high temperature on both Tuesday and Wednesday was 96, according to the National Weather Service.
In just an hour, the temperature inside a vehicle on an 80-degree day can reach 123 degrees, according to the San Francisco State University's Department of Geosciences. Veterinarian Donald Vestal said although dogs have a higher normal core temperature than humans — 101.5 is a normal temperature for a dog, he said — they have a harder time controlling their body temperature. "Dogs are able to expel the heat from their bodies by panting," Vestal said, "but they don't have many sweat glands, so they don't sweat efficiently. They have a much tougher time in hot situations."
As a dog's body heats up, their ability to regulate their temperature weakens, he said. At 106 degrees, a dog's brain cells begin to fail, and cellular death soon follows. Vestal said in San Antonio's hot, humid weather, heat exhaustion in pets is frequent. But of the 15 cases he sees in one year, Vestal said he typically saves 80 percent. The most effective way to cool down a dog suffering heat exhaustion is by an ice bath or cool water, he said. Gregory said these types of pet deaths aren't uncommon. Just last week, she came to her clinic on Monday morning and found a box of dead puppies outside of the door. "I'm sure they didn't mean to kill the puppies, but because they were left in a box with no water while we were closed, all six puppies died before we got there," she said. "It's very serious in this kind of weather."
submitted by Jim Cortina, Dir. CPWDA
---
In Memory of
K9 HARRY
DIED – DOD?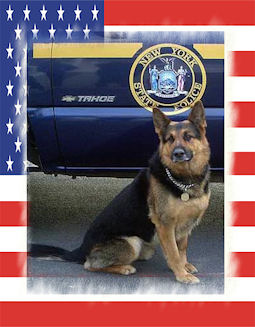 Handler: Trooper Jeff Kaduc
New York State Police
State Police K-9 dog Harry dies
He was the last New York State Police K-9 alive that was at the World Trade Center after 9-11-01.
State Police Trooper K-9 Harry passed away. Harry, who was assigned to Trooper Jeff Kaduc
at the Amity-based State Police, helped capture Bucky Phillips and was a
survivor of the Trade Center during 9/11.
Harry was the last State Police K-9 alive that was at the World Trade Center after 9-11.
He was well-known in the community and gave many demonstrations at schools all over
Western New York. He met and protected several dignitaries including President Bill Clinton,
Governor George Pataki and the Secretary of the Navy Donald Winter.
Harry worked all over New York state including the US Open golf tournament in Long Island and the
Republican National Convention in Manhattan. Harry was the dog that tracked Ralph 'Bucky' Phillips
into the field where he was eventually captured. He performed demonstrations at the
Cattaraugus, Allegany, Erie and Chautauqua County fairs as well as the New York
State Fair in Syracuse. Harry was assigned to Trooper Jeff Kaduc and worked out
of the state police barracks at Amity. Harry retired in 2008. He was 12 years old.
submitted by Jim Cortina, Dir. CPWDA
---
In Loving Memory of
K9 HANNO
aka; Hanno vom Haus Saltztalblick
March 2012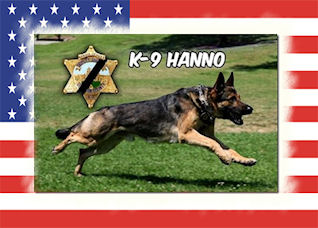 Handler: Deputy Scott Duffner
Ventura County Sheriff's Department

We Will Miss You, Hanno
We mourn the loss of the Ventura County Sheriff's Department K9, Hanno vom Haus Saltztalblick.
He will be missed. Our thoughts are with his handler and partner, Senior Deputy Scott Duffner.

More about Ventura County Sheriff's Office
The Ventura County Sheriff's Office is comprised of four primary divisions. Assistant Sheriff Gary Pentis will oversee Detention Services and Special Services while Assistant Sheriff Crombach will oversee Patrol Services and Support Services. Our Patrol Division services the County of Ventura and the five contract cities of Camarillo, Fillmore, Moorpark, Ojai, and Thousand Oaks, as well as the unincorporated areas of Ventura County. Within Patrol are also our Mounted Unit, K-9 Unit, Sheriff's Communications Center and the Office of Emergency Services. The Detention Division is the largest of the four divisions in both personnel and budget. This includes all jobs related to inmate services such as reception, booking and classification, jail services, court room and pre-trial security. Currently there are three jail facilities. The Special Services Division includes the Air Unit, Major Crimes, Narcotics, Intelligence, Bomb Squad, S.W.A.T., Hostage Negotiations, Forensic Science Laboratory, Information Systems and the Evidence Unit. Our Support Services Division includes important internal departments that are essential to the structure and operational needs of VCSD across a wide variety of areas. These departments include the Business Office, Human Resources, Professional Standards Bureau, Records, and our Training Academy Staff.
MORE:

Our Patrol Division services the County of Ventura and the five contract cities of Camarillo, Fillmore, Moorpark, Ojai, and Thousand Oaks, as well as the unincorporated areas of Ventura County. Within Patrol are also our Mounted Unit, K-9 Unit, Sheriff's Communications Center and the Office of Emergency Services.
submitted by Jim Cortina, Dir. CPWDA
---
In Loving Memory of
K9 HARI
March 18, 2012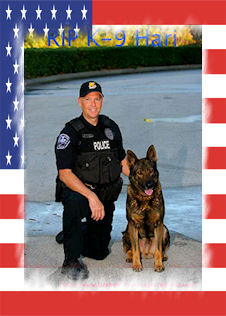 Handler: Officer Jeff Nickle
Palm Bay Police Dept.
Florida
Palm Bay police K-9 dog dies on duty
Hari, a 5-year-old German shepherd dies of medical issue, police say
A Palm Bay police K-9 died unexpectedly while on duty over the weekend with a medical issue, police say. According to a Palm Bay police release, Hari, a 5-year-old German shepherd died while investigating shots with Officer Jeff Nickle on Saturday night. The two had been partnered together since 2010.
Nickle and Hari took a dinner break so the dog could rest before playing a quick game of fetch-a nightly ritual to relax the dog and reinforce his training, police said.
Nickle said he heard Hari make a strange noise and when he checked on him, he found him lying on his side trying to breath with a faint heartbeat, police said. Nickle tried to CPR but couldn't revive Hari. He was pronounced dead at an emergency veterinary hospital, according to a release.
"In my years of working police dogs each have found a different way into my heart and family," Nickle said in a release. "Hari was no different. I know that we work them as a tool and always anticipate them getting hurt or killed in the line of duty. Never did I think I would lose a partner like this. Here's to a partner that led the way into danger without a thought; one that searched just as hard for a missing Alzheimer's patient as he did for a murder suspect; one that was willing to lay down his life to protect me or any other officer or citizen without question."
In 2011, Nickle and Hari led the unit in apprehensions, drug arrests and evidence finds. Hari was certified as a patrol dog through the North American Police Work Dog Association and the Florida Department of Law Enforcement. Hari was also a certified tracking dog and drug detector.
submitted by Tracy Klett &Jim Cortina, Dir. CPWDA