In Loving Memory of
K9 GHOST
August 30, 2012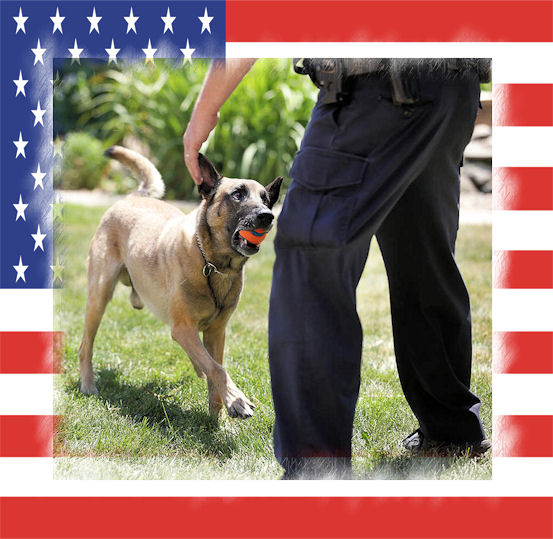 Handler: Lt. Matt Holten
Austin Police Department
Austin, TX
Austin's top dog has died.
Ghost, the award-winning 7-year-old Belgian malinois and all-star K-9 competitor, died Thursday.
His handler, Austin Police Lt. Matt Holten, retired Ghost that day, and had him put to sleep,
said Police Chief Brian Krueger.

Ghost had dealt with epilepsy for the past five years, diagnosed just a year after he started working with the Austin Police Department. The epilepsy had been managed with medication, but the medication wasn't working anymore, Holten said in early August, when Ghost provided demonstrations for a crowd gathered for National Night Out.
Holten declined comment Tuesday.

The seizures didn't hinder Ghost's work ethic. Holten had only a couple of occasions when he had to keep Ghost home. Every three to four weeks, Ghost had a bout of seizures; he also bounced back from a health scare about six months ago.

Ghost had been a part of about 250 arrests. He tracked down shooting suspects and home invasion suspects and found drugs.

His competitive, winning nature apparently ran in his blood: Ghost was the offspring of five-time national champion police dog Tazer who retired in 2010; his brother Bosco also works for the Austin Police Department. Ghost came in first at the national competition of United States Police Canine Association police dog field trials in 2011.

In June, Ghost and Bosco finished first in regional team competition from a field of more than 60 dogs. Ghost also took home first place for the dual-purpose competition at the event, which scored agility, obedience, article search and apprehension. Holten has spent 25 years in the K-9 department, and Ghost is his fourth police dog.
Ghost lived with Holten and his family.

The Austin City Council earlier this month approved costs involved in replacing Ghost.
A search will begin immediately, said Brian Krueger.

By Kay Fate The Post-Bulletin, Austin MN


---
In Loving Memory of
K9 GUNNER
July 31, 2012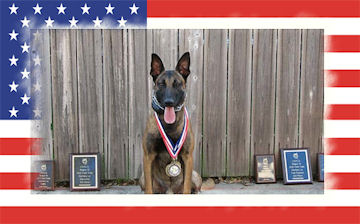 Handler: Sgt. Carl Childers
Livington Parish Sheriffs Office
Louisiana
A Livingston Parish Sheriff's Office K-9 Officer, Gunner, died of an apparent heart attack on July 31,
a week after being diagnosed with congestive heart failure. He was five years old.
"We're very proud of K-9 Gunner and all of his accomplishments," said Sgt. Carl Childers.
"He was an outstanding asset to the Sheriff's Office and will be truly missed by everyone."
Sgt. Childers worked alongside Gunner for the last 3 years.
Gunner was born in the Netherlands where he was reportedly trained for the first 11 months
of his life with Dutch trainers. Gunner then proceeded to train at USK9 Unlimited in Kaplan, LA.

Gunner joined the Sheriff's Office 4 years ago, and he helped locate numerous
criminal suspects and win many awards in regional USPCA dog competitions.
submitted by Jim Cortina, Dir. CPWDA
---
In Loving Memory of
K9 GATT
July 1, 2012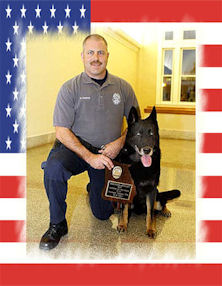 Handler: Officer Richard Penson
Rome Police Department
5 Government Plaza - Suite 300
Rome, GA 30161
Beloved police dog passes away
Gatt, the K-9 of Rome police officer Richard Penson, died on Sunday
As a police dog, he saved at least one life and helped capture several criminals during his tenure with the Rome Police Department. Sadly, Gatt, the beloved K-9 of Richard Penson, died on Sunday. "He was unique," Penson said. "He was real personable, but he knew when it was time to go to work." Penson and Gatt partnered together in 2004, two years after
Gatt's birth. In 2011, Gatt shared the Officer of the Year Award with Penson after he found a woman who had
been lost for two days. The two were called out April 10, 2010, to search for Frances Smith, 56, who was
missing from her Rockmart Road home. They tracked through rough terrain to a creek bed,
where she had lain for two days after suffering a heart attack.
Gatt also won several awards at competitions, including Best Patrol Dog at the USPCA trials which had competitors
from Georgia, Tennessee, Alabama and South Carolina compete in several different categories.
He was nationally recognized after competing in Florida later that year. Gatt retired last year because of some health
problems. Penson had his companion cremated, as he did his last K-9 partner, Kiddo, who worked with him for
10 years and lived to be 13 years old. The two beloved officers will be in urns side by side, Penson said.
Kiddo was also a lifesaver, according to Penson. In 1998, police were attempting to talk a disturbed woman
with a gun. "Kiddo was able to knock her down and knock the gun out of her hand, preventing officers
from having to shoot her." Penson said. There is a special bond between K-9s and their partners who
would spend 10 to 12 hours together at times, Penson said. "You spend more time with them than most
of your family," Penson said. submitted by Jim Cortina, Dir. CPWDA
---
In Loving Memory of
K9 GIZMO
June 27, 2012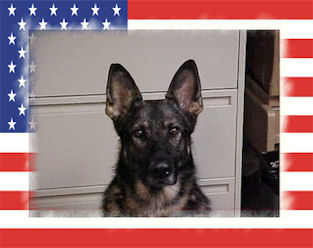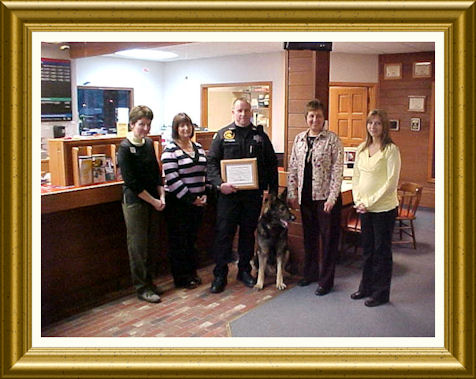 Handler: Tooper Scott Johnson
Washington State Patrol
Grays Harbor County, WA
A member of the Grays Harbor Sheriff's Office that was prolific in helping to capture suspects died Wednesday at
the age of 10. Police dog Gizmo passed away during surgery, the Sheriff's Office said.
Gizmo had 74 captures to his credit. Most notably, perhaps, was his role in helping to track and capture the
man accused of shooting Washington State Patrol Trooper Scott Johnson in the head.
Johnson recovered and is now the sheriff of Pacific County.
submitted by Jim Cortina, Dir. CPWDA
---
In Loving Memory of
K9 GUNNER
June 7, 2012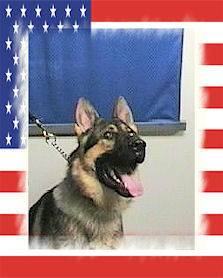 Handler: Deputy....
Oakland County Sheriff's Office
1200 North Telegraph Road, Building 38 East
Pontiac, Michigan,
Police dog attacks handler at veterinarians office
Dog shot and killed
The Oakland County Sheriff said that a deputy shot and killed his K-9 partner after the German Shepherd attacked him. The deputy is expected to be okay. The hospital admitted him and is keeping him for observation to make sure the puncture wound to his arm does not get infected. Oakland County Sheriff Michael Bouchard said the dog recently started having serious aggression issues. The dog did some remedial training and the next step was to take him to the vet's office. When the deputy tried to get the dog out of the vehicle at the vet's office in Davison the dog refused to come out. The deputy had to put on a bite sleeve that is used in training and get the dog out.
The dog calmed down outside of the vehicle but then lunged and attacked the deputy biting him up the arm toward the face. The dog would not release after several commands and the deputy was forced to shoot the dog. The dog released and then made movements to lunge at the deputy again and the deputy shot the dog again. The dog died. The dog, a purebred German Shepard was named Gunner. He had been with the department for five years. The deputy is a 23 year veteran of the force. The dog's remains have been taken to Michigan State University for a necropsy, which is the equivalent of an autopsy done on a human. "These dogs are more than a police asset, they are beloved members of the department and the handler's family," said Bouchard in a statement. "This is an extremely sad situation on every front."
+++++++++++++++++++++++++++
The K9 was taken to Michigan State University for a necropsy. "It's sad on every front," said the Sheriff. "The loss of a member of the family and we have a deputy in the hospital tonight that's injured. "Veterinarians at Michigan State will try to uncover clues on what went wrong.

submitted by Jim Cortina, Dir. CPWDA
---
In Loving Memory of
K9 GRIZZLY
May 21, 2012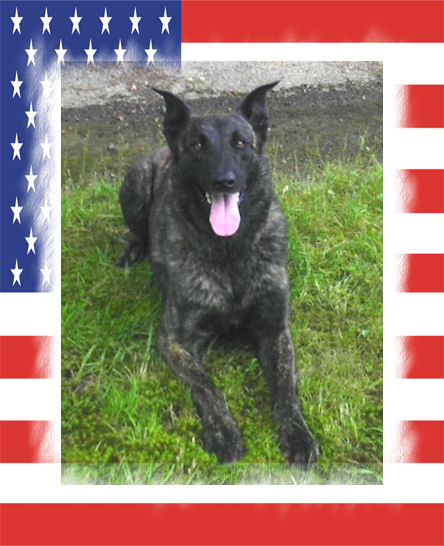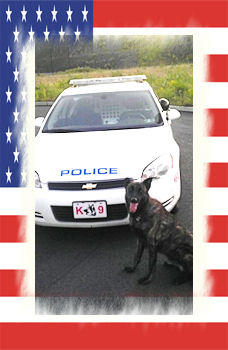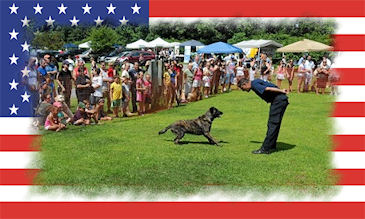 Handler: Patrolman Gerald Tallo
Scranton Police Department
100 South Washington Avenue
K9 Unit Dog Dies After Surgery
The Scranton Police Department announced a member of their K9 Unit died Monday after undergoing emergency surgery for a stomach issue. "Grizzly" was a member of the unit for the past five years. The dog worked with Patrolman Gerald Tallo. The Dutch Sheppard aided the police department in drug busts and used his nose to sniff out criminals engaged in illegal activities. He also wowed crowds with his performances during demonstrations by the department. Officers said Grizzly had a tireless and tough attitude and will be greatly missed by all.
*******
Partner, chief remember Grizzly, beloved police dog
He discovered a large quantity of crack in a hidden compartment during the search and seizure of a sport utility vehicle.
He helped locate a missing boy with Down syndrome, tracking him four blocks to somebody's garage. He led police to $12,000 in cash, marijuana and cocaine in a basement during his largest-ever drug seizure. Grizzly was intimidating and fearless, known for his bite work. "He was a great partner," said Patrolman Jerry Tallo. The 7-year-old Dutch shepherd, and more than four-year member of the Scranton Police Department's K-9 Unit, died Monday after surgery to help relieve a distended abdomen.
Patrolman Tallo said Grizzly's keen nose and enthusiasm led to many drug busts and assists in missing-persons cases. "He had no fear; I would send him in somewhere, he'd go in no questions," he said. Patrolman Tallo said he'd miss his brindle-haired friend riding around in the back of the police cruiser. Not only was he a good police dog, Grizzly was a dedicated family pet, living at home with Patrolman Tallo, his wife and his children. "He was great dog at the house, great around my family. I had two other dogs at the house he was great with," he said. Police Chief Dan Duffy said the loss was felt throughout the department, leaving the K-9 unit with just three dogs. "He was a great dog," he said. "It's a tragic loss for us." Contact the writer: ksullivan@timesshamrock.com

SERVICE
++++++++++++++++++++++++++++++
Police, public say good bye to K9 Officer Grizzly
June 6, 2012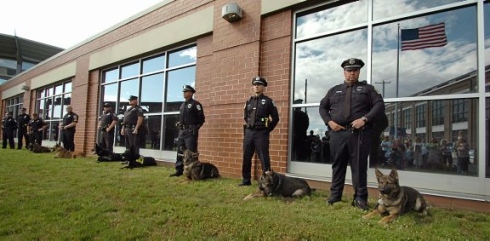 Scranton police officers and other officers stand at attention with their K-9 dogs during a memorial service held for the late K-9 Scranton police dog, Grizzly, who died several weeks ago. The service was held on Wednesday at Scranton Police headquarters.
Police dogs laid quietly in a row with ears perked at attention, eyes scanning the crowd in front of Scranton Police Department headquarters as their handlers stood stoically at their sides. But one dog was missing from the ranks. A crowd of more than 50 people gathered to honor Grizzly, a 7-year-old Dutch shepherd and more than four-year member of the Scranton Police Department's K-9 Unit, that died in May after surgery to help relieve a distended abdomen. Grizzly's dedication, distinctive bark and commitment to his handler, Patrolman Jerry Tallo, encapsulated the spirit of the K9 Unit, said Scranton Police Chief Dan Duffy.
"Look who they live for. They live for their handlers. They live for the police department. They live for us," Chief Duffy said at the ceremony. Grizzly was eulogized by Fire Inspector Martin Monahan, praised for his keen drug-sniffing nose, his comforting demeanor around children he helped find and his dedication to Patrolman Tallo and his family. Officer Tallo's family agreed. "He was like a family dog when he got home, when he got in that (police) car though, forget it," said Henry Malone, Patrolman Tallo's father-in-law. Members of the public came out to pay tribute to the dog that helped police their neighborhoods, and show their support for Patrolman Tallo, the K9 Unit and the police department.
"He has helped on so many calls throughout West Side," said West Scranton Hyde Park Neighborhood Watch President Karin Foster. She said the neighborhood plans to dedicate mural in West Scranton to Grizzly and other retired dogs from the K9 Unit in the future. After the wail of the bag pipes ended, the flags of the color guard were presented, the stars and stripes flying in front of police headquarters were lowered to half staff and a 21 gun salute, the Lackawanna County communications center sent out one final call over the police scanner in honor of Grizzly. "This is the end of your tour. Go over the rainbow bridge and go with God."
Community members are already putting together fundraisers to help get the K9 Unit back to full strength. The first is at Big Z's Bar and Grill, 1420 Lafayette St. on Saturday, June 23, from 2 to 6 p.m. There will be a DJ, raffles and penny drafts, all for a $15 donation at the door, with a pool tournament scheduled for Sunday, June 24. There will also be a fundraiser June 30 at 20th Ward Social Club, 2028 Pittston Ave., from 6-11 p.m. with a $10 donation at the door.
submitted by Jim Cortina, Dir. CPWDA
---
In Loving Memory of
K9 GYPSY
March 12, 2012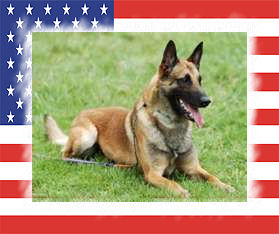 Handler: Corporal D. W. Tabler
Greensboro Police Department
1106 Maple St.
Greensboro, NC
Greensboro police say goodbye to officer
The Greensboro Police Department said goodbye to a three-year veteran of the force yesterday morning. Police canine Gypsy, an explosive detection dog, was humanely put to rest after suffering from a terminal illness. Corporal D.W. Tabler was the Belgian Malinois' last handler before retirement in 2011 and describes him as a "phenomenal detector dog." Gypsy was instrumental in several protective sweeps searching for explosives in venues holding public events, including the Greensboro Coliseum Complex, the Greensboro Civil Rights Museum, and North Carolina A&T State University during the North Carolina General Assembly's session held on campus.
Explosive detection canines are single purpose animals trained to identify a variety of chemicals used to create explosives. There is no limit to the number of odors the dogs learn. K9 Gypsy was trained and certified to recognize more than twenty odors, including dynamite, C4, garden fertilizer, and gun power. "He was so automatic. You tell him what to do and he did it," said Tabler. "It wasn't that he needed to distinguish between work and play; when he was working he was working, and when he was playing he was playing." Gypsy came to GPD in June of 2008 after working as a dual-purpose patrol and explosive detector dog in support of a U.S. military Special Operations unit. During his service with the military, Gypsy survived an improvised explosive device detonation while riding in a transport vehicle.
After the attack, Gypsy did not trust riding in any type of vehicle, often biting anyone trying to put him in one. Once back in the States, GPD acquired Gypsy from Covenant Homeland Security Solutions. Officers worked hard for a couple of months to regain his trust and mold him into the great service animal he was until his retirement. Gypsy retired in the care of Master Police Officer S.J. Langholz and his family. "Gypsy was playful and chock full of life," said Langholz. "He just loved my daughter and would leave me to go lay and play with her. He was never hard to handle, just always a good dog." A lover of rawhide and playing catch in the Langholz's backyard, Gypsy was estimated to be about ten years old.
At the end of his life it was became clear he was suffering from cancer. "I knew something was wrong when his demeanor changed. He stopped eating, not even when hand fed," said Langholz. "You're with them long enough and you know when they are tired." The GPD canine unit currently operates with 14 working dogs. Ten serve as patrol dogs, two are explosive detection dogs, and two are blood hounds. In addition, the Traffic Enforcement Unit has two narcotics detection dogs, and the Vice and Narcotics Unit has one narcotics detection dog. German Shepherds and Belgian Malinios' are the most common breeds used for patrol and detection, but a couple of Labrador Retrievers are on staff, too.
Every animal is imported from Europe, and can be as young as 12 months old. These particular breeds are useful because dogs with larger noses have more powerful senses of smell. These breeds are brought in from other countries because they are bred as work dogs with quality upbringings. "A lot of those dogs are fostered by a family, socialized and trained as they age," said Sergeant Brett Davis, Supervisor of the K9 section. "It is considered an honor and a privilege by the breeders [for their dogs] to work for law enforcement or the military." Gypsy was a remarkable member of the Greensboro Police Department and will be missed tremendously. "It's going to be different for a little while. It's like losing one of your kids. Even though you have other kids, you're not going to stop missing the one that is gone," said Langholz. "What was unique about Gypsy is that he served on two fronts, [which is] the epitome of what we would like to think of ourselves and our animals. He did not quit when he was attacked. He still had the drive to work and that's creditable," Langholz said.
submitted by Jim Cortina, Dir. CPWDA