---
---
In Loving Memory of
K9 ACHILLES
October 22, 2012

Handler: Matt Buedel
Chief Dustin Sutton
Peoria Heights Police Department
1311 E Sciota Ave
Peoria Heights, IL
Police are on the market for a new K-9 unit after the sudden loss of the department's first-ever dog last fall and a concentrated fundraising effort ever since. Achilles, the Peoria Heights Police Department's first canine member, arrived from Germany about three years ago and died Oct. 22, 2012, less than 24 hours after showing the first sign of illness. A necropsy revealed a mass behind his spleen, said Chief Dustin Sutton. "Without Achilles, it's really affected operations," Sutton said. "We've had to rely on the neighboring agencies since we lost Achilles, and they aren't always accessible." Donors from the community and from within the Police Department, however, have stepped up to help fill the void. The Peoria Heights Police Benevolent Association and Forest Park Apartments
together provided $5,000 to procure a new K-9 unit. That donation, along with $700 from Richwoods Township, will cover the complete expense of the new dog and its delivery from Germany. "It's unusual for a department our size to have donations
cover the entire cost of the dog," Sutton said. "Even though the administration fully supported the replacement, it's a nice
gesture from the Benevolent." The department is looking to secure a new animal from the same handler who provided Achilles and expects to have the dog with a new handler within the department in the next couple of months. "Once he's with the handler,
there's a period of down time before the K-9 hits the streets," Sutton said. Matt Buedel can be reached at 686-3154
or mbuedel@pjstar.com.
Follow him on Twitter @JournoBuedel.
Bartonville K-9
As the Peoria Heights Police Department prepares for the arrival of a new canine, the Bartonville Police Department is raising money for a new dog of its own. A fundraiser will be hosted later this month. What: All you can eat fish dinner When: Event starts at 1 p.m. March 24 - Where: Club Phoenix II, 4206 W. Pfeiffer Road, Bartonville - Cost: A $10 donation is suggested for the dinner, and other items will be up for auction.
submitted by Jim Cortina, Dir. CPWDA

---
---
In Loving Memory of
K9 ARAS
December 22, 2012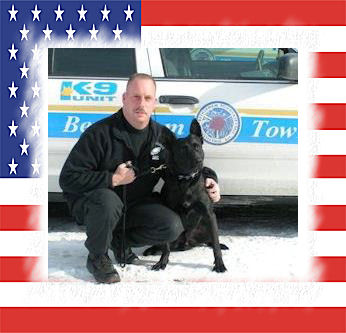 Handler: Officer Bryan Tollinger
4225 Easton Ave.
Bethlehem, PA 18020
Bethlehem Township, Pa., police K-9 dies
Officer Bryan Tollinger with his canine companion, Aras, who died Saturday.
A Bethlehem Township police K-9 dog died on Saturday after suffering health problems, township police announced on their official Facebook page. Officer Bryan Tollinger had his longtime partner, Aras, euthanized due to health concerns, according to police. "Aras' send off was attended by many of our officers and several K-9 officers from across the Lehigh Valley," police said on the Facebook page. As of 5 p.m. Sunday, there were more than 150 comments on Facebook offering the department condolences. Submitted by Jim Cortina, Dir. CPWDA
---
In Loving Memory of
K9 ALK
December 13, 2012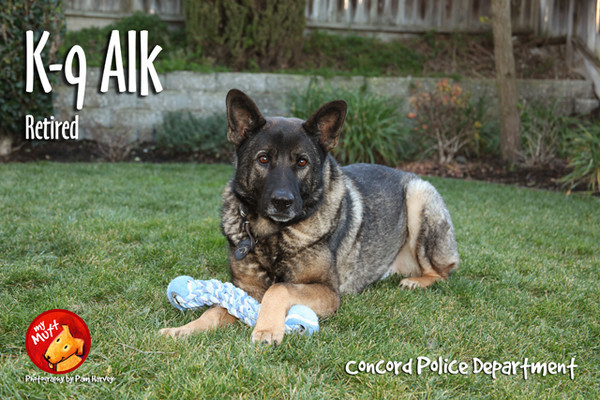 Handler: Officer Krista Sansen
Concord Police Department
1350 Galindo Street
Concord, CA 94520
Retired Police Dog 'Alk' Dies
The 11-year-old K-9 spent six years with the Concord Police Department before being retired and adopted by his handler in June, 2011. Alk died of cancer Thursday.
One of Concord's former K-9s has passed away.
Here's a message from Officer Ollie Sansen of the Concord Police K9 Association:
It is with great sadness that the Concord Police K9 Association announces the passing of one of our own. On December 13th, 2012 (Retired) Police K9 'Alk' was laid to rest. He had just celebrated his 11th birthday on November 20th, 2012. K9 Alk came to the United States from Germany in January 2005 and he became a certified patrol K9 that March. He worked with his handler, Officer Krista Sansen for over six years, retiring from patrol on June 11th, 2011. He had been enjoying his retirement at home with his handler ever since. On 12/13, Alk, better known to his friends and family as 'Bunny', went in for a vet visit after his demeanor at home had changed over the past few days. Unexpectedly, we learned that Alk had developed a highly invasive and fast metastasizing form of cancer in his spleen. Splenic surgery would have prolonged his life another 1-3 months before the internal bleeding would resume and overtake him. It was the hardest, but only decision his handler could make. K9 Alk passed peacefully and with dignity, surrounded by his family. We thank Alk for the service he provided our community. He will be missed but never forgotten. submitted by Jim Cortina, Dir. CPWDA
---
In Loving Memory of
K9 AMBER ( MWD )
DIED – 12/11/12 - AGE 15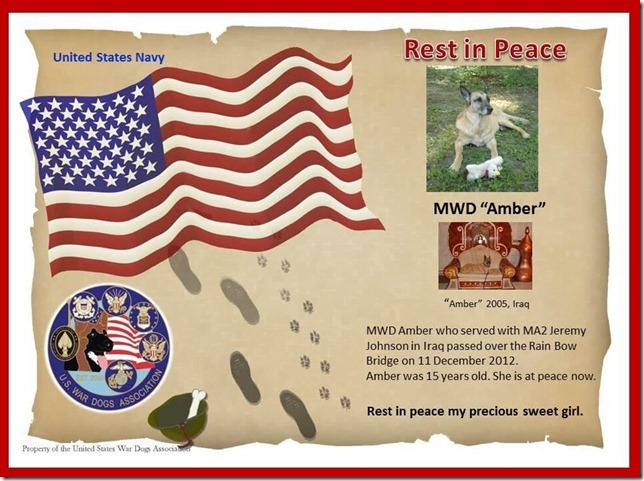 Handler: ME2 JEREMY JOHNSON
SERVED IN IRAQ
submitted by Jim Cortina, Dir. CPWDA
---
In Loving Memory of
K9 ALEC
December 3, 2012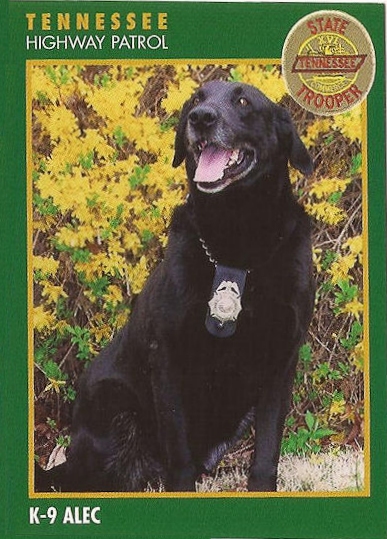 Handler: ? help w/name
Tennessee Highway Patrol (retired)
This afternoon K-9 Alec was at the vet staying for a few days. His hips have been really giving him a fit the past few months and he retired from the Tennessee Highway Patrol last June. Today the vet called and said she just lost Alec. He took a deep breath and went on over to God. I am attaching a photo of Alec and a brief History of his exploits as my partner and family member. If tears shed could float a ship here would be enough to float an armada of ships. Take care and God Bless.
My respects always.
Today Alec went over that Rainbow Bridge without me. The first time I saw Alec was in April 2007 when he took over for K-9 Coco. Alec was a black Lab and he would get into more trouble than I could ever hope to tell about. In June of 2011 Alec retired after his hips gave him so much trouble. Here is this K-9 with so much energy wanting to play and run but his body just would not let him. Today December 3,2012 Alec was at the vet. He took one last breath and crossed over that bridge into God's arms. As we speak God has given Alec a brand new body. New hips and new lungs. All that sniffing out narcotics had a toll on his body as well. So you run Alec all day and sniff everything you want cause the body you have now will never fail you my friend. Part of me is there with you and before long the rest will be to. You and Coco watch for me.
Your Daddy.
submitted by Jim Cortina, Dir. CPWDA
---
In Loving Memory of
K9 AXEL
September 20, 2012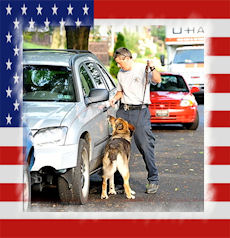 Handler: Officer Michael Potope
Wilson Borough Police Department
2040 Hay Terrace,
Wilson Borough, PA 18042
Wilson Borough police department mourns loss of cancer-stricken K-9


Wilson Borough police Officer Michael Potope walks his canine partner, Axel, around a Chrysler Pacificia
in May 2010 following a tactical police operation in Wilson Borough.
The Wilson Borough Police Department is mourning the loss of its police dog, which had to be put down Thursday after being diagnosed with cancer, Chief Steve Parkansky said. The chief said Axel, a 10-year-old German shepherd, had been training since 2003 with his handler, Officer Michael Potope. Axel was born in Hungary, came to Wilson for training in 2003 and was certified for service shortly after he arrived. Axel had been Potope's second K-9 with the department. The dog's death was unexpected, Parkansky said, noting the K-9 worked Wednesday. Potope said Friday he preferred not to comment.
"We look at these dogs as part of our department; all the K-9 units in the area are grieving," Parkansky said. "It's very, very sad. It's one of our own." Mayor David Perruso echoed the chief's sentiments on the loss of Axel. "The officers really get attached to them," Perruso said. "It's a loss when it's someone you're with all the time. I feel bad about it." Axel was the borough's only police dog after Officer Chris Meehan retired his dog, Siroc. Axel was a state-certified narcotics and prescription drug detection dog and was assigned to police patrol duties in the areas of suspect apprehension, tracking, handler protection and different methods of search, Parkansky said.
The dog was instrumental in numerous drug finds, money seizures and nonbite apprehensions, Parkansky said. Axel also was the dog who found Duane Connelly, a Phillipsburg robbery spree suspect who led authorities from several departments on a three-hour search of the Delaware River and Getter's Island in September 2010. Parkansky called the department's K-9 unit "invaluable," saying the dogs can cover a lot of territory in a short amount of time. The dogs often enter dark buildings to check out scenes and let their handlers know it's safe to enter. The dogs often play a role in finding fugitives, suspects and missing persons. "It's an invaluable tool," Parkansky said. "I can't express to you how valuable they are."Wilson has had an active K-9 unit for more than 30 years. Officer Tom Migliore is in the process of training another K-9, expected to start patrol in the department next year.
submitted by Jim Cortina, Dir. CPWDA
---
In Loving Memory of
K9 AGAR
August 31, 2012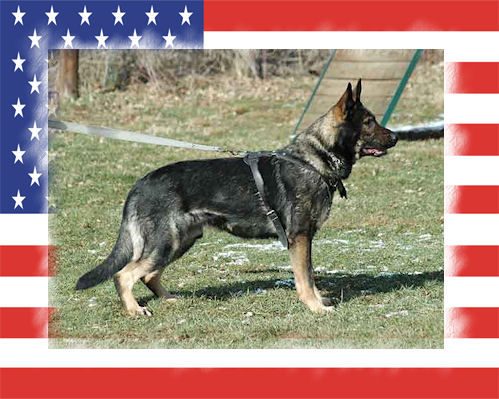 Handler: James M. Monnat
Lowville Police Dept.
402 Dayan St.
Lowville, NY 13367
Flags in Lowville fly at half-staff for former police dog
Village police officers have been mourning the loss of their former police dog. Agar, a 12-year-old German shepherd
who served with the Police Department for a decade until his June 2011 retirement, became ill and died Friday,
according to Police Chief Eric C. Fredenburg. Officers wore mourning badges and village flags were flown
at half-staff until sundown Monday, he said. The chief also credited handler James M. Monnat,
a retired Police Department sergeant who has served as Lewis County undersheriff since January.
Agar had lived with Mr. Monnat and his wife, Beth, in their home near Beaver Falls. The county has been
without a police dog since his retirement, but the Sheriff's Department plans to add one.
submitted by Jim Cortina, Dir. CPWDA
---
In Loving Memory of
K9 ALTOF
July 8, 2012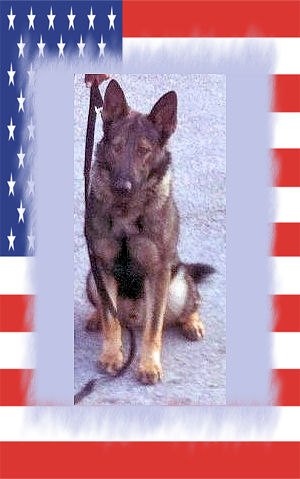 Handler: Officer Jeremy Ford
Centreville Police Department
5800 Bond Ave.
Centreville, IL 62207