In Loving Memory of
K9 UDO
November 22, 2011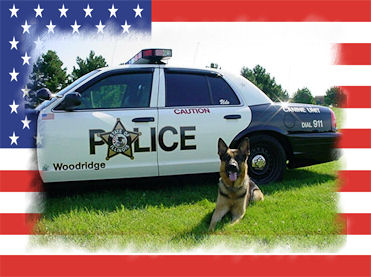 Handler: Officer Robert Chrusciel
Woodridge Police Department
1 Plaza Dr, #1
Woodridge, IL 60517
Woodridge PD Mourns Loss of K-9 Officer, Udo
Udo was put down Tuesday after suffering from degenerative myelopathy, which made him unable to walk. Udo, one of the Woodridge Police Department's two canine officers, died Tuesday.
Udo, one of the Woodridge Police Department's canine officers, has died. Udo was put down Tuesday after a battle with degenerative myelopathy made him unable to walk. Udo was the partner of Officer Robert Chrusciel and served Woodridge since 2003. He was trained to detect narcotics, track individuals and recover evidence, according to a police release. Udo has participated in vehicle and building searches and completed drug and evidence recovery tracks for the Woodridge Police Department and surrounding communities.
Udo and Chrusciel have also appeared in D.A.R.E. classes, Citizens Police Academy and open houses. In 2006, Udo located various amounts of marijuana, cocaine, crack cocaine, and methamphetamine during his searches, according to the village website. One of Udo's greatest accomplishments was in assisting DEA officials in the seizure of 1,400 pounds of marijuana in 2009, according to the release.The Woodridge Police Department has one other K-9 pairing, Scout and Officer Daina Carauskas. Scout has served Woodridge since 2009.
There has been no word yet whether the Woodridge Police Department will pursue adding another canine officer to replace Udo. submitted by Jim Cortina, Dir. CPWDA
---
In Loving Memory of
K9 URAN MWD
2011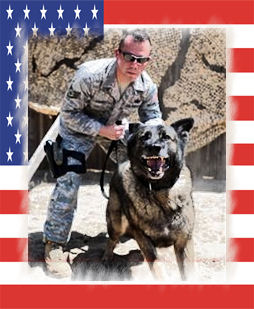 Handler: Arlo Taylor
19th Airlift Wing public affairs
Arkansas
Secret ServiceOperations Iraqi Freedom,
Enduring Freedom

New Park Honors Fallen Military Working Dog
On Thursday, base officials dedicate a park in memory of a fallen working dog who helped protect presidents and served five foreign tours of duty. Uran, a military working dog who died in a training accident last year, is being remembered with a dog park named in his honor. The new park is situated near a large green space, and close to base housing. Arlo Taylor, 19th Airlift Wing public affairs, says the park is a direct result of input from base residents, who wanted a place where they could enjoy the outdoors with their pets.
According to Taylor, Uran was in high demand as a military dog. He was deployed as part of Secret Service details supporting missions for President Barack Obama, President George Bush, Vice Presidents Joe Biden and Dick Cheney and former Alaska Governor Sarah Palin. In addition, Uran served overseas in support of Operations Iraqi Freedom and Enduring Freedom. Uran also served central Arkansas by answering calls from local police departments in Bryant, Jacksonville, Conway and Lonoke County.
submitted by Jim Cortina, Dir. CPWDA