In Loving Memory of
K9 QUEST
March 9, 2011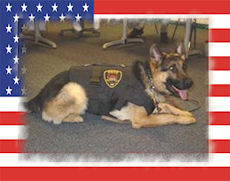 Handler: Officer Mike Pereda
7601 East Civic Circle
Prescott Valley, AZ 86314-2200
(928) 772-9261
WEBSITE - http://www.prescottvalleypolice.net/

Prescott Valley's Pioneering K9 Passes
Qwest, the first-ever four-legged officer in the Prescott Valley Police Department's K9 Unit, was put down Wednesday by a local veterinarian because of severe medical problems. Qwest and his handler, Officer Mike Pereda, helped pioneer the development of the department's K9 unit, according to Sgt. Brandon Bonney of the Prescott Valley Police Department. The department now has three dogs in its unit serving the town and surrounding communities, Bonney said. The German shepherd was credited with helping seize tens of thousands of dollars in illegal drugs, cash, vehicles, guns and other property associated with the drug trade, Bonney said The dog was retired in 2007. He was nearly 10 years old, and members of the PVPD K-9 unit, command staff and Pereda were with Qwest during the procedure Wednesday at Prescott Valley Pet Clinic, Bonney said.
submitted by Jim Cortina, Dir. CPWDA
---
In Loving Memory of
K9 QUANDO
April 23, 2011?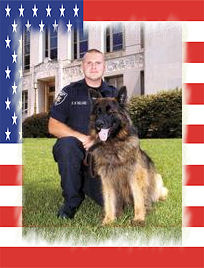 Handler:

Deputy A.M. Ballard
add?
Losing a dog you've come to know and love isn't easy, but it's even tougher when he was that partner you depended on when you went out to protect the public. About five years ago, Quando, a longhaired German shepherd became part of the Mercer County Sheriff's Department. "He was donated to us by Tracy Landis back in November 2005," Deputy A.M. Ballard recalled Tuesday. "She's a K-9 officer with the West Virginia State Police, and she also has her own business called Ultimate Working Dogs."

Ballard was next in line to get a K-9 partner when Quando joined the department. The new recruit's appearance was a bit surprising. "At first I was kind of shocked by his long hair," Ballard said. "He looked like a big furry sheep dog. I had never seen a dog like that with that style of hair. They're not really common, but Tracy said she had imported him from Germany. And then myself and Lt. (Brit) Beasley put him in the back of the cruiser and brought him back from Charleston, and then we made arrangements shortly thereafter to get him training from Augusta K-9."

At first, Quando was a dog that wanted to do things his own way. "He was very hard headed and very stubborn," Ballard recalled. "He excelled at apprehension, but it took extra discipline to get him to do it right. He had a high-strung personality and he was hard headed, but he developed very well." Quando proved his worth during one traffic stop when he alerted Ballard that something was wrong with the subject's vehicle. As a result, Ballard seized two ounces of crack cocaine. "That case actually went to federal court and the guy was convicted of it," he said.

Quando also proved to be an asset when suspects tried escaping into Mercer County's wooded terrain. "On several vehicle pursuits we would do a track when the driver ran," Ballard said. "We would find vehicles where whoever was driving jumped out of their cars." People can quickly disappear into the brush and searchers can get near them without knowing it, but Quando could find a suspect in 10 to 15 minutes. "He was my partner for about six years," Ballard said. "He went to work every day and was faithful as any other person or partner would have been.
I know they can't speak to you, but their actions and their behavior tell you a lot about what's going on." Quando would bark and even bodily rock the police cruiser if somebody was approaching the vehicle or being unruly. And sometimes Quando's very presence was a deterrent if somebody acted out or became belligerent. "Quando would start barking and they'd say, 'Oh, you've got a dog." On one occasion a suspect tried to punch Ballard and ran. Ballard used a remote control on his belt pop open the cruiser's door and release the K-9.

"That door came open and I didn't have to tell him a thing. He took off running and he got him. Between me and Quando, we were able to put him in handcuffs. He did get a couple of teeth marks." Quando stayed fit, but gradually he started to age. Police dogs' careers usually last between six and nine years, and he was approaching that mark. He started having some trouble jumping into the cruiser. That was not unusual, but last week another problem appeared. "He had actually stopped eating for three days and he didn't have his energy like he usually did," Ballard said.
"With that change in behavior and change in activity, I knew something was wrong, but I didn't know exactly what it was." Ballard took his K-9 partner to Green Valley Animal Hospital for a check up. He suspected hip problems at first, which are not unusual for German shepherds, but the veterinarians found a large tumor. "It had grown inside his chest and stomach area, and it had fused around most all of his organs," Ballard said. The veterinarians attempted an operation, but there were no signs that the surgery would help him.

After getting the news, Ballard made a tough decision. "I went ahead and made the decision to put him down. He would have come home and not eaten for just a few more days. Rather than have him suffer any further, I had to put him down. It was tough. It was a very hard thing to fathom, especially the first couple of days." Ballard laid Quando to rest near his kennel. While losing a family pet is never easy, Quando was more than another dog. "It's losing a very close partner and a real close friend," Ballard concluded. There are currently no plans to replace the dog.
submitted by Jim Cortina, Dir. CPWDA
---
In Loving Memory of
K9 QUINCY
February 28, 2011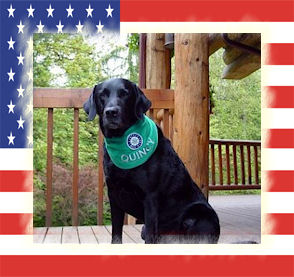 Handler: Deputy John Decker
King County Sheriff's Office
7300 Perimeter Road South
Seattle, WA 98108
(206) 296-3853

The latest news about Seattle police, Seattle shootings, thefts, arrests, fires, criminals and crimes
Sheriff mourns loss of county's first bomb dog
Quincy, who died Monday at age 12, joined the King County Sheriff's Office in 1999 as the only ATF-trained explosives dog in the Pacific Northwest. (KCSO photo)
The Sheriff's Office is mourning the loss of its first bomb dog, Quincy, who died at Monday at age 12. Deputies said the black lab died of natural causes. Quincy was a bomb sniffer for the Sheriff's Office for more than 10 years, spokesman John Urquhart said.
He'd been trained and certified by the Bureau of Alcohol, Tobacco, Firearms and Explosives and joined the King County Sheriff's Office in late 1999 as the only ATF-trained explosives dog in the Pacific Northwest.At the time, Quincy was one of only 18 in the country.
In addition to bombs, Quincy could detect firearms, gunpowder, shell casings and explosive residue on suspects, Urquhart said.
Federal law enforcement also used Quincy and his handler, deputy John Decker, including at the Rose Parade, Rose Bowl and the 2002 Olympics in Salt Lake City.
He also provided protection for former President Jimmy Carter, former President Bill Clinton and other leaders.
Quincy retired in early 2006, living with Decker and his wife.
submitted by L. Krause & Jim Cortina, Dir. CPWDA