In Loving Memory of
K9 PABLO
September 10, 2011


Handler: Kellee Robertson
Norman Police Department
201-B West Gray
Norman, OK 73070
Ph: 405 321.1600 Fax 405 366.5329
http://www.ci.norman.ok.us/content/police-department

Beloved Norman police dog dies
In this 2005 photo, Pablo is shown with an undercover officer hitting on a car that has drugs hidden inside the trunk.
Norman Police Department police dog Pablo died Saturday. He was 8 years old.
A beloved Norman police dog has died, law enforcement officials said. Pablo, an 8-year-old German shepherd, served the department well as a drug detection dog alongside his handler, Kellee Robertson. Pablo died Saturday from natural causes, Norman police officer Jennifer Newell said. The dog had been with the department from an early age following training. Pablo and Robertson were assigned to the Special Investigations Division as a drug interdiction team. During his career, Pablo was responsible for the seizure of 3.54 pounds of cocaine, 42.7 grams of crack cocaine, 301.5 pounds of marijuana, 3.66 pounds of methamphetamines and $272,886 in U.S. currency, Newell said. The street value of the drugs seized as a result of Pablo's efforts is estimated at $323,770, she said. Pablo was a social dog and besides his interdiction duties often was the lead canine for community interaction, Newell said. The dog performed demonstrations for school children and represented the Norman Police Department at Leadership Norman and Tomorrow's Leaders classes.A memorial service will be planned for Pablo in the near future, Newell said.

submitted by Jim Cortina, Dir. CPWDA

to be continued...... lulu
---
In Loving Memory of
K9 POSSUM
August 28, 2011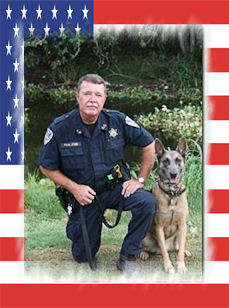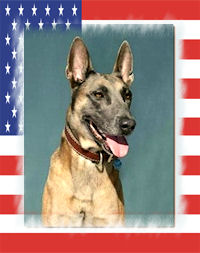 Handler: Deputy Paul Finn
Lafourche Parish Sheriff's Office
Thibodaux, LA 70301
In Thibodaux 446-2255, in Central Lafourche 532-2255, in
South Lafourche 798-2255, in Bayou Blue/Houma 868-2255.
K-9 Dies During Suspect Search
While searching for a suspect in Lafourche Parish, a K-9 died in the line of duty. Sheriff Craig Webre said that K-9 Possum died during the search of suspect who police said was fighting with a state trooper in the 18000 block of Highway 3235 shortly after midnight Saturday. Shortly before 1:30 a.m., Deputy Paul Finn and K-9 Possum began tracking the suspect who was last seen fleeing into a grove of orange trees. After a short break about 2:30 a.m., Possum suffered a major seizure, which caused his body temperature to spike in the hot evening hours. Webre said Possum died en route to the vet. Deputies worked tirelessly to save Possum, Webre said, by cooling him immediately with ice and water and performing CPR. The LPSO said the cause of Possum's seizure is unknown, but vets said it could be linked to a brain tumor or other neurological or vascular abnormality.
"Possum's passing was certainly unexpected," said Sheriff Webre. "He was an extremely talented K-9 who enjoyed the work. Possum will be sorely missed among our team of highly trained K-9 officers." Possum was born on Jan. 1, 2004. The LPSO said Possum began his career when he was four months old working in the D.A.R.E. program and aided officers in the search for bodies in the Lower Ninth Ward after Hurricane Katrina. Deputy Finn said that what he found most remarkable about K-9 Possum was how well-rounded his skills were. "Many dogs are strong in one area, but weak in others. Possum excelled in every aspect of his job. He was an amazing police dog. He always had my back. He wouldn't let anyone come up behind me while we were on a search, no matter who they were," he said. K-9 Possum was laid to rest on Finn's family property. submitted by Jim Cortina, Dir. CPWDA & Bobby E. Earls
---
In Loving Memory of
K9 PLATO
November 1999-June 16, 2011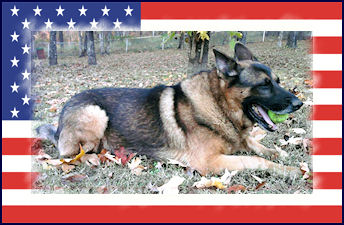 Handlers: Bernie J. Mosley, Investigator
& Sgt. Curtis Kyle
Special Investigations Division
Office of the Attorney General
City of Malvern
Arkansas Police Department
(501) 682-1553 Office - (501) 539-2334 Cell

His name was Plato. Born 11/99 and passed 6/16/2011. He served the City of Malvern, Arkansas Police Department for ten years. I was his handler for five of those years and Sgt. Curtis Kyle had him the remainder. He retired about two years ago and I was able to take him. He was a loveable dog who loved kids. We did demonstrations at schools all the time and he would love the attention from the children. He was quite the show off.
On 6/16/2011 I found him suffering from bloat in the back yard. We rushed him to the vet that had been taking care of him his entire life. Doc tried to save him but it was too late. I was able to call Sgt. Kyle who rushed to the office. We were both able to be with him when he was euthanized. We took some solace from the fact that Plato was surrounded by the ones who loved him when he passed. He was a great K9 who served his community well and was a dedicated K9. He served ten years, when the average K9 only served 7 to 8 years. If he had his way, he would have worked to the last day.
Thank you so much. Bernie J. Mosley, Investigator
---
In Loving Memory of
K9 PRETZEL
May 1, 2011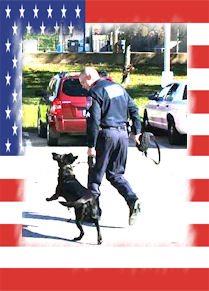 Handler: Sgt. Daniel Langford
Westchester County Police Department
Mount Pleasant Police Department
1 Town Hall Plaza
Valhalla, NY 10595

Pretzel, Westchester's 1st drug-sniffing police dog, dies
Pretzel, Westchester County's first drug-sniffing police dog, lived with Sgt. Daniel Langford. Pretzel died Monday.
Pretzel, the Westchester County police department's first drug-sniffing dog, has died. The black Labrador, who was 13, had sniffed out more than 3,000 pounds of marijuana, 100 pounds of cocaine and 10 pounds of heroin during a career that spanned eight years. Her only payment for each find: a handful of Iams lamb and rice dog food. The dog had done so much good as a crime fighter that the department held a ceremony for her at the police academy
when she retired in 2008.
The person taking her death the hardest is her handler, Sgt. Daniel Langford, who had Pretzel euthanized Monday because of kidney failure. "This was almost like losing a child," Langford said. "You spend so much time with this animal, and your work depends on her. The connection is much more than your ordinary pet. I always referred to her as my partner." Langford, who lives with his wife and two children, accepted Pretzel into his family after the department acquired her in May 2000 from Guiding Eyes for the Blind in Yorktown.
Pretzel conducted 452 searches in her career, the most successful one in March 2006 when she discovered 25 kilograms of cocaine while assisting the federal Drug Enforcement Administration in a car search. In another case, she detected a kilogram of crack six feet in the air, hidden in a trap behind a cinder block wall. "She was a tireless searcher," Langford said. "She was also just a loving partner who never let me down, and she will definitely be missed by my family."
submitted by Jim Cortina, Dir. CPWDA