In Loving Memory of
K9 GOMO
December 17, 2011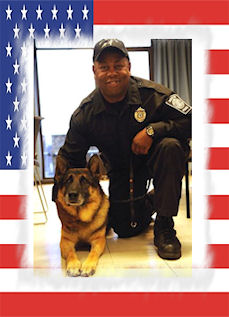 Handler: Officer Darvin Anderson
Brockton Police Department
7 Commercial Street
Brockton, MA 02302
508 941-0200
Police dog Gomo dies after decade of service
Gomo, a 12-year-old police dog, at the police station in Brockton on Wednesday, November 23, 2011 & with Officer Anderson.

After more than a decade on the Brockton police force, more than 100 "finds" and nearly just as many apprehensions, Gomo, the department's 12-year-old canine officer, died on Saturday. Gomo had been battling an aggressive form of cancer, hemangiocarcoma, which the dog was diagnosed with last month. "He died in my arms, wagging his tail. That's the kind of dog he was," said Gomo's human partner, officer Darvin Anderson. Gomo had been treated once, with vets removing his spleen and blood that had built up in his stomach. He had returned to work, but was set to retire on Jan. 1. Anderson was expecting Gomo to hold on a little longer before he had to be put down. "He was running 100 percent on Saturday," Anderson said, but then noticed that something was wrong. "Fluid had built back up. That's a common occurrence with that type of cancer. "I took him to the vet, and after a quick exam, we decided to do the humane thing," Anderson said. Gomo will be honored at a full police funeral. Funeral information was not immediately available Monday.

submitted by Jim Cortina, Dir. CPWDA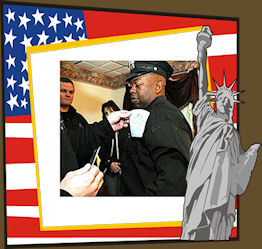 MORE
K9 Gomo's patch removed from handler's shirt.

Brockton officer Darvin Anderson cracked his whip onto the pavement close to each dog. Each one – held on their leashes by a police officer – responded by lunging and barking nonstop.
Anderson, in a black police uniform, cracked the whip as he circled among the two dozen dogs. Then, he suddenly stopped, smiled, and saluted.The ceremony paid tribute to Gomo, a Brockton police dog and Anderson's partner for more than a decade. Gomo, 12, died on Saturday in Anderson's arms after losing a short battle with an aggressive form of cancer.
On Wednesday afternoon, law enforcement officials from more than 30 communities, as well as local residents, quietly filed into a small viewing room at Middleboro's Angel View Pet Cemetery & Crematory Inc. to say goodbye and give one last salute to a dog that sniffed out weapons and evidence, searched for suspects and helped police the region for 10 years. With tears streaming down her face, Louise Crowninshield of Taunton said she attended the funeral to thank Gomo for his brave police work.
"I just wanted to say thank you to the dog for keeping us safe," said Crowninshield, a retired certified nursing assistant in her 70s whose five cats are buried at the pet cemetery. "I just wanted to be here and say thank you and goodbye." One by one, each officer stepped into the viewing room, stood before Gomo, and saluted the dog who would eventually be cremated. "Every time we lose a dog, we all get together. It's a united community," said Sgt. Robert Jaillet, who attended the funeral with his two dogs, Fram and Max, from the state Department of Corrections. Herbert Wolfer, 80, of Bridgewater, a veteran of the Navy and the Coast Guard, also attended, crying as he saluted Gomo. "We're animal lovers," he said.
Above Gomo, a portrait of an angel hung. On a nearby wall, a colorful mural showed a rainbow behind the open gates of heaven. Near the gates were portraits of dogs and cats, each wearing angel wings. Above the gates were the words: "Till we meet again." A box of tissues sat next to poster-sized photographs of Gomo. One photo showed Gomo posing with Anderson, and another showed the K-9 at a crime scene sitting next to an automatic rifle he helped find. In another photo, Anderson is shown carrying Gomo on his shoulders as Brockton schoolchildren look on.
Debbie Peloquin, a Brockton teacher, cried as she spoke of Gomo and Anderson, who visited her kindergarten class at the Brookfield Elementary School several times. "Gomo came in and met all the kids, the kids hugged him and loved him. They loved him so much," Peloquin said, adding that her class raised money for three years in a row to defray costs for protective vests for the Brockton Police Department's K-9s. Angel View owner Bill Morgan said he paid the funeral and cremation costs for Gomo. The business donates its services for all law enforcement K-9s, Seeing Eye dogs and Helping Hands Monkey Helpers for the disabled, he said. "It's a free service for those pets that have served mankind," Morgan said. Gomo had lived with the Anderson family at their Bridgewater home. The family has since taken in Anderson's new partner – Koda, a large, black German Shepherd from Holland. The K-9 "has a lot of Gomo's personalities," Anderson said.
After Wednesday's ceremony, Koda listened intently as Anderson gave commands, sniffing the hands of anyone who patted his thick, black fur. The new Brockton police dog will work with Mason, the department's other K-9. But there will always be a special place in Anderson's heart for Gomo. "He had a lot of accomplishments, a lot of battles," Anderson said of his longtime partner. "He did a lot of things that a lot of dogs didn't do. He changed the way we do policing today. I'm sad but at the same, I'm very proud of him."
---
In Loving Memory of
K9 GINO
October 12, 2011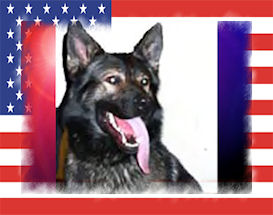 Handler: Bonnie Tormohlen - Arizona
Career explosive K9
Renton Police Department
Middle East

Veteran explosive dog accidentally euthanized
Bonnie Tormohlen's dog Gino served an honorable career as an explosives detection dog in the Middle East. The way his life ended was anything but honorable. Gino, a nearly 10-year-old black Labrador retriever, was mistakenly euthanized Oct. 12 while in the custody of the Navajo County Animal Control at the Show Low Police animal shelter.

Renton Police Department is investigating this case. A police spokesperson says since this is an on going investigation, details of the case won't be released for a while.

Other officers from the department's gang task force, who were on an emphasis detail nearby, joined the chase. They ordered the man to put his knife down. When he didn't, a Tukwila police officer opened fire.

The suspect was taken to Harborview Medical Center in Seattle. His condition is unknown. Police aren't saying how many times he was shot. A witness told Q13 FOX News that the man was shot in his leg.

The dog stabbed is a male, two years old. He and his handler, James Sturgill, started training over a year ago. They have been working on Patrol for about seven months.

The Tukwila police officer who shot the man has been placed on administrative leave, which is standard procedure. Tukwila police say the Renton Police Department will be investigating the officer-involved shooting.

If you have any information about this incident, do not hesitate to give Tukwila police a call at (206) 433-1804.
submitted by Jim Cortina, CPWDA Dir.
---
In Loving Memory of
K9 GUNNER
May 6, 2011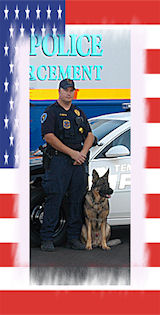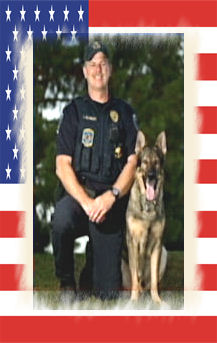 Handler:
Tempe Police Department
120 East 5th Street
Tempe, AZ 85281
(480) 350-8306
WEBSITE -
http://www.tempe.gov/police/
K-9 Unit Remembers Gunner's Service
The Tempe Police Dept. remembered one of their own Wednesday night. He wasn't a human officer, but an important member of the force. Gunner the police dog died on Friday after a training exercise. He had a heart problem that his handler didn't know about. The entire K-9 unit remembered his service and invited.

The Patrol Division Canine Unit's main purpose is to protect the citizens of Tempe and Tempe police officers by locating and apprehending dangerous criminals that commit crimes against citizens living in or visiting our city. The Canine Unit utilizes the German Shepherd due to its social personality and commitment to work. All of the canine teams are highly trained and have a high level of commitment to search for and safely take into custody those suspects who choose to commit crimes in the City of Tempe. The Canine Unit is comprised of one (1) Sergeant and four (4) Officers and their canines.

submitted by Jim Cortina, Dir. CPWDA
---
In Loving Memory of
K9 GRANDO
April 8, 2011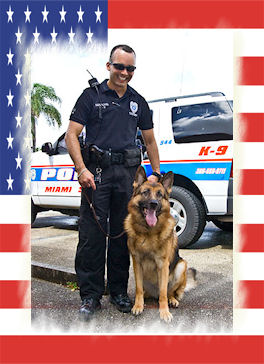 Handler: Officer Albert Sandoval
Miami Springs Police Department
201 Westward Drive
Miami Springs, FL 33166
PHONE - 305-805-5100
Springs Police K-9 Grando dies unexpectedly
Officer Albert Sandoval and K-9 Grando during training exercises two years ago.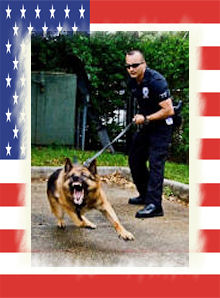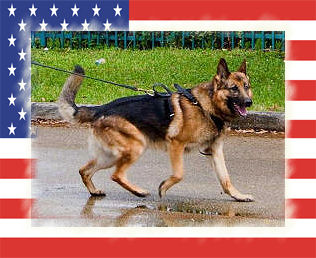 Grando was a handsome dog and he seemed to know it. Whenever there was a camera around, he posed like he knew he was the best looking German Shepherd in the world. When he got out of a patrol car wearing a collar with a half-size police badge, there was no doubt of his courage and determination. Grando was a magnificent canine. Along with his partner, Officer Albert Sandoval, Grando was twice named Officer of the Month and received plaques in front of the city council. Both cases were burglaries and both subjects assaulted Grando.
But he was a professional and hung on by his teeth and left his mark on the felons. However, last week Grando suddenly became ill and was taken to an emergency veterinarian hospital. An operation was performed and it was determined that Grando wouldn't survive the tumors. Sandoval had to make the call. It was Grando's time. Sandoval and Grando became partners when the K-9 was 3 years old. They went through the training academy and rode together for about six years. What most people don't realize is that the two officers also live together.
Unlike a family, a K-9 handler and his dog are together 24/7. Therefore, the attachment runs deeps. A few years ago, Sgt. Jimmy Deal, who was a K-9 officer for seven years, dealt with the death of his partner, Arko. "Officers and their dogs have a very special bond," said Deal. "Grando was a gem of a find and he was a perfect partner for Al. Grando proved his value on the road, doing his job." Sandoval said, "Grando got along well with my family. And a lot my friends that I work with took his death very hard."
Sandoval said he and Grando had ingrained routines and now the officer has to consciously stop himself from preparing to take Grando for a walk. "Grando had been acting differently for the past month but we thought it was age," said Sandoval. "The vet did blood work on him in January and he was fine. Last week during emergency surgery, the vet found several tumors on Grando's spleen and one had ruptured. He had to be put down." Sandoval said he intends to get another K-9 partner and it was already approved by Chief Pete Baan.
Usually, K-9 dogs are bred in Europe, trained to a certain standard, titled, shipped to a local kennel and sold to police agencies. Traditionally, the dogs come with a training name and the officer keeps it. When a K-9 dies, he is cremated and the ashes go to the partner. "I can hardly get the words out about how I feel," said Sandoval. "He was not only my partner; he was also my best friend."
submitted by Jim Cortina, Dir. CPWDA
---
In Loving Memory of
K9 GARO
February 27, 2011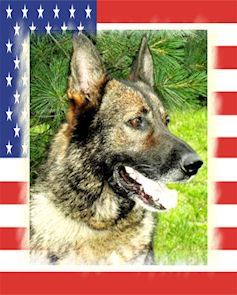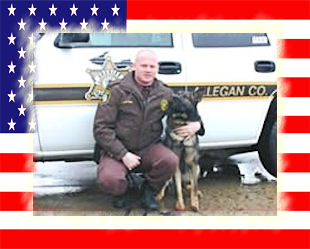 Handler: Patrolman Holmes
Allegan County Sheriff's Office
113 Chestnut Street
Allegan, Michigan 49010
TEL 269-673-0205
Police dog dies unexpectedly
Allegan County Sheriff's Office canine deputy Garo, a 6 1/2-year-old German shepherd, died unexpectedly from a medical condition on Sunday, Feb. 27.
The Allegan County Sheriff's Office has lost one of its four-legged law enforcers. Canine deputy Garo, a 6 1/2-year-old German shepherd, died unexpectedly from a medical condition on Sunday, Feb. 27, according to the sheriff's department. Sleepy Hollow Pet Cemetery & Crematorium of Byron Center has donated cremation services for Garo. Garo was partner with Deputy David Holmes. Garo began work with the sheriff's department as Holmes' partner in 2007, and lived near Wayland with him and his family.
Garo was trained in both drug detection and tracking. During his 3 1⁄2 years of service, the team of Holmes and Garo proved not only to be a valuable component of the county's drug enforcement effort and participated in search efforts, but also served as goodwill ambassadors for the sheriff's office by making public appearances for schools and civic groups, according to the sheriff's department. The death of Garo leaves the sheriff's office with two K-9 teams, a unit which normally operates with four teams, and is maintained solely through donations from the community.
submitted by Jim Cortina, Dir. CPWDA
---
In Loving Memory of
K9 GINO
January 3, 2011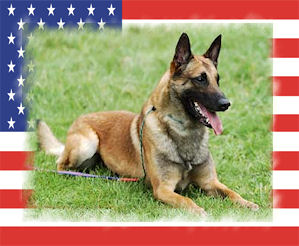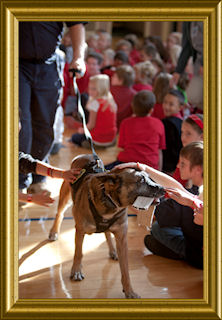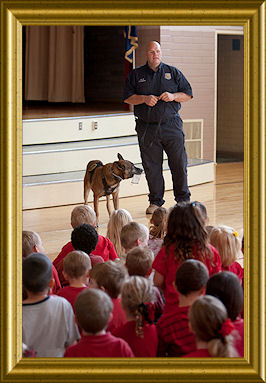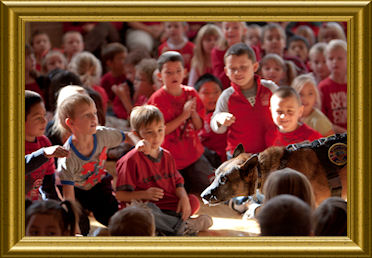 Handler: Ofc. Jason Thomas
Cedar City Police Dept.
10 N. Main St.
Cedar City, UT 84720
Ph: 435.586.2956
Cedar K-9 Officer Gino fatally wounded after being hit by car
Cedar City K-9 Officer, Gino, a Belgian Malinois, died Monday night after sustaining injuries from being hit by a car. His handler and partner, Ofc. Jason Thomas, was unavailable for comment. Thomas's sister, Kim Riddle, said the accident occurred approximately 15 minutes after the two had arrived home after completing a day's work concluding with a robbery investigation. Gino was playing in the street when he was hit by the car, she said. The dog was rushed to Southern Utah Animal Hospital and treated by Veterinarian Kelly Esplin.
"He had a broken back, broken leg and had some chest injuries," Esplin said of Gino. "With my suggestion, Jason chose to put him down and he was euthanized. It was hard. Jason had tears in his eyes and cried. He was obviously attached to that dog and spent a lot of hours with the dog." Riddle said Thomas and his family are devastated by Gino's demise, particularly since emotions are heightened with today marking the fourth anniversary Thomas was gunned down by Bryan Featherhat, near 650 West and 1300 North, Jan. 5, 2007.
Featherhat was sentenced to two consecutive terms of five years to life in the Utah State prison for shooting Thomas with a 12-gauge shotgun, but has since filed an appeal. "Emotions are very strong at this time. It's like losing a family member ... It's just kind of a shock," Riddle said. "Gino fulfilled his career. He was an amazing police dog, but Jason lost his best friend. He spent more time with Gino then he did with his own family because he trained him eight hours every single week, on top of their 40-hour work week, and Gino lived with Jason and his family, so they were together all the time."
In past interviews, Thomas credited Gino for participating in numerous public demonstrations of criminal apprehension to more than 8,000 school children, confiscated 115 pounds of marijuana, eight pounds of methamphetamine and unveiled an identity theft scam that victimized 250 people, including a compromised account of the Utah Department of Corrections. Gino also assisted in finding the killer of Kane County Sheriff's Office Deputy Brian Harris in Kanab in August, and apprehended a marijuana grower in Shirts Canyon earlier this year, Thomas said in prior interviews.
Gino was to retire in May, concluding nearly eight years of police work. "He's not stopping for a lack of drive or energy — he still has plenty of both — but his hips hurt and his teeth are wearing down from all the work he's done," Thomas said after a demonstration at South Elementary, Oct. 29. Learning about Gino's death shook up the Cedar City police force Tuesday. "Gino has been around the officers and the department the whole time he's gone through his training and served on the force since 2004," said CCPD Chief Bob Allinson.
"We highly recognize his value, and what he's been to the department, and the attachment the officers got from that security that came through having him. It's particularly hard on Jason because Jason and Gino have been together 24/7, Gino's lived at his house, and they've spent hundreds and hundreds of hours training and working together, and have become well-known throughout the state as one of the better police service dogs and handlers. That expertise was because of Gino being such a good dog."
Utah Highway Patrol Sgt. Ryan Bauer was a former K-9 handler in Beaver County and assisted Thomas in choosing his canine partner in Southern California nearly nine years ago. "Gino just stood out far and above most dogs I've seen and tested," Bauer said. "He just had a demeanor and drive for the job that is hard to explain. He had happiness to do the work, and willingness to work, and athleticism that honestly stood heads and tails above the other dogs that were testing really well. Gino just did awesome, and there was no doubt in my mind, and Jason's mind, to bring Gino back, and that this dog would excel, and that he would benefit CCPD and this area for quite a few years, which he did."
Submitted by Jim Cortina, Dir. CPWDA & Tracy Klett
& photos by --Kina Wilde - Photojournalist
The Spectrum & Daily News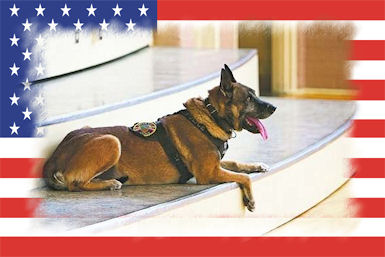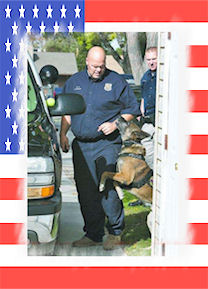 MORE: