In Loving Memory of
K9 ZARAK
December 28, 2010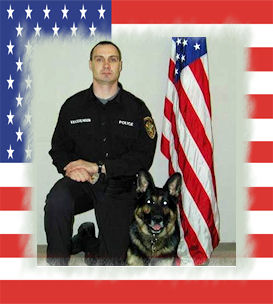 Handler: Officer Alex VanDerLinden
Streamwood Police Department
401 East Irving Park Road
Streamwood, IL 60107
(630) 837-0953

Streamwood police's K-9 Zarak dies
---
In Loving Memory of
K9 ZELDA
May 24, 2010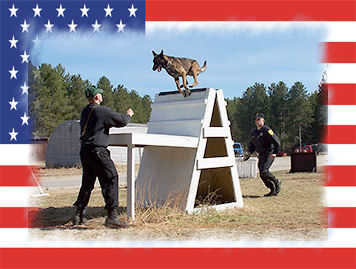 Handler: Trooper Sharon Kopp
New Hampshire State Police
Field Operations Bureau
ATTN: Public Relations Unit
33 Hazen Drive
Concord, NH 03305
(603) 271-3793
K9 Zelda died of cancer and was euthanized. The K-9 Unit is responsible for training patrol and specialty dogs for the New Hampshire State Police and other local in-state and out-of-state departments. The K-9 Unit trains teams in a basic patrol school which includes obedience, officer protection, criminal apprehension, building search, evidence recovery, crowd control and tracking of wanted or missing individuals. Each team tests for recertification annually.
The K-9 Unit is involved in over 1100 missions annually. Patrol-Narcotic teams assist several communities with school searches upon their request. The narcotic teams detect illicit drugs on the highways and in businesses, airports and residences assisting drug units, U.S. Customs, DEA, ICE, FBI and other agencies. They also assist corrections with searches of their facilities. Patrol teams search for wanted and lost individuals. They are also vital in the apprehension of burglary and robbery suspects and other individuals who fled from law enforcement.
The K-9 Unit gives support for the annual motorcycle week in Laconia during the month of June. Additionally, assistance is provided by the K-9 Unit at the New Hampshire Motor Speedway and at colleges for sporting and large events.
submitted by Jim Cortina, Dir. CPWDA
---
In Loving Memory of
K9 ZAK
January 8, 2010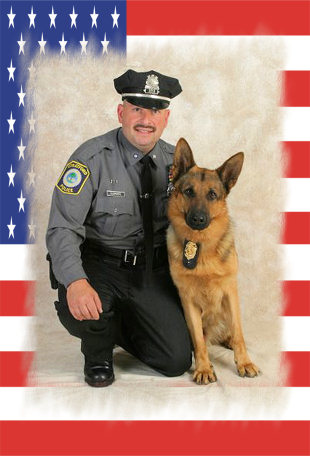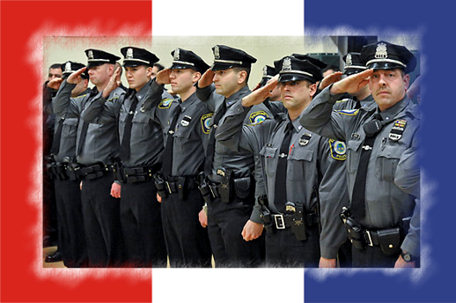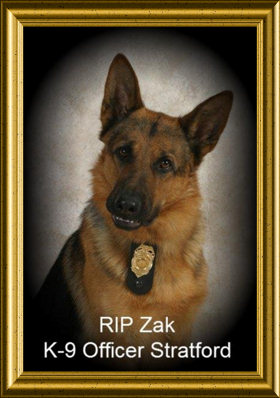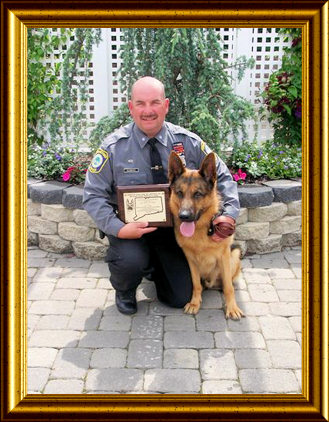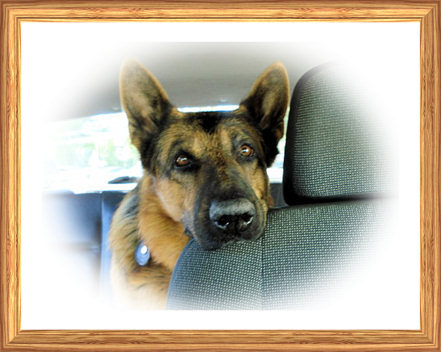 Handler: Officer Thomas Clements
Stratford Fire-Police
Zak, with handler Officer Thomas Clements, demonstrates how a police dog would subdue a criminal and protect his partner during National Night Out last summer at Longbrook Park. Zak died Saturday at the age of 8. (Photo by John Kovach) Stratford police are mourning Zak, a police dog, who died while on duty Saturday.With Zak's handler, Officer Thomas Clements, at his side, Deputy Chief Patrick Ridenour led a moment of silence for the dog during Tuesday night's promotion ceremony at Town Hall.
"Officer Clements and Zak were a phenomenal team," said Chief John Buturla. Zak, nearly 8 years old, spent six years partnered with Clements, having come to the department from Hungary. Zak was known for his numerous appearances at local schools and community events, but his abilities in the field were what made him special, police recalled. He assisted many departments in the area in tracking suspects, searching for missing persons and was especially adept at drug detection in vehicles and buildings alike.
Zak, along with Roscoe, Stratford's remaining K-9, was one of the few dogs in the Northeast trained and drilled regularly to fly in a helicopter. In one case Zak was instrumental in the seizure of 300 pounds of marijuana. He helped seize hundreds more pounds as well. Zak won the Daniel Scott Wasson Memorial Award, given by the Connecticut Police Work Dog Association, once and was runner-up a second time. The award is given to the most outstanding dog, in memory of Milford K9 Officer Daniel Wasson, who was killed in the line of duty in 1987.
Buturla, who was a dog handler earlier in his career, said Zak and Clements improved not just the Stratford police K-9 program, but similar efforts in the region. Zak will be honored with a ceremony at the K-9 memorial in front of Stratford police headquarters at a date to be announced. Donations in memory of Zak will help obtain and train another K-9. Buturla said contributions may be sent to the Stratford Police Department, 900 Longbrook Ave., with checks made payable to the Town of Stratford K-9 fund. The first class to graduate from Stratford's Citizen Police Academy made a donation in 2008 to start preparing to raise the $13,000 needed to recruit and train a dog.
submitted by Jim Cortina, Dir. CPWDA
---
In Loving Memory of
K9 ZIP
April 12, 2010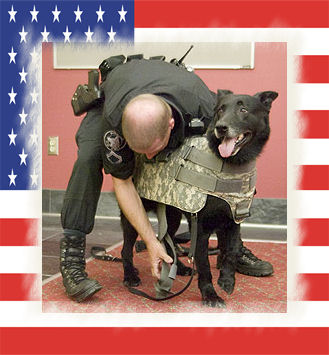 Handler: Officer John Perry
Londonderry Police Department
268 A Mammoth Rd.
Londonderry, NH 03053
(603) 32.1118
WEBSITE - http://www.londonderrynh.org/policedept/police.htm
R.I.P. Zip: Veteran of Londonderry K-9 unit dies

Londonderry K-9 officer John Perry straps a donated bulletproof vest on his partner Zip in this April 2009 photo.
Londonderry K-9 Officer John Perry, flanked by Charles George Trucking executives,
gives Zip a Christmas present in December 2008.
Officer Perry helps Zip unbox the gift.

Lt Chris Gandia lends an arm and a leg.
Zip, an eight-year veteran of the police department's K-9 unit, has died. The Belgian dog, who was partnered with K-9 Officer John Perry, died April 12 after suffering a major intestinal problem. He would have been 10 years old in July. Zip was born in Belgium and brought to the United States. He joined the Londonderry force in August 2001. He was graudated from the New Hampshire State Police patrol school and certified as a patrol service dog in November 2001. Zip accompanied Officer Perry when he was called to active service in the Massachusetts Air National Guard following Sept. 11, 2001. In January 2004, Zip was certified as a narcotics detection canine. During his career, Zip tracked criminals, found the lost, and sniffed out illegal drugs. Last year, Zip was the first canine recipient of a Kevlar vest in the Granite State after Michael Simpson, then 12, of Chester, raised $600 to buy the bullet resistant cloak. Simpson began the fundraiser after seeing a news report of a police dog being shot dead. In March, Zip was moved to part-time status while Perry trained his successor.
submitted by Jim Cortina, Dir. CPWDA