In Loving Memory of
K9 YASKO
May 21, 2010


Handler: Sgt. Tod Rehner
Paso Robles Police Department
900 Park St.
Paso Robles, CA 93446-2541
Ph: 805.237.6464
WEBSITE-
http://www.prcity.com/government/departments/police/index.asp
Crime-fighting canine loses battle with cancer
German shepherd Yasko had continued to work with Paso police despite having his back left leg amputated. The Paso Robles Police Department recently lost what officers describe as one of its best trackers — a 7-year-old German shepherd named Yasko. The purebred, just two weeks shy of his eighth birthday, died May 21 after a six-month battle with cancer and a leg amputation. The Tribune featured Yasko in December, when he had just returned to his police work after losing his back left leg to bone cancer around Thanksgiving.
His original prognosis, without the amputation surgery, was less than a year. The department reached out to the community and paid for the amputation, hoping it would stop the cancer from spreading. The scans after the surgery showed no cancer; however, the cancer likely spread through his body before the amputation and "was too small to be picked up by the X-rays at the time," Sgt. David Bouffard said. Yasko, imported from the Czech Republic, knew about 20 police commands — all in German — plus several more in English.
---
In Loving Memory of
K9 YORDI
June 4, 2010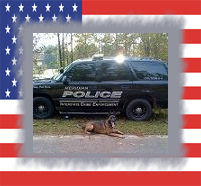 Handler: Officer Chris and Officer Ben Ivy
Meridian Police Department
2415 6th Street
Meridian, MS 39301-5806
(601) 485-1893
'Yordi' Completes Service

A K-9 service dog with the Meridian Police Department had to be put down Friday, due to a debilitating illness. Yordi, who had a spinal condition that could not be treated, was no longer able to have quality of life. He was a partner first to Officer Chris Read and then to Ben Ivy. Police service dogs are highly trained to locate the presence of contraband. Ivy said, during Yordi's four years of service, he was responsible for finding about $3.5 million worth of illegal drugs. Yordi was buried Friday at the Lauderdale County Training Facility.
submitted by Jim Cortina, Dir. CPWDA
---
In Loving Memory of
K9 YORIS
February 7, 2010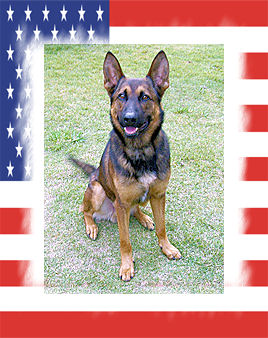 Handler: Officer Shane Darling
Elizabethton Police Department
533 East E Street
Elizabethton, TN 37643
Police dog euthanized after being stabbed by 5 boys
A Saturday afternoon incident between five boys and an Elizabethton Police Department police dog led to the death of the dog on Sunday. Three boys were treated for dog bites at the Sycamore Shoals Hospital Emergency Room. The dog, Yoris, was a Belgian malinois and was a two-year veteran of the Elizabethton Police Department. He was euthanized on Sunday after suffering numerous injuries, including knife stabbings. Yoris was the partner of K-9 officer Shane Darling. Darling was in Florida over the weekend on family business when Yoris somehow got out of his kennel.
The dog apparently wandered onto an open grassy field off Sunrise Drive that was part of the Elizabethton Municipal Airport property. The circumstances surrounding the dog's death remain cloudy and an investigation is continuing. According to a report by the Carter County Sheriff's Department, there were three 16-year-old boys on the field, playing a game they called "air soft," when the dog came onto the field. The boys told Sgt. Brian Durham of the sheriff's department that the dog started biting two of them. The third boy ran over to help his friends.
He said they had to stab the dog several times in their attempt to get away from the dog. Durham said each of the three boys were injured. He said two of the boys had small injuries due to dog bites. The third boy was transported to Sycamore Shoals by ambulance because of his injuries. The mother of the third boy said her son suffered bites to his lower back, spine and buttocks, but the worst bite was to his left forearm. She said there had actually been five boys playing air soft, a game like paint ball, but using plastic pellets shot from air rifles.
She said the boys were heavily padded to protect them from the pellets and that helped prevent the bites from being worse. She said the boys were frightened of the dog and thought it might have been a wolf. She said one of the boys jumped in his car and has still not been seen a day later. She said the dog jumped on one of the boy's back. Her son came to the aid of his friend and tried to get the dog off. That is when the dog turned on him, according to the mother. The other boys then came to his aid and began stabbing the dog.
In the midst of the struggle, she said the boys accidentally stabbed her son twice, once in the forehead and once in the forearm. The boy is recovering at home. His mother said he is taking strong antibiotics and pain medication. She said she does not believe the boys went on the property where the dog was located, but believes the dog might have become alarmed by the sounds of the boys' guns and struggled out of its kennel. "I am sorry to hear the dog died. We are animal lovers.
The dog probably thought it was doing the right thing ... I know how pets become a part of the family, but my main concern is for my child." A nearby resident who witnessed the incident gave a different story. David Ward said his mother called him to look out the window because there were some "suspicious characters" in the field. When he looked, he saw the boys. "It looked like all of them had rifles," Ward said. He said when he first saw the dog, he thought it appeared friendly.
"I couldn't see the dog too well because the boys were in front of him but it looked like he was kind of wagging his tail," Ward said. Curious, Ward went to get his binoculars.
When he came back, he said the scene had turned violent. "I saw them beating the dog. They were stomping it and kicking it real hard." Ward called 9-1-1 to report the incident. He said the boys left the dog and he went to check on it. "It was still alive but it was lying in a pool of its own blood. It was bleeding profusely from the head and neck. It was panting heavily, trying to catch its breath." Officer Darling said Yoris was a very well trained dog and also a very sociable dog. "I have four kids and Yoris loved to play with them. They would get down and wrestle and play. He was a part of our family.
He was not an aggressive dog at all, he was very playful." Darling said Yoris had never shown any aggression toward anyone. Even in making several civil apprehensions of fleeing suspects, Darling said Yoris never bit them. He said Yoris was trusted so much that he was taken to several area elementary and high schools and churches, where he visited with the students as they learned how dogs found illegal narcotics and helped catch suspects. Darling said Yoris was also very good at his job. "He had over a dozen arrests on narcotics," Darling said.
Yoris also ended a recent pursuit out of Johnson County by catching to suspects who abandoned vehicles in an attempt to flee on foot. He said he accomplished all of these without biting anyone. Darling said he and Yoris were also called out at 2 a.m. recently to assist in a federal case where a gun had been thrown out on Tenn. Highway 67. "Within 2 minutes Yoris located the gun," Darling said. After two years of service to the department, Darling said Yoris was just starting to get into his prime. He said Yoris will be very greatly missed by him and his family. "He was a great dog. He enjoyed being with kids and he loved his job." The Tennessee Bureau of Investigation is investigating the incident.
follow-up:
Public service in works to honor police dog
By John Thompson - Elizabethton Bureau Chief - jthompson@johnsoncitypress.com
While the investigation into the violent death of Yoris, a police dog with the Elizabethton Police Department, is continuing, plans are beginning to be made for a public ceremony to honor the dog. "We don't have a place or a time yet," Major Rusty Verran of the police department said. "It will probably be about three days after the investigation is completed." He said a public announcement will be made when the plans are completed. Verran said the investigation into the dog's death is being conducted by the Tennessee Bureau of Investigation. Yoris was severely injured in an incident with five teenage boys on Saturday afternoon in a large open field that is part of the Elizabethton Municipal Airport. Yoris got out of his kennel and went to the field. What happened next is being investigated by the TBI, but the end result was three of the boys suffered dog bites and Yoris was badly injured, including several stabbings. He was found by a neighbor lying in a pool of blood and panting for breath. The dog's injuries were so severe the dog was euthanized on Sunday. Verran said the investigation should be completed in a few days. He said one thing that is slowing the investigation is the investigator must wait until the boys are out of school in the afternoon to talk with them. Verran said the department has received phone calls and messages from many people since the story broke on Tuesday. He said several have wanted to start a fund in Yoris' honor. He said the department is not allowed to operate such a fund, so a suitable agency, such as the Elizabethton/Carter County Animal Shelter may be asked to oversee the contributions. The public has also requested information about a public memorial service for Yoris. Verran said many K9 units from surrounding law enforcement agencies also plan to attend the event. "We don't know where it will be held yet," Verran said. "It will have to be a large site to accommodate everyone who plans to be there."

MORE:
Elizabethton Police memorialize fallen K9 officer
The Elizabethton Police Department began the long healing process Thursday night when friends, family and fellow officers paid their respects to fallen K9 officer Sgt. Yoris at a special memorial.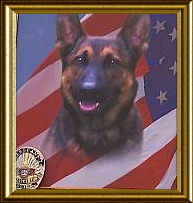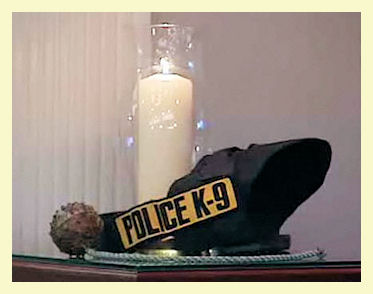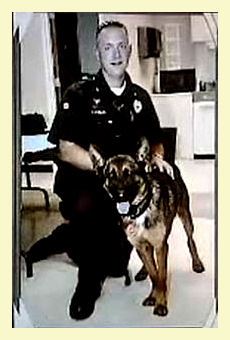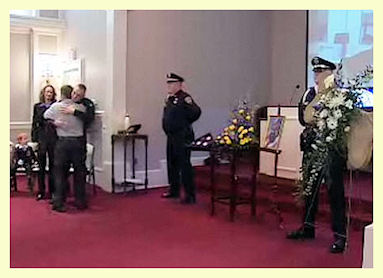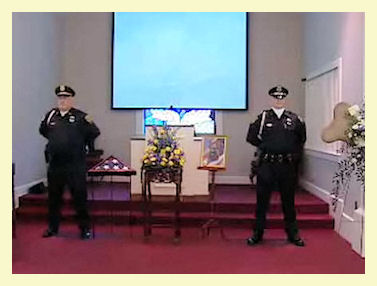 Hundreds of mourners filed through Tetrick Funeral Home on Thursday night to pay their respects to K9 officer Sergeant Yoris. Sgt. Yoris, a 4 year old Belgian Malinois, died on February, 7 from injuries he sustained the day before after an altercation with three Elizabethton teens. Sgt. Yoris's handler, patrolman Shane Darling, greeted an almost constant stream of family, friends and fellow officers who stopped by to pay their respects to the K9 officer. The funeral service for Sgt. Yoris will be held Friday at 11:00 A.M. at the Washington County Memory Gardens. Those who would like to attend services for Sgt. Yoris are asked to meet at Tetrick Funeral Home in Elizabethton at 10:00 A.M. for a procession to the cemetery.
submitted by Jim Cortina, Dir. CPWDA