In Loving Memory of
K9 XANTHO
January 27, 2010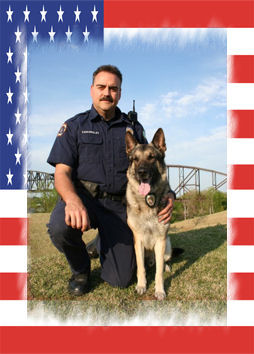 Handler: Officer Tankersley
Little Rock Police K-9 Association
P.O. Box 30763
Little Rock, AR 72260
Email: info@lrpk9.com
K-9 Xantho lost his fight with cancer today -
We regret to announce that Officer Tankersley had to take Xantho in to Dr. Hale's office today to be humanely euthanized. Xantho took a turn for the worse this past weekend and, after several days of attempting to nurse him back to health, Officer Tankersley could tell that Xantho's quality of life had deteriorated to the point that the very difficult decision had to be made.
**********
After completing the academy in June, I along with Officer Mark Williams (who was also a former UALR and Maumelle, AR police officer), were the only two recruits to be selected to work on the Overlap Squad. This squad was created to work in high call load/high crime areas. In 1993 the Patrol Division was re-organized and expanded. The Overlap Squad was absorbed into the Downtown, Southwest, and newly formed Northwest Patrol Divisions. I was assigned to the Downtown Patrol Division and worked on both the 3:00pm-11:00pm and the11:00pm-7:00am shifts.
In the '90's, with the rise of the L.A. based gangs (Bloods & Crips) and later the Chicago based gangs (Folk Nation & People Nation) we saw the associated rise in drug trafficking and violent crime. I worked in the Midtown area, which was thrust into the national spotlight by HBO's "Bangin' in Little Rock". During this time, with numerous vehicle and foot pursuits, I had ample opportunity to work with several of the K-9 Handlers and their partners. I was very impressed in the abilities of the K-9's and I volunteered to do agitation work, on my own time, during K-9 training sessions. After being taught how to be an effective decoy, I "caught" dogs in training as well as at public K-9 demonstrations.
In late 1999 the Little Rock Police Citizen's Police Academy Alumni Association offered to donate a K-9 to the police department. An announcement was made of an upcoming opening on the K-9 Unit and I applied. In early 2000 the dog that the LRPCPAA had donated arrived and I was selected to become the newest member of the LRPD K-9 Unit. I was partnered with "Beck", a German Shepherd, and we began to bond and train together. During this time I also learned how to select, develop and train new K-9's and have since trained or assisted in the training of seven of our past and present K-9's and their handlers. After a distinguished four-year career, "Beck" became sick with a still unknown illness that persisted off and on for three months. On the night of May 4th 2004, after tracking and apprehending a fleeing felon, "Beck's" fever spiked and he appeared to be suffering from severe joint pain. I took him first to the emergency Vet and then in to his regular Vet when they opened the next morning. Unfortunately, "Beck" could not overcome his illness and he passed away that day. You can see his memorial here http://petmemorialcards.com/mem2004-16.html.
Since we had been approved to expand the Unit prior to "Beck's" death, we immediately began a search for my new partner as well as dogs for our four new K-9 Handlers. "Xantho", a German Shepherd with papers from the Netherlands, arrived that summer from Czechoslovakia along with the four other dogs and the training process began. In the fall of 2004 "Xantho" and I certified in Patrol and Narcotics and we hit the streets.
"Xantho" is an extremely high energy and high drive dog but he is also very personable. When not in "work mode" he is happy to give big wet "kisses" to anyone who will let him. When it is time to work, there is no doubt that he is around because, as the other handlers have pointed out, he sounds like a hyena. He loves finding bad guys and narcotics but playing with his toy is his favorite pastime.
Some of "Xantho's" awards and recognitions include:
1. Arkansas 2005 Outstanding Law Enforcement Officer of the Year award for District 2.
2. Little Rock Police Department Medal of Merit in 2006.
3.Awards from the National Narcotics Detector Dog Association for narcotics detection in 2005 and 2006.
4. Little Rock Police Department 2009 Officer of the Year.
Story about "Xantho" and one of our apprehensions in the book K-9 Heroes by Jim Mayfield,Ph.D.
Tank & Xantho & fans