In Loving Memory of
K9 LT. WIN
June 4, 2010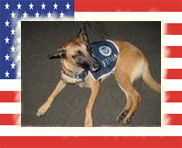 Handler: Unknown @ this time.......
Virginia Task Force
Albemarle County, VA
Police Canine Dies During Training Accident In Virginia Beach
On Friday June 4, 2010, FEMA Virginia Task Force 2 canine, Lieutenant Winters "Win," died as a result of an accident during K-9 Component Team training. Win was in the process of searching a rubble pile for a live victim. He entered through a small opening of the rubble pile, where the victim was located, when the accident occurred. A piece of concrete reinforcing wire punctured his chest cavity causing internal bleeding. Although Win was injured, he finished his search, located the victim, and laid at her side. The canine handler immediately sensed a problem and Win was quickly transported to Bay-Beach Veterinary Hospital where Team Doctor/Veterinarian Mark Honaker was unable to save Win. He died shortly after arriving at the animal hospital. Win died doing what he was trained and loved to do, performing his job to
the very end.
Lieutenant Winters was a seven year old male Belgian Malinois/Shepherd and resided in Albemarle County, Virginia. Win joined Virginia Task Force 2 in October 2005 after he received his Advanced K-9 Search certification. He was deployed on five different occasions, including Haiti and Katrina. Win's handler is devastated by this unexpected loss and does not to wish to be contacted at this time. A private burial was conducted at the family farm in Charlottesville. Canine Searchers play a critical role during structural collapse incidents. The canines help search teams locate victims, using their incredible sense of smell to detect live human scent, even from a victim buried deep in the rubble.
submitted by Jim Cortina, Dir. CPWDA
---
In Loving Memory of
K9 WIL
January 18, 2010
(served May 03 to present)


Handler: Officer Jason Misner
Largo Police Department
201 Highland Ave NE
Largo, FL 33770-2512
(727) 586-7427
www.largo.com
Largo police dog Wil is remembered for his service
Times staff In Print: Wednesday, January 20, 2010
One of Largo's generous donors made just one request years ago when he offered to buy Largo a police dog: That the canine be named after him. When Wilfrid Faucher, 95, died in August, Wil the police dog was at the memorial service with his handler, Officer Jason Misner. On Monday, the department announced that Wil was put to sleep. He was diagnosed with a heart-based tumor caused by cancer."Perhaps they are together now," police Chief Lester Aradi said in an e-mail reporting Wil's death. Wil cost $3,800. But Faucher, who also donated more than $200,000 to the new Largo library, threw in another $200 to buy a bulletproof vest. He didn't want the dog to get hurt, Faucher said back then. During his seven-year career, Wil tracked numerous suspects and was adept at finding evidence and narcotics, said Largo Lt. Ed Sohoski.
Wil also had a playful side that made him a favorite at public demonstrations, Sohoski wrote in an e-mail to the department. "Wil was a great dog," Sohoski said, "and his loyalty to both this department and his family will be truly missed."
*************
August 7, 2009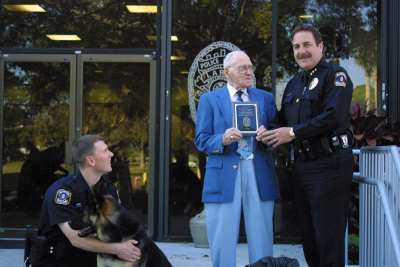 Officer J Misner, K9 Wil, WIlfred Faucher, Chief L Aradi
The Largo Police Department learned that they have lost a great friend and benefactor. Chief Lester Aradi received the following email:
Dear Friends,

It is with deep regret that I send you this note to inform you that Wilfred Faucher passed away on August 4, 2009, at the age of 95. However, with such sorrow comes the joy of knowing that he has joined his wife, Lola, and his son, Paul, who I know he dearly missed. He and Lola's contributions to bringing the F-16 Fighter Plane to Freedom Lake Park, creating the Lola & Wilfred Faucher Children's Wing of the new Largo Library, and for their generous contributions to the Greater Largo Library Foundation, Friends of the Pinellas Park Library, Largo Police Department, local community projects presented through Kiwanis of Largo/Mid-Pinellas and so many others will not be forgotten.
In a email to the Largo Police Department Family, Chief Aradi wrote about Mr. Faucher's generosity;
Several years ago he and his wife would come to our department every Christmas with a very large check for the police department. Each time I would divert his generosity to other
areas.

One year he came to me after hearing that we were looking to buy another German Shepherd for our K9 unit. He told me that he loved German Shepherds and wanted to know what one would cost us to procure. I told him the amount at which time he pulled out his check book, wrote the amount given to him and added an extra $1,000.00 for supplies and care. All he asked in return was to have the K9 named after him. That is how our department and Officer Misner ended up with "Wil."
submitted by Jim Cortina, Dir. CPWDA- http://www.cpwda.com/k9_monuments.htm