In Loving Memory of
K9 PYRO
November 5, 1998 - December 18, 2010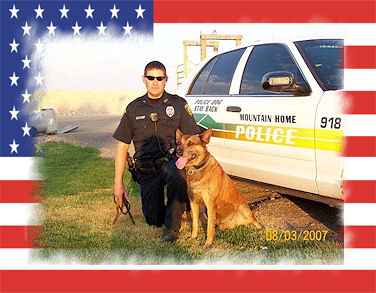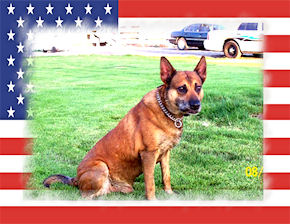 Handler: Officer Chris Jessup
Mountain Home Police Department

2775 East 8th North Street
Mountain Home, ID 83647-2332
(208) 587-2101
On December 18th, 2010 at the age of 12, K9 Pyro died at his home. Pyro, a dual purpose K9, Belgian Malinois/Dutch Shepherd, was assigned with the Mountain Home, Idaho, Police Department on December 16, 2002.
Pyro served as a duel purpose K9, tracking criminals, searching for suspects, as well as narcotics and was a member of the Special Forces Team.
In September 2005, K9 Pyro began sharing his car with another partner, a narcotics detective, K9 Kodi. This allowed Pyro to focus and train as a single purpose patrol dog. Until June 9, 2008, at which time, he was retired due to age and an injury, Pyro was given to his handler by the city. He remained with his family until his death. Pyro will be dearly missed by his family and his K9 partner, KODI.
submitted by Tracy Klett & Jim Cortina, Dir. CPWDA
---
In Loving Memory of
K9 PANCHO - MWD
September 27, 2010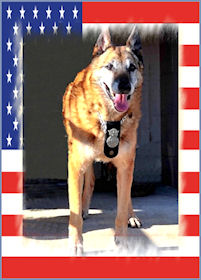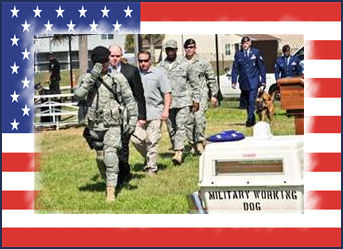 Last Handler: Staff Sgt. Justin Sonnier
Patrick Air Force Base
Florida
( PANCHO HAD 9 HANDLERS DURING HIS LIFETIME. )
Security Forces Say Farewell to Beloved K-9
"It was one of the hardest tasks I've accomplished since entering the Air Force. Leading him up the steps to the veterinary clinic – knowing he wouldn't be walking back out with me," said Staff Sgt. Justin Sonnier. After battling cancer for some time, Pancho was laid to rest by Army Capt. Ericka Carroll, base veterinarian, "Pancho accomplished so much during his time at Patrick. The loss of any animal hurts, but especially one whose lifetime contributions have left an unforgettable mark on those he served," Capt. Carroll said.
Sept. 27 began as a typical day for most military, civilians and contractors working on Patrick Air Force Base. Squadrons conducted morning PT, and scores of Air Force members donned their blue service uniforms in preparation for another week. But it wasn't simply another "Blues" Monday. Around 9 a.m., a procession of Security Forces vehicles drove with lights flashing from the Military Working Dog kennels to the base veterinary clinic. K-9 handler Staff Sgt. Justin Sonnier, accompanied by his long-time partner, MWD Pancho, led the convoy in the team's
final emergency response.
"It was one of the hardest tasks I've accomplished since entering the Air Force. Leading him up the steps to the veterinary clinic--knowing he wouldn't be walking back out with me," said Sonnier. After battling cancer for some time, Pancho was laid to rest by Army Capt. Ericka Carroll, base veterinarian, "Pancho accomplished so much during his time at Patrick. The loss of any animal hurts, but especially one whose life-time contributions have left an unforgettable mark on those he served."
Always a fighter, Pancho demonstrated his feisty personality even at the end. Half-smiling, Sonnier remarked, "I knew he wouldn't go quietly; he stayed true to himself." MWD Pancho was a 13-year old Belgian Malinois assigned to Patrick AFB since January 1999. MWDs and their handlers have deployed in every major conflict since World War I, serving on the frontlines as force multipliers. In Iraq and Afghanistan, MWD teams routinely put their lives in danger conducting IED sweeps along convoy routes in an effort to afford safe passage during critical missions.
Pancho, a certified Patrol and Explosive Detector dog, completed 28,470 patrol and detection hours and an additional 30,000 training hours while at Patrick.
He served on four deployments, three of which were consecutive. While assigned to a vehicle search team at Al Jaber AB, Kuwait, Pancho quickly detected a cache of ammunition a foreign national attempted to transport onto the installation. His actions while deployed undoubtedly saved the lives of countless Airmen, Soldiers and Marines.
In May 2004, Pancho was one of twelve Air Force MWD teams attached to Marine Corps infantry units supporting dangerous combat operations in Iraq. Some of the roles these teams filled were as combat patrol point men, vehicle search teams, IED detectors, and explosive cache search teams. Pancho served in several operations including Operation Phantom Fury in November 2004 when the city of Fallujah, Iraq, was first captured from insurgent forces. He also provided security during the first Iraqi elections in 2005, where he made several finds and apprehensions, one consisting of over 200 pounds of weapons and artillery.
On Tuesday, the 45th Security Forces Squadron honored Pancho's service with a memorial ceremony at the kennels, Pancho's home for eleven years.
The Commander, 45 SFS, Maj. John Newton said of Pancho's service, "It is with great sadness we gather today in honor of an extraordinary Defender. Pancho's accomplishments demonstrate what a valuable asset he was not only to the 45 SFS but to all units under which he served. Through multiple deployments, twelve hour shifts, and work conditions that would seriously concern many of us, he never hesitated and performed admirably in all tasks."
Pancho had nine handlers during his tenure at Patrick, the most recent being Staff Sgt. Sonnier. "When I was first assigned to Pancho, I wasn't sure what to expect. He had a reputation in the kennel for being the meanest dog, but we hit it off immediately. The bond between dog and handler is unbreakable, and I'll never forget him." During the service, West Melbourne Police Officer and Pancho's former handler, Jason Campbell, shared Pancho's biography and numerous accomplishments. "Today is a very sad day for many handlers...Pancho had the personality
everyone, except the handlers, feared. We loved him, and he will be remembered by all as a fighter, a partner, and most importantly, a friend." Staff Sgt. Jessica Sonnier read Guardians of the Night, a poem highlighting the courage and loyalty of MWDs, and Tech. Sgt. Josue Rosario, 45 SFS Kennel Master, unveiled Pancho's memorial. The ceremony concluded with a Walk and Salute, the K-9 tradition of honoring fallen MWDs. The handlers slowly passed by Pancho's worn leash and inverted bucket, each paying their respects with a few words and crisp salute. "Pancho, your shift is over now. We'll take it from here."
submitted by Jim Cortina, Dir. CPWDA
---
In Loving Memory of
K9 POPO
May 14, 2010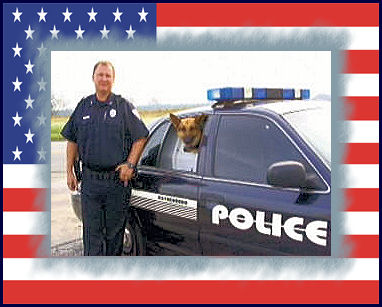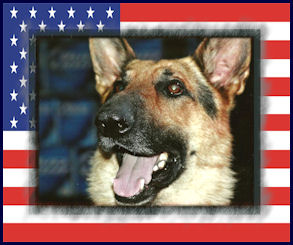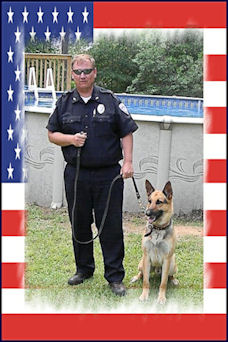 Handler: Officer Bruce Petitt
Waynesboro Police Department
628 Myrick Street
Waynesboro, GA 30830-1472
(706) 554-8029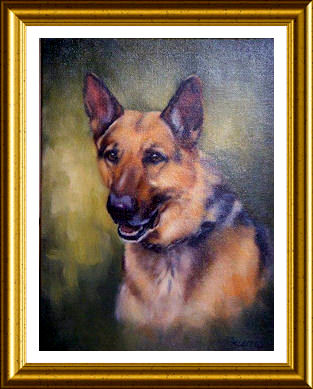 artist "Tracy" Klett in ID

WAYNESBORO, GA --- The Waynesboro Police Department said goodbye to one of its own Wednesday. At his memorial service, they said he was a hero, who "gave his life in the line of duty." Fellow officers wore black strips across their badges in his honor. Among the mourners who spoke at Joiner-Anderson-Saxon Funeral Home, none prompted more heartfelt tears than 8-year-old Mitchell Petitt, whose father, Officer Bruce Petitt, handled PoPo, the 2-year-old German shepherd police dog who died Friday. "PoPo was more than my friend. He was my hero," Mitchell said.
"He went to work every night with my dad and he kept Daddy safe."
PoPo was euthanized after ingesting meth-producing chemicals he had stepped in during a routine bust two days earlier, Bruce Petitt said. The morning after coming into contact with the chemicals, PoPo was experiencing respiratory problems and erratic behavior. His veterinarian said it was too late to save him.
"If we had any inclination that there was a chemical or anything in that house, not only would he not have been in there, but we wouldn't have been in there because it's a biohazard," Petitt said. PoPo's legacy will be to help protect other police dogs, Maj. Mary Bennett assured those who gathered for the service."Po Po has done more for us in 10 months than some officers have done in 15 years," she said. She plans to spread the word to other departments to help them avoid a similar tragedy.
Waynesboro resident Rex Gerlinger testified to PoPo's effect on criminals.
"Several weeks ago there was an incident right in front of my house where Officer Petitt and PoPo stopped two gentlemen that had just robbed a car," he said. "One of the gentlemen had a backpack. As he was reaching in the backpack, Officer Petitt said, 'Unless you want to be wearing my dog, leave it.' " Inside the backpack, officers found a loaded gun. "I think today if PoPo had not been there that we would be celebrating a different type of memorial," Gerlinger said.
Petitt is training his other dog, Dee-Moe, to take PoPo's place, but noted how difficult it will be, for both of them.
"In a city that has three officers per shift, he was neutralizer," Petitt said of the K-9 officer who had lived with his family for two years. "We were more like a 20-man shift when we went on call with him."
another article:
Police Dog Put Down After Poisoning
Officers of the Waynesboro Police Department are saying goodbye to one of their own after PoPo, the lone dog on the K-9 Unit, was put to sleep Friday. The police department said its only K-9 had to be put down after a drug bust. Officers served an arrest warrant at a Waynesboro home Friday. Officials said the dog walked through a toxic ingredient used to make methamphetamine. Officers tried to wash off the chemical but the dog had already started licking off his paws, police said. "The next morning I definitely knew that we had a problem because he didn't recognize me or anybody. He was just…he acted as if his mind was gone," said Officer Bruce Petitt of the Waynesboro Police Department. The department decided it was best to put the dog down.

submitted by Jim Cortina, Dir. CPWDA


Follow up: by -
Bruce Petitt <fhavawizard@yahoo.com>

It started after PoPo and I got off shift. We had just worked 12 hours, 7 am to 7 pm, and were headed home, when the call came out to back up an officer serving a warrant on a wanted felon. We went, our job was security, to prevent the subject from running. The deal quickly started to go bad, as there were more in the government complex apartment, than anticipated. I entered with PoPo to put everybody down, and once we cuffed and secured, turns out we had two wanted felons sitting in this house, I cleared the house for anyone hiding. it was then that we walked through what ever chemical was on the floor, however we were in felony mode, and didn't have time to stop and see what we were getting in too. The smell in that house had everyone's eyes burning and clearly there was a liquid on the floor. We are a small department, and when we make an arrest in the projects, we got to get out of there fast to prevent a riot or to prevent the local citizens from getting our subjects out of the car. So I loaded PoPo up, and we left. Hindsight being 20/20, I realized later that his feet were bothering him, but not that we noticed right then and there. I went to the jail, helped to book our guys in, then went home. I had to leave home that night and stay at my mothers house, she had surgery that morning, and my wife insisted that PoPo and I stay with her to make sure she was okay. PoPo stayed out in my mothers yard, and at about 10 pm when I went out to check on him, he jumped up in my face, nothing but teeth flared in my face. I wrote it off as different place, maybe he was out of whack. The next day, I went out in the early am, started my patrol car, turned the siren on (that is my way of telling him we are going to work, and he always does what we referred to as the PoPo dance) and he started dancing. I walked out to get him and when I got close to him, he tried to attack me, then quit, attacked again, and quit and so on. I couldn't get near him, nor could anyone else. I had to get our animal control guy to come out and dart him. It was at the Vets office, while trying to figure out what where and why, that we remembered the liquid in the apartment, and the conclusion, without evidence mind you, but the conclusion was possible meth contaminants. The rest is history. The vet I took him too wanted to put him down right then, I asked for time to check for any possible fix. I called every Vet I know, explained what had occurred, and what the vet was telling me, and all agreed with him, that PoPo needed to go down. We have one Vet in our town, and I have never used her, so I contacted her office and went in to meet the Vet, to explain what the other Vet was telling me. She didn't meet with me, however I did meet with the other Vet or Vet tech, who told me she had worked with Po Po's doc for over 20 years, and she trusted no one more than him. By this time, Popo was completely out of his mind, attacking water buckets and fences so I agreed to bring him in to her office, as it was miles closer than the other, she had a private entrance, no risk to the public bringing him in. Myself and two other officers took him in, in a crate. The vet stepped in, pulled the needle, we got him out, and he was loaded up on the meds so quite calm at that moment, however he did not recognize me, stood in the back of the crate, teeth flaring, I had to noose him to get him out of the crate. they took him, put him on the table, stuck his leg and he was gone in thirty seconds.
The city went over board on the memorial, everything was so beautiful. My children all spoke, several officers spoke, citizens spoke. The next day, the Augusta Chronicle ran a story that the vet that put him down, called them and said that there was nothing wrong with PoPo. Said that every handler she ever met would have done anything to save their dog, claimed she offered me treatment options, but that not only did I insist on putting him down, that I rushed to have him cremated after that. One paper after another across the country ran that story, they had a chat board, with over two thousand entries speculating that I killed my dog for insurance money. My Chief joined the choir, and they were crucifying me in the media, completely killing my children's memory and honor of this great dog. This went on for weeks. Television, newspapers and internet had me as public enemy number one.
Finally, when I went to the council, demanding that my chief produce the evidence he claimed to the media he had on me killing my dog, he backed off, went to the media and retracted this.
PoPo and I came to a small town to clear up drugs. He was my dog, not the city's dog. I raised and trained him, they pay me a monthly fee for use of my dog. As you may imagine, in a small town that is infested with drugs, some folks don't want it cleaned up. I leave that to your imagination as to why. This was a clear attempt to get me gone. We were very active in going after drugs, we hit some big dealers, made some great high dollar seizures. I have since filed a law suite against my chief, the city, the papers and of course that Vet who made those statements. The sad part is, the legacy of that dog, was tainted by BS. It was all lies from day one. He was a hero, and did a hero's job, and deserved much better than that. He was a great partner and he was a true buddy. "Dee Moe" is a great dog, but as you know, without ever meeting PoPo, he is not PoPo. I loved that dog like a child, and have felt the pain of loosing him every day. I thank you for what you have done for him, that totally shocked me, and was a beautiful tribute to him. Thanks again. Now as Paul Harvey always said, "Now you know the rest of the story," at least the part prior to litigation for slander and liable that I am suing them all for. I intend to set up a fund, to help small agencies get a K9 with part of the settlement, call it the "PoPo Scholarship" or something to that effect. Maybe get you guys with your platform to help it out. Anyway, thanks again, I greatly appreciate it.
Bruce Petitt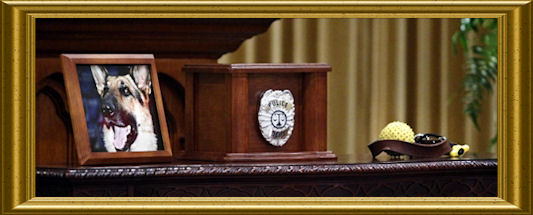 update:
I have some pics of PoPo I will get to you. His name came from the fact that my wife always teased me, referring to Police as PoPo's, so when I got him and we started training, The name "Jake" just didn't seem appropriate at all, so my children kept calling him a PoPo dog and the name was born.
I have a new dog, his name is Dee Moe, which is shortened from his real name, "Demonic." Not too good out on the streets to refer to a biting dog as Demonic.
I will get the pics today and get them to you, thank you for all you do.

Bruce